A Fun Filled Friday!
June 15, 2012 by Don Gentle
Pictures from June 15, 2012  (password required)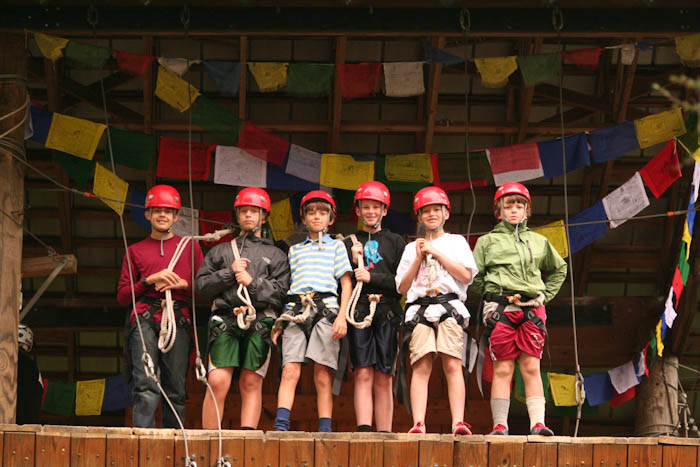 Hello from the beautiful mountains of North Carolina.  We are in full swing now and the weather is cooperating.  Today started out cloudy but we kept everything in high gear and the boys have been busy in their activities.  You may have received Hank's letter that outlined the schedule your son chose.  If you have not then it will be there soon.
Today there was an all day trip to the Green River, an all day Rock Climbing trip and a half day Mountain Biking trip to Dupont Sate Forest.  With so many returning campers this session they are picking up where they left off last summer and continuing to build their skills.   The hikers also had an all day hike in Pisgah today.  We are so fortunate to be in such a beautiful part of the country.  These are the last trips for the week as we stick close to home on the weekends.  There is still plenty to do in camp though!  Crafts was busy with leather work and woodwork.  Ping pong paddles are the new rage this year in woodworking.  Don has the disc golf course set up and the camper counselor disc golf tournament is getting set to start.  The water front is busy with the waterslide, paddle boards, sailboats, canoes and some serious fishing going on!
I had the joy of teaching a riding lesson this week to a small beginner class.  It was great!  There were three instructors and three campers on their horses.  The camper I was working with had never ridden and was very frightened.  He did not even want to walk more than two strides at first.  With time he became more comfortable and by the end was controlling his own horse and guiding him all over the ring.  He said, "I am so glad I signed up for horseback riding! This is so much fun!"
To me this is what camp is all about; trying new things, conquering fears, facing challenges and finding success and confidence.   By attending the activity every day this will increase so he and many others can feel what it is like to make choices, learn new skills and feel that sense of competence that we strive to provide.
Have a great weekend.  I know we will !!
Townsend Birdsong
Camp Director