Achieving Goals
June 26, 2012 by Woody Noland
Pictures from June 26, 2012 (password required)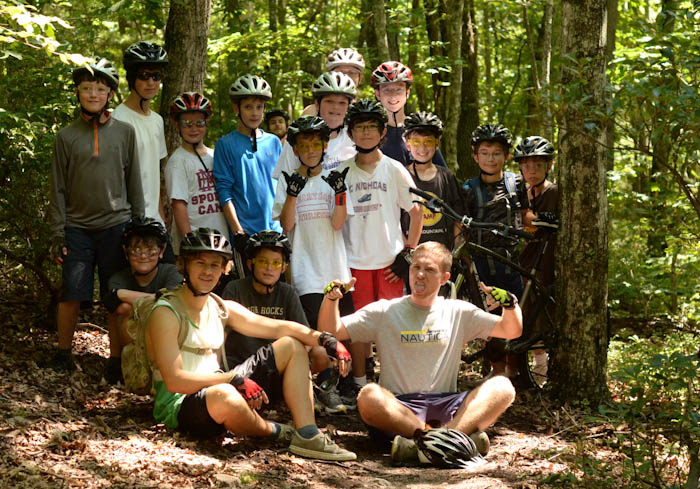 This morning we woke up to temperatures hovering around 60 and a wind cool enough for a blanket to feel great. Cinnamon toast and bright sun added just the touch to get this day off to a perfect start.
And what a day! All of our regular daily activities were humming. The ropes course was busy in the morning—when the guys holler from the singing zip line, it means another group has mastered that aerial challenge. Another van headed off to Worley's Cave, and, perhaps instructed by Muddy Camper Sunday, they came back as grimy (and smiley) as I've ever seen the campers get, and that's saying something. In the afternoon the mountain bikers took to the trails in the Sky Valley section of DuPont, the overnight hikers returned from hiking in the John's Rock area and camping in Picklesimer Fields, the two-day climbers got back at supper time from Black Fork, free time was devoted to a large Rock-it event and a packed Ga-Ga (aka High Rocks) ball pit, and the horseback riders took their last dinner ride of the session. Of particular note was the canoeing trip today to the Nantahala River, where cold, fast water and some serious rapids gave them a challenge no three-week session campers have had for many years.
Just now age-group activities are in swing, and the guys are taking their turns on the rope swing, canoe fillips, Danish Rounders, McCauley Ball, dodge ball and all the other regulars for the last time. Tomorrow night is cabin night, Thursday is final campfire, and Friday they will be with you, but we're not ready to let them go yet!
Enjoy the view of the day, and good night.
Dan Noland