First Full Day!!
June 11, 2012 by Woody Noland
Pictures from June 11, 2012 (password required)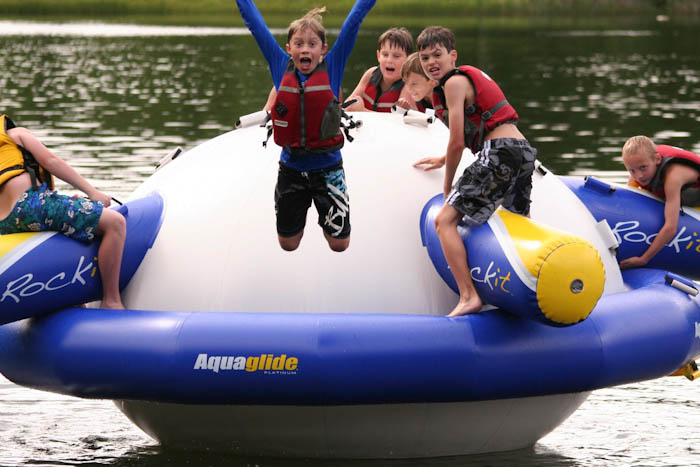 After an amazing opening day despite the weather, a little more rain did not even begin to slow down our camp crew. This being the first full day in their chosen activities, the campers were full of excitement to get this session going. All the activities used today to lay a foundation for their progressions and to welcome campers into their respective programs. Canoeists were busy doing basic lake tests involving parts of the boat, how to properly put on a PFD, and then the capsizing of canoes with a partner, always a highlight! Soccer was immediately into the action on the freshly lined field with a warm-up and stretches before some drills and a brief game. Archery/Riflery had the guys shooting, mountain bikers got their first short rides after a safety briefing, and climbers were learning knots and hitting the tower. Down at the barn, riders learned about tack, how to behave safely around such large animals, and then got to hop on in the ring for the first riding lessons of the summer! Swimmers swam, hikers hiked, and tennis got to get out on (mostly) dry courts. Crafts, pottery, sailing, and fishing all were in full swing and camp echoed all day with energy and camper enthusiasm. It is great to have such life back in the place!
Tonight was also the first round of evening activities for our six age groups. Rather than be referred to by generic titles, each group of 4 cabins came up with their own name and in some cases an answering cheer. These age groups will spend evenings and Sunday afternoons together playing some of the most exhilarating/exhausting games at camp. Tonight's selections included favorites like Jailbreak Dodgeball, Capture the Flag, McCallie ball, and the Waterslide. The groups for the 2012 Three Week Session are:
The Flaming Chimichangas – Hillside & Connestee
For Lack of a Better Name – Lakeside & Foxhollow
Closed-Toe Shoes – Flattop & Chalet
Campers' Republic of District 4 – Windswept & Outpost
Gigantic Pile of Dirt – Pinnacle & Halfway
Dolly's Daisies – Holiday & Lookout
After the first real camp-length day and such an energetic finish, the boys will grab snack as a cabin group before heading back to their cabins for showers, tooth-brushing, and cabin meetings. The lights out bell rings at 9:30, but it is not unusual for some cabins to be in bed and well ahead of schedule after such a complete day! Please enjoy the pictures this evening and check back with us tomorrow!