Full Throttle!
June 20, 2012 by Don Gentle
Pictures from June 20, 2012 (password required)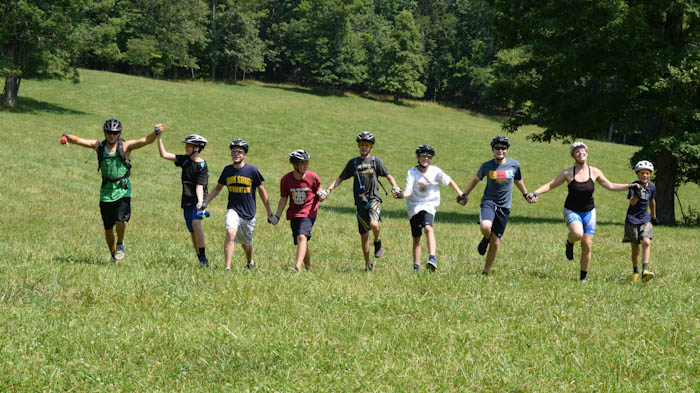 Today camp was in high gear!  The first day of summer (although the true Summer Solstice began around 7pm) has brought with it an awesome warm day.  Finally, some good swimming weather!  We had four trips out and one more returning today.  The in camp program was full-on as well.
Some of the guys at climbing headed up to our on-site natural bouldering area.  Our Cathedral Rocks offers a great opportunity to work on highly skilled climbing moves at steep angles and low heights.   The boys are really challenged on these trips.  We had two out today and the guys really enjoyed it.
Several of our canoeing boys took a ride on the Tuckaseigee River today.  They worked on their skills in canoes in Class 2+ rapids, which will hopefully prepare them for the Nantahala River.  This same group is also working on their kayak skills in camp and will head out on Friday for their first river kayak trip.
Mountain Bikers went to Issaqueena.  A great trail system near Clemson in South Carolina.  The area gets its name from an Indian maiden who allegedly jumped off a local waterfall.  Anyhow, an awesome day was had by all and some great trails to ride out there too.  We'll be back down their soon!
The Three Day Hike returned all grubby with lots of stories from their awesome hike in High Pisgah.  The weather was what you would call "fully featured."  They had a brief bit of rain, some chilly nights, and a hot day.  It was a perfect combination to experience a lot in a short amount of time.  The guys who came back from the trip looked a little tired at dinner tonight.  Everything is going just as we planned.
Finally, we had a small group of guys head out for a caving trip to Worley's Cave today.  A perfect place on a hot day!  Speaking of a hot day, I also saw Hank out in camp spreading good cheer with some awesome gala apples that were chilled in the cooler; a sweet cool treat for the afternoon.
I'm heading out on a canoe trip to the Chattooga River tomorrow, so I may be a little late with pictures.  There are some great shots from today's trips coming up on tomorrow's gallery.  The canoeing pictures just came in and they look awesome.  We will also have the three-day pictures, bouldering, and many more. They just missed the cut-off today.
We have another fully packed day tomorrow with a two-day climb and hike heading out. Chattooga River trip and a mountain bike trip to DuPont.
Have a great night!
Don Gentle