Has It Been Five Days Already?
June 14, 2012 by Don Gentle
Pictures from June 14, 2012 (password required)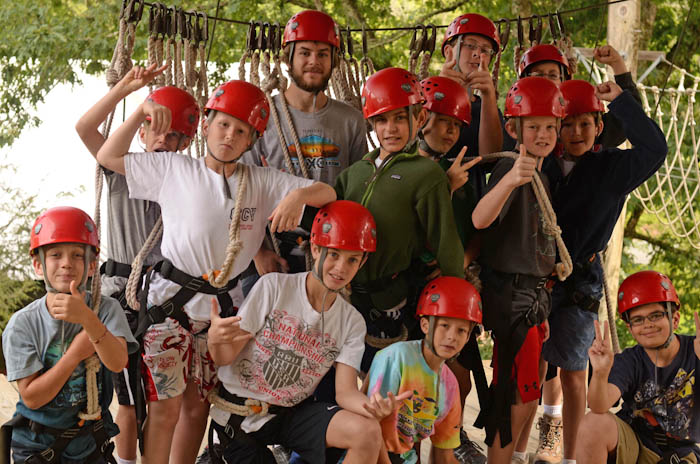 I can't believe it is Thursday, which I am certain many of the boys are completely unaware of the day of the week.  They have focused their attention on all things camp related and left behind memories of school, tests, homework and the busy schedules of the rest of the year.  It is surprising how quickly the routines of camp are embraced and the familiar ringing of the bell signifies so many great events including meal-time!
The morning started with another hearty breakfast and energetic assembly.  It was a very boisterous assembly this morning.  Campers now fully in the groove headed off to their first activities.  We had two trips that headed out the French Broad River today.  The canoeist got to experience moving their boats in the whitewater for their first time of the season.  Climbing took a group of eager climbers to nearby Horseshoe Rock.  It was a beautiful day for both climbing and canoeing.
Hiking took their first day trip out today over to the adjacent Dupont State Forest.  The newest claim to fame for Dupont is that part of the "Hunger Games" movie was shot in the forest.  The boys got to see one of the waterfalls from the movie, which made a spectacular waterfall even cooler!  They enjoyed a great hike and the weather was perfect for soaking up the beautiful surroundings.
The last of the cabin overnights headed out to enjoy an evening of pita pizzas, smore's, and stories around the campfire.  Hillside, Foxhollow, Chalet, and Windswept cabins were excited as they hiked out to the shelters this evening.
It was another great camp day and we get to do it all over again tomorrow!  Hope you enjoy the pictures this evening!
Zoob Gentle
Associate Director