Just a Little Bit of Crazzziness
June 23, 2012 by Don Gentle
Pictures from June 23, 2012 (password required)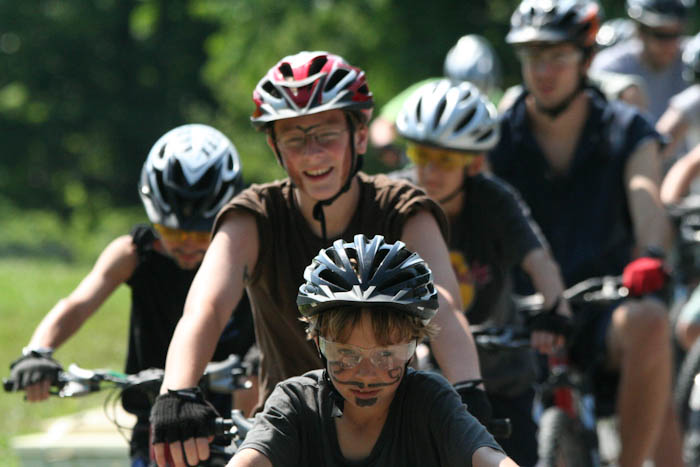 What a day we had in camp!
Saturday starts off with pancakes, of course.  I feel obligated to report that the boys ate exactly 33% more pancakes this week!  Increased activity equals increased appetites.
Each of the activities had special theme days going on throughout camp today. There was a whole lot of fun wherever you looked!  Climbing set up a Tyrolean traverse, a rope between the climbing tower & the gym. It was "Biker Day" over at mountain biking.  The guys rode around camp with fake tattoos, beards & mustaches and had their bikes decked out with playing cards in the spokes to achieve the great motorcycle sound.  The barn was having "super hero" day- trail rides with a super hero theme.  Canoeing set up their annual "canoe mountain" on the lake.  Hiking was doing Dutch-oven cooking with a theme that could best be described as "red-neck car camping".
Over the last few days I've noticed some tired, but happy campers.  They go hard in their activities & many have been out on trips away from camp.  We had a well-timed rainstorm pop up during rest hour, so we decided to extend the rest hour until the storm passed.  The extra hour of rest was all the campers needed to recharge and be ready for tonight's square dance with Keystone camp!
Monday will be the last day that you can send a letter to camp & have it arrive before closing day, so find a funny card or send a letter this weekend- the campers enjoy opening letters from home.   Emails are fine, but they aren't quite the same as opening an envelope from home!
We'll see you on Friday!
Hank Birdsong
Camp Director