Making Each Day Count
June 25, 2012 by Woody Noland
Pictures from June 25, 2012 (password required)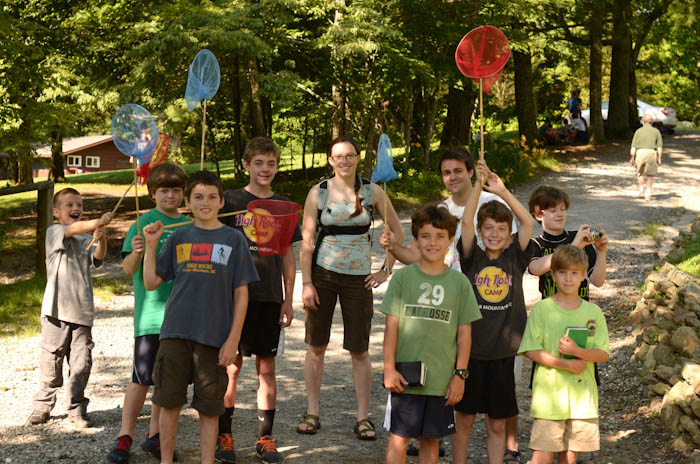 Our last Monday of the Three Week session had a little something special tossed into the normal hectic day. Sure, the weather was gorgeous and sunny with a light breeze keeping everything just cool enough. And yes, the day had a ton of trips heading out of camp. Hikers took off for a two-day hike in Pisgah starting near the Fish Hatchery. The climbers also took an overnight trip out heading for Black Fork in addition to two bouldering trips to the Cathedral Rocks here at camp. Mountain bikers had a perfect day of empty trails in DuPont with the trails dry and packed for a nice fast ride. One of the last caving trips took some younger guys into the cave and made for one of their best days at camp according to many. The paddlers also had a group on Section 8 of the French Broad, practicing their navigation of a much wider river than they have seen before making for many opportunities to read the water and create individual routes. All in all a very busy day, but that is nothing new for a Monday.
Our Counselors in Training, the first level of becoming a High Rocks staff member, give back to the program in many ways. One of the most noticeable is by completing a group project to benefit years of future campers. Our shelter at Still Oaks, the bridge on the far side of the lake, and many other pieces of camp have all been CT contributions. This session's group decided they would like to add a new game to the program in the form of Ga-Ga Ball, or High Rocks Ball as it is quickly becoming. The game is played inside a hexagonal wooden structure about waist high and appears to be a blend of dodgeball and four square. It is played with a rubber kickball and the basic point is to hit the ball with a hand at the many opponents' legs to get them out, all while looking out for the crazy ricochets and deflections the ball can take with angled walls and a dozen crafty campers. Today at choice period the CTs had an official unveiling and the new project was an instant success with close to forty campers gathered to take their turn… and to indulge in a root beer float being offered as part of the ribbon cutting!
After such a busy day, and two very busy weeks, tonight seemed like the perfect opportunity to let everyone get together in the gym and relax with some popcorn as they watched a big screen version of Despicable Me. As I write this, camp is echoing with laughter and the sound of the movie's minions, sure to be imitated for the rest of camp. Please enjoy the pictures tonight. We have some more from yesterday's Muddy Camper event along with shots from today. We will keep them coming for the next three days and see you back here tomorrow!!
Good Night,
Woody Noland