Opening Day Summer 2012
June 10, 2012 by Don Gentle
Pictures from June 10, 2012 (password required)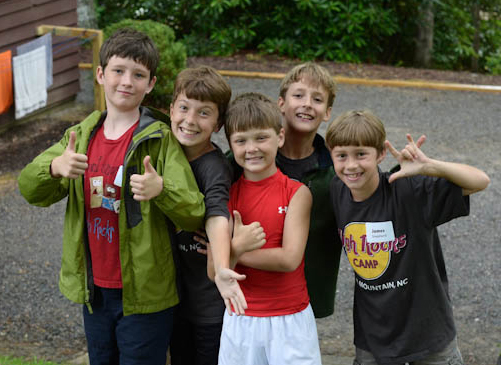 What a great opening day for our 2012 season!  It is always such a rush for me the first opening day of the summer.  As the days approach to the beginning of season, the tension and excitement continue to build.  I see it in everyone around me.  No one can really explain the emotion but it culminates in to this nervous excitement that builds like a volcano. FINALLY, after months of preparing and working for this very day -it has arrived!  We are so elated and excited about having your son here for the next few weeks!  Summer camp is such a great place to learn, grow, and have fun.  And summer camp at High Rocks is AWESOME!
There were lots of happy faces around camp today!  Even though the rain tried to put a damper on our plans, the boys were still very excited about most everything!  They even did their swim tests!  Most of today's pictures are from this afternoon.  We will normally post pictures by 9pm, but circumstances may occasionally delay us until later.  We try to post around 100 pictures each day, but may post more on some days. 
The campers have already visited each of the activity areas this afternoon.  Tonight after dinner, they each picked their schedule for the session.  Tomorrow everyone will head right into a full day of activities after assembly.
Hank will try to send his initial letter from camp on Monday or Tuesday. In the letter he will have your son's schedule and will tell you a bit about his counselor. For this session we have 149 campers and 77 staff members. Most of our staff are returning counselors or former High Rocks campers (59 of the 77 staff members). If you haven't had a chance to look over our wonderful staff yet, be sure to look over our 2012 summer staff page.  It is an incredible group of mentors!
Please remember not to send packages of any sort. Packages will not be delivered to campers (if there is a birthday, call us for instructions). If you need to send a forgotten item of clothing, medication, etc., call our office first & then send the item to the attention of our office staff. Our office staff will open the package & deliver the item.
It was a pleasure seeing so many returning faces as well all the new families today.  We're looking forward to a great session. Be sure to visit often to check out pictures as the session progresses.
Take care,
Don Gentle
Associate Director