Rounding the Turn
June 21, 2012 by Don Gentle
Pictures from June 21, 2012 (password required)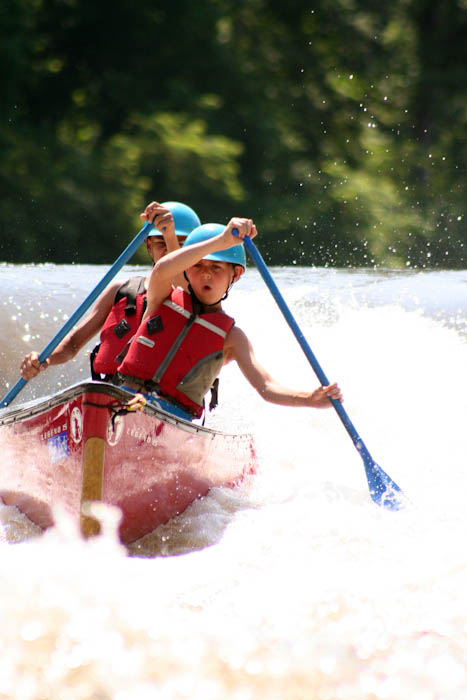 It has definitely warmed up at camp this week and the number of campers seeking water related activities has taken off significantly.  Today was yet another busy day of campers honing their skills in camp and some great trips out of camp as well.  The tennis courts have been busy with campers and counselors trying to finish the one point tournament.  I myself have been putting of my match since well it will end very quickly since I pick up a racquet exactly two times a year for camp related tournaments.
All of the campers in the morning Crafts classes have been working hard to finish up their woodworking projects.  I have seen everything from dog bowl holders to mini pool tables and many things in between.  They are taking great pride in their work and it is amazing to see the creativity that comes through in these projects.  The boys are also working hard in Archery & Riflery to attain new ranks with their scores.  Many of the boys are finding that their patience has paid off.
We had a group of very eager hikers head out to Pisgah National Forest to experience an overnight backpacking trip.  It is a brand new experience for several of the guys and they are pumped to say the least.  I can't wait to hear all the stories upon their return tomorrow!  The climbers headed out on a big adventure this evening which will include a multi-pitch climb on Looking Glass Rock in Pisgah along with an overnight camping experience and more climbing tomorrow.  The boys headed out early this morning to get a jump start on the day.
We had another group of cavers head out to Woorley's Cave in Tennesse.  They enjoyed natures air-conditioning during their adventure.  They returned tired and a bit muddy but what could be more perfect for a group of young boys!
Canoeing headed down to the Chattooga River in South Carolina.  It is a beautiful river and they boys had a great day on the water.  Don enjoyed tagging along and there should be some pictures up soon from the day.
The "Flaming Chimichanga's" and the "For lack of a better name" age groups headed to Sliding Rock and Dolly's for their much anticipated Chill Night.  They have just returned and are very content after submerging in freezing cold water and eating large scoops of ice cream!
Well, I think we have packed about all we can in this day and will have to save a bit more for tomorrow! I can't believe we have made the turn to the second have ot the session.  We only have 8 more days until parents day!
I hope you enjoy the pictures again this evening!
Zoob Gentle
Associate Director