Super Saturday!
June 16, 2012 by Hank
Pictures from June 16, 2012  (password required)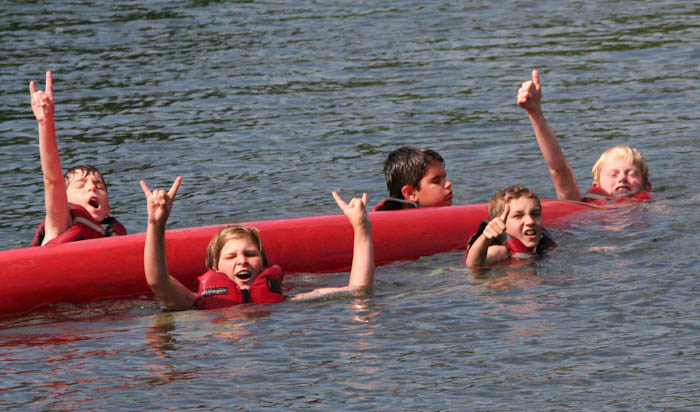 The first Saturday of the session is a significant day.  First and foremost, it's Pancake Day!  Dan Noland & I are in our 25th year of flipping pancakes on Saturday mornings.  We apprenticed for several years under the tutelage of Townsend's dad, Sumner Williams, who learned his pancake skills from Archie Womack, the camp cook for many of the earlier years of High Rocks.  The biggest lesson learned (other than the secret ingredients) was the delight of the process.  We have fun!
The next significance of the first Saturday is that any lingering homesickness that popped up during the first week is all but over now.  Certainly there are moments that might induce a short spell of missing home but after a week at camp and after making new friends, our campers have settled in to the routine and are comfortable in their new "space" in the cabin.
After being at camp for a week most of the activities are moving beyond the basic skills (or review for returning campers) and are beginning to move into uncharted territory in the activities.  The campers are beginning to push their limits a bit and finding out what they might be able to achieve in the next few weeks.
The first Saturday is significant since many of the activities get a bit "whacky" and add in some fun elements to the program.  At climbing it is "crate stacking" day (no description necessary- check out today's pictures).  Today is the Gymkhana, games on horseback, at horseback riding.  At the archery range the targets are balloons & camper's drawings rather than the normal archery targets.  Sailing practiced their capsize drills with a little twist and pirate spirit.  Finally, canoeing had some fun dragon boat races and deep water rescue training!  It was a ton of fun!
Supper on Saturday is special.  The cooks get the night off & we eat subs, chips and sodas (their only one for the week) picnic style on the hill in front of the dining hall.  We end Saturday with a square dance with one of the nearby girls' camps.  This week we are dancing with Rockbrook Camp.  Square dance pictures will follow tomorrow.
Keep the cards and letters coming- campers enjoy receiving something from home!
Take care,
Hank Birdsong
Camp Director