Sweet Morning Sunshine!!!
June 12, 2012 by Don Gentle
Pictures from June 12, 2012  (password required)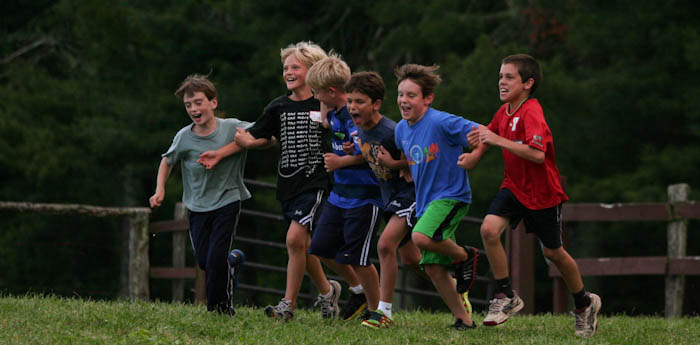 When the wakeup bell sounded, followed by a live rendition of reveille, this morning, we were all greeted by the welcome warmth of a bright sun in the sky! Though not everyone sprang up quite so early as yesterday, all were delighted to find cinnamon toast and Sandy's superb grits as parts of breakfast.
Activities revved up right after rousing renditions of "Mountain Dew" and "Rocky Top," with Lakeside being the very first cabin on the high ropes course and subsequent zip line this session. In tennis, not only were the courts completely dry, but Scott also set up an all-camp, one-point tennis tournament, and play began almost immediately. An entire match takes only a few minutes, plus it is a great way to have people get to know others around camp and to build early camaraderie. The morning archers got their chance outside, canoeists and rock climbers added preparations for their first out-of-camp trips—tomorrow—while sailboats were abroad on the lake and some incautious brim got surprised when they were caught (and released) by our young fishermen. Mountain biking took their first trail rides, for advanced bikers, and the horseback riders spent their entire classes taking mounted lessons in the rings.
Before both lunch and dinner we resumed four-square games. It's amazing to see campers who have been here for years sprinting to get in that line. It's very gratifying to see those older campers play so considerately with the youngest, too. Another very popular free-time activity is Frisbee golf, which means that all need to keep an eye out for flying disks as they cross camp, and some of us need to fetch ladders to retrieve them from cabin roofs. Much mail went out in the morning bag, and there was the usual bunching up around the mailboxes at noon. Each letter and email gets clutched tightly, read frequently, and means quite a lot. Keep them coming!
Afternoon activities over, the four oldest cabins took their loaded packs to the dining hall to add pita pizza and s'more fixin's (and other essentials like water, cooking gear, trash bags and toilet paper). Then they were off in a drizzle with high spirits to spend the night at four different shelters on camp property. They will enjoy a night of "roughing it" around a fire, so that by tomorrow morning their cabins will feel like islands of luxury to return to.
When taps blows and we turn out the lights here in a bit, I predict that more than a few guys will already be asleep.
Dan Noland
Head Counselor