The First Trips of the Season!
June 13, 2012 by Don Gentle
Pictures from June 13, 2012 (password required)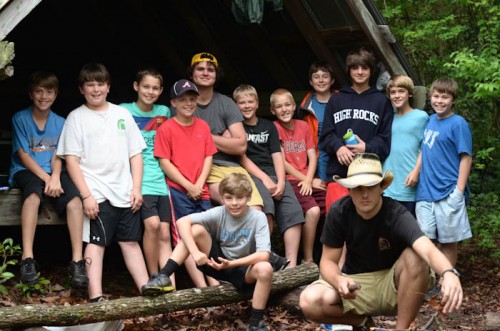 What a great day at camp!  We woke up to an awesome sunrise with glimpses of campers in the distance as the first cabin overnights returned to main camp this morning!  It's pretty cool to see these guys walking back in together before even the wake-up bell rings.  Everything is quiet, except for a few whispers and footsteps.  The amount of dirt and marshmallow on them is inversely proportional to their age, as is the volume upon their return.  It's a pretty cool sight as they roll in through the morning sun and mist.
Today marked the first trips of the session heading out of camp.  Canoeing headed over to the French Broad River for some work on common maneuvers like eddy turns, peel-outs, and ferries. Many of these same guys will head over to the Lower Green River on Friday.  Climbing took a quick trip to Looking Glass Rock.  They had to head down early due to an incoming afternoon storm, but still seemed to enjoy themselves.
Finally, a young group of guys headed out to Worley's Cave for a little romp in the mud.  Nothing like a little indoor hiking with cool coveralls that say "Buck", "Jim", and even "Nancy."  Caving is the perfect summer camp metaphor. You get to hang out with a bunch of your friends; go for a short ride; put on some random cool gear like helmets, headlamps, and coveralls (The gear is what makes it a legitimate event, of course 🙂 ).  The rest of the day is topped off by crawling into a hole in the ground for the sole purpose of getting muddy and being in the dark.
Everyone appears to be getting into their "camp groove."  The activities are moving right along.  The boys are figuring out what they want to do with their choice period.  The dining hall has moved into a nice flow and all the guys are eating plenty! The morning rituals of making your bed and cleaning the cabin have even fallen right into place.  I have seen a lot of happy faces, heard several funny jokes, and enjoyed catching up with many of the boys I haven't seen in just under a year!
Summer camp could possibly be the coolest thing ever! Have a great evening and enjoy the sweet load of nearly 200 pictures tonight, thanks to Bryan Ham!
Don Gentle
Associate Director