The Ideal Place
June 22, 2012 by Don Gentle
Pictures from June 22, 2012 (password required)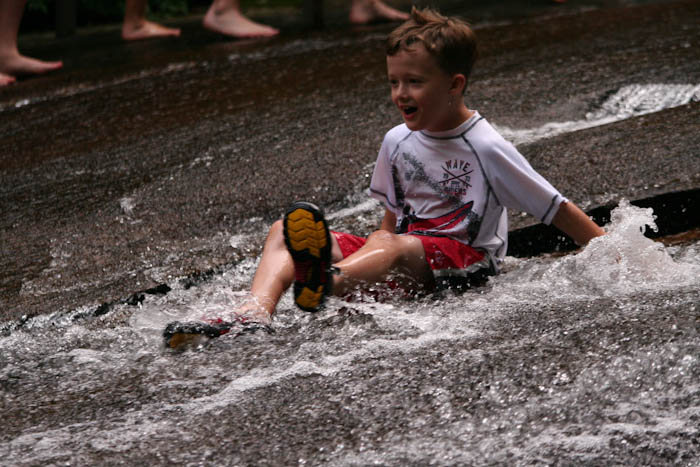 As we reach the end of our second week at High Rocks, the session feels as settled as it's going to. It's probably my favorite time of the session: The adjustment period is over and everything's going full speed.
This week has seen at least a dozen trips off camp property in all of our tripping areas. Even campers who prefer in-camp excitement have gotten away for Chill Night: A fresh, chilling plunge down Sliding Rock, followed by some chilling, fresh scoops from Dolly's Dairy Bar.
It's been a week full of highlights for campers and staff alike. As head of hiking, I was fortunate to take a great group into Upper Pisgah for the first three days. Monday's hike ended in a torrential downpour, but the following days were dry, warm, and filled with some of the best overlooks Pisgah has to offer: Devil's Courthouse, Black Balsam Knob, and Sam Knob. Each new view provided an opportunity to see just how far we had hiked and some stunning examples of just how incredible and diverse the landscape is up there.
Those moments—the respites from long uphill climbs, moments when we could remove our packs, move a bit more freely, and just experience how awesome the natural world really is—reminded me how fortunate each of us is to spend a part of our summer up here. I just began reading the book Desert Solitaire by Edward Abbey, and from page one it struck a chord with me. "Every man, every woman, carries in heart and mind the image of the ideal place, the right place, the one true home, known or unknown, actual or visionary." I often think that High Rocks, and the land around it, is as close as you can get to that phrase, and I hope that at least a few of the boys here feel the same. That feeling brought me back to camp after a year away, just as it brought me back to become a staff member three years ago.
After tonight, we hardly have a week until parents arrive again to bring their boys back to the real world. Their ears will once again be plugged with white buds and their vision will be filled with screens and concrete. It's not so bad a thing to be unplugged, if only for a little more time. And it's our hope here that the experiences of the past two weeks, and those still to come in the third, will push the campers to take out the ear-buds a little more, turn off the iPads and continue to stay fascinated with the world around them. It's a pretty amazing place.
ChaseFerree
Head of Hiking and Backpacking
Chase is a third year staff member and was also a camper for five.  Check out his complete bio on our Staff Page.