The Midway Point
June 19, 2012 by Woody Noland
Pictures from June 19, 2012 (password required)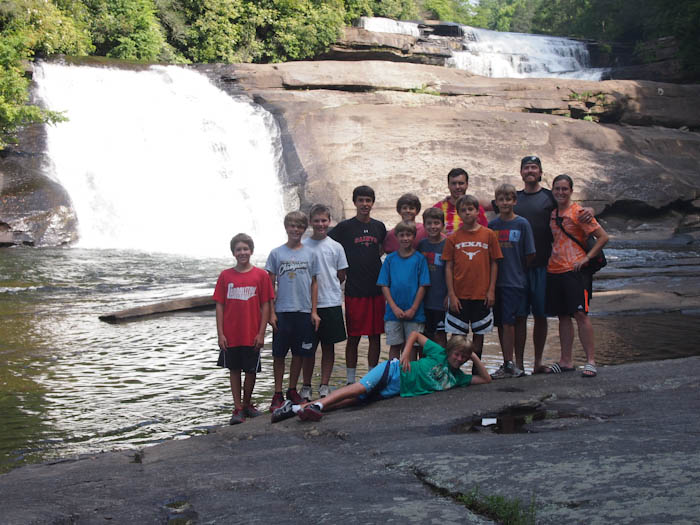 The day is now winding down at camp, which means that we have reached the halfway mark of the session! It's amazing how fast time goes by here, and it's also amazing just how many things went on today.
Even before we had sat down to breakfast, every cabin had brought their group laundry bags up to be sent out for a timely—and for some just in time—cleaning. Several had so many dirty clothes in them that campers had to team up to lift and carry them; in one case there were four guys on one bag!
Immediately after assembly, a group left camp to hike all day in DuPont State Forest. Though there are miles of trails and multiple attractive features, today became the hottest of the session so far and they made sure to include Triple and High falls for some cooling off. The mountain bikers took a group into a different part of the forest. When they returned to camp before lunch, the van was full of sweaty, smiling faces. The group of hikers already in high Pisgah we didn't hear from (a good thing), and I'm sure that they had a cooler day than here at camp, a day when they woke in tents, carried packs all day through one of the most beautiful places anywhere and will sleep (very soundly) in those same tents tonight.
Also just after breakfast, another van full of campers towing a trailer loaded with canoes went to Section Eight of the French Broad for a day of more serious paddling on a wide yet rather challenging part of the river. At supper tonight the guys were all beaming and chattering excitedly about their whitewater experience.
The rock climbers reinstituted a trip that we haven't done in the last few years. They hiked two groups—one in the morning and one in the afternoon—to The High Rocks, the large granitic boulders halfway up Rich Mountain just to the north of camp. Besides hiking from camp, what makes this trip so different from the other climbing trips is that the guys don't use ropes, harnesses and other equipment; they scramble around of the rocks using just their shoes and hands, which is called bouldering. Though they are never more than a few feet off the ground, the moves are technically difficult and quite tiring.
The horseback staff invited the first group of riders to go on a supper ride. After taking trail rides through areas outside of main camp, they arrive at the house of Jane Williams, who founded camp, and eat a special supper on her deck. Some of the campers call her The Lady in the Woods, because they arrive unexpectedly out of the woods at her house and because she is so delighted to host them.
After an early supper in the dining hall, the Closed-Toe Shoes and Campers' Republic of District 4 age groups took their turns having Chill Night, and I expect to see them any minute with the dwindling remains of dripping cones clutched in their hands as they make their weary ways from vans to cabins.
Whew! What a day!
Good night,
Dan Noland