The Muddy Camper Training School!
June 24, 2012 by Don Gentle
Pictures from June 24, 2012 (password required)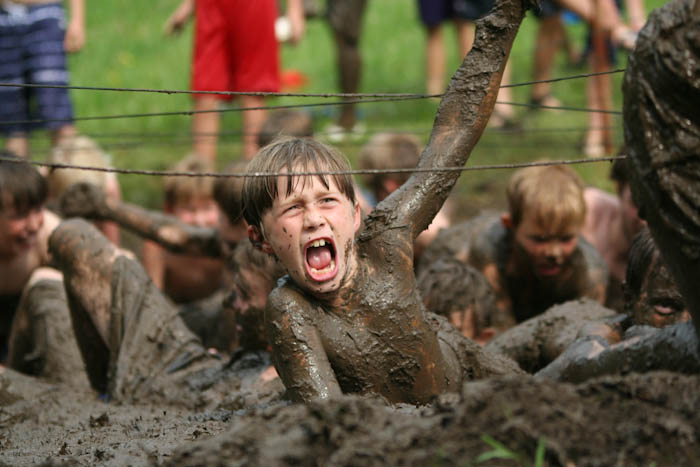 This could possibly been the best Sunday ever!!! A wonderful morning sunrise, lead us right into breakfast.  We continued the morning down by the lake with a morning service lead by me (Don).  I talked to the boys about "becoming themselves" and how camp is a great place to learn and even express a little more about you. The presentation continued on with reasons why it is important to be yourself and be proud of it!
We wrapped up the morning with a long two hour choice period, and then headed off to an incredible Sunday meal with roast beef, mashed potatoes, rolls, corn, and an awesome salad bar.  Of course lunch on Sunday is always topped off with an ice cream sundae.
In the afternoon, the guys were presented with a situation where they had to train to be super heroes in our very own Camp High Rocks Muddy Camper Training School.  The skills they would learn allowed them to be skillful super heroes to fight the evil doers of the world!  The course included several training events that included hitting targets with three-person water balloon launchers, running up the slip and slide, getting your whole cabin on the Rockit, working your way through a skillful obstacle course, problem solving center, dragon boat canoe maneuvers, shimmying across a greased pole, the rope swing, and finally…, the mud crawl!  Obviously, the mud crawl was by far the most impressive and exciting event.  I don't want to say the other events were taken lightly.  They were pretty awesome too!  However, the mud event added an impressive visual perspective that the others did not.
As you could imagine the Muddy Camper event was the highlight of the day!
I can't believe we only have five days left!  This session always goes so fast!  It is a very exciting week ahead with tons of trips and excitement.  We have a ton of great pictures including some from last nights square dance with Keystone Camp.  Have a great night!
Don Gentle
Associate Director