What a Day!!!
June 18, 2012 by Woody Noland
Pictures from June 18, 2012  (password required)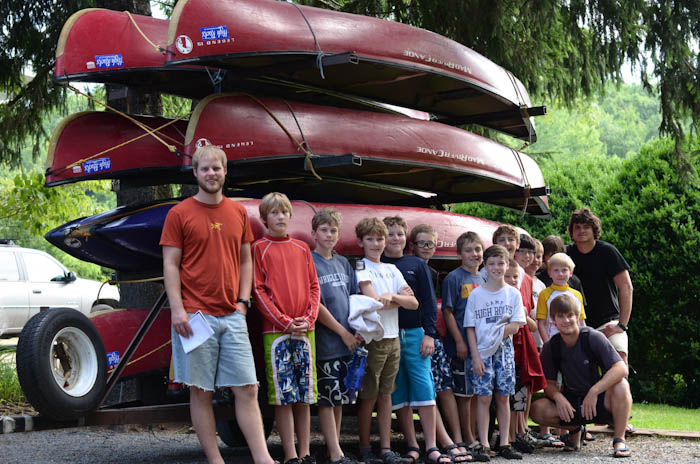 Closing out the Monday of our second week here and already amazed at how fast time moves once camp is in full gear. The normal camp day is so busy and energetic that you barely have time to look up before breakfast turns into dinner turns into taps at lights out. The sheer volume of camper enthusiasm pushes the whole operation along with the staff channeling it into all sorts of fun and productive activities.
Today was an excellent example of camp at its best. The weather was absolutely gorgeous from sun up to sun down and the temperatures were exactly what we expect from living on the mountain. Before breakfast even began for the majority of camp, trips were heading out in several directions. The cavers always get a jump on the day to maximize the time spent in Worley's Cave. The more time the group has directly relates to how far back into the cave network they can venture; conquering slippery slopes, underground waterfalls, totally white crawfish, and just existing in an absolutely dark, unchanging space. Our climbers also bolted from camp early to get to Rumbling Bald, a specialty of Chris Dorrity, our climbing director, who wrote the area's guide book. After a whole day of pushing themselves on challenging routes, the group returned exhausted but happy and full of stories from the rock site.
At a more decent hour (meaning post-breakfast and coffee) the paddlers ran the first of their two French Broad trips for the day. The group was paddling tandem canoes on a stretch of beginner whitewater to get a first taste of moving current and begin learning about river features. While the trip is only half a day, the canoers are swamped with information about how to handle their boat while coordinating with a partner and within the larger group. They learn how to navigate on moving water compared with the still lake, and how to begin being aware of safety for themselves and for their trip mates. The lessons learned on such a small stretch of river continue to build over the years for each paddler until they can comfortably negotiate much more advanced rivers with more significant challenges.
Mountain bikers also geared up for an all-day ride in DuPont State Forest, a treasure trove for the biking program. World class trails less than 10 minutes drive away from camp means our bikers can constantly push themselves no matter what level of rider they are. With several sunny days in a row, the trip today got a taste of hard-packed trails that allowed them to flow smoothly downhill, and at least helped in the uphill pushes! Like the climbers, the biking group was a tired bunch at dinner but you could already hear talk about the next trip on the schedule.
Hikers blasted out of camp on the session's first three day trip to Upper Pisgah near beautiful peaks like Sam's Knob and Black Balsam. The good weather is being especially appreciated by that trip as they can see for miles at their elevation of roughly 6000 feet! Tonight's menu included fresh grilled chicken breast quesadillas with various snacks to be savored looking out at the Blue Range at sunset.
Not to be outdone, this afternoon saw more special events happening in and out of camp. Swimmers ventured out of camp to the big pool below Hooker Falls in DuPont. The falls were featured in Last of the Mohicans and make a great backdrop for a warm afternoon spent in some brisk river water. Keystone Camp also provided some excitement when a large group of girls spent the afternoon with our tennis and soccer boys. Always a highlight, the campers quickly formed coed doubles and coed soccer teams and spent the whole afternoon playing their hearts out fueled with a fresh fruit and ice cream snack in the middle.
The day was winding to a close as dinner approached, but for two age groups (Gigantic Pile of Dirt and Dolly's Daisies) tonight was Chill Night! This meant that all those campers ate dinner early, and then hopped in the vans for a ride to Sliding Rock, a natural waterslide in Pisgah Forest. The water flows from Upper Pisgah and to say it is cold would be a vast understatement. Once the boys have slid to their physical limit, they head down to Dolly's Dairy Bar, a local institution with which many of you at home are now familiar! After being thoroughly frozen inside and out, the groups come on back to camp for a well deserved night of sleep.
And that is one slice of one day!! Please enjoy our pictures and we will see you back here tomorrow.
Woody Noland