A New Crew!!
July 16, 2012 by Woody Noland
Pictures from July 16 2012 (password required)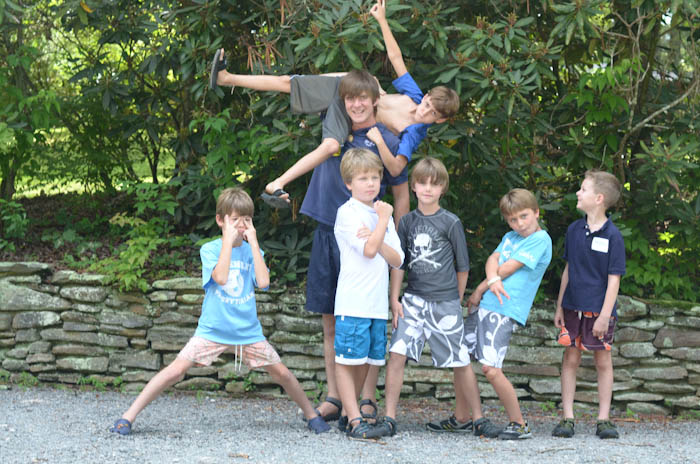 Today dawned with about as pleasant a morning as one could ask for here in the NC mountains. Blue sky and a cool breeze had everyone up and feeling spicy for the start of a new week and all the fun that will bring.
Trips headed out quickly and in numbers this morning. Climbers sent two groups to the Cathedral Rocks here at camp for a long session of bouldering. Since the problems are usually much shorter than a top rope climb, and there are so many of them at the site, it becomes an excellent way for the guys to get a ton of climbs in during a relatively short about of time. Both groups returned with big, tired smiles on their faces and proceeded to do serious justice at the lunch/dinner table. Mountain biking had two trips going as well. The first busted out of camp bound for Dupont and a series of loops originating in the Lake Imaging parking area. The second was a new format for the campers and involved volunteers looking to improve some our trails on the property. A group of guys headed out with Ryan Donovan, the activity head, amongst other staff and were armed with specific trail building tools. Once some training and explanation were given, the group attacked a portion of trail heavily used by the bikers and had fun while learning some useful skills. Upon returning to camp, the crew was greeted with some cold drinks and even colder ice pops as a welcome surprise and thanks for their hard work.
The paddlers loaded up the earliest of all for a day on Section 3 of the Chattooga River forming the border of Georgia and South Carolina. The Chattooga is classified as a Wild and Scenic river and presents some of the prettiest water that High Rocks paddles. The group will not only encounter great swimming holes, perfect lunch rocks, and all kinds of wildlife, but will also be negotiating serious rapids that require skills learned over the previous two weeks, and in previous years. While this section always makes for a looong day, the sense of accomplishment will be huge! Another group bound for a grueling yet satisfying experience headed out today for a five day hike in the Joyce Kilmer area. This group will have some great stories to share on Friday and were looking excited for the massive adventure they were about to begin. Archery and Riflery put on a cool activity for its classes with a special trip to the huge Rocky Top pasture of camp where groups of campers camouflaged themselves and attempted to sneak past searching counselors. The view of the pasture was great with campers doing their utmost to remain hidden and more moving "bushes" than I've ever encountered in my time at camp. With more campers on the ropes course, Windswept doing a cabin overnight, and all of Middler camp on their Chill Night, camp could not have been busier!
In the midst of all this action, today was also a special event due to the arrival of our new Junior campers for the Mini and Starter sessions. Twenty-two guys showed up ready to roll this morning and once move-in was accomplished, they were off to the races. This crew, here for one or two week sessions, was packed full of excitement and immediately threw themselves into camp life with cabin games and tours in the morning followed by activities in the afternoon. It was great to see the older Four Week campers instantly pick up on their new brethren and help them with activity questions, skills, or just a simple point in the right direction around camp. Lunch saw Hillside and Connestee sitting together for their first meal experience, but at dinner they were already mixing in with the rest of camp. A perfect start to a new session!
Hope you enjoy the pictures and we will keep them coming as we attempt to document all that is going on around camp!
Woody