An Action-Packed Week
July 9, 2012 by Woody Noland
Pictures from July 9, 2012 (password required)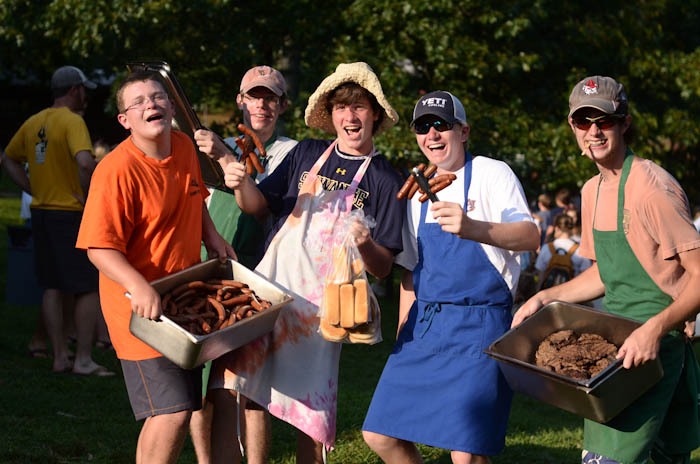 An absolutely beautiful morning ushered in the start of this second week and saw a marked increase in the level of out-of-camp activity for today. Now that a foundation has been laid, campers are beginning to push themselves on trips heading all over the WNC area to put their new skills to use. It feels great to have the 4 Week Session up to full speed now with more than 30 trips on the schedule for the next five days!
Before breakfast even started for the majority of camp, we had cavers and climbers up in the dining hall laying in a serious amount of food to fortify them till lunch. The cavers were out the door before most campers had finished their morning cabin chores and off for what turned out to be a great and sociable day in Worley's Cave. Our boys got to say hi to Keystone Camp and Camp Merrie-Woode before they disappeared into the cave for a delightfully muddy day spent clambering up slopes, crossing underground streams, checking out rock formations, and trying out several (very!) tight squeezes. The fellas were looking tired by the time they returned to camp but seemed to have enjoyed themselves a ton.
The climbers also got an extra early jump on the day to maximize actual climbing time before our afternoon rain rolls in. They headed to the South Side of Looking Glass, a classic site in the area and one our campers love to visit for the enormous views they get once they break out above the tree canopy. True to form, clouds came rolling in early afternoon but thanks to the sacrifice of a bit of sleep our boys got to spend some time on the rock! The paddlers were also moving quickly and made for the Green River for a full day of technical, rocky paddling in a somewhat pushier current. The Green is an excellent run for teaching campers boat control in fairly tight spaces as they weave through rock gardens, ferry in between nicely defined eddies, and have some fun flying in the current while hanging onto Superman Rock. It is also another excellent spot for campers to see and meet other camps and establish a connection with some of the programs they will see on the rivers throughout the four weeks.
Our mountain bikers loaded up for a half-day ride in Dupont which boasts a serious collection of quality trails for riders of all skill levels. The cool, breezy beginning of the day was the perfect start for such a demanding activity and by lunch time, all the bikers were ready for a well-deserved rest hour! It is impressive to see how quickly campers pick up the technical skills required to competently handle more difficult trails and to see their endurance growing constantly towards full-day and even some multi-day trips where they eat up the miles. Our hikers also had a fantastic three day trip depart camp for Upper Pisgah where they will spend their time weaving between Sam Knob and Black Balsam in some of the prettiest country around. Not only is it an excellent place to beat the heat up at close to 6000 ft, but there are plenty of creeks and swimming holes to cool off in once camp has been pitched, and as I write this they are enjoying a gorgeous sunset over the Blue Ridge. Multi-day trips are a special way to enjoy the scenery here in Western North Carolina and can impart a sense of accomplishment unlike any other, not to mention making some of the best friendships and stories!
With this being the close of the first day, the week seems set to be an amazing one indeed! Even our forecast was a delightful surprise with the highs guess-timated in the lower 70's!! I hope you enjoy the pictures this evening and we will see you back here tomorrow.
Woody