Another Wonderful Day at High Rocks
July 18, 2012 by Don Gentle
Pictures from July 18 2012 (password required)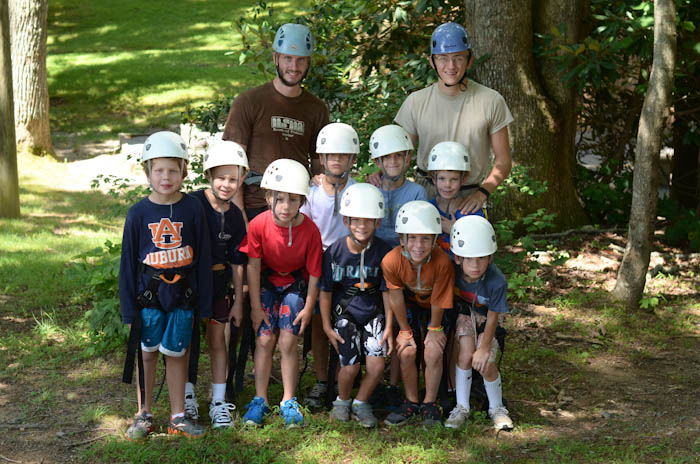 Hello!
Ashley here, a 6th year counselor who just can't seem to get enough of High Rocks! This day started off as a typically beautiful one with not a rain cloud in the sky. And, the cinnamon toast at breakfast made for a particularly pleasing morning.
Today I had the fortunate luck to lead a waterfall hike with 5 of our boys to DuPont State Forest. We discussed in depth the various filming locations of "The Hunger Games" as we hiked between Triple Falls (where Peeta disguised himself as a rock), Hooker Falls, High Falls and Bridal Veil Falls (where Katniss cooled her wounds after she got attacked by fireballs). Austen, my co-leader, and I also taught the guys a little about the power of persistency and how rock formations and waterfalls are formed by water. A little thunder boomer showed up just after lunch and helped to scare off most of everyday crowd at DuPont. We waited it out, however, and still got to finish up our hike and get in as much fun as possible!
By the time we pulled back into camp, the afternoon's storm was just settling in. During dinner it was pretty touch and go as to what options we'd have for evening activity. Some age groups decided to call it early, and I popped in on a pretty hilarious game of what seemed to be Bingo and Charades combined in the Lodge! However, as I made my way down to a glorious upper senior dodge ball match in the gym, I heard laughter echoing up from the lake. As the evening had turned into a gorgeous one cloaked in a light golden mist, I decided to investigate the goings on at the lake. I was not surprised by what I found! When water sports are able to resume during evening activity, there must be at least one epic game of Canoe Fill-Ups! Water was flying and the smiles were contagious.
I'm glad to leave you with such a great ending to yet another wodnerful day. Spirits are as high as always, and it seems that everyone's enjoying both the rain and the shine!
Cheers!
Ashley