Concentration!
July 31, 2012 by Hank
Pictures from July 31, 2012 (password required)
Hello from Camp High Rocks! Today is our first full day in activities, and camp is in full swing. Even a morning rain didn't slow things down!  The rain stopped before afternoon activities, and left behind a cool day.  You will see lots of campers in long sleeves or sweatshirts participating in their chosen activities in today's pictures.  We post a lot of pictures that show fun & a good deal of wackiness, but today you'll see a lot of concentration as well.  Learning how to shoot an arrow or climb a rock takes a bit of focus.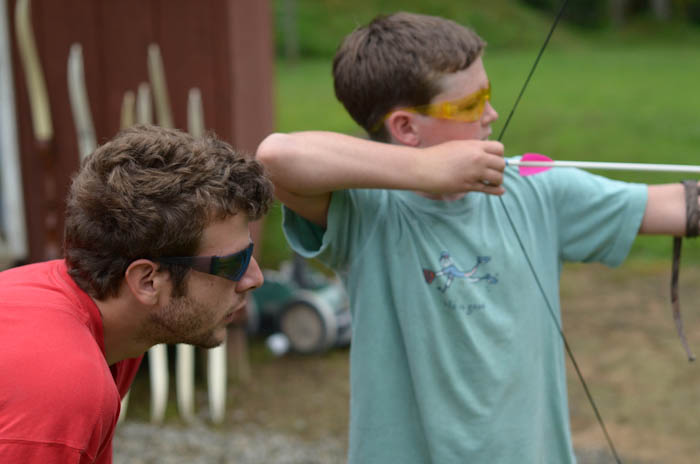 Today, the campers are learning the basic skills and methods of the activity and will follow a progression throughout the session, continuing to build more skills each day. Our goal is for each camper to progress in his skills through a session and then from year to year.  What I want to hear from our campers is that each year is even better than the previous year, whether it is their second year at camp or their eighth!!
Yesterday, the boys and their counselors thought up age-group nicknames. Rather than just calling them "group 1," or "juniors," we have the age groups come up with a fun name that usually precedes a chant or song. You'll have to wait and hear the chants from your boys on parents' day, but the group names are listed below.
Tonight's after-dinner activities:
"Connestee Warriors" (Hillside, Connestee, & Holiday Inn) are at the water slide.
"Annoying Copy Cats" (Lakeside & Foxhollow) are playing Danish Rounders on the Activity Field.
"Rabid Red Bananas" (Flattop & Chalet) are playing a game on the Cabin Field
"We are Farmers" (Windswept & Outpost) are in the Gym playing Chum Ball.
"The Vegetable High Council" (Halfway, Lookout & Pinnacle) are playing a game on the Soccer Field.
Tomorrow we start our cabin overnights with Halfway, Pinnacle, Outpost & Lookout cabins.
Have a wonderful evening and enjoy the pictures!!!
Take care,
Hank Birdsong
Camp Director