Figuring It Out On Their Own
July 25, 2012 by Don Gentle
Pictures from July 25, 2012 (password required)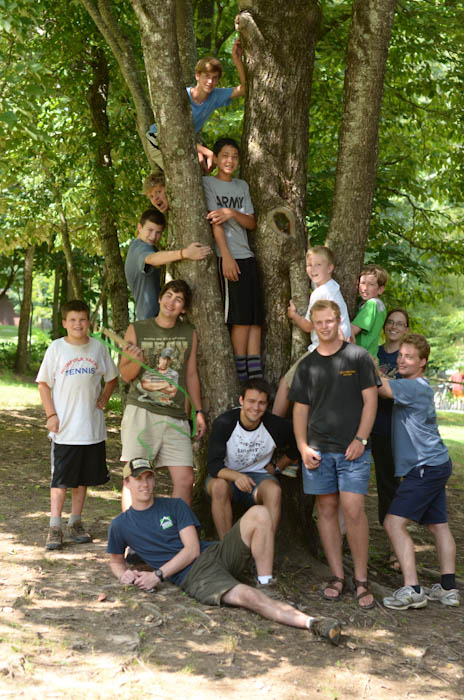 As we approach the end of our July Session, it sure is fun to look at all we have done over the past several weeks.   For some of the guys it's just been a week, other times two weeks and for a lot of the guys it's been almost 27 days. 
Now that I am older and a parent, I definitely look at camp from a different perspective. When I was 25, I was all about the cool activities; the biggest whitewater, the steepest climb, the longest hike.  Of course, I still love that stuff, but I channel my energies into the life skills the boys get out of camp.  There are just some things boys learn away from home, things they would have learned eventually later down the road, but camp has given them an opportunity to learn it a lot earlier.  I think as a parent it's just hard sometimes to let our kids do the things they need to do.  I know I usually don't like to see my girls upset, so I tend to help them through their struggles.  It's my job and most of the time I can't help but react in that way. Here is a good example.  I stopped by Lakeside cabin the other day just to see how the boys were doing.  It was sheet changing day.  The guys were all in there struggling through their task of removing sheets, getting out new ones, and then the hardest part, putting the new ones on.  I'm not sure how it is in your house, but this isn't something you see a lot of ten year old boys doing on a regular basis; it's not unheard of, just not real common.  So if you could picture coming in about midway through the process of six ten year old boys discussing and sorting though the inner workings of sheet change.  It was quite a sight.  Some of the boys had figured out the fitted sheet and were working through the top sheet setup.  Others were still trying to figure out how the sheet actually fit on the bed and that the "fitted" sheet is actually longer on some sides than it is on others.  Talk about your problem solving skills.  This was awesome.  The cabin counselor was there to add his input as needed, but he also made a point of letting the boys figure it out.  Not a huge deal, but just one of the many things that a boy picks up at summer every single day.
Of course, we had an incredibly awesome day today.  The advanced riders continued on with more jumping.  The starters are still learning more activities every day.  The paddlers were out on a new river.  The climbers came back from their two day assault on The Nose of Looking Glass Rock.  Mountain biking worked on some cool balance move and jumps.
I had the privilege of taking a fishing trip that headed out to the local trout hatchery, then off to practice a little fly fishing on the Davidson River. Finally, the boys got to jaw it up at the local fishing hang out, Davidson River Outfitters.  Each of the guys even picked out a fly they liked.
Summer camp at High Rocks sure has a lot to offer.  I hope you enjoy the pictures tonight.  Sorry I was late…again.
Don