Finishing Strong!
July 26, 2012 by Don Gentle
Pictures from July 26, 2012 (password required)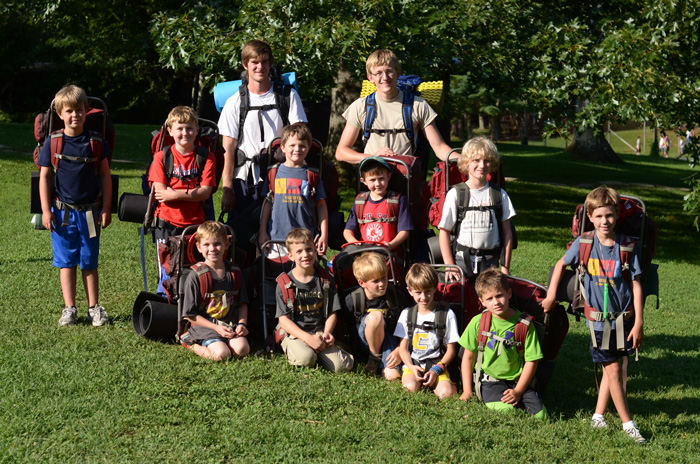 It was another very active and very busy day at High Rocks!  We had several trips head out of camp today the paddlers went over to the French Broad River section 8 for a day of practice on the whitewater.  Hiking headed up into Pisgah for a rock hop today.  They spent the day hanging out at water holes and making their way up the creek to the beautiful Yellowstone falls near the Blue Ridge Parkway.  The climbers enjoyed another day of rock climbing at Cedar Rock.  Mountain Bikers headed out to Dupont State Forest this morning for a great early ride and beat the heat!
In camp there are campers working diligently to finish up crafts and pottery projects so they will be ready for parents day on Saturday.  The horseback riding drill team had a walk-through of the course this afternoon and are very excited to show off their hard work on Saturday morning.  Many of our avid fishermen got to participate in a fish fry this afternoon.  They were able to help clean, batter and cook the fish they caught this week from the lake.  Swimmers enjoyed a special day of "resort style swimming".  They enjoyed floating on tubes and rafts and lounging on the dock.  The camper counselor tennis matches are being played throughout the day to make sure the final game is set for tomorrow.  My tennis season is now finished with two games played this summer.  I will hang up my racquet until next year's camper counselor tournament!
The upper senior age group enjoyed a steak dinner at Hank and Townsend's house complete with appetizers many sides dessert and ice cold coca-colas.  Needless to say it is a much anticipate event and a well deserved treat for the great example they set in camp.  Many of the upper seniors have worked with our younger campers in activities through our apprentice program.  They younger guys really enjoy this time and benefit greatly from the experience.  Tonight was cabin night for the rest of camp.  Each cabin gets to choose an activity around camp and a special snack to enjoy together.  There were several groups hanging out on the lake and a few choose campfire's to relax around.  It is a nice night cabin groups get to spend together.
Our starter boys spent the morning on the ropes course where they made their way through many obstacles on the tower and were rewarded with a zip line finally.  They loved it!  During the afternoon they made their way to the Archery and Riflery Range and then after lunch got a taste of sailing and horseback riding.  They day was not over yet for these little guys.  They headed out for their cabin overnight at Lower Rocky Top Shelter on the property.  They will get to enjoy pita pizza's and s'mores around the campfire and sleeping out with their cabin group.  They will make it back into camp in time for breakfast tomorrow.  It has been a busy week for these boys and they are loving life!
This will be the last night of pictures.  Don't forget Parents' Day on Saturday.  Please wait until 9:15 to arrive.  We will get things going around 10:15 with demonstrations, displays, and lunch!  I always like to remind folks about stopping by the cabin on closing day to be sure you get everything you came with before you leave.  Don't forget, if you enjoyed the pictures, you can still order a flash drive from Townsend.  Along with what you have seen daily, we will have afew more folders from various paddling, climbing, horses, and more.  Just email her at townsend@highrocks.com.
Have a safe trip; we can't wait to visit with all of you!
Zoob