Let the Fun Begin!
July 30, 2012 by Hank
Pictures from July 30, 2012 (password required)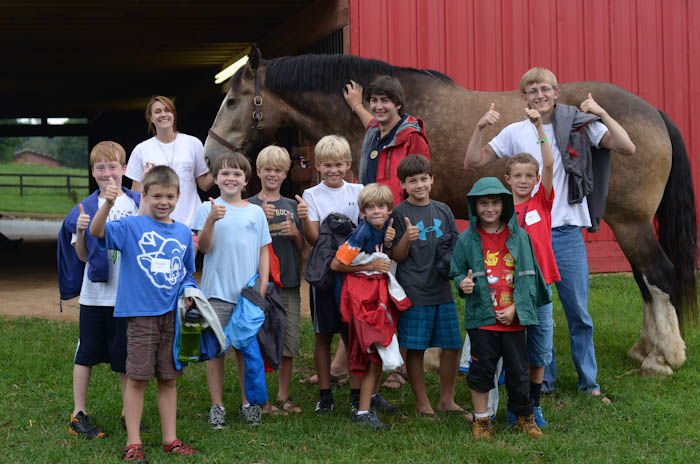 Opening Day!!! We had a brief (& much needed) afternoon shower that didn't slow us down a bit, which cleared off to a delightful afternoon.
There has been plenty of excitement, smiles and fun to go around today. Add in a bit of nervousness about being in a new place that is soon replaced by the bonds of new friendships and you start to discover what camp is all about. A majority of the boys in this session are at camp for the first time so it takes a day or two to develop a routine & be comfortable with their new surroundings. We do our best to keep them active right from the start to ease the transition. Your sons, our campers, are now making independent decisions and learning much more than the skills they attain in the activities. Each of the campers is having fun while taking some first steps towards independence.  If you find yourself worrying about what he will do without you here to remind him about something, you will be amazed at what he can do on his own.  I can guarantee that he will make his bed each morning & help with cabin cleanup each morning, something I could never guarantee that my boys would do unless they were at camp!
The campers have already visited each of the activity areas and have just finished picking their activities. Tomorrow (Tuesday) will be the first full day of activities. I will send your initial letter from camp tomorrow that tells you a bit about your son's counselor and the activity choices of your son. If you haven't had a chance to look over our wonderful staff yet, be sure to see our 2012 summer staff page. Of the 77 staff members at this session there are only 17 that are new to High Rocks. The other 60 are former High Rocks staff members or campers.
Please remember not to send packages of any sort, but letters and emails are encouraged. Don't forget to tell grandparents- they may want to send cookies or other goodies, but ask them to refrain & send them to home after camp is concluded rather than to camp.  Packages will not be delivered to campers (if there is a birthday, call us for instructions). If you need to send an essential forgotten item of clothing, medication, etc, call our office first & then send the item to the attention of our office staff. Our office staff will open the package & deliver the item.
When sending letters and emails to your son it is helpful to ask about the fun things at camp rather than dwell on how much he is missed at home!  Campers enjoy receiving funny cards as well as letters.
Enjoy the pictures- we will try to post by 9pm each day, but it can be much later, or even the next day. Sometimes the pictures are from the previous day, sometimes they are from earlier in the same day. On most days we will upload around 100-150 pictures.
We're looking forward to a great session. Be sure to visit often to check out pictures as the session progresses.
Take care,
Hank Birdsong
Camp Director