Let the Sun Shine
July 14, 2012 by Don Gentle
Pictures from July 14 2012 (password required)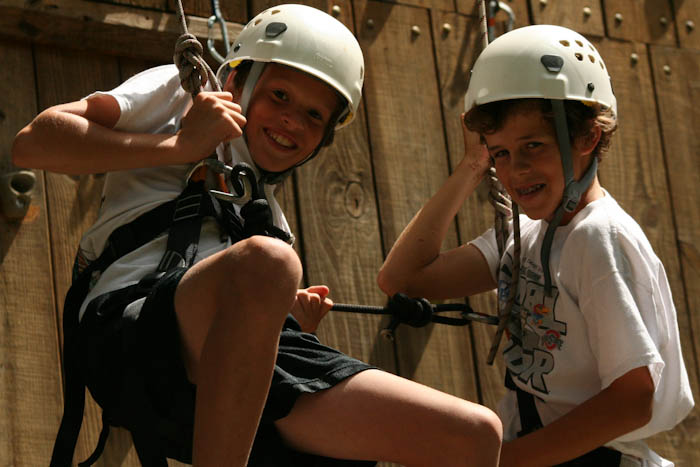 Yes!  We had a wonderfully sunny day today!  It was still sprinkling early this morning, but all turned out to be sun the rest of the day!  There were all sorts of cool stuff happening around camp today, the best part being the sun of course.
Climbing had three different challenges going on at the tower.  On one wall, teams had to work up the wall and get a full cup of water to the top while they climbed.  On the beginner wall, the guys had to climb blindfolded all the way to the top.  Finally, the advance wall had a setup where the boys we tethered together.  This presented a challenge where one person could help the other, or if they fell the may both fall.  It was pretty cool!
You know one of the coolest things about the four week session is the skill advancement that takes place each summer.  One example is yesterday's whitewater trip I went on.  I jumped aboard to do some video and photo shooting.  The river was at an excellent level and a great challenge for these guys, We had several solid class three rapids throughout the day with plenty of other fun stuff in between.  I was so amazed at these boys paddling ability.  You will notice by the (awesome) pictures that this was not just a float down the river!  These boys have worked hard to get to this level; for many of these boys it has been several summers.  The cool thing is that they will still advance probably one more level in the canoe.  They will also have additional opportunities in decked boats, like kayaks, on their upcoming rivers.
It was a little weird not have our Mini guys around the rest of the day.  They sure were a lot of fun! We will have a new batch of boys in on Monday.  Everyone here is looking forward to a our typical late wake-up this morning!  I can't wait to see what the day will bring!
Have a wonderful night!
Don