Opportunity is the Name of the Game!
July 19, 2012 by Don Gentle
Pictures from July 19 2012 (password required)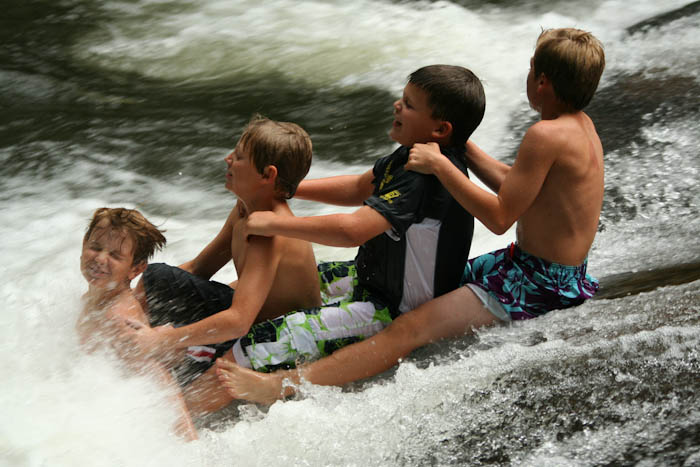 The morning started with an early breakfast for the paddlers before they headed to the Nantahala River.  This was the second trip of the week to the Nantahala and the boys on today's trip were super excited!  The three day climbing trip spent another day at the Obed in Tennessee.  This area offers plenty of challenges for our climbers and options even if it rains.  The plan was for the boys to get an early start each day and take a break in the afternoon heat.  The five day hike is wrapping up their last day of hiking in Joyce Kilmer.  Tomorrow they will raft on the Nantahala River for the final day of their adventure.
We had a two day hike head out to the Sam's Knob/ Black Balsam area of Pisgah.  The boys will enjoy cooler temperatures and beautiful views while up close to the Blue Ridge Parkway.  It will be the first time tent camping for several of the boys and they were excited!
The Starter Session campers are on their cabin overnight this evening and I am sure will come in with sticky smiles in the morning from s'mores around the campfire.  They will also enjoy cooking pita pizza's this evening.  They are always a hit on cabin overnights!  We can hardly believe that tomorrow it the last day of activities for the starter campers.  They spent the morning on the ropes course and had a blast!  They have packed in a bunch of activities and a whole lot of fun in just one week!
In camp the tennis courts have been very busy with camper counselor tennis matches.  Disc golf has been ever popular this session and four square is a camp classic during free times.  There have been a lot of campers practicing on the gates course in canoes.  The boys are busy during instructional times and also making the most of choice period and free time before lunch.
The boys are just finishing up their evening snack and heading back to the cabins for showers and cabin meetings.  The cabin offers many learning opportunities as well.  Boys are learning how to handle differences amongst cabin mates and methods of conflict resolution.  They are also believe it or not honing their cleaning skills every morning before cabin inspection.  They are working with their counselors on setting personal goals for the session.  Cabin life offers many opportunities for growth!
We hope you will enjoy the pictures this evening!
Zoob Gentle