Rivers, Trails, and Rope Swings
July 10, 2012 by Woody Noland
Pictures from July 10, 2012 (password required)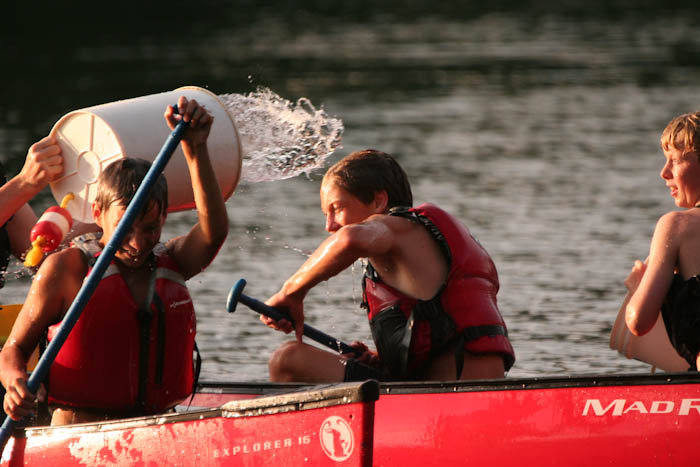 We all woke today to a great treat: gentle rain in the middle of the night brought cooler temperatures and meteorologists' claims that the heat wave is over. At breakfast, a few sweatshirts and fleeces even showed up! Since we are now in a pattern of daily afternoon rains (quite regular—starting at 1:30 and ending by 3), trips and other activities got off to somewhat earlier starts.
Another group of bikers peddled in DuPont for the morning. The ropes course challenged some of the guys in Chalet.  Horseback riding sent several trail rides out every hour. It's a great thing to see guys having such big animals under control, feeling comfortable getting the horses to do their bidding and enjoying the whole process as much as they do. We have gentle horses at camp, but it still takes skill and perseverance to show them who's in charge.
A group of hikers left to spend the day rock hopping on the Yellowstone Prong River, which falls from just below Graveyard Fields over a long series of sizable boulders and into cool, surprisingly deep pools that are perfect for a splashy swim. A bit grubby and mighty tired, the hikers/hoppers got back just before supper wearing huge grins. The paddlers sent an advanced group to the Nantahala River, a couple of hours west in the higher mountains. That water is cold, fast and demanding, so it provides an eight-mile, safe but serious test for canoists who have been working toward this river since at least last year.  The climbers went to Cedar Rock, a great climb in Pisgah about half way between Dolly's and the Blue Ridge Parkway.
If you haven't been to Dolly's yet, by all means plan to do so at the end of the month, unless you have no taste for ice cream. In any event, this day is waning to cool with the delighted sounds of rope swingers just out the window, with canoe fill ups, soccer, dodge ball and Danish Rounders in the distance.
Good night,
Dan