Super Hero Training Sunday
July 15, 2012 by Don Gentle
Pictures from July 15 2012 (password required)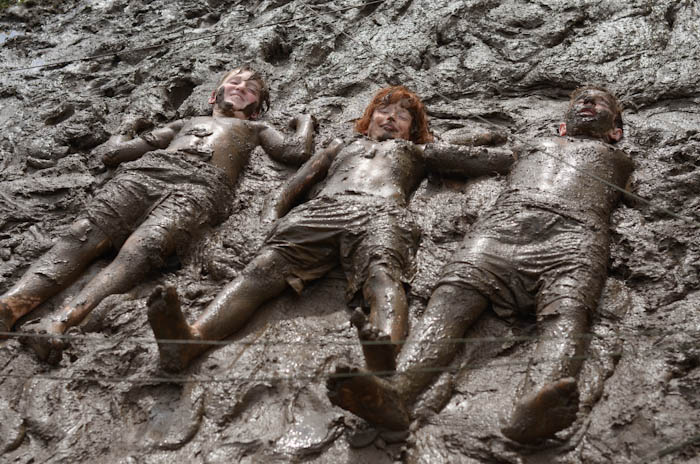 What an awesome day!  The sun was shining most of the day with only a perfectly timed rain shower at lunch and res hour.  We had a great morning of music, a moment down by the lake, and awesome choice activities.  As if summer camp at High Rocks isn't awesome enough, we informed the boys about this afternoon's special event called Super Hero Training!  The boys were present with a number of tasks to help them with their super hero powers.  
The training tasks included challenges like running up the slip and slide, maneuvering a water filled tube through obstacles, assembling a tent blindfolded, hitting a distant target with a water balloon launcher, balancing your whole cabin on the Rock-It, dragon canoe filling, the greased pole, and finally…the MUD CRAWL!
I must say the mud event was the highlight.  What was really cool to watch was the transition of the boys.  Nearly every one of them starts into the mud on their feet and knees, trying not to get too muddy.  Then, they move into a little more mud and start to realize it isn't too bad.  Finally, they want to do it again to see how muddy they can really get.  As you will see, it makes for great pictures!
We wrapped up the day with our awesome Black Angus burgers and all beef hot dogs for the cookout.  Finally, Dan Noland entertained us with a great rendition of the classic The Most Dangerous Game for the campfire story. 
We welcome our Mini II's and Starter campers tomorrow morning!  A group of about 22 boys will be coming in the morning tomorrow; most of them experiencing Camp High Rocks for the first time ever!  I can't wait to see all the boys and their parents in the morning.  We talked to all the guys at campfire about giving all of them a big High Rocks welcome!
Have a great night!
Don Gentle