Take me to the river…
July 13, 2012 by Don Gentle
Pictures from July 13 2012 (password required)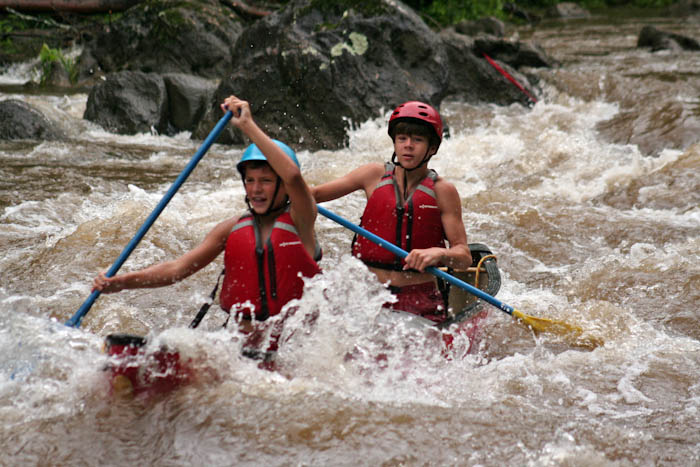 One thing about rain is that it makes our paddlers very happy!  Typically, when we get into this part of July, we have a limited number of rivers we can run because of water levels.  I am here to say low water levels are not a problem this week.  Actually, most of the rivers are perfect!  They are all keeping at great levels, but not getting too high…yet.  We had a great trip to the Tuckaseegee River yesterday and another great trip on Section 9 of the French Broad River.  I can't say that the climbers have been very happy. 
So the crazy thing today was that we lost power again for a few hours due to some downed trees on our power lines here in camp.  The power was off nearly up to lunch, so we had to order in again.  This time we had Jet's haul a ton of pizza up the mountain.  I'm beginning to think that the boys are looking at the menu and deciding they want something else.  If you remember earlier this week we ordered in fried chicken for camp.  Anyhow, most all of the activities went as planned, some of the others had to make slight changes, but our staff did a great job of keeping it all going.  The sun even came out after lunch and stayed with us all afternoon!
Our Mini I guys go home tomorrow.  We sure have enjoyed their two weeks here at camp.  I have spoken with several of the guys who mentioned that they can't believe it is over already.  Don't be surprised if the mention wanting to come for a month next year.  They sure had a ton of fun.  Tonght the headed off to sliding rock and Doly's, our infamous local ice shop.
Mini I parents:  We are looking forward to seeing all of you on Saturday (tomorrow) for our "parents' day."  Please plan to arrive around 9:30. You will have an opportunity to tour all of your son's activities and, of course, visit with his cabin counselor.  We should wrap up with a reception in the lodge around 11:30am.
Have a great night,
Don Gentle