The First and Final Week!!
July 23, 2012 by Woody Noland
Pictures from July 23, 2012 (password required)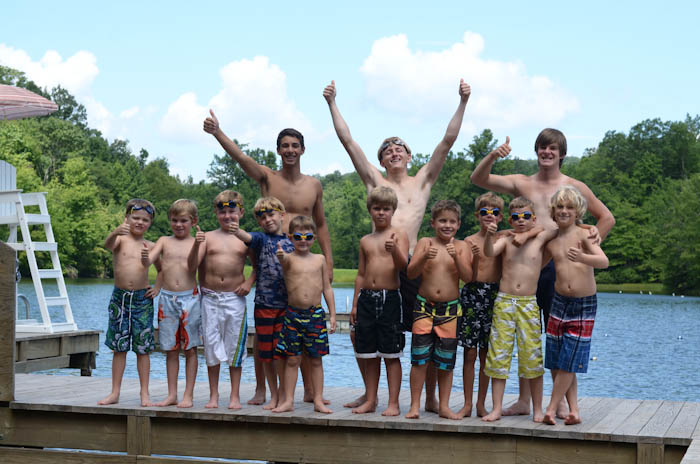 The fourth week got off to an amazing start this morning with a beautiful clear, dry day to get everything cranking in and out of camp. Canoers took two different trips to the headwaters of the French Broad River, one a sizeable group of young guys testing their skills (and that of their partners!) in tandem canoes and the other group was composed of more experienced paddlers taking a closed boat trip in kayaks, C-1s, and solo open canoes. It was a High Rocks flotilla all day with some hilarious stories, flips, and personal goals being met.
The cavers took a large crew of older campers for a long day of deep exploration into the cave, getting further than many groups due to their ability to quickly traverse the difficult slopes, tight squeezes, and slippery scrambles up rocks. It is a great chance for those who have been into Worley's before to explore entirely new chambers and discover the cave all over again. Continuing the theme with the eldest campers, the ropes course was full with a group of huge guys having a ball. There were yells echoing all over camp from our fifty foot tower and the entire course was in motion constantly as the guys put the elements through a rigorous test. It was quite a sight to see the normally "cool" and relatively dignified Upper Seniors revert back to early childhood when running through the tops of trees.
On the other end of the age spectrum, the climbers headed to Pilot Rock with an ecstatic group of young fellas, bound for a full day out on the rock. The weather was completely agreeable, meaning no moisture, and the crew was in for a huge day. This was one of the first trips in years where every single climber topped out "in good style" according to Chris Dorrity, our head of climbing. This means that everybody climbed more than 350 feet!! It was a serious day of meeting goals and personal satisfaction, followed by an equally serious approach to the demolition of tonight's dinner.
A smaller group of mountain bikers loaded up for a long day down in South Carolina at Issaqueena. The trip consisted of several advanced loops testing each biker's control, personal comfort, and just sheer endurance. While that particular group is not running as hard as normal in tonight's evening activities, it was yet another success in a challenge successfully (if not easily) met.
While many of our campers approach this week as the culmination of their month long experience; this morning also ushered in a group of young and super excited Connestee campers. Eleven new guys joined us for this week and man did they bring some energy. After throwing the Frisbee, playing Jackpot, feeding the fish, and touring camp they launched into an afternoon on the waterslide, the rope swing, some field games, and tennis. Then this evening they are all piling on the Rock-It and thrashing around on the lake for all they're worth! After a snack of pigs-in-blankets, it will be off to the cabin for their first evening together where they will lay down ground rules for each cabin group, answer questions, and get settled in just in time for a perfect, cool evening of rest. Can't wait to see what tomorrow brings to that group of guys, and what they bring to camp!
Have a great night,
Woody Noland