The Fruits of Labor
July 24, 2012 by Don Gentle
Pictures from July 24, 2012 (password required)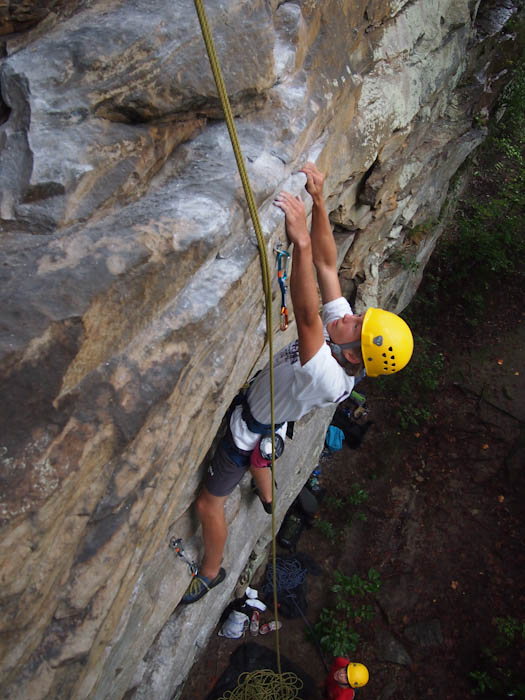 The last week of camp always has a noticeable atmosphere of calm confidence, though we start off with the same wakeup, cleanup, excellent breakfast, assembly, and morning activities.  Campers know exactly where to go (well, the new one-week starters are still learning), they are enjoying the fruits of three prior weeks of hard work and fun, and each day brings an interesting variation in the established rhythms.
Today, for instance the climbers left on an overnight trip to Looking Glass Rock which will allow them extended time on the rock faces, later into the evening and early morning. Since we are in a welcome dry spell, they should come back tomorrow tired, sore and satisfied. Of course, there is a wonderful, large stream nearby that offers the refreshment of multiple cooling swims as well. There are also some great pictures of several trip that were out of camp the last few days, including a Chatooga Trip, Obed 3-day climb, and a pilot rock trip.
The paddlers shoved off early for the Tuckaseegee River, just this side of the Great Smoky Mountains. The water is fast enough to provide a challenge for even advanced campers, and, with the rains we've had over the last couple of weeks, the river may well open a few eyes. There will be stories aplenty when they get back this evening.
In camp, the biggest twist has to be the three-day event among the horse riders. They started the session working in the rings and earned trail rides in the woods once they had mastered the appropriate skills. This week they ride a Cross Country course, engage in Stadium Jumping and finish of with Dressage. Today saw the most advanced riders trotting over a series of six jumps in the middle of a pasture, some of which required the horsemen to control their mount as it jumped over foot-high logs! As they streamed back from the barn at the end of each class, there was much excited yakking about this first-ever experience for many of them.
Tonight sees the last night of regular evening activities—the rest of our nights will be different in one way or another. So the rope swing, water slide, canoe fillips, field games and dodge ball all have a special intensity to them—as if we needed more intensity!
Enjoy, and good night,
Dan