Camper-Counselor T-shirt Swap Day
August 9, 2012 by Hank
Pictures from August 9, 2012 (password required) – We can't make this guarantee often, but today I can guarantee that each camper is pictured.
Yesterday was "Wacky Hair Day", today is "Camper-Counselor T-shirt Swap Day".  The campers choose a counselor to swap with & the results are fairly amusing.  The bigger the size differential, the better!  One of the great things about camp is the wackiness and fun that goes on each and every day.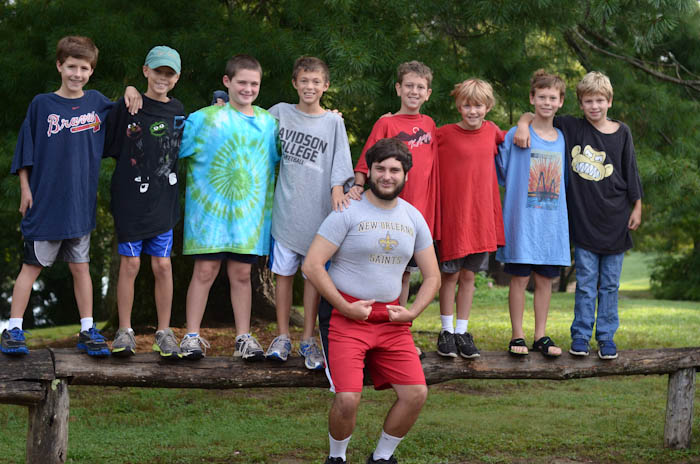 Tomorrow (Friday) is our last program day. We will have regular activities and several special activities going on (be sure to ask your son if he painted a pony).
Parent's Planning Guide for Saturday
No need to arrive before 9:30- have breakfast in town, go by Quotations and get a latte, read the newspaper, then leave Brevard after 9am
Arrive around 9:30, but Please not before 9:15!!  Our counselors will not be ready to load trunks until 9:15 & campers will still be in assembly until 9:50 or later
We will direct you to the gym, where trunks will be loaded
From the gym you will drive to the parking area on Campfire hill
Once assembly is over (around 10:00am) each camper will be able to demonstrate the activities of his choice
Please plan to stay until noon and join us for an early lunch that starts around 11:30. If you were not planning to stay for lunch originally, don't worry- we always plan for extra & will have plenty to go around.
At some point during the morning-

Go by crafts to pick up any projects
Check out at the camp office & pick up your packet (please bring a checkbook in case there is a small balance due)
Go by the cabin & pick up personal items that did not fit in the trunk (check cubbies & clothesline!)
Peruse the "lost & found" items

It is fine to bring other family members or friends that might be interested in seeing camp.  We ask that pets remain at home.
What's Next? I always have parents ask about the difference between our two-week session and our longer sessions. The two-week session is meant as an introductory camp experience and all of the trips during a two-week session are beginner level trips. In every session our goal is to have a progression of building skills in the activities. When boys move on to longer sessions as they get older, we are able to build on their previous experiences and keep them at an appropriate level of challenge.
The older campers in our four-week session, shown below, began their High Rocks careers paddling a river similar to the one our two-week campers were on a few days ago, shown above. Each activity has a progression during a session and from one year to the next. Another huge benefit to longer sessions is the social experience the campers have within the cabin groups. For us, a camp experience should be fun, but we also want our campers to grow socially and to become more independent as a result of the experience.
High Quality pictures– We will have pictures from this session (almost 2,000 that are about ten times the resolution of the website pictures) available for sale on "jump" drives ($30). For those of you that pre-ordered the jump drives, they will be enclosed in your check-out envelope on parent's day. If you did not pre-order one you can still reserve one by emailing townsend@highrocks.com (we'll have extras on Saturday as well)
Today's outings– There were several trips out today, including: a French Broad River canoeing trip; an overnight hiking trip returned; and a "Pilot Rock" climbing trip. Each of the trips had a camera along, so pictures from each of those trips are included in today's slideshow.  The guys in Holiday IV were on the Ropes Course this morning.
One last reminder- please do not send any more mail, it will not arrive before closing day! (it is fine to send emails)
See you Saturday!
Hank Birdsong
Camp Director