Car Camping, Pirates, & Harleys!
August 4, 2012 by Hank
Pictures from August 4, 2012 (password required) – Today's pictures are from Friday and Saturday.
Note from Hank– I'm passing on the blogging duties to a few other folks in the upcoming days.  Today's blog is from Elizabeth "Zoob" Gentle, our Program Director (& year-round Associate Director).  This is Zoob's 20th summer at High Rocks!
Saturday- Fun Day!
It was a great morning at Camp High Rocks.  It began with hot pancakes fresh off the griddle, bacon, hash browns, fruit and a variety of cereals to start off the day!  Dan and Hank managed to keep up with the rush of hungry boys this morning.  It has been a long tradition at High Rocks of pancakes on Saturday morning and the boys continue to enjoy them each session.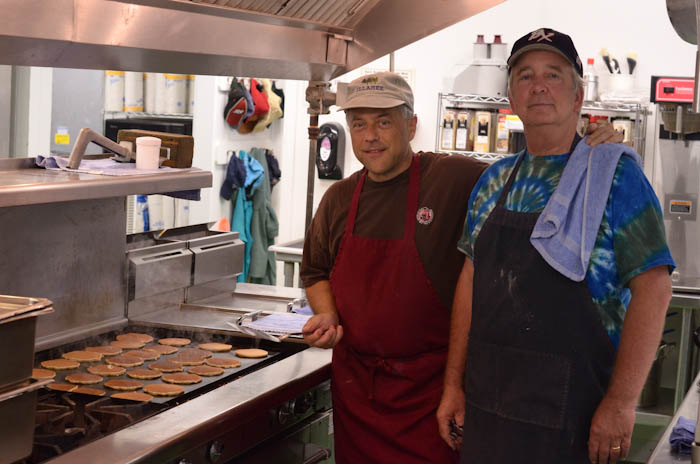 Today many of our activities have incorporated special themes to add to the fun.  It was pirate day in climbing, sailing and swimming today.  In climbing the campers try to storm the tower while the counselors throw splash balls and an occasional bucket of water on the campers as they try to climb to the top.  There are many new beards and mustaches today (luckily made with washable markers) that the pirate campers are very proud to wear!  In sailing there were pirate attacks that led to capsized boats and learning how to right the sail boat all while talking like pirates, Arrggh!  In swimming today there was a hunt for treasure that involved going off the waterslide, rope swing and finding clues that led the swimmers around the waterfront.
Hiking today enjoyed a day of "car camping".  It was a chance for campers to enjoy learning to cook hot dogs and Jiffy Pop over the fire.  There was classic rock n' roll playing and many games like horse shoes and Frisbee for the boys to enjoy.  Many of the counselors really get into it with cut off jean shorts and southern Appalachian accents!  Horseback Riding hosted games on horseback also known as Gymkana.  The campers got to experience many challenges on their horse and then had to dismount to eat doughnuts tied from a string.  It is always a funny event and some of the campers even share some of their doughnut with their horse.
Today in canoeing the boys experienced the High Rocks version of "Water World" by sliding down canoes stacked three high in the middle of the lake.  The campers love it as you can imagine and the creativity of our staff never ceases to amaze me.  The creation of the water world slide had been a bit hit and the campers cannot get enough!  Mountain Bikers had the treat of Harley Day.   Harley Day consists of taping playing cards to the back wheel of their bike to make a cool motorcycle sounds and putting on tattoos with (washable) markers.  There are some good ones out there today.  My favorite was small bicep adorned with a small firework that exploded when flexed I was informed.
The fun was carried into lunch today with a completely impromptu rendition of the national anthem.  It occurred when there was a quiet moment in the dining hall and all of a sudden on counselor started Oh say can you see… the next thing you know the entire dining hall was on their feet and a flag was brought in and waved proudly.  It is the moments like this that make me appreciate the energy and fun that our staff bring.  They are an amazing group this summer and are having a blast with your sons!
Tonight's after-dinner activities (youngest to oldest):
"Connestee Warriors" (Hillside, Connestee, & Holiday Inn) Hillside & Holiday are playing a game on the Activity Field.
"Annoying Copy Cats" (Lakeside, Foxhollow) are playing a game on the Cabin Field.
"Rabid Red Bananas" (Flattop & Chalet) Chalet is on a cabin overnight, Flattop is at the soccer field.
"We are Farmers" (Windswept & Outpost) are at the waterslide.
"The Vegetable High Council" (Halfway, Lookout & Pinnacle) are in the lake with "canoe fill-ups".
I hope you enjoy the pictures this evening,
Zoob