Challenge by Choice
August 1, 2012 by Hank
Pictures from August 1, 2012 (password required)
Greetings from Camp High Rocks! The second full day of activities has been awesome!  A few guys are still heading uphill to go to sailing or need directions to find their cabin to get long pants for Horseback Riding, but it is all starting to come together.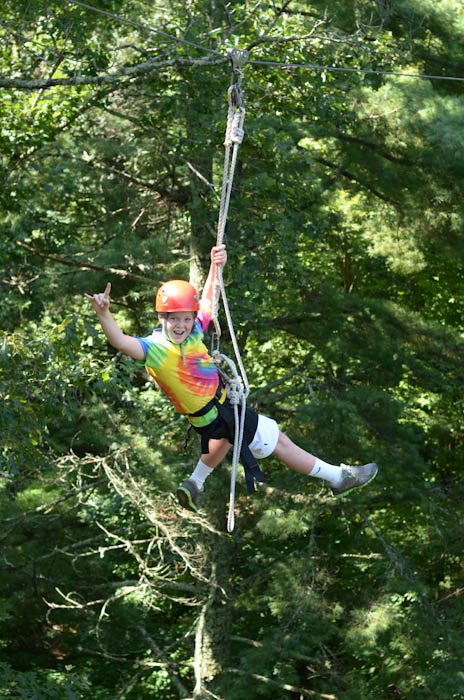 All of the guys in Halfway cabin spent the morning on the ropes course, & Pinnacle had their chance in the afternoon. Time spent on the ropes course is an opportunity for campers to get to know their cabin mates, work on different types of trust among the members of the cabin group, and have a great time. As with all activities at Camp High Rocks, we subscribe to the "challenge by choice" theory on the challenge course, which means we encourage the campers to participate in the activities, but the choice is ultimately theirs.
Tonight Halfway, Pinnacle, Outpost & Lookout cabins are going on their cabin overnights. Each cabin will hike to a different shelter on camp and spend the night. The guys will get to cook their own pita pizzas (with counselor assistance) and enjoy s'mores for dessert. After a night of camping they will be back to the main part of camp for breakfast in the dining hall. Cabin overnights are always a favorite of the campers! Every cabin group will go on an overnight by this weekend.
We have heard from a few parents that are worried about their son being able to remember things or make his bed & I was reminded of a great post from Don Gentle earlier this summer titled "Figuring It Out On Their Own".  It was a great post that underscored how camp can augment our roles as parents.
This is just a quick note about homesickness for those parents who may be 'campsick.' Our objective is to have a very active program with little "down time". Our past experience tells us that as campers are acclimatizing to their new surroundings they will be fine as long as they are active. For a few boys to experience some homesickness is normal. Homesickness is nothing to be alarmed about and usually passes quickly. Homesickness is usually limited to slower times of day, such as rest hour or immediately before bedtime. If you get a letter or postcard that sounds a bit down, you can bet it was written during rest hour. These letters usually reach their destination by Wednesday or Thursday of the first week (but could be even later). Ironically, campers have usually become immersed in the camp experience and forgotten about homesickness by the time their letters reach home.  In our morning meeting (before the wake-up bell) we were chuckling about some of the distressing postcards and letters that parents have shared with us in the past.  Some parents have brought them to show me at the end of a session to highlight the comparison of letters from the first few days and those from later in the session.  The funniest are the ones that sent a distressing letter home at the beginning of their first year of camp & their parent unearthed it when they were returning for their fifth year or once they were joining us on staff.
So, if you receive a letter from your son saying the he is not enjoying camp and would like to come home, do not be alarmed. Chances are that we have him 'under our wing' and that he has already moved beyond his homesickness and is enjoying his camp experience to the fullest. If you get a less than positive letter, feel free to call or email our head counselor, Woody Noland (woody@highrocks.com). He does a great job of following up with the campers that might need a little boost. More times than not, Woody is already aware of any campers that are "down" and has already been working with them and their counselors. Letters from home should be encouraging and express how proud you are of his independence & that you look forward to seeing what he has accomplished when you come to camp on Parent's day (Saturday, August 11th).
Tonight's after-dinner activities (youngest to oldest):
"Connestee Warriors" (Hillside, Connestee, & Holiday Inn) are playing a game on the Cabin Field.
"Annoying Copy Cats" (Lakeside, Foxhollow) are at the waterslide.
"Rabid Red Bananas" (Flattop & Chalet) are heading to "Sliding Rock" and Dolly's Ice Cream.
 "We are Farmers" (Windswept & Outpost) Outpost is headed out for their cabin overnight, Windswept is on the tennis courts.
"The Vegetable High Council" (Halfway, Lookout & Pinnacle) are headed out for their cabin overnight.
Have a wonderful evening and enjoy the pictures!!!
Take care,
–Hank Birdsong
Camp Director