Rivers, Trails and Rocks to Explore!
August 6, 2012 by Hank
Pictures from August 6, 2012 (password required)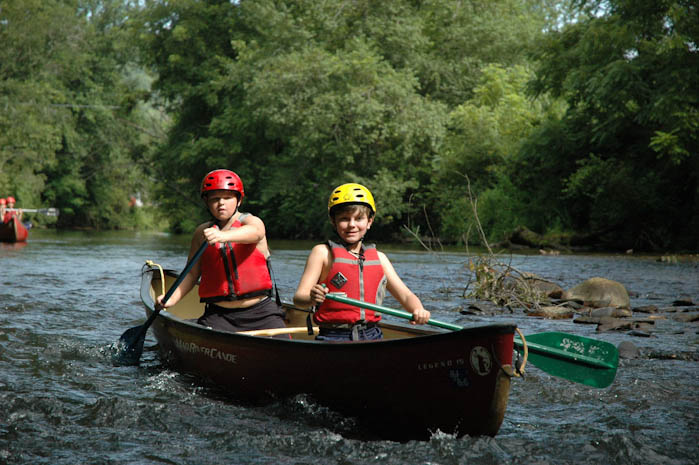 Today the campers were off and running with their activities.  In addition to the regular activities we had trips out in Mountain Biking, Rock Climbing, Canoeing, and Hiking.  The Mountain Bikers went to Dupont State Forest this afternoon to enjoy some trail riding.  They left after lunch and returned right before dinner having worked up a good appetite.  Some of the climbers spent the afternoon up at the Cathedral Rocks a short hike from main camp where they got to experience climbs on real rock.  Several of our canoers got to practice their skills on the French Broad River this morning.  It was their first chance to learn about moving water and how the boat responds differently than on the lake.  There was also a day hike to the "Cradle of Forestry" in Pisgah National Forest.
In camp today Flattop and Chalet got to experience the ropes course.  They were lead through several elements as a cabin group and then the final element was the zip line.  It was an exhilarating experience and one I am sure they will not forget soon (or until the next really cool thing comes along).  Many of our Horseback riders got to venture out of the ring and onto our large network of trails.  It was a welcome change of scenery for the horses and the campers seemed pretty excited as well!  Speaking of horseback riding, Blaire gave me some pictures she took at the barn from last week that are included in today's batch.  It was Blaire's idea to grow carrots at the barn that the campers could harvest & feed to their favorite horse.  The campers have loved pulling the carrots from the ground & feeding them to the horses!
Everyone has the same activity tonight- movie night!  We pack everyone in the gym, have popcorn & watch a movie on the big screen (a white sheet). The movie title is always a closely guarded secret until the opening credits.  I always have several campers ask me what we will be watching.  My standard answer is "Bambi, or maybe something else we picked out".  To be honest, I don't even know what it will be, only Zoob knows for sure.
High Quality pictures– We have pictures from this session (almost 2,000 that are about ten times the resolution of the website pictures) available for sale ($30) on "thumb" drives. For those of you that pre-ordered the thumb drives, they will be enclosed in your check-out envelope on parent's day.  If you would like to receive one, but didn't preorder one, please email Townsend & let her know you want one townsend@highrocks.com (if you aren't sure if you pre-ordered we will check so you don't end up with two).
Parent Day– Parent's day will begin at 10 AM on Saturday. Please plan to arrive around 9:30, but Please not before 9:15!! Our counselors will not be ready to load trunks and the campers will still be in assembly until 9:45. Each camper will be able to demonstrate the activities of his choice, so plan to stay until noon and join us for lunch. If you were not planning to stay for lunch originally, don't worry- we always plan for extra.  If your son has a younger brother that might be interested in camp, please bring him so he can see what his older brother has been doing over the last two weeks.  Some families will bring camp age friends, too.  We have a great video of camp, but nothing matches being able to see High Rocks first hand.
One last reminder- please do not send mail after Wednesday, it will not arrive before closing day! (it is fine to send emails until Friday at 10:30am)
All of us enjoyed another day of cool temperatures here at High Rocks.  It was another great day and we are looking forward to another one tomorrow!
Hope you enjoy the pictures from today!
Hank Birdsong