Wacky Hair Day!
August 8, 2012 by Hank
Pictures from August 8, 2012 (password required)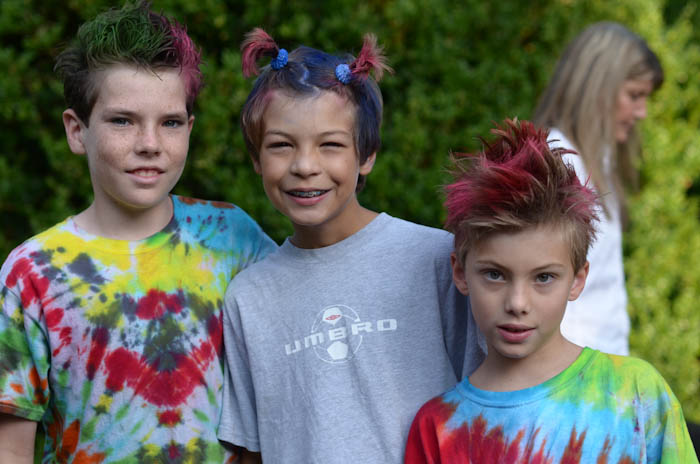 We work on skills in our activities and social interaction in our cabin groups, but for most of our campers camp is all about fun!  We had a few "hair stylists" outside the dining hall this morning to help poof & colorize the hair on our campers and staff.  Some of them kept their style going all day but putting on helmets & going swimming returned most heads to their semi-original state early in the day.
In camp today Hillside and Connestee got to experience the ropes course.  One overnight hike returned to camp & one headed out.  There were out-of-camp trips in canoeing, mountain biking and climbing.  We included pictures from the canoe trip in today's batch.
This Saturday, please plan to arrive around 9:30.  Campers will get out of assembly around 9:50. Each camper will be able to demonstrate the activities of his choice throughout the morning, so plan to stay until noon and join us for lunch. If you were not planning to stay for lunch originally, don't worry- we always plan for extra.
Tonight's after-dinner activities (youngest to oldest):
"Connestee Warriors" (Hillside, Connestee, & Holiday Inn) are going off the waterslide.
"Annoying Copy Cats" (Lakeside, Foxhollow) headed out to Sliding Rock and Dolly's ice cream.
"Rabid Red Bananas" (Flattop & Chalet) are having a blast at the lake with "canoe fill-ups .
"We are Farmers" (Windswept & Outpost) aare playing dodge ball in the gym.
"The Vegetable High Council" (Halfway, Lookout & Pinnacle) are playing a game on the Soccer Field.
Enjoy tonight's pictures!
Hank