Youthful Independence
August 3, 2012 by Hank
Pictures from August 3, 2012 (password required) – Today's pictures were snapped yesterday & today.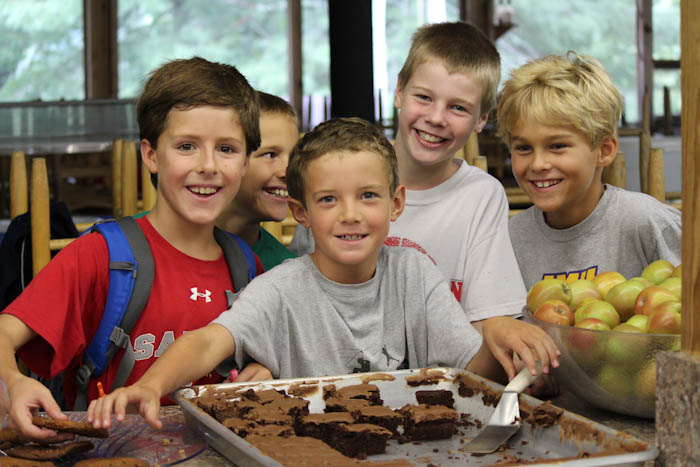 We all want to think we are raising independent children, but at the same time we want them to make good decisions.  One of the great things about camp is that kids can, to some degree, call the shots about their day.  Sometimes the decisions they make aren't the ones we would have made, but they learn from the choices they make.
I would always make sure my boys would put on clean, dry socks so they wouldn't get blisters.  When my son (I won't say which one) went to camp he felt the freedom from my parenting and went sockless.  When he got blisters as a result, he learned a valuable lesson.  As a cabin counselor he probably shares that experience with his campers.
For some of the boys their activity choice is a great learning experience and another example of being independent at camp.  Not many boys come to camp saying that they expect horseback to be their favorite activity.  By the end of camp more than half of our younger campers will name horseback riding as their favorite activity.
Trying new things, eating different food, & making the bed each morning are all part of the camp experience.  Ask the current campers about camp & they talk about the activities.  Ask them in eight years & they remember their cabin group.  I've never had a child tell me that he wanted to come to camp so he could live in a cabin with 5 other kids & learn to share a living space with them, but that is quite a learning experience in itself.  Camp is fun, but it is a valuable learning experience as well.  Our staff members see themselves as educators that know how to make learnng fun!
We went a bit overboard tonight with the pictures- over 160 were posted!  Speaking of going overboard….  I was taking pictures this morning when Fritz Orr, our paddling director, called me over.  He made sure I got some pictures of the boys jumping out of the canoes near the end of the activity hour.  They were having a blast!!  In a few years those same campers will probably be paddling whitewater rivers at camp.  The fun they had today will begin to prepare them for the first time they swamp their canoe on a river!
Tomorrow morning is my big event- Pancake Breakfast!!  Dan Noland & I have flipped pancakes for the entire camp on most Saturday mornings for the last 25 years.  More about that tomorrow.
As the nearby forests fill up with people on the weekends, we stay closer to camp.  We'll have regular activities on Saturday, then Sunday will be filled with special events.
Tonight's after-dinner activities (youngest to oldest):
"Connestee Warriors" (Hillside, Connestee, & Holiday Inn) Hillside & Holiday will be in the gym, Connestee is headed out for their cabin overnight.
 "Annoying Copy Cats" (Lakeside, Foxhollow) Foxhollow is on a cabin overnight, Lakeside is at the gym
"Rabid Red Bananas" (Flattop & Chalet) Chalet is at the soccer field. Flattop is on a cabin overnight.
 "We are Farmers" (Windswept & Outpost) Outpost is at the soccer field. Windswept is on a cabin overnight.
 "The Vegetable High Council" (Halfway, Lookout & Pinnacle) Is heading down the waterslide!
Have a wonderful evening and enjoy the pictures!!!
Take care,
–Hank Birdsong
Camp Director