New Camper Blog – Daily Schedule
June 8, 2017 by Woody Noland
NEW CAMPER BLOG SERIES: Daily Schedule
We hope you have enjoyed our New Camper Blog Series so far! If this if your first time checking out one of our posts, at the bottom we have links to our other posts for you to look at as well. We want to help you (campers and parents) feel more comfortable about coming to camp. We have talked about Activity Scheduling, Packing for Camp, Communication at Camp, and Talking about Camp. Today we will be discussing the daily schedule at camp!
A Look Into A Day At High Rocks
7:45 Rising Bell – The boys slowly roll out of their beds to start getting dressed for the day and work on cleaning up of their cabins. While we know boys will be boys, we like to keep a clean cabin. You all will help sweep and do a few other cabin chores before heading off to breakfast.
8:15 Breakfast – A meal! The boys will head into the meal after a hand washing with bellies ready to eat the morning's food. From scrambled eggs to biscuits, the delicious smell coming from the dining hall can help wake anyone up.
9:00 Assembly – Assembly is a great way to get energized for a full day of fun at camp! We will sing a few songs and enjoy each others company for these 30 minutes (fun fact: Taylor Swift songs are a popular request)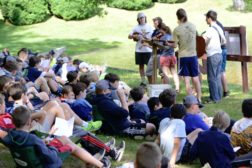 9:30 to 12:30 Activities – After Assembly, you will jump right into activity periods. We have 3 activity periods in the morning! (Want to learn how picking activities work or brush on up what we have? Check out one of our first blogs "Activity Scheduling" )
1:00 Lunch – Off to lunch! The boys will fill up on chicken sandwiches or quesadillas while enjoying each other's company around a table. (Check out a Sample Menu)
1:45 to 2:45 Rest Hour – Time to rest! Everyone will head to their cabin for an hour of downtime. Often that means taking a nap, writing home, or reading a book.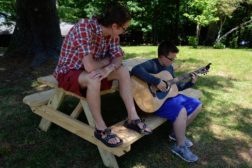 3:00 to 6:00 Activities – Next we are off to two more activities and choice period. As a refresher, choice period is activity period where campers get to choose what they would like to do each day. Campers can choose from a number of activities and fun events such as swimming, disc golf, basketball, ping pong, paddle boarding, crafts and more.
6:15 Dinner – Food and more food! A mixture of healthy vegetables, meats, and carbs can be seen at dinner to keep energy levels up for evening program!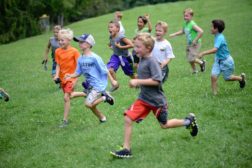 7:15 to 8:15 Evening Program – Evening program is typically split off into our five age groups who will do a different activity around camp. That can be anything from field games like capture the flag to playing on the water slide and rope swing for the evening. A fan favorite is canoe fill-ups, where no one wins but lots of water is splashed and laughter abounds!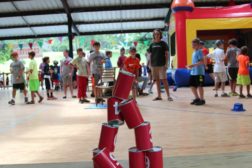 8:15 Snack – Everyone will gather at the dining hall for a light snack to send them off to bed.
9:30 Lights Out – All cabins have their lights off and campers in bed by 9:30. You all will shower during this time and prep for bed! Our counselors use this time after snack and before bed to check in with each of you all about your day and help continue the positive cabin culture and bonding.
---
Did you miss our last New Camper Series Blog post?
Click here for "Talking About Camp"
Click here for "Communication At Camp"
Click here for "Activity Scheduling"
Click here for "Packing for Camp"
#newcamperblogseries2017