Fall Hiking Guide
October 15, 2018 by Darby Dame
Fall Hiking Guide – Western North Carolina Mountains
Looking for a dog-friendly hike, family hike, or solo spot to trek? This is your go-to fall hiking guide. From Asheville hikes to Brevard hikes, choose between Parkway views, waterfall hikes, or steep climbs. There is no better time to strap on your hiking boots than fall in Western North Carolina. Nearly every hike comes with spectacular views and in certain weeks, unparalleled leaf colors. The cool, crisp air intices many locals and visitors to head into the forest. Grab your thermos of hot coffee, throw on a hat, and take a hike in Western North Carolina!
Reminder: How to prepare for a hike is just as important as directors to the trail including what to wear! Check out our blog post here on what to wear hiking.
Save this fall hiking guide to your "must read list" and getting reading!
Dog-Friendly Hikes Near Asheville
Triple Falls and High Falls
1.4 Miles Round Trip (Easy to Moderate)
Starting Point: Hooker Falls Access Area (with bathrooms)
You can visit three beautiful falls within a short hike from other. Triple Falls, High Falls, and Hooker Falls are popular destinations for locals and tourists. Beat the crowds and get there before 11 am to find parking! Triple Falls is featured in The Hunger Games and The Last of the Mohicans. Hike Directions Here
Pink Beds Trail
5.1 Miles Round Trip (Moderate)
Starting Point: Pink Beds Picnic Area
This flat, loop hike makes its way through forests in a transition from local beavers damming the South Fork Mills River. The trail crosses bridges, boardwalks, and bogs. A wonderful hike for the dog and family! Be mindful of snacks on you as this area is becoming more common for bear sightings. Hike Directions Here
Estatoe Trail
.7 Miles One Way Trip (Easy)
Starting Point: Davidson River Campground
Estatoe trail follows alongside the Davidson River for most of the trail's length. You can easily add more millage (including a lightly trafficked 5-mile loop) with the Davidson River area's trail system.
Graveyard Fields Trail
3.2 Miles round-trip (Moderate/Hilly)
Starting Point: Graveyard Fields overlook (Milepost 418)
One of the most popular hikes along the Blue Ridge Parkway, avoid going between 12-5pm on weekends. An easy walk to Lower Falls should start your hike off. Then make your way back up the trail for a longer hike to Upper Falls. You will have to take steep man-made steps down to the start of the hike. Hike Directions Here
*Dogs must be on leashes at all times through the forests.
Family Friendly Hikes Near Asheville
Many of the dog-friendly hikes are also family friendly!
Looking Glass Waterfall
.25 Miles Round Trip (Easy to Moderate)
Starting Point: Pisgah National Forest on US 276
A heavily-trafficked stop right off the road with stairs down to the waterfall. Great for a few family photos and a place to put your feet in the creek. Hike Directions Here
Sam Knobb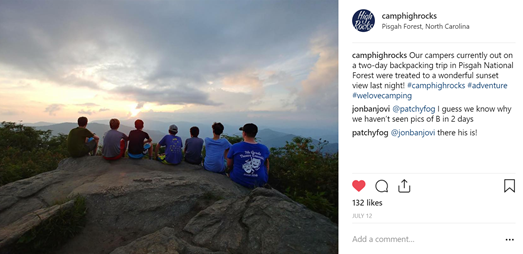 2.2 Miles round-trip (Moderate)
Starting Point: Black Balsam Parking Area
Sam Knobb's hike wraps its way up to the top of Sam Knob which will end in a picturesque view of the mountains while standing on top a bald. A visit during September when Mountain Ash berries turn red or October where leaves are changing colors will offer you wonderful views to enjoy. Hike Directions Here
Fawn Lake
.5 Miles one-way (Easy)
Starting Point: Fawn Lake Access Area
Venture a short distance over a rolling gravel road to Fawn Lake. Swim in the warm water, take a picnic for the family or stay out of the sun in the gazebo. Park at Fawn Lake Acess Area and turn left onto Fawn Lake Road walk .5 miles are the lake is on the left. There is no lifeguard on duty.. remember to know your swim level and bring lifejackets if needed!
Other Hiking Adventures
Black Balsam
1.4 Miles round-trip (Moderate)
Starting Point: Black Balsam Parking Area
The hike to Black Balsam Knob starts through dense fir trees and open ups to a pathway with views from all sides. Wildflowers cover the ground throughout your hike. Catch this breathtaking 360 view with a hike that is short and scenic. As a note, the hike is through rocks and steep terrain. Hike Directions Here
Looking Glass Rock Hike
6.5 Miles round-trip (More Difficult)
Starting Point: Parking Area on FR 475
This hike shouldn't be missed! Looking Glass Rock is visible from much of the Blue Ridge Park away. Take a trip up to the top through the many switchbacks the trail takes. This hike is popular among locals and tourists alike. Hike Directions Here
Read Next: What To Do in Brevard, NC