Baking with Smoot and Darby
April 8, 2020 by Darby Dame
Wash your hands, grab your aprons, and don't touch your face! We will be baking Camp High Rocks' cookies together. Weither you are a camper, 2020 staff member, or alumni – we know these cookies will hit the spot. Thank you to Chef Nate, our Head Chef and Food Director for the recipe!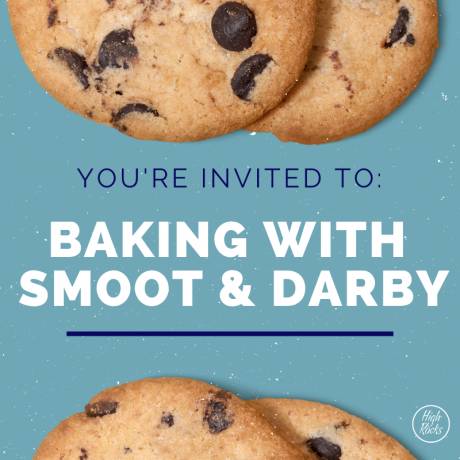 Before we start the zoom, we suggest having all the ingredients (listed below) laid out in the quantities recommended. We will make the dough together and then let you put them in the oven after our zoom is over. Don't have the ingredients? That's okay! Hop on anyway to say hi, meet new friends, and hangout!
Ingredients:
8 ounces butter at room temperature (225 grams)
3/4 cups brown sugar (150 grams)
1/2 cup white sugar (100 grams)
1/2 tsp vanilla extract (2.5 mL)
2 1/4 cups all-purpose flour (280 grams)
1/2 tsp salt (2.5 mL)
1 tsp baking soda (5 grams)
2 cups chocolate chips (256 grams)
1 egg
Baking Instructions:
For campers, we recommend and request parent supervision during this event.
Turn temperature to 325 for convection ovens or 350 for none convection ovens (ie. conventional)
Measure out ingredients.
Add sugar, butter at room temperature, and eggs in mixing bowl. Beat/Mix until light and fluffy.
Add vanilla
Add dry ingredients (flour, salt, and baking soda) and mix.
Fold in Chocolate Chips and lightly mix together.
With a spoon or you washed hands, create balls of dough about a tablespoon big. (Please do not eat raw cookie dough)
Place on sheet pan, 3 inches apart from each other.
Bake until edges are light brown, around 8-10 minutes depending on preference
Optional: Freeze Uncooked Dough For Later. Portion dough into balls, set on parchment paper on plate / pan, put in freezer, and move to Ziploc bag after frozen. 
And enjoy! Thank you for making Camp High Rocks cookies! Recipe curtsy of Chef Nate, our Head Chef and Food Director.