Let's Make Ice Cream Together
April 10, 2020 by Darby Dame
We are bringing the magic of camp to your home! Join Smoot and Darby on Tuesday, April 14th at 5:00 pm ET to make Ice Cream!
We will be leading an ice cream making party. Come say hello to your camp friends, meet new ones, and make a delicious treat! As we are craving ways to stay connected and hang out with our camp community, we wanted to create a place to see each other!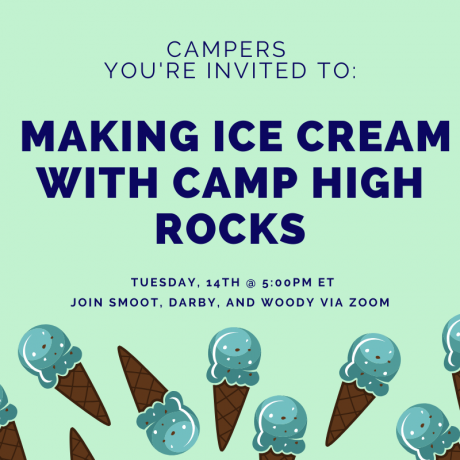 Ingredients
½ cup half-and-half ( substitute whole milk or heavy cream)
1 tablespoon sugar
1⁄4 teaspoon vanilla
1 sandwich ziploc bag
1 gallon ziploc bag
3 cups crushed ice
⅓ cup salt
Spoon(s) for eating
Icecream cones *optional*
Instructions
Put the first 3 ingredients, the half&half, sugar and vanilla, in the smaller Ziplock bag and seal bag (Make sure it is tightly closed!).
Put ice and salt in the larger ziplock bag
Add the filled small bag (tightly sealed) into the larger ziplock bag. Seal the large bag.
Squeeze and shake bag until ice cream is thickened, about 10-15 minutes.
Unzip and remove the small bag! Check that is is think. Then open the small bag and grab a spoon – Let's eat!
Optional: Add fun toppings before you eat it like Oreos, sprinkles, or chocolate chips!
How to Join Us:
Are you a Camp High Rocks camper? If you said "YES!", then join us on Tuesday to make Ice Cream. To join, parents please check your email. Look for an email titled "Campers, You're Invited – Virtual Ice Cream Party" and follow the Zoom link!
Still need help joining? Email office@highrocks.com if you can't find the email.