2020 Family Retreats
August 1, 2020 by Don Gentle
What a blast we had over these last few weeks. Our Family Retreats at Camp High Rocks set up a perfect opportunity to get away, enjoy the outdoors, and not have to cook in a safe and caring environment. Keeping our groups to just 15 families spread over our 1000-acre facility created a small utopia-like opportunity to getaway.
2020 has taught us that simple can be even better than all the chaos. Families found the do it yourself model a great way for everyone to find their own peace. It was delightful to see people reading books, floating in tubes on the lake, and even watching the sunset while roasting some classic s'mores.
I was really impressed how many families enjoyed hiking around the property. My thought was that most folks would just stay in camp, but most took the map and the guide to venture out to explore a bit. Some folks kept it simple with a short hike around the lake, while others had their eyes on the summit of Rich Mountain.
The 10-acre private lake with regularly schedule free-swim and waterslide opportunities was probably the most popular. I found you can never underestimate how fun a few float tubes and paddleboards can be for anyone. Many times throughout the day you could find a small armada or folks just floating around in their craft. Small games or events would evolve out of some creative conversation that usually ended in swimmers falling, flipping, and laughing a lot!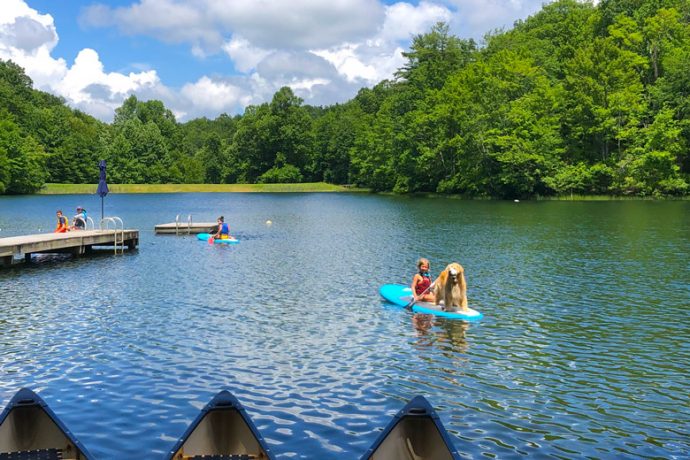 For me, it was all about connections and friendships. Having small groups allowed for many meaningful conversations. Many times I found myself reminiscing with alumni, learning about how people found Camp High Rocks, and even sharing some hilarious parenting stories. We had several current camper families enjoy a special moment at High Rocks. While it wasn't the summer they planned, everyone of them was glad the made the journey.
I think the part that surprised most families was the food. Maybe they were expecting a cold turkey sandwich on white bread? I'm not sure, but the reviews were great! We spent a long time deliberating over how to create a safe and efficient meal service. We ended up focusing on a thoughtful "pack out" plan that worked perfectly. Meals like "Greek Day" with made-from-scratch Falafel, Tzatziki sauce, and grilled chicken were big crowd-pleasers. You cannot discount the scratch-made cinnamon rolls on closing day. We used the pack out setup to create a Cinnabon-like presentation by covering them in the cream cheese frosting after we put them in the box to be sure you could savor every drop.
The last month sure was a lot of fun! We certainly made lemonade out of lemons. Thanks to everyone that made it wonderful. High Rocks is alive and well. We are ready for any challenge that comes our way. I cannot wait for next summer!