2019 Summer Staff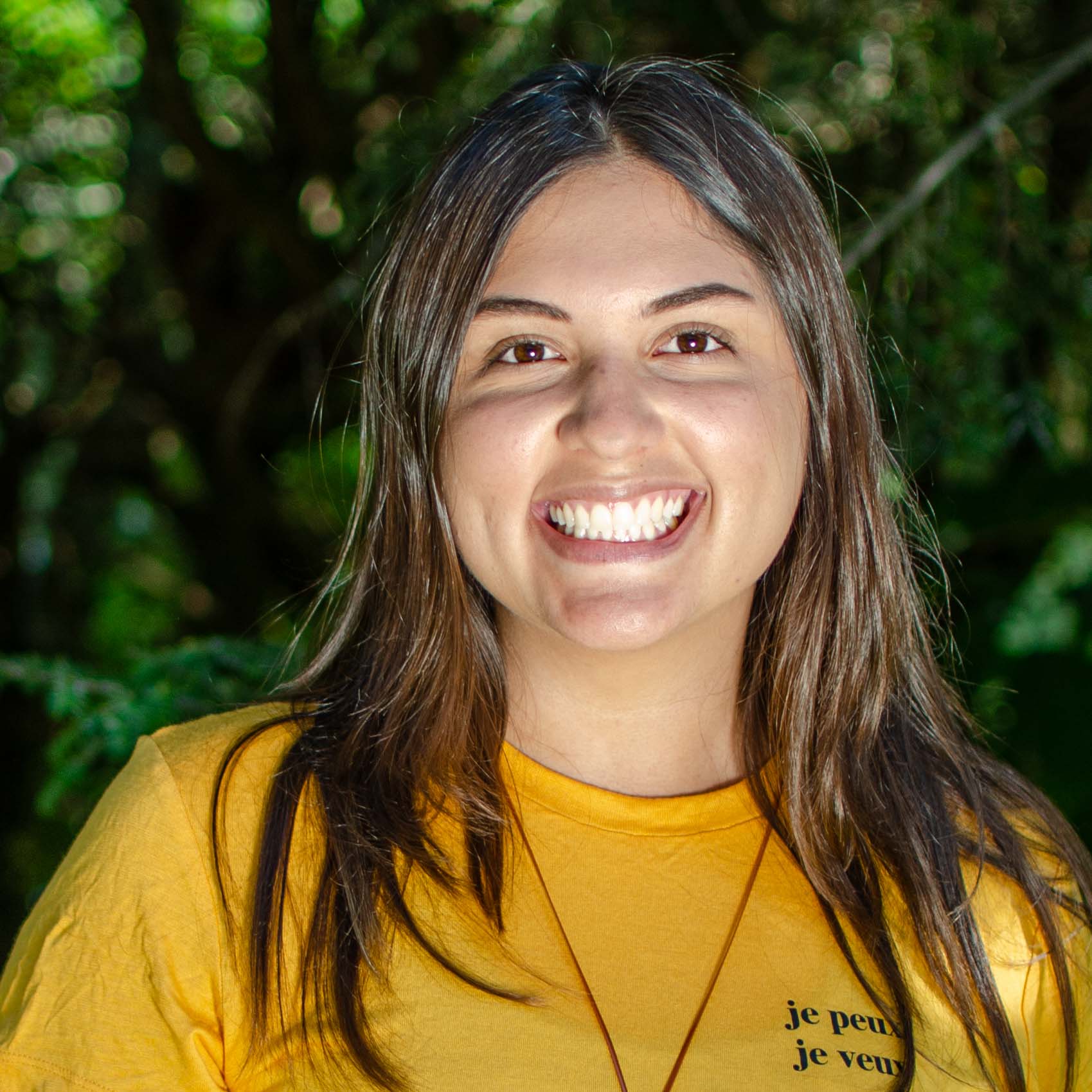 Camila Alzate
Horseback Riding Instructor
Camila is going to be joining our team of horseback riding instructors for her first summer here at High Rocks. Originally from Venezuela, Camila is currently studying architecture at Iowa State University. Welcome to our team, Camila!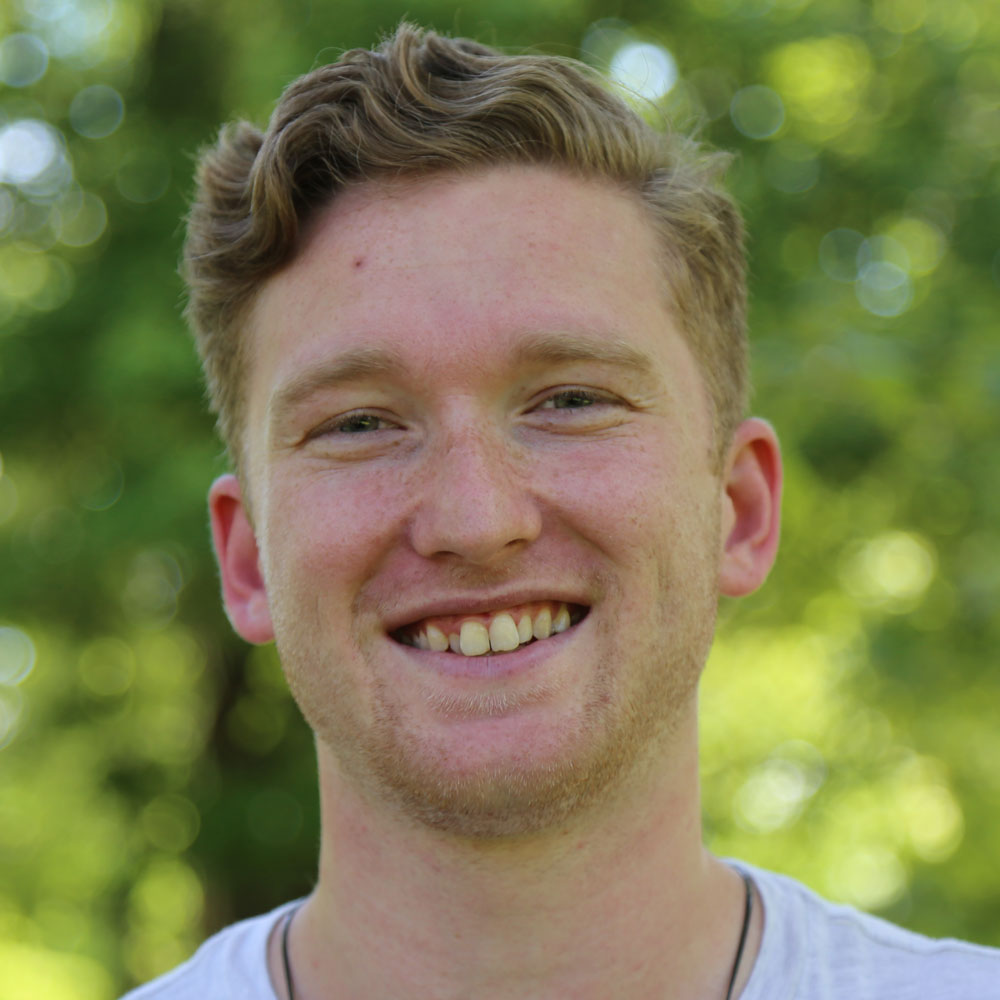 Derek Anderson
Cabin Counselor
Derek is joining us for the Four Week and Two Week session this summer! We are thrilled to have him back to help run our High Ropes course and get a bit of Hiking in too. He recently graduated from NC State University with a degree in geology. Welcome back, Derek!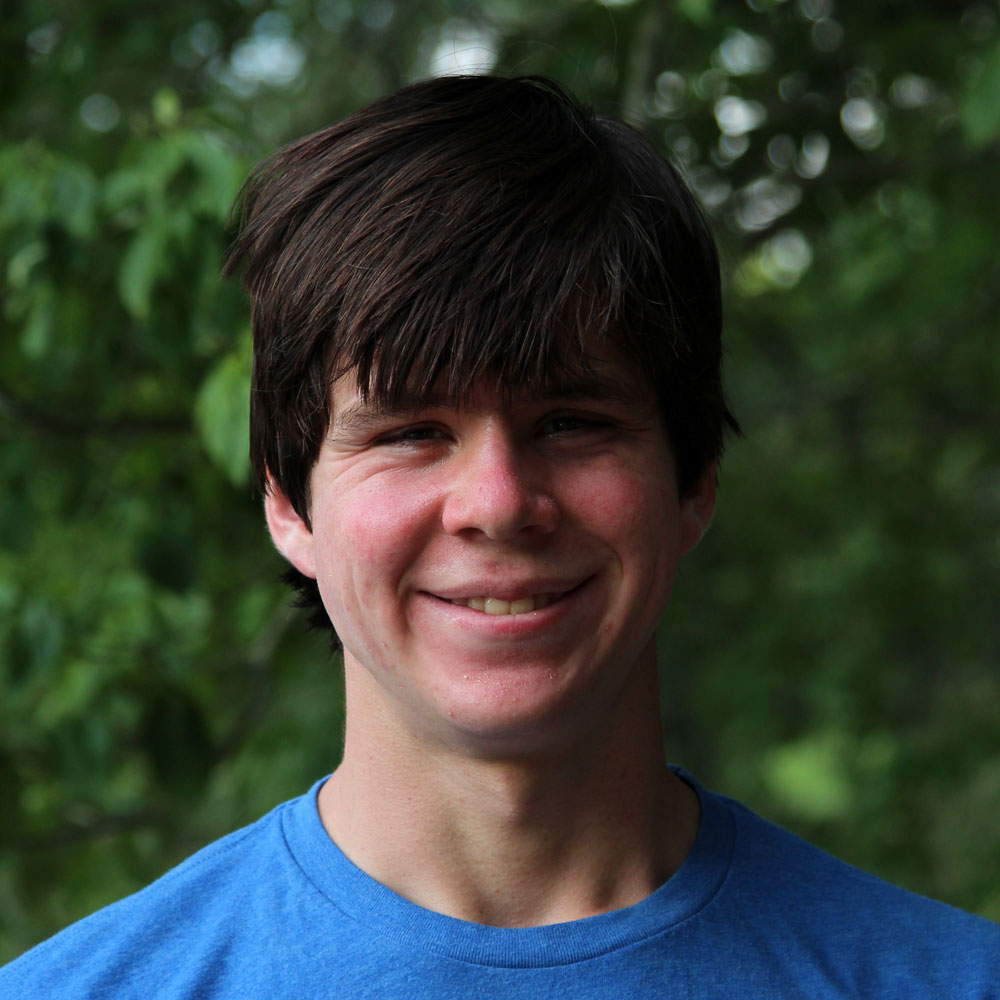 George Arrowsmith
Cabin Counselor
George is a longtime High Rocks camper and staff member who will be bringing an exceptional level of paddling and counseling experience to our team this year. When he's not paddling or long-distance running, George mixes up his outdoor routine by researching Chemistry at Williams College.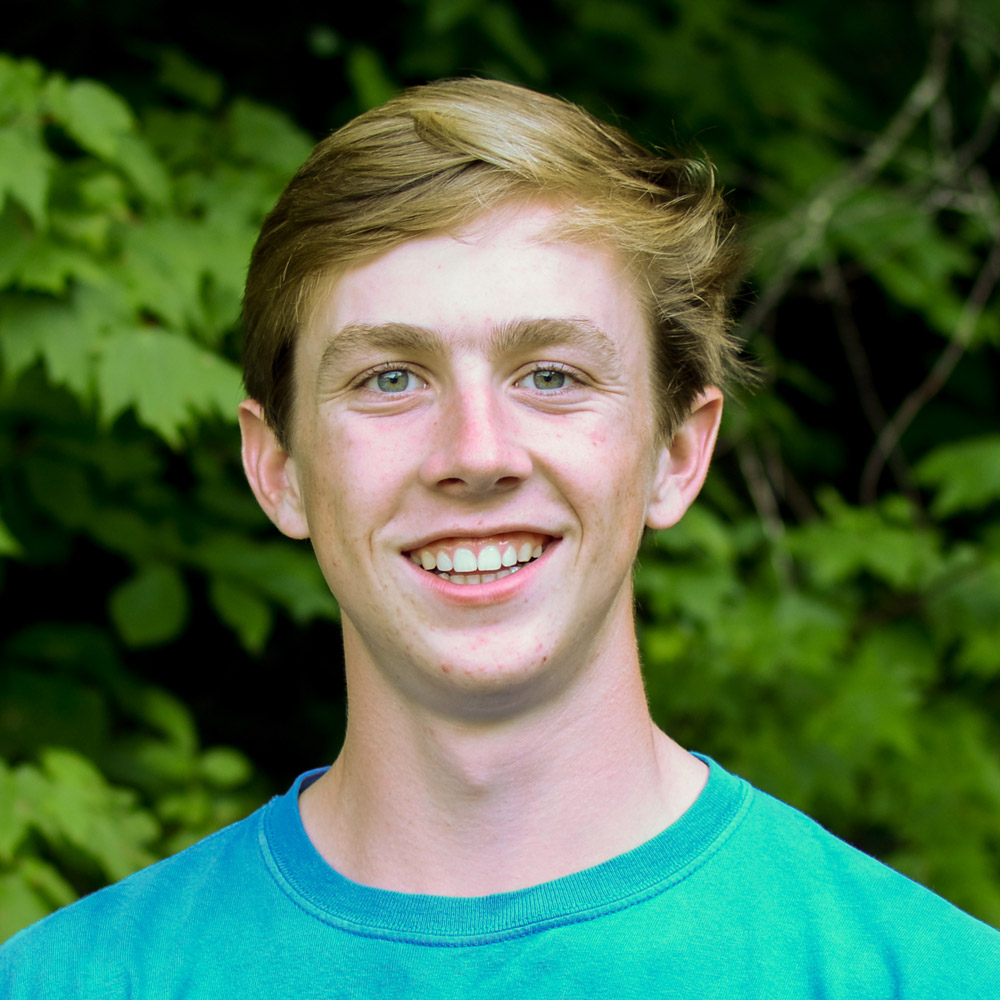 John Arrowsmith
Counselor in Training
With nine years as a camper at High Rocks and two years spent working as a day camp counselor, John is looking forward to finally following the tracks of those before him and giving back to our close-knit community. His experiences with overnight High Rocks paddling trips and cross-country teams have given him insight to group dynamics and community - which he feels will help to build a positive cabin setting for his campers.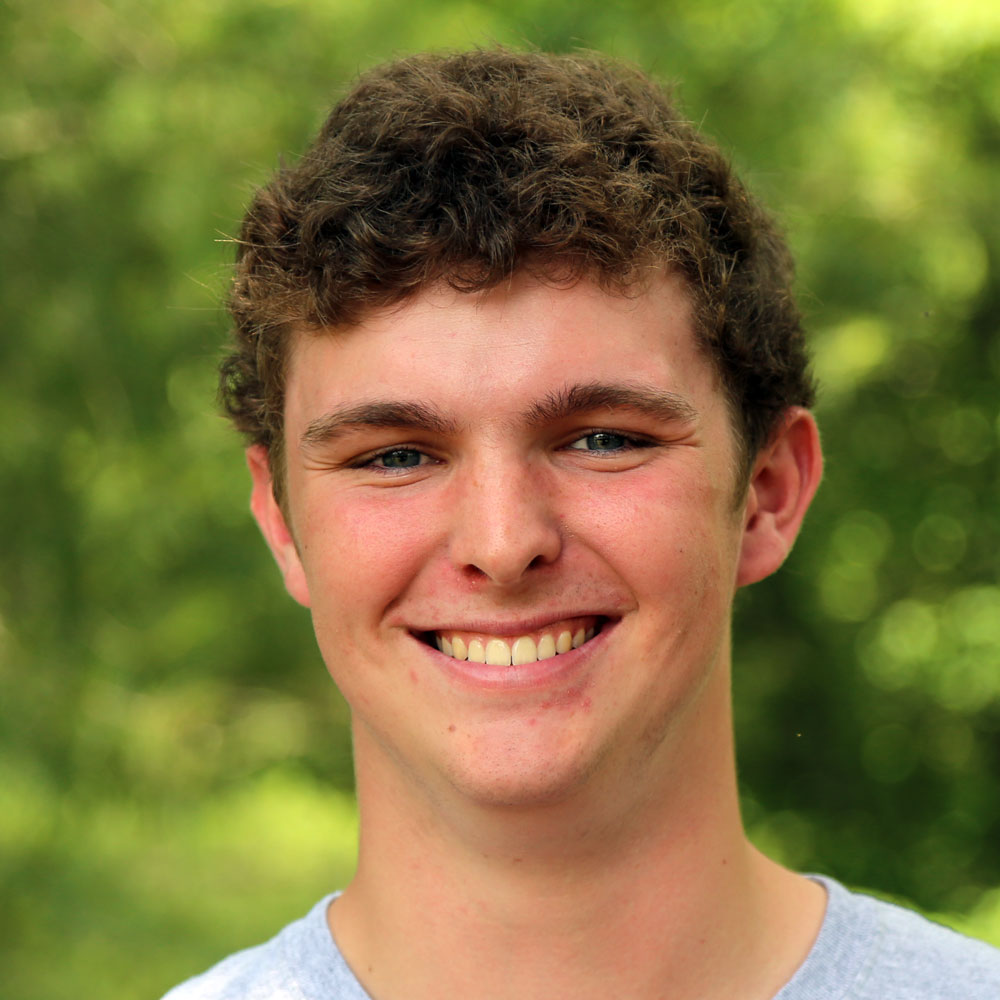 Thomas Aucamp
Cabin Counselor
Thomas is at High Rocks for his third year as a staff member after six years as a camper. An experienced instructor for paddling, hiking, and sailing at our camp, Thomas will be a welcome sight for all of our campers - new or returning.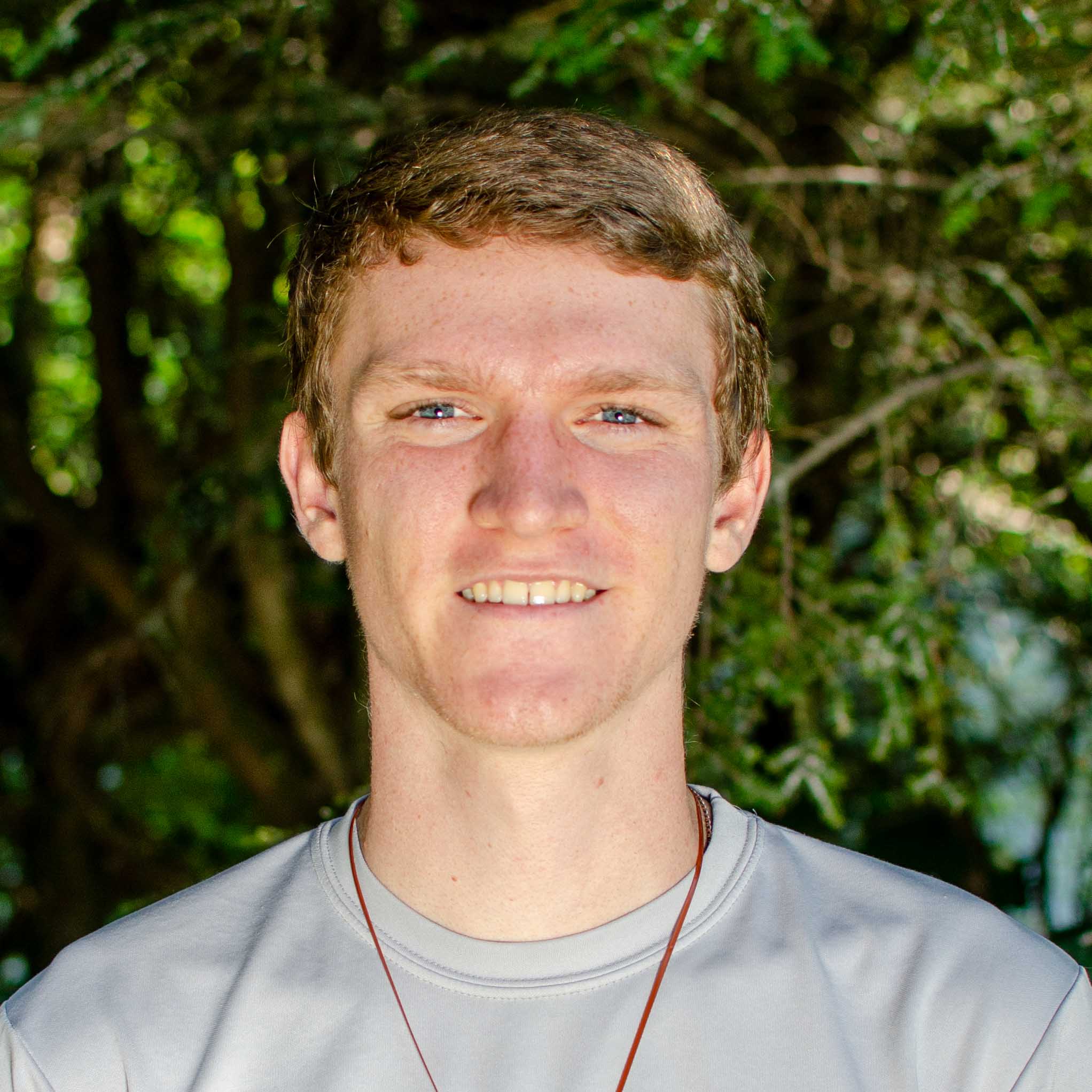 Michael Barber
Cabin Counselor
Resident of Alabama, but travelling from Minnesota where he studies philosophy, Michael is going to be joining our community of cabin counselors for his first summer at High Rocks. A big backpacker who has been hiking the Appalachian trail during recent summers, Michael will be bringing practical experience to our hiking program.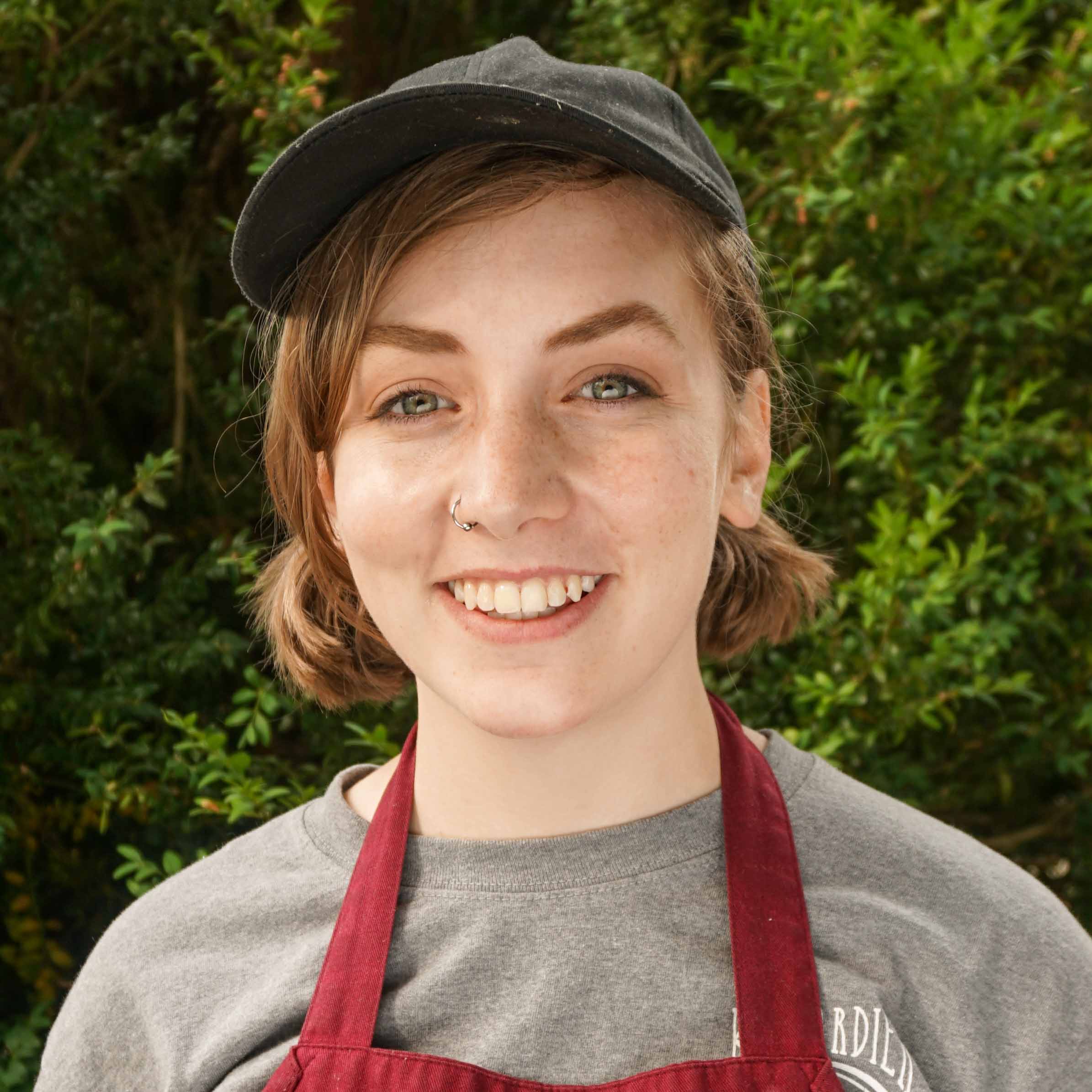 August Barham
Kitchen Assistant
August joins us this summer for her first summer in the High Rocks Kitchen. She is a bubbly, happy going, staff member. She hails from Brevard, NC. We are excited to have her on the team and helping whip up delicious meals for our campers this summer.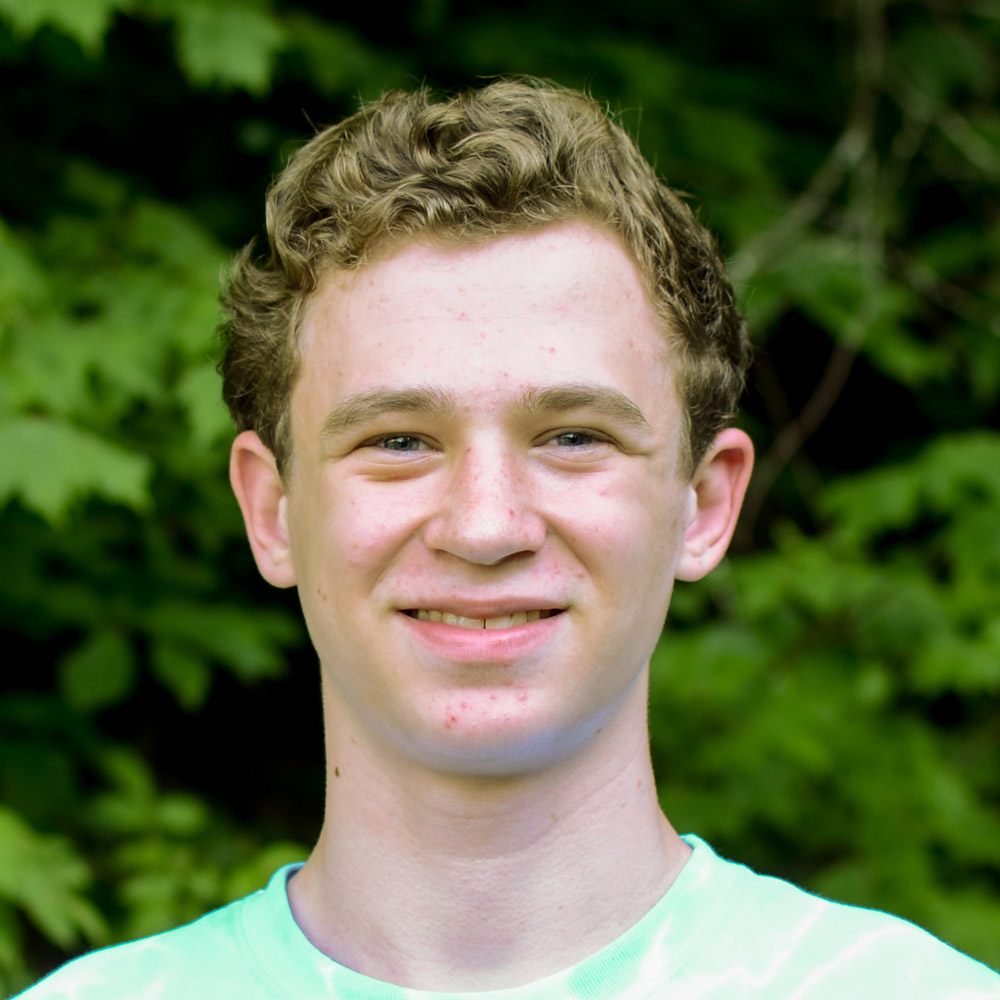 Henry Bieze
Counselor in Training
Inspired by his former hiking and rock climbing counselors to follow his passions and reach beyond his physical limits, Henry is excited to take his first steps as a High Rocks staff member. Henry is ready to inspire, lead, and be a friend to all of our current campers experiencing the same walls once faced by him.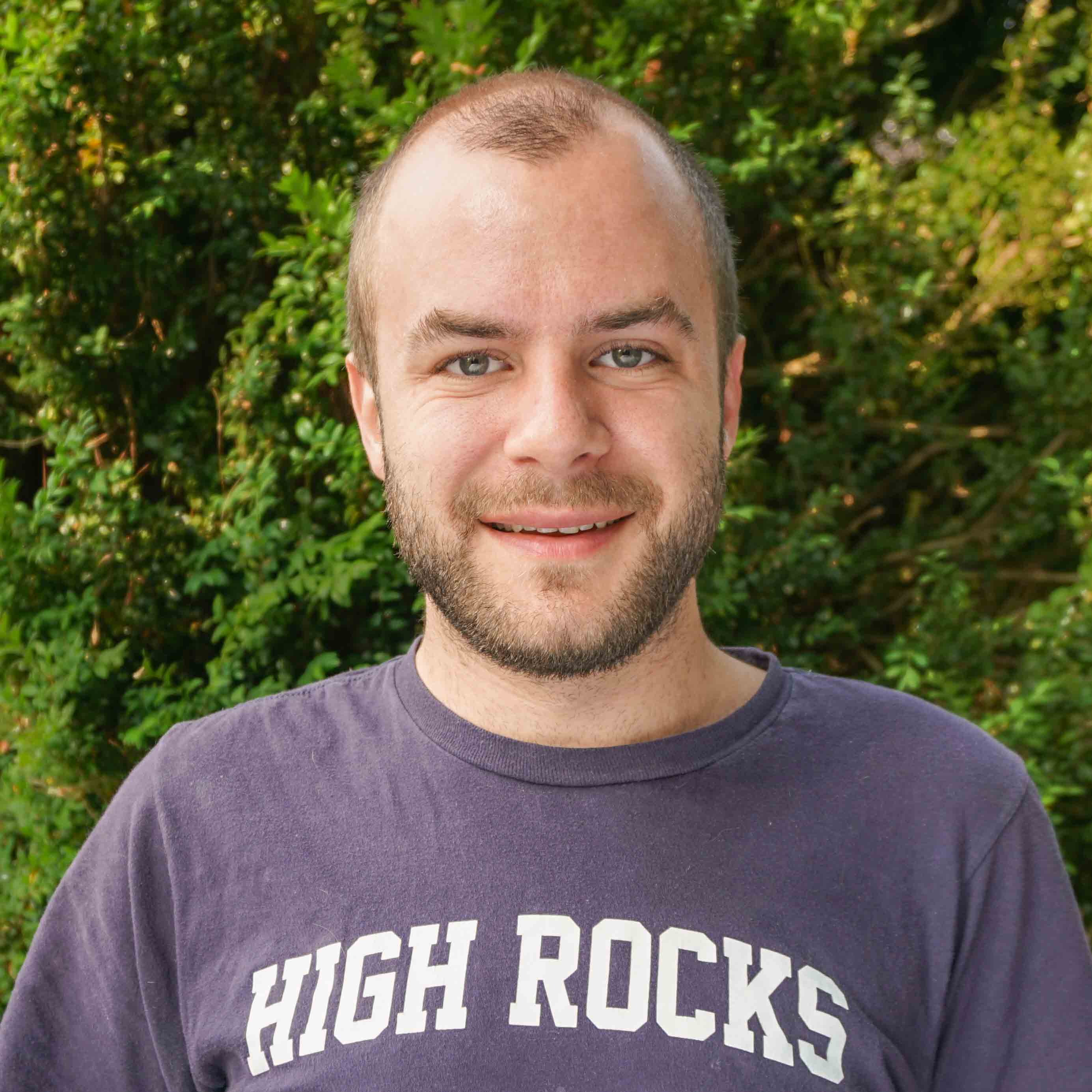 Benjamin Birdsong
Office Assistant
Benjamin, along with his brother, grew up at High Rocks. Currently working in the barn and in the office, he is hardworking and known for getting items checked off from any list. As an avid West Coast Swing Dancer, we are hoping he will teach a few of our boys how to swing during choice period.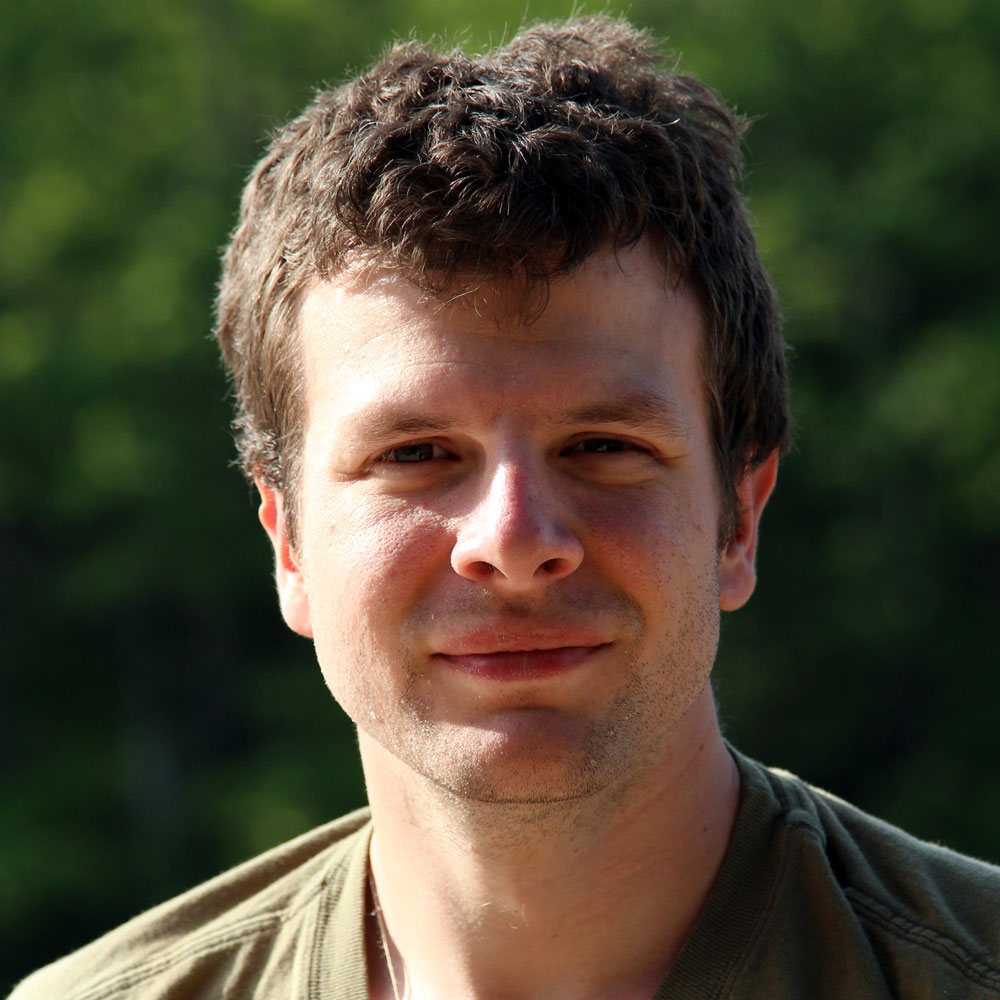 Mark Birdsong
Office Assistant
Mark grew up at High Rocks and spent many summers here as a camper and this is his ninth summer working at camp. Mark is an Eagle Scout and a Vigil member of the Order of the Arrow, Scouting's honor society. Mark has a magnificent memory for jokes and can make any camper laugh!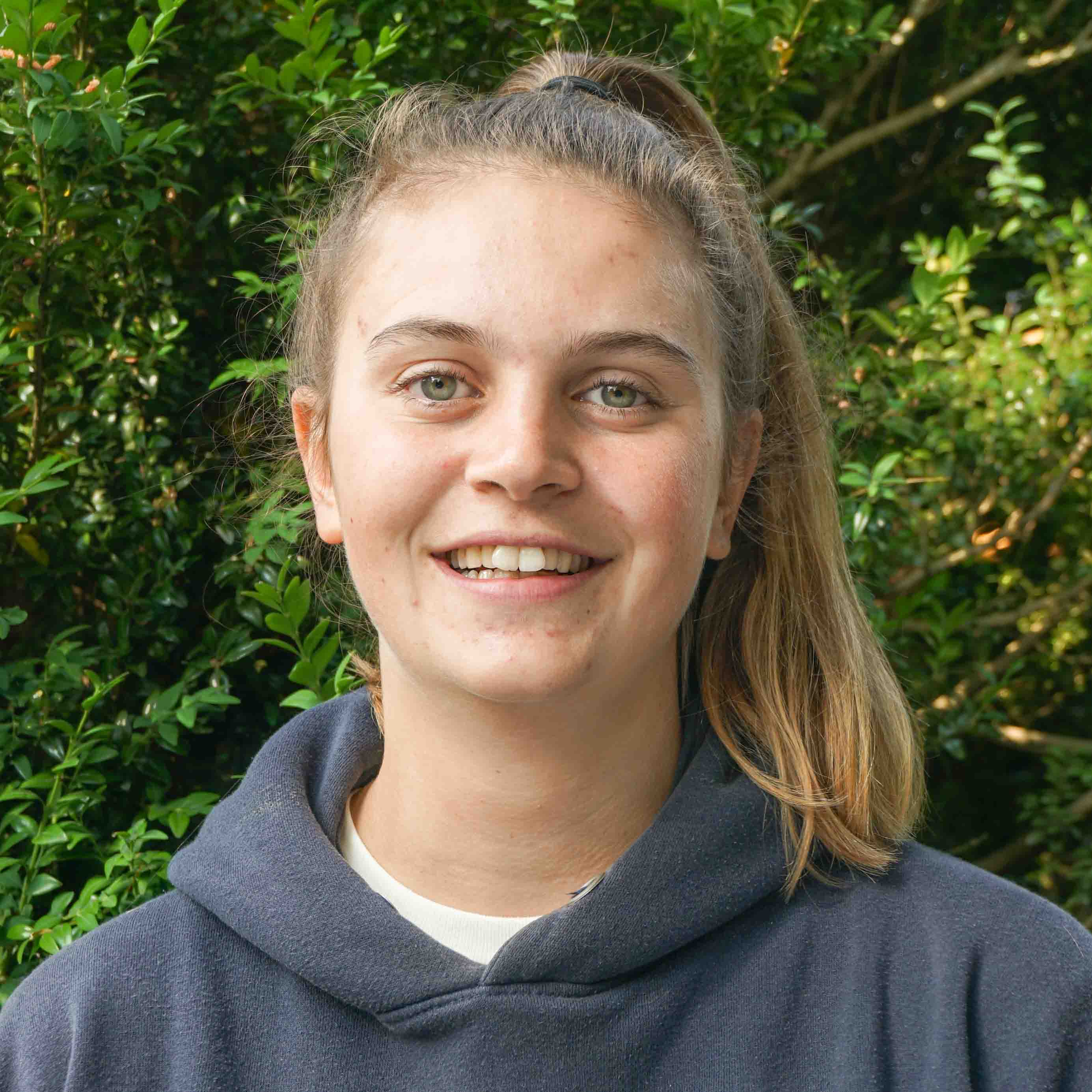 Charlotte Blewett-Harris
Barn Manager & Assistant Horseback Riding Head
Say "welcome back" to Charlotte! We are excited to have her return as an experienced instructor for our horseback riding staff this summer. Hailing from the United Kingdom, her vast experience riding year-round will continue to be a huge addition to our staff. She has competed in Horseback Riding National Championships in show jumping and showing.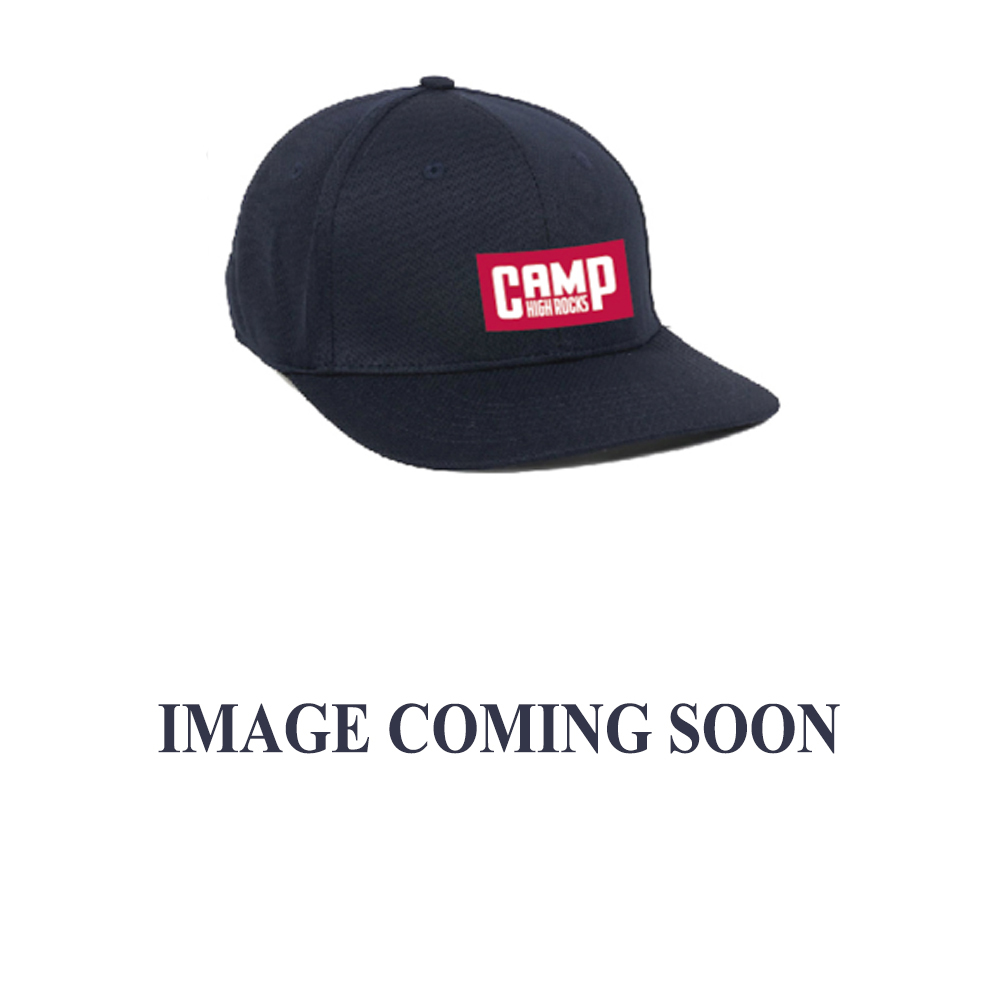 William Bollwerk
Counselor in Training
After being at High Rocks with us for the previous six summers, William hopes to contribute towards the camp experience by becoming a role model in both action and attitude. Inspired by counselors and older campers who never spoke down to him in spite of his inexperience at the time, William has gone on to work as a lifeguard and swim coach who leads by inclusion.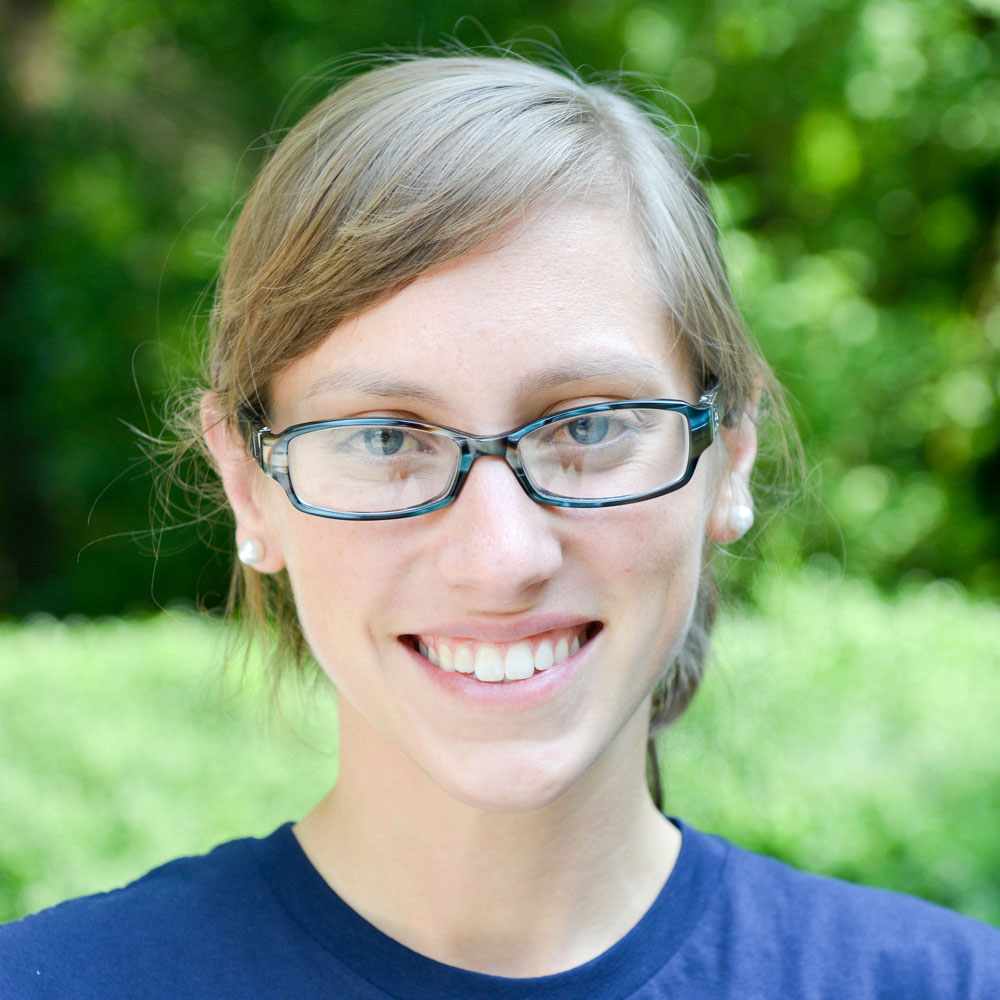 Lauryn Bostdorf
Camp Nurse
Lauryn is returning again to be a healthy addition to our team of nurses! She will be one of our nurses during the 4-Week session and will also be giving our 2-Week program a shot. Her wealth of knowledge and positive attitude help alleviate any health concerns the boys have while at camp.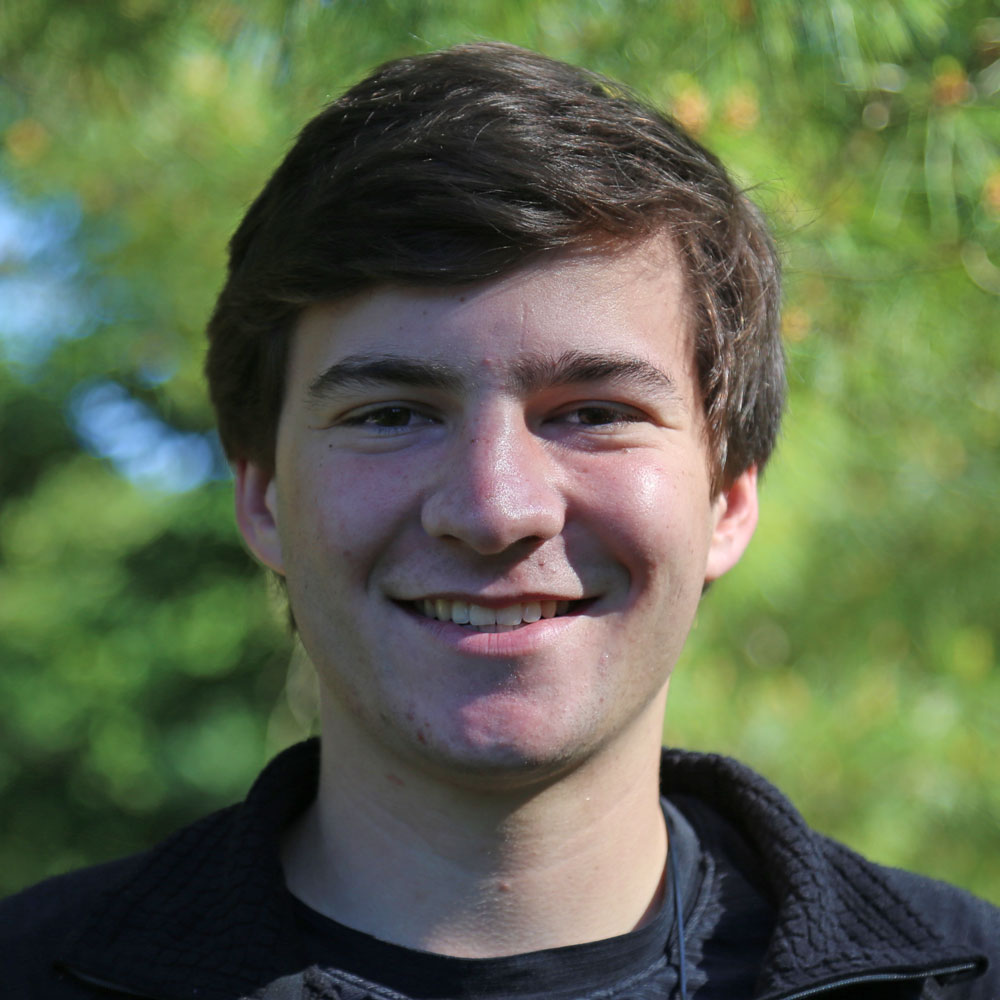 Guthrie Bouchard-Dean
Cabin Counselor
As a former camper of five years and now returning staff member, we are looking forward to seeing Guthrie continue sharing his knowledge of camp. He grew up in Knoxville, Tennessee and currently attends the University of Georgia - Go Dawgs! With a love for the outdoors, he spends his time backpacking throughout the Untied States, including Yosemite and the Tetons.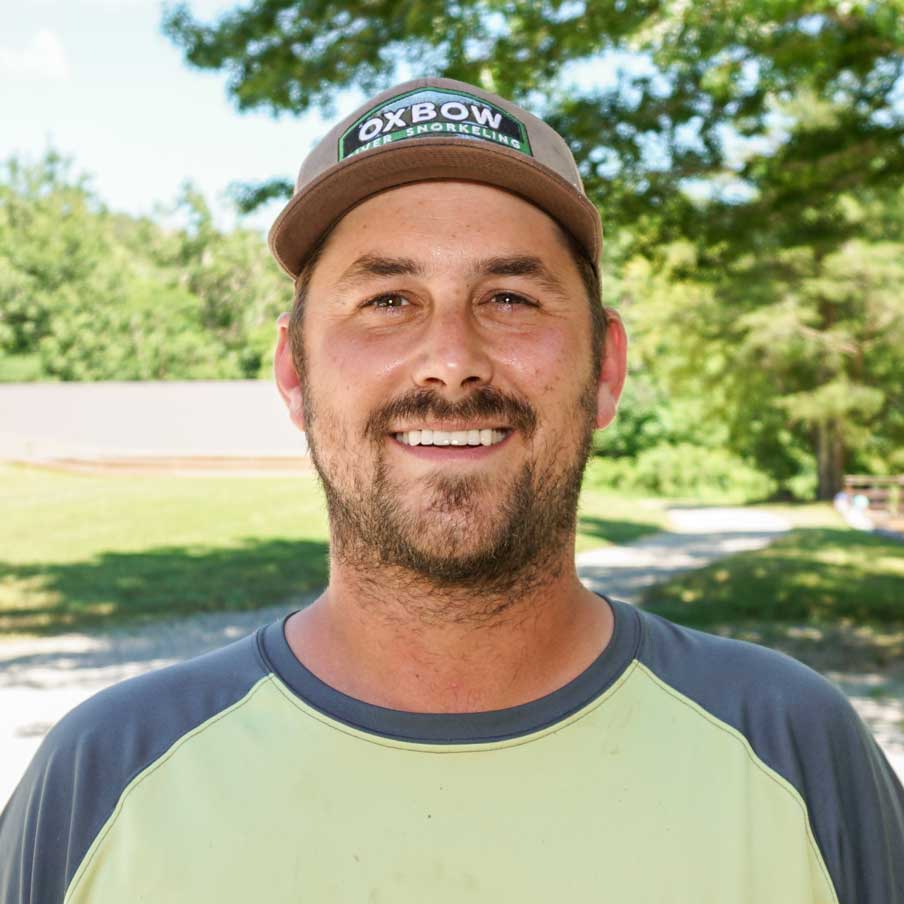 Charley Bradley
Full Time Maintenance Staff
Charley is a part of our year-round crew. He works with Danny to keep camp in tip-top shape for the summer! In his spare time, Charley is a passionate paddler who holds a Wilderness First Responder Certification. We expect to see a few tricks and get a few tips from him about paddling while he runs around keeping our grounds immaculate. We are excited to have him again this summer!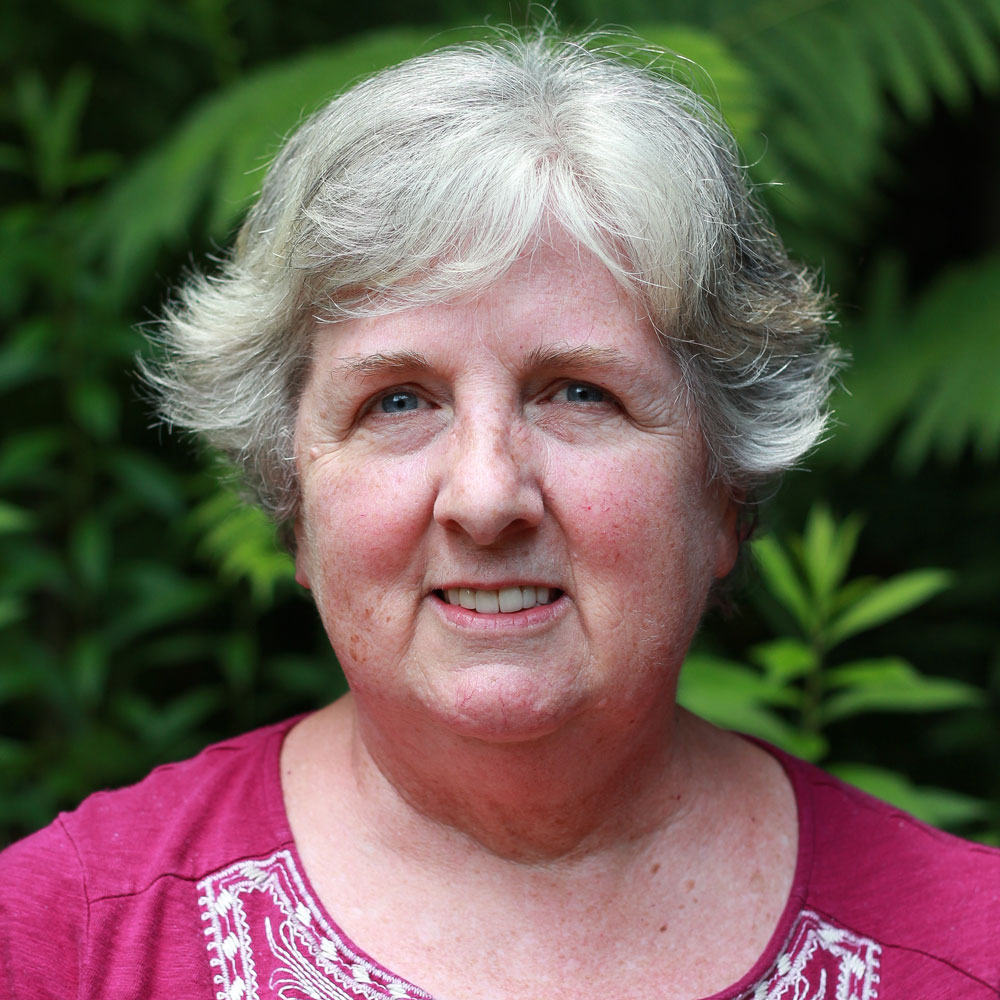 Mary Grace Brennan
Camp Nurse
Mary Grace has a long history at High Rocks starting in 1978 when she first joined our staff as a camp nurse. She has remained a friend of camp since and has frequently returned to help us out. This summer she will again be assisting us in keeping the healthcare portion of camp running smoothly!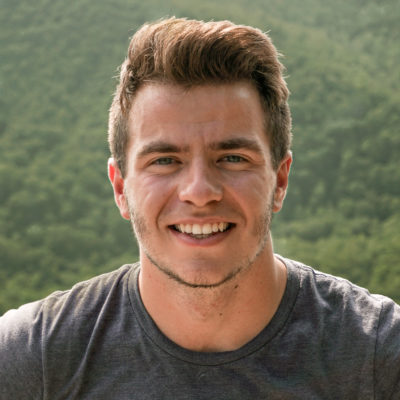 Joshua Bruni
Camp Photographer
Joshua is coming to us this summer from Coastal Carolina University, where he studies marine science and works as a photographer with an eye for the outdoors. Throughout the summer, Joshua will be keeping all of our parents updated on our campers' activities and excited expressions.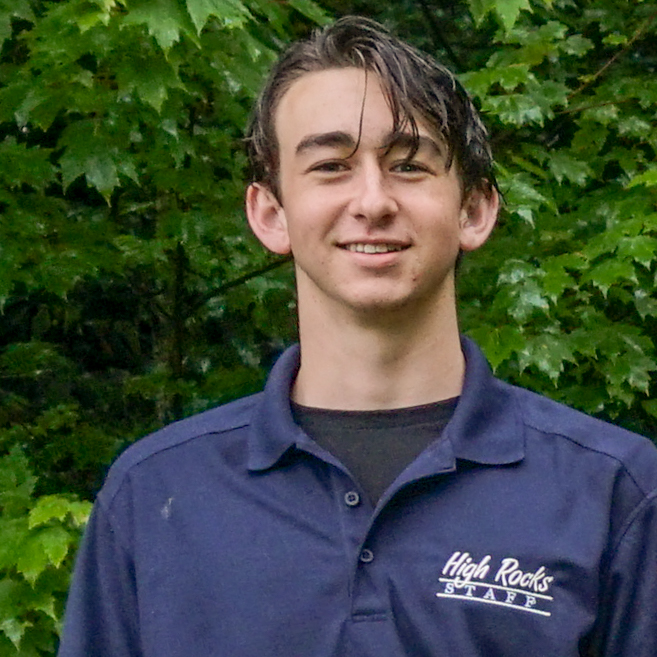 Grant Christian
Counselor in Training
Working as a volunteer at the Central Florida Zoo, and joining our team of counselors, Grant commits his entire year to educating youth about the natural world we live in. Having been hooked and wheeled into his passions for fishing and mountain biking around our lake, Grant hopes to do the same by helping the boys of High Rocks find their own outdoor passions.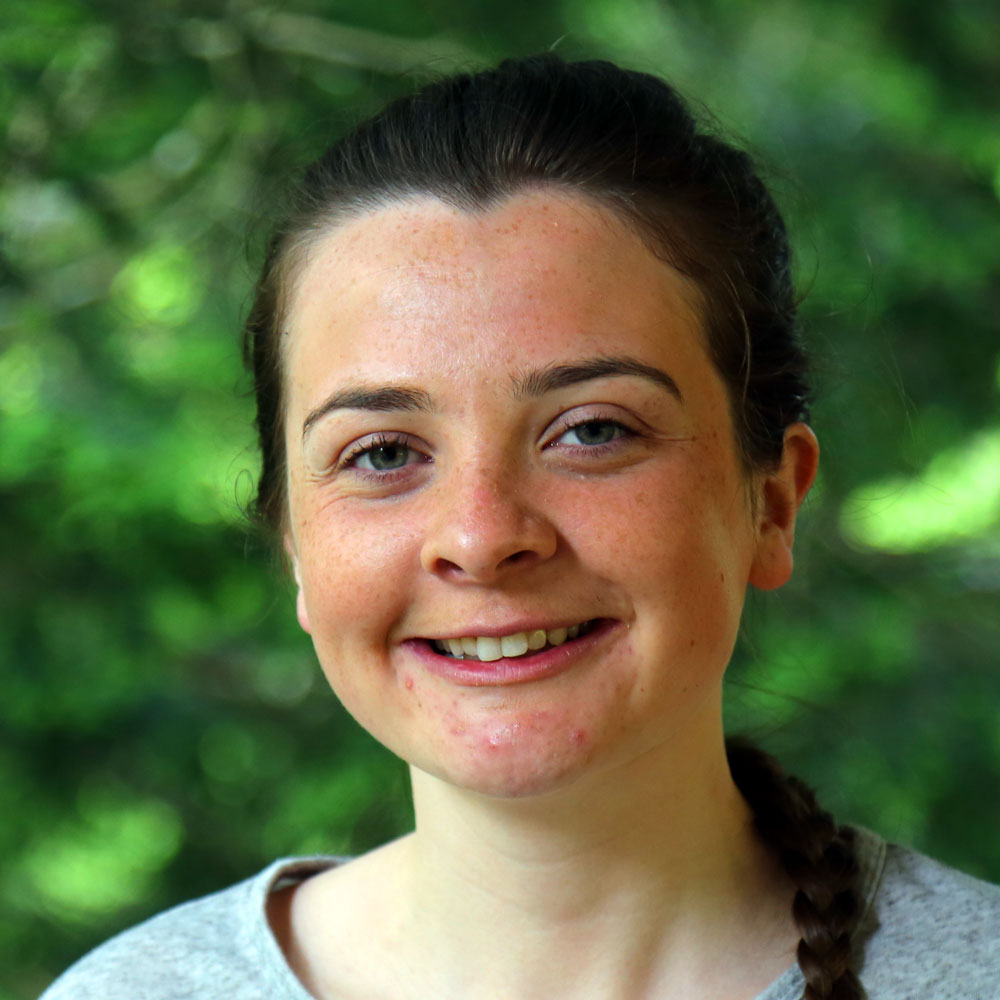 Mary Coll
Head of Swimming
Everyone welcome back Mary Coll! Flying over once more from Edinburgh, she is returning to join our waterfront staff. With previous summer camp experience, she will be bringing plenty of expertise to the swim docks. She also has experience teaching kayaking, canoeing, fire building, and arts & crafts.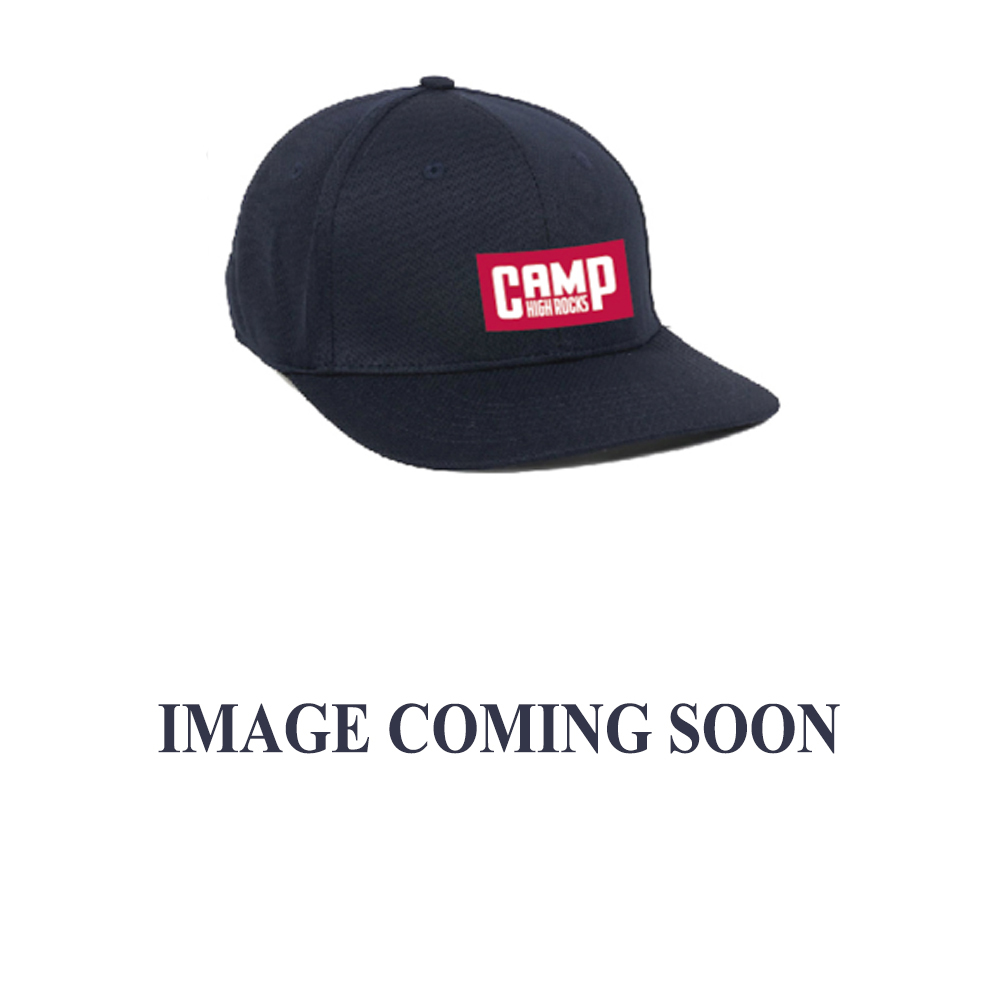 Noah Culin
Counselor in Training
After spending his seventh camper Summer at High Rocks, Noah took a temporary leave from the camp world to work as a certified lifeguard for the past two years. Noah has also been utilizing his camp-learned skills to paddle the Nantahala, climb the New River Valley Gorge, and bike his way back to High Rocks for his first year as a counselor.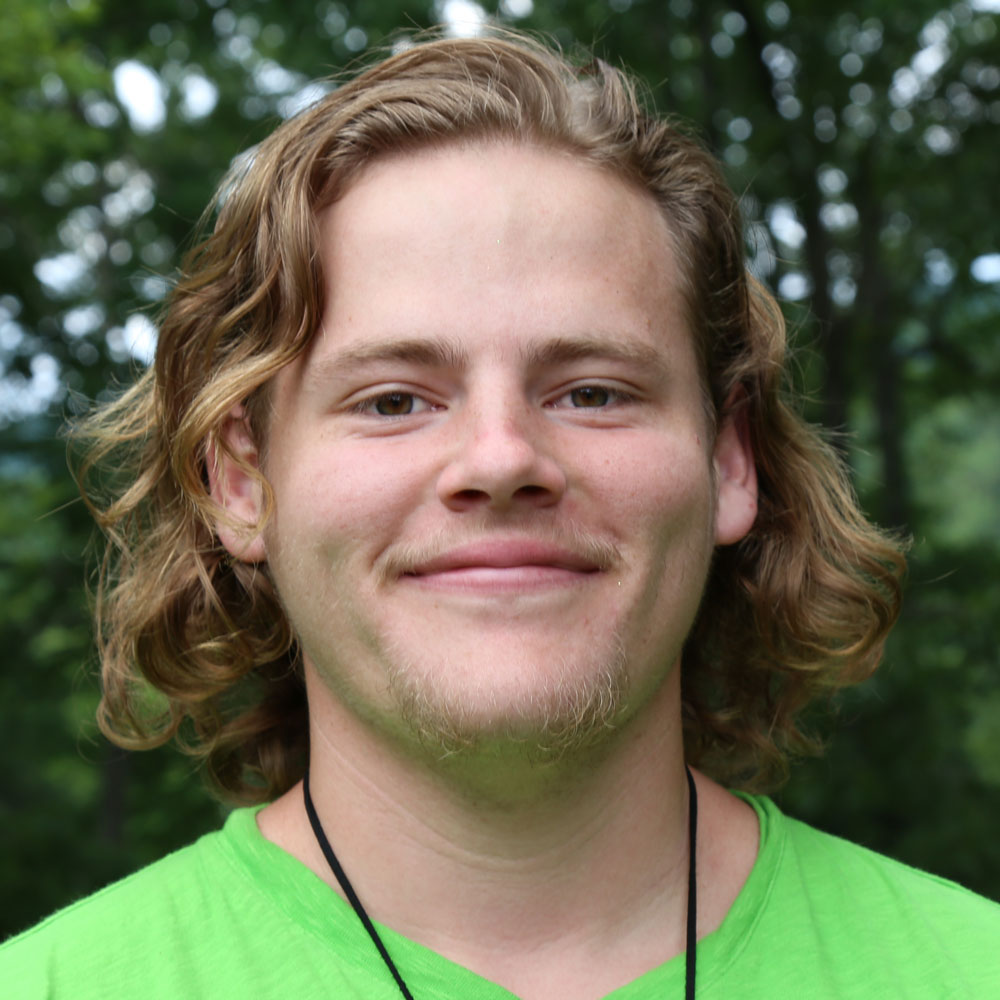 Hunter Davis
Cabin Counselor
Hunter is originally from North Carolina and currently attends Pfeiffer University studying psychology and human services. Growing up, his family owned an adventure guide service where he guided groups of people through kayak tours and other high adventure activities. With his experiences leading groups, making connections, and working in our climbing program, we are excited to have him on staff this summer!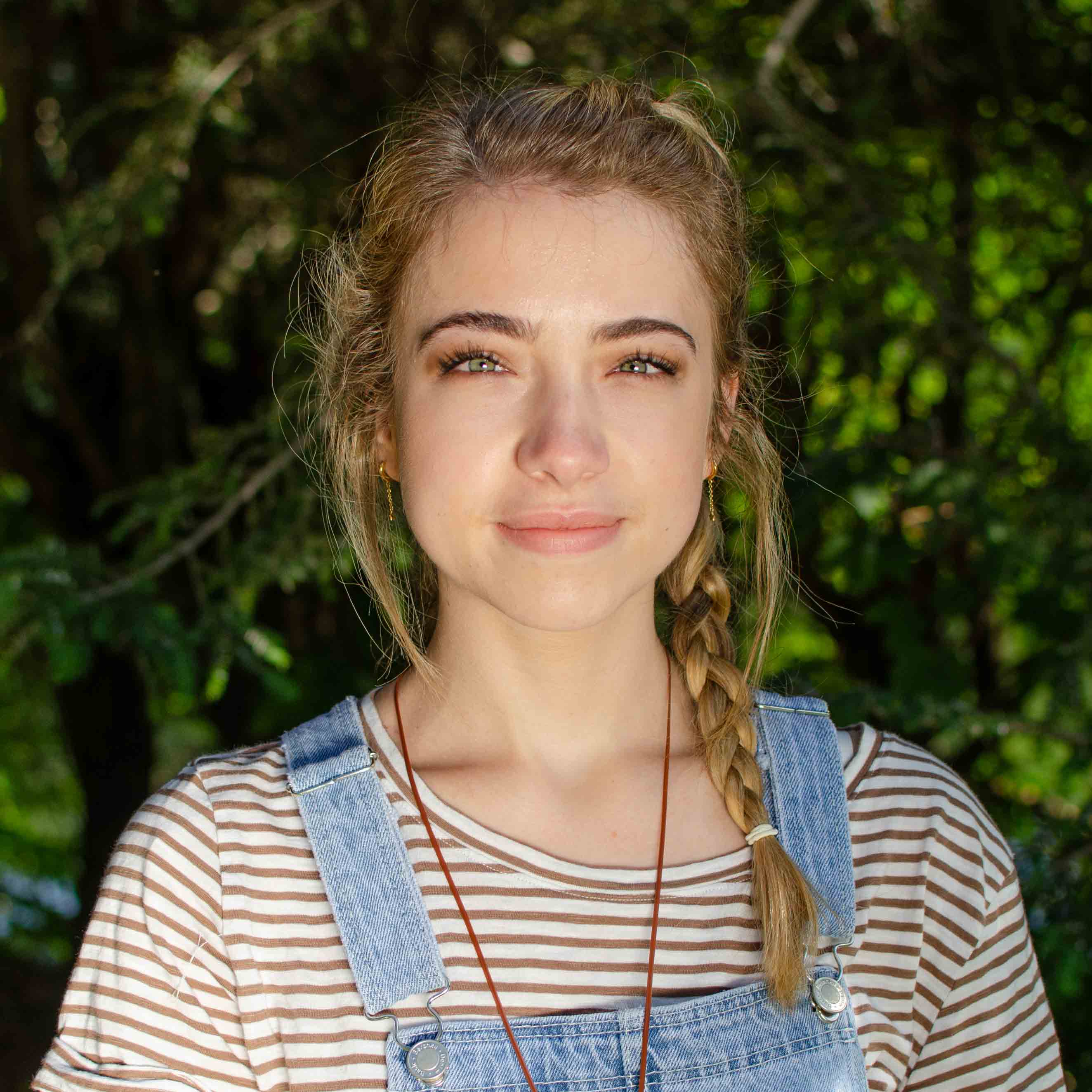 Ashleigh Davison
Horseback Riding Instructor
Riding across the Atlantic to bolster our growing number of international staff members is Ashleigh! Before starting her Masters in occupational therapy this coming September, Ashleigh is going to be saddling up with the rest of our incredible horseback riding instructors down at the barn.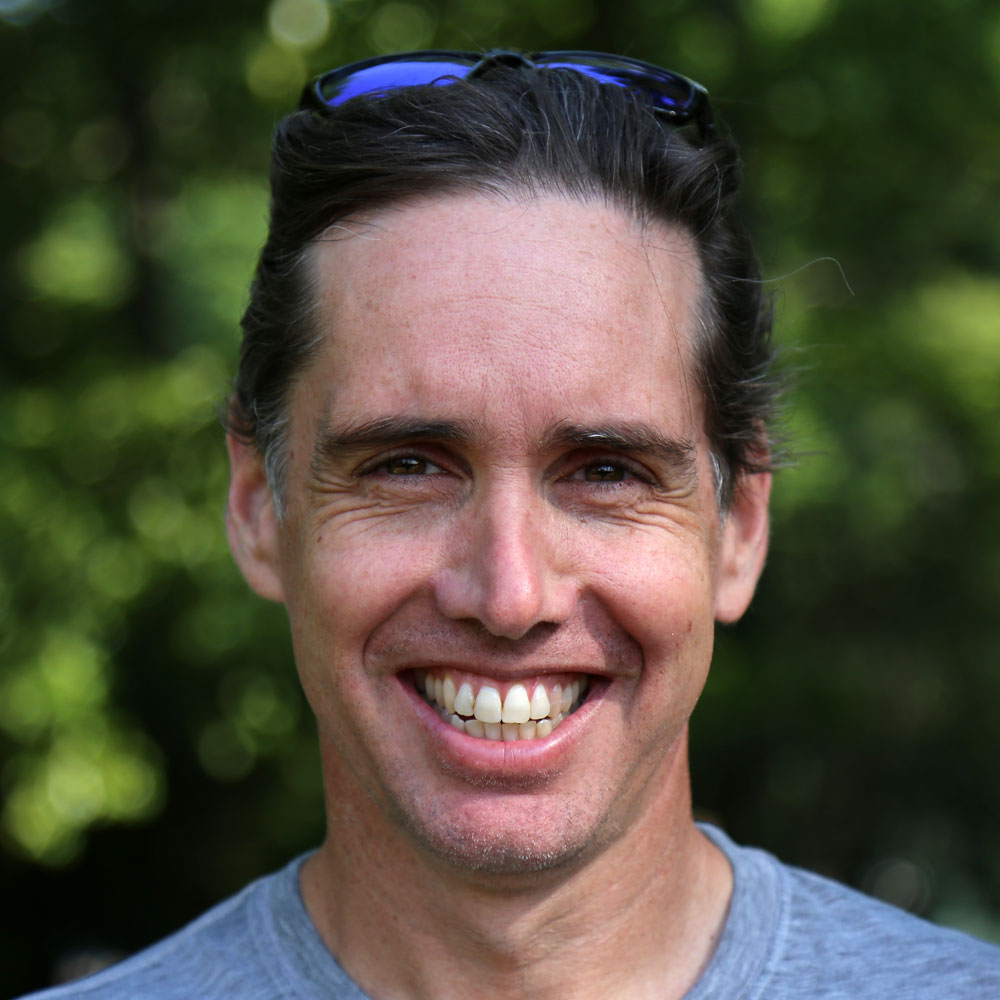 Ryan DeGarmo
Mountain Biking Consultant
Ryan has worked with us in previous Summers, and we are excited to have him again as support to our mountain biking program!  A father of two boys, he is an excellent fit into our community. After moving south from Ohio, Ryan has become a Brevard local and frequent friend and guru to our biking activity.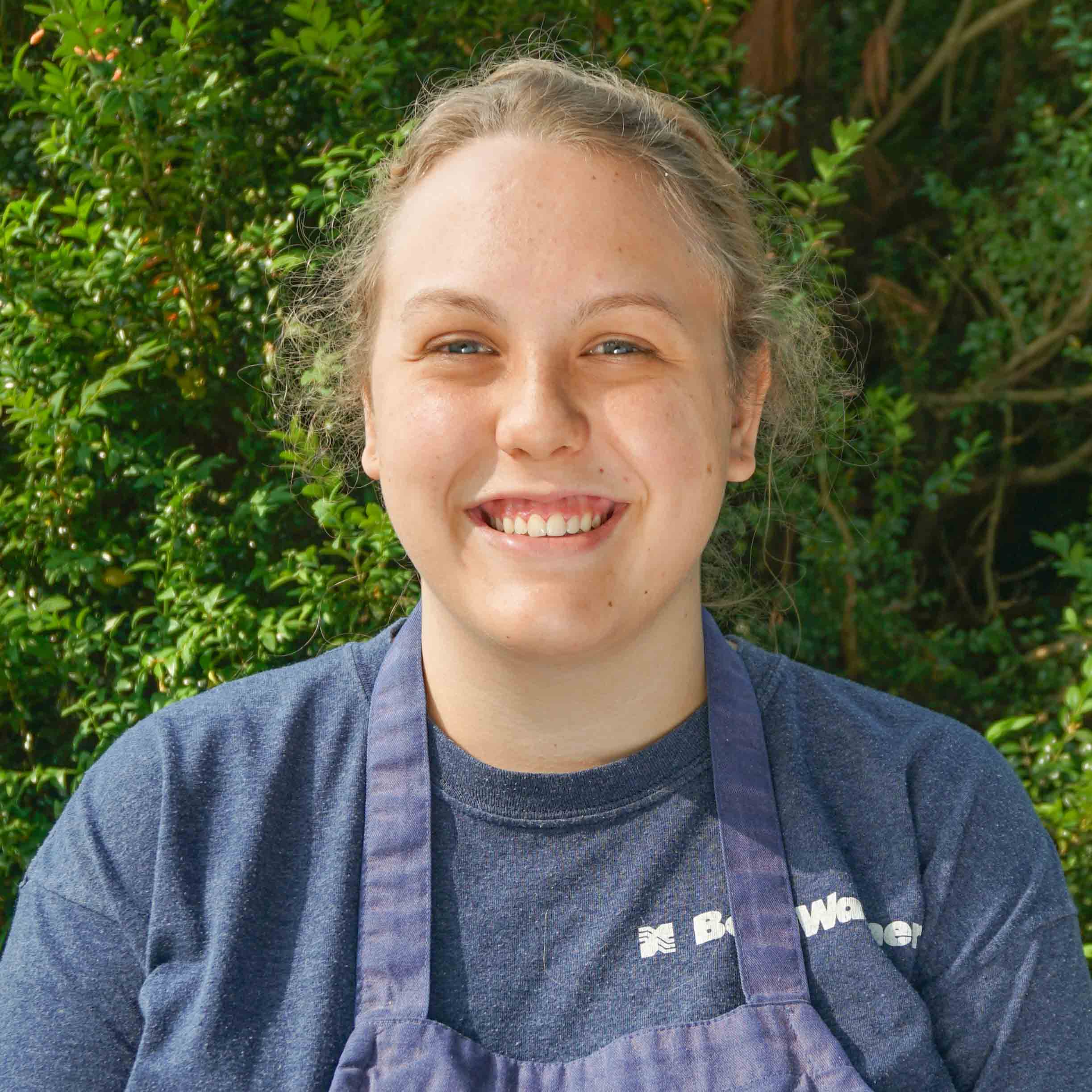 Rebekah Dobbins
Kitchen Assistant
Rebekah is back for a second year on working in the kitchen! With a year of experience, she is already working hard to help our first year Kitchen Staff members learn even more. We are lucky to have her in the kitchen this summer. From biscuits to cookies, we are thrilled to eat anything Rebekah makes!
Chris Dorrity
Climbing Expert
Chris Dorrity is a familiar face around here with this being his thirteenth Summer. Chris worked as our head of climbing for a number of years before taking a hiatus to get married, jump into a teaching career, and have a couple of children.  Chris will be joining us during his summer vacation once again to work in the climbing program.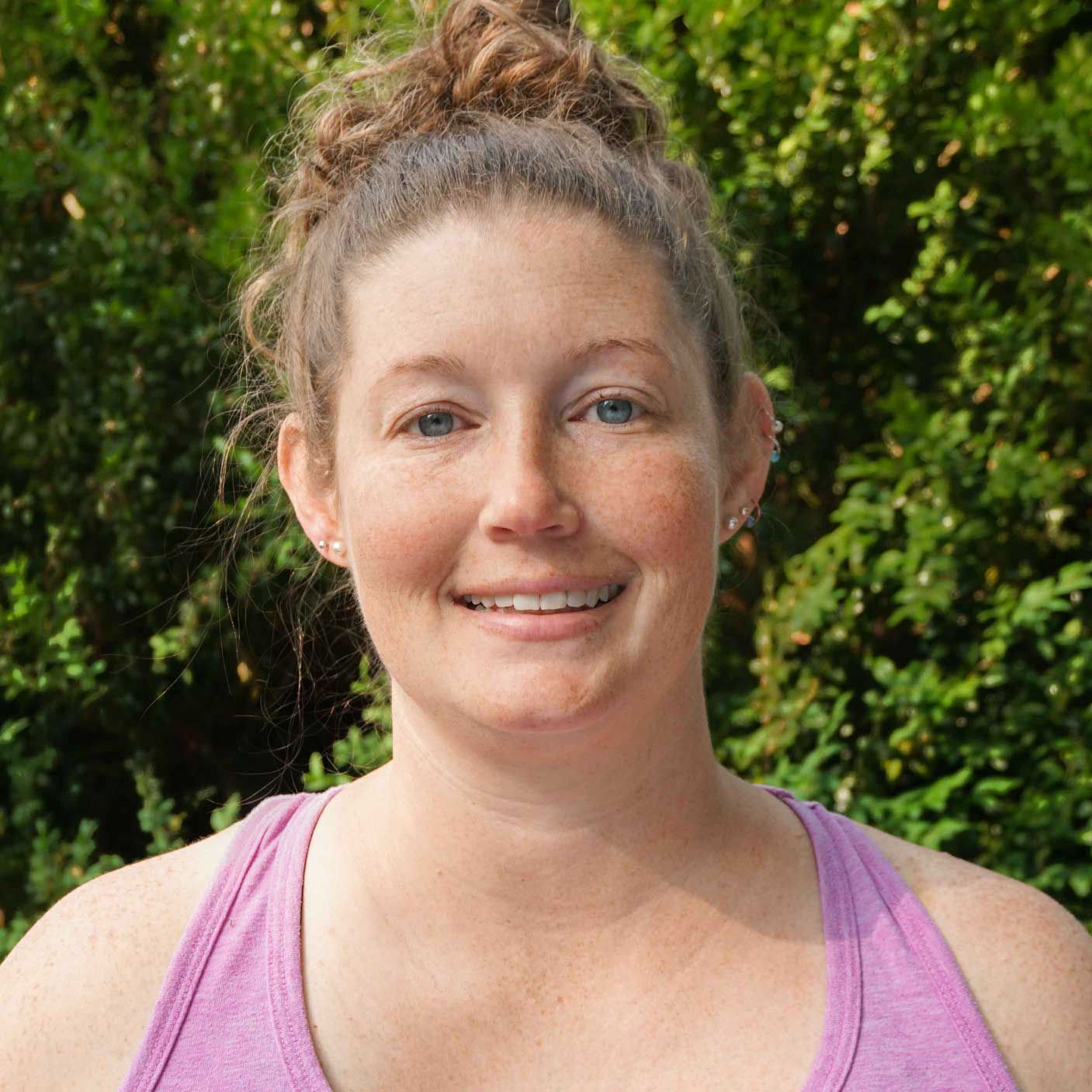 Sara Dunham Grandez
Horseback Riding Head
A longtime High Rocks staff member, Sara joins us this summer for our staff training and three-week session! Her wise words of wisdom and knowledge are a wonderful addition to our barn staff. She knows her way around horses and can help any camper learn a new skill. We are thankful she joined us for another summer!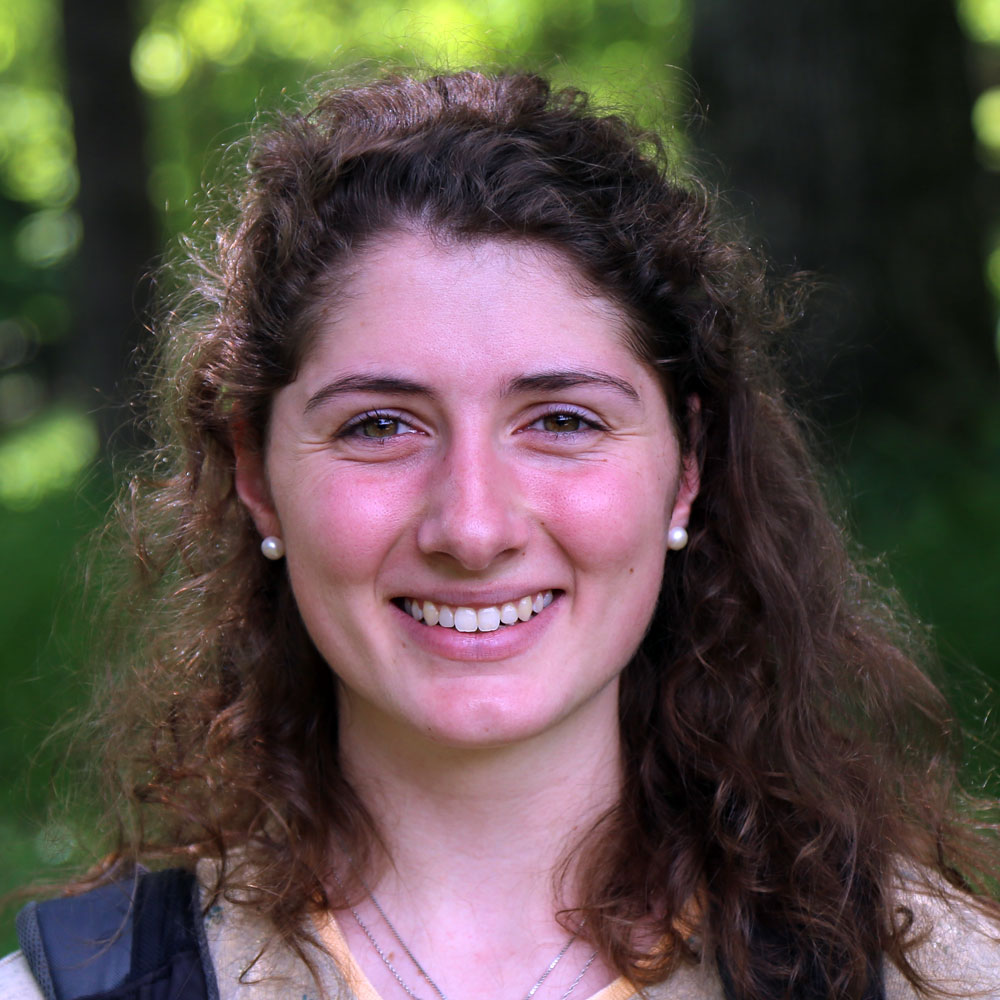 Kathleen Elliott
Director of Special Programs
Kathleen is back for a fourth summer! She is originally from Cedar Mountain and has camp experience at Gwynn Valley, Camp Tekoa, and Keystone Camp. We are excited for her to be back to share her knowledge and ideas for special events that will be enjoyed by everyone.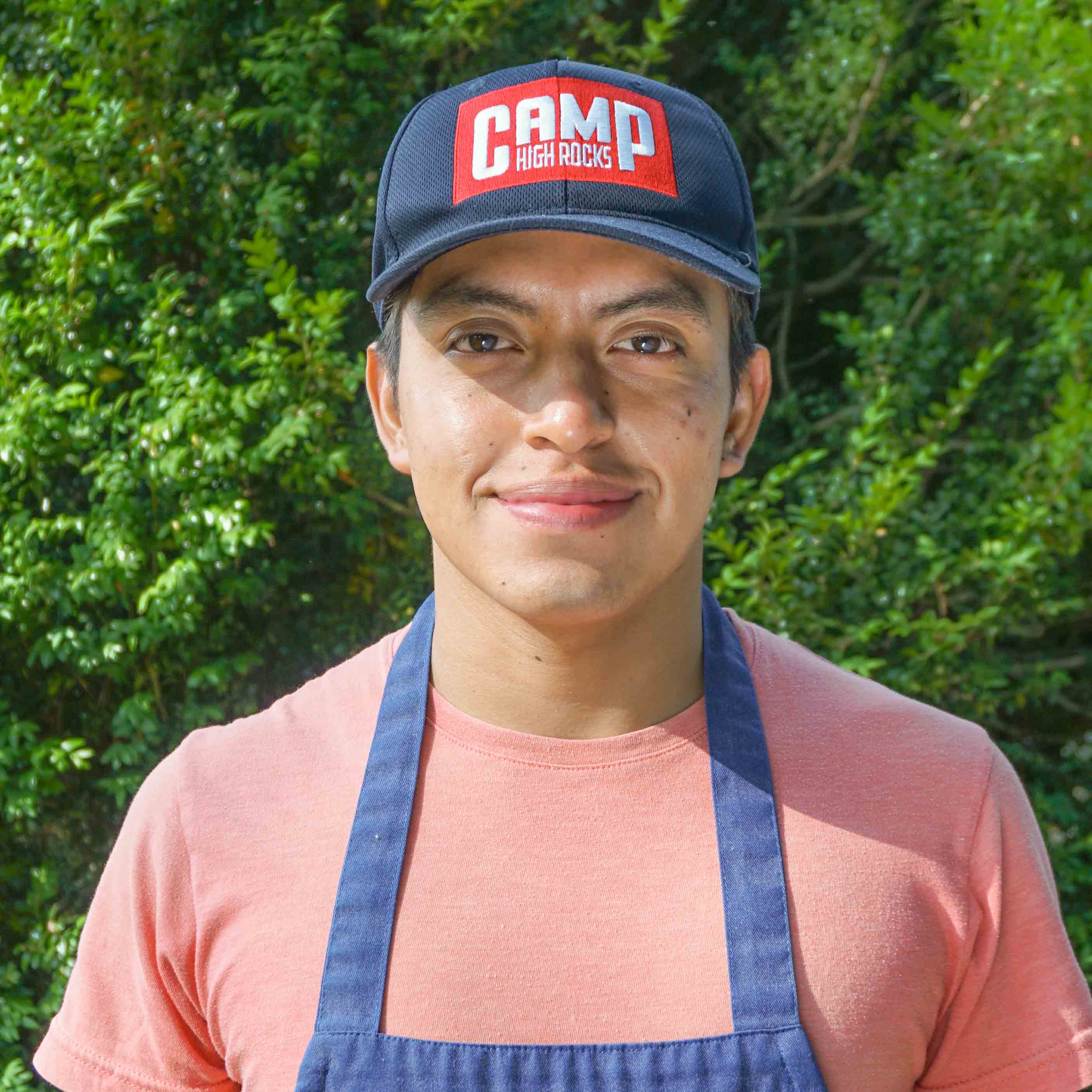 Manuel Espinosa
Kitchen Assistant
Manuel is joining us this summer for the first time. Hailing from Mexico, this is his first time in the United States. We made his first stop in the US to 5 Guys Burgers! Manuel is excited to meet our campers, learn more about America, and jump into the camp kitchen.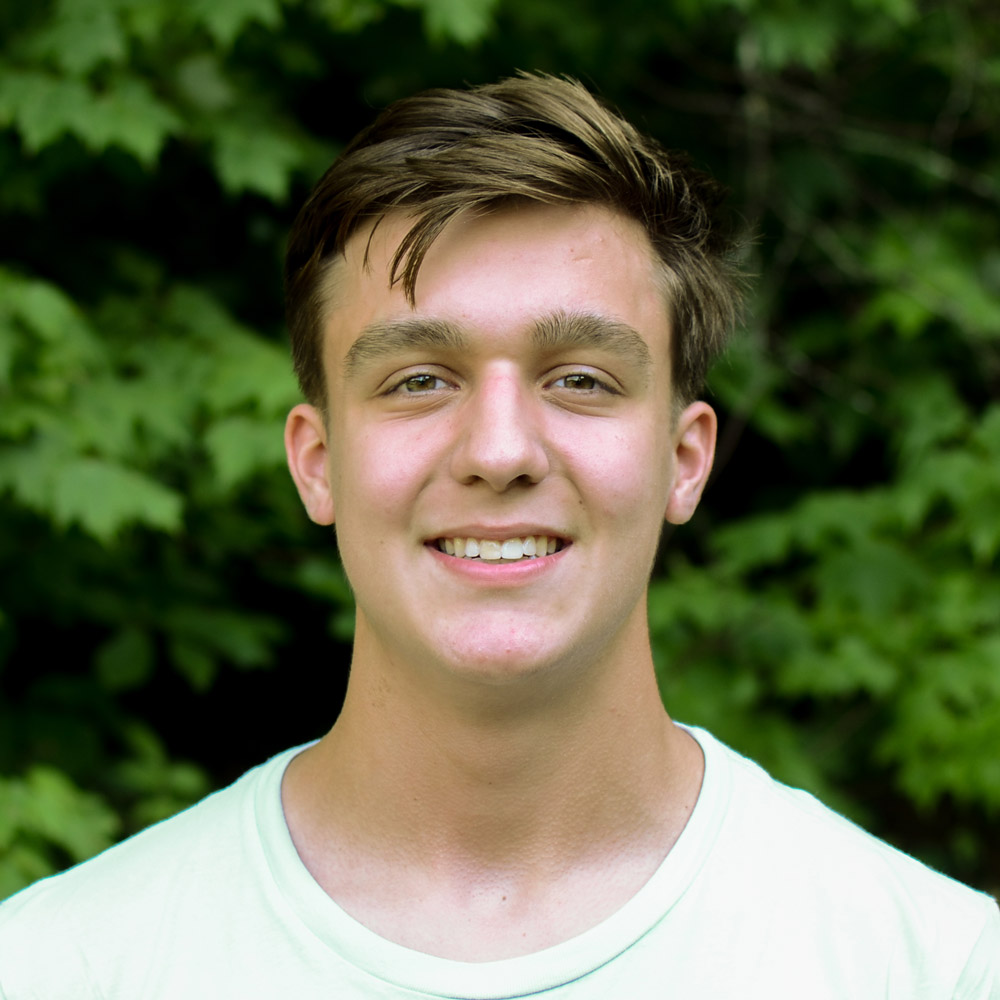 Zach Fernandez
Counselor in Training
Combining five continuous years at High Rocks with his experiences as a member of a North Carolina Civil Air Patrol search-and-rescue unit, Zach is joining our staff as an experienced and eager addition whom we are all excited to welcome back.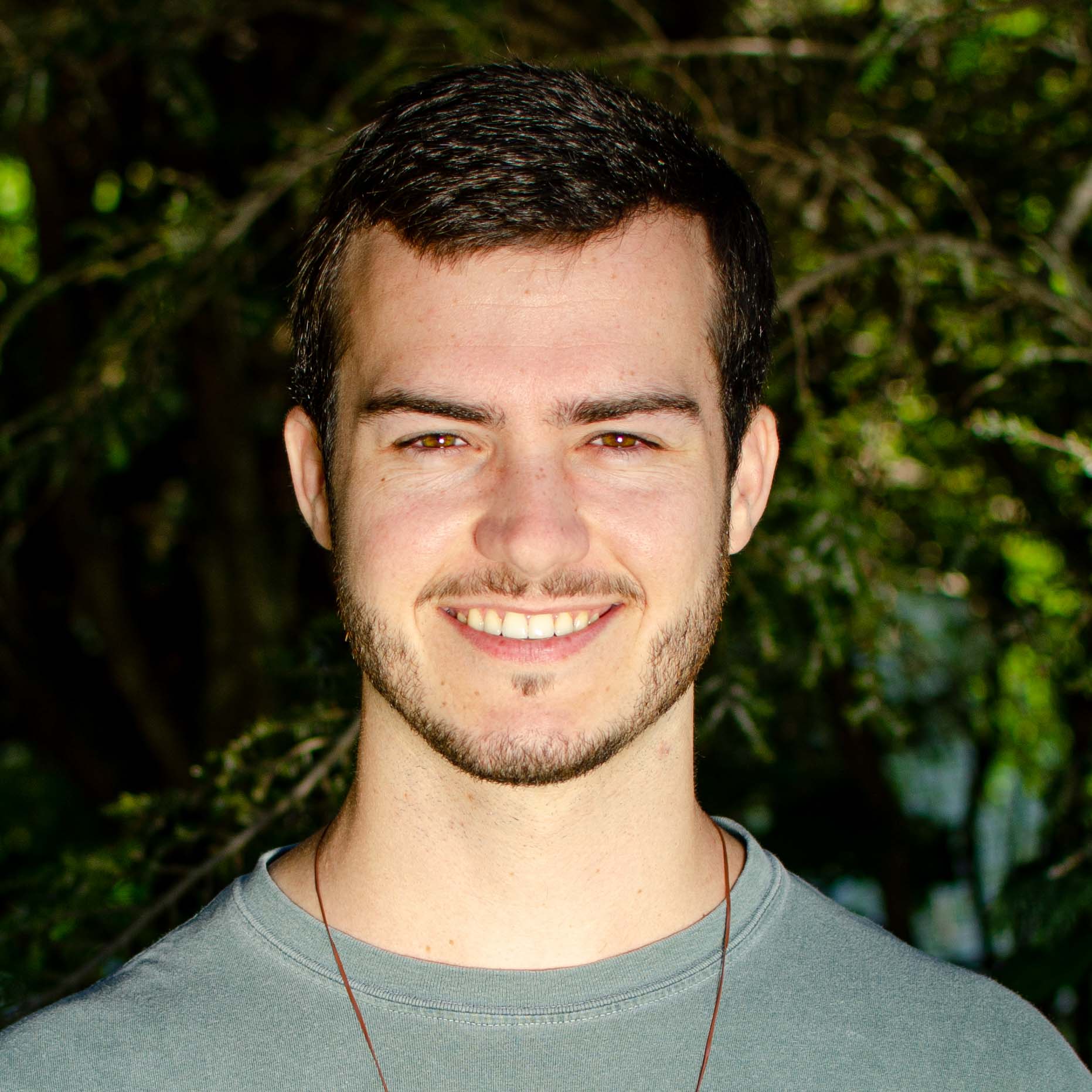 John Fletcher
Cabin Counselor
After taking a few years to focus on his philosophy and business studies, John is returning to our High Rocks team of staff. With eight years already spent at High Rocks, John is an experienced and welcome returner who will bring a lot of safety and fun to our ropes course.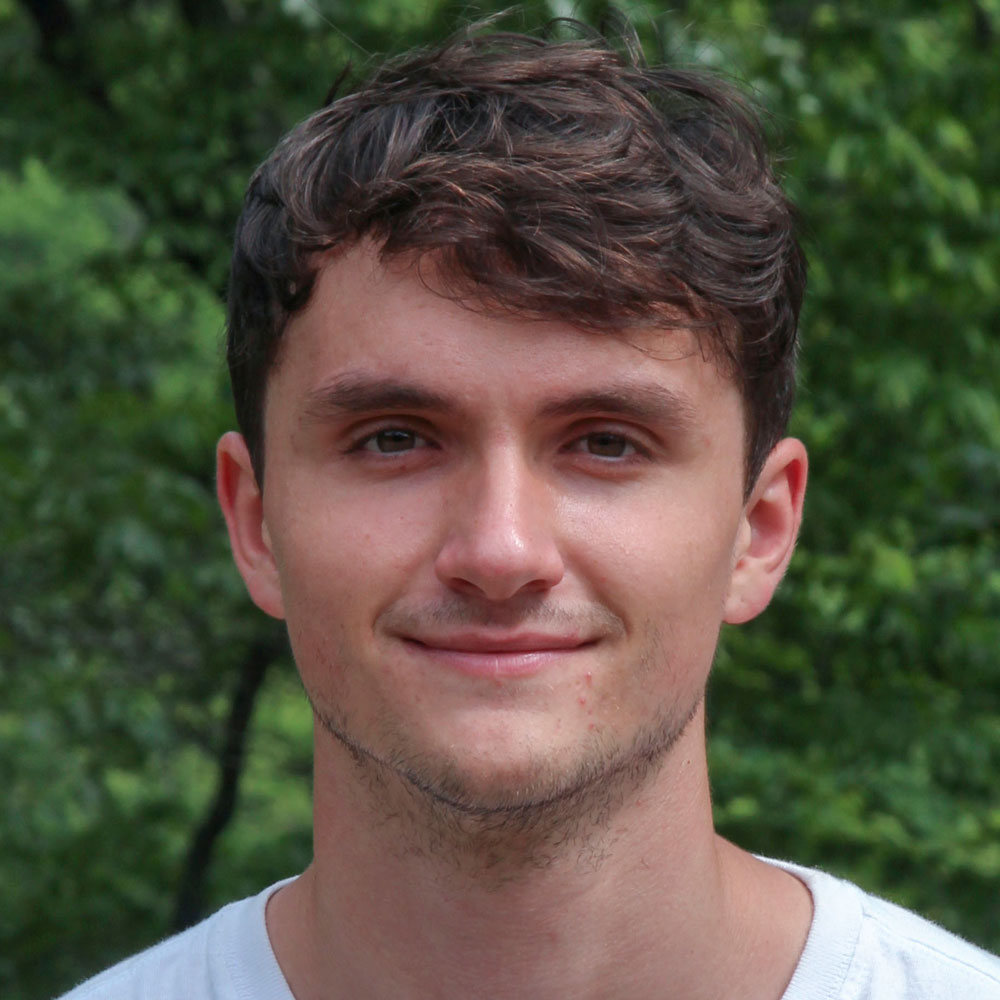 Alex Fratoni
Cabin Counselor
Alex is back for a fifth year on staff! He grew up in Italy before his family moved to the Charlotte area to start his senior year in high school. We are excited to have him back this summer as a star counselor and mountain biking instructor. His knowledge and experience of camp are out of this world - much like his art.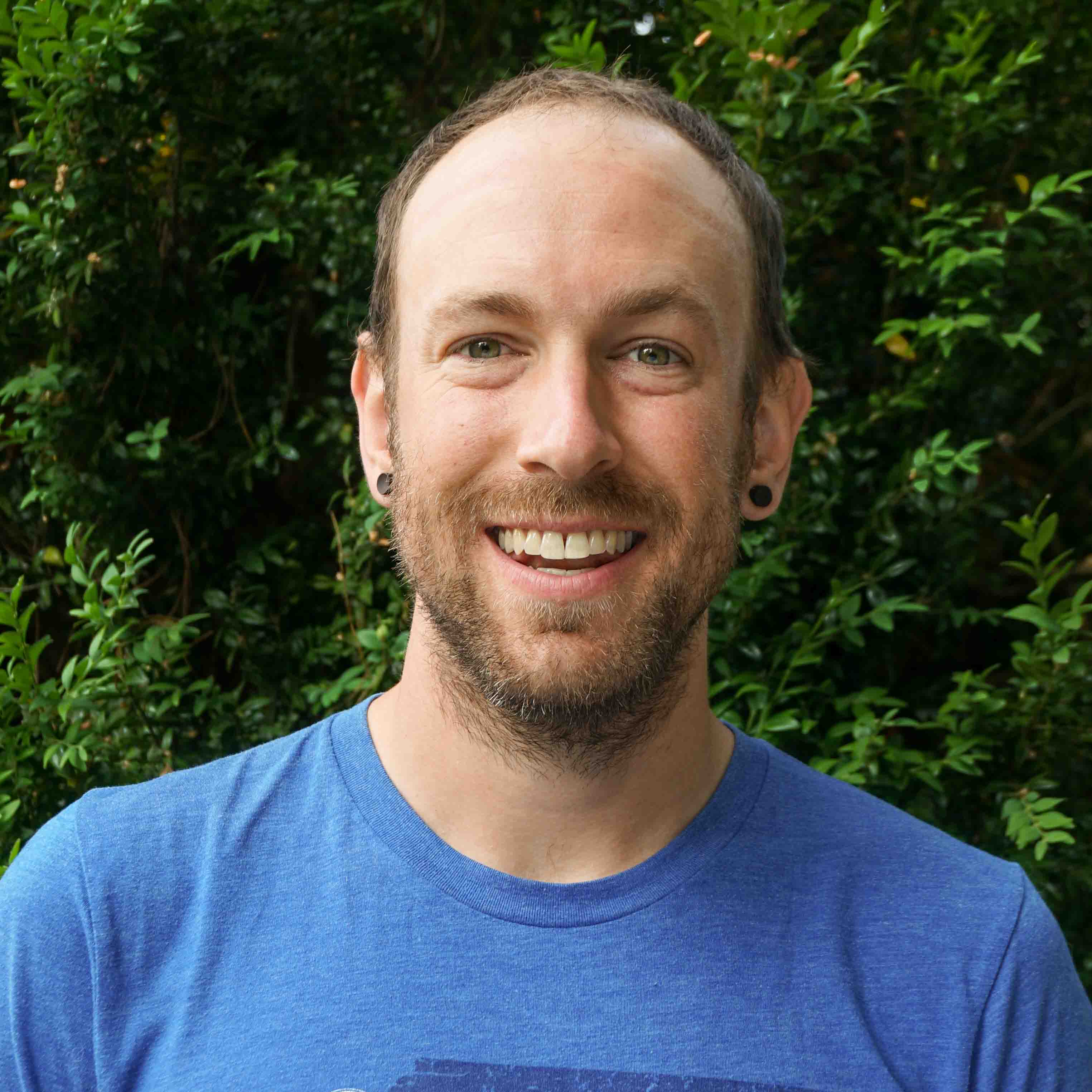 Andy Glas
Head of Climbing
Andy is currently a faculty member at North Greenville University. He became a National Outdoors Leadership School field instructor last summer and has just purchased a house! Andy will be back helping out at climbing this summer. Welcome back, Andy!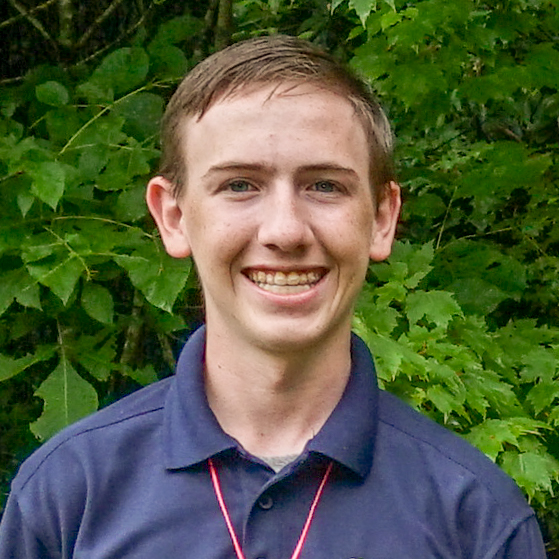 Sam Goldenberg
Counselor in Training
Ten years pursuing his passion for tennis, seven years pushing past peaks in rock climbing, and six years part of the High Rocks community, Sam is starting his first summer as a High Rocks counselor with many experiences to share in the cabin. With the successful summit of Grand Teton and completion of a leadership camp adding to this experience, Sam will surely be a rock-steady role model for all of our campers.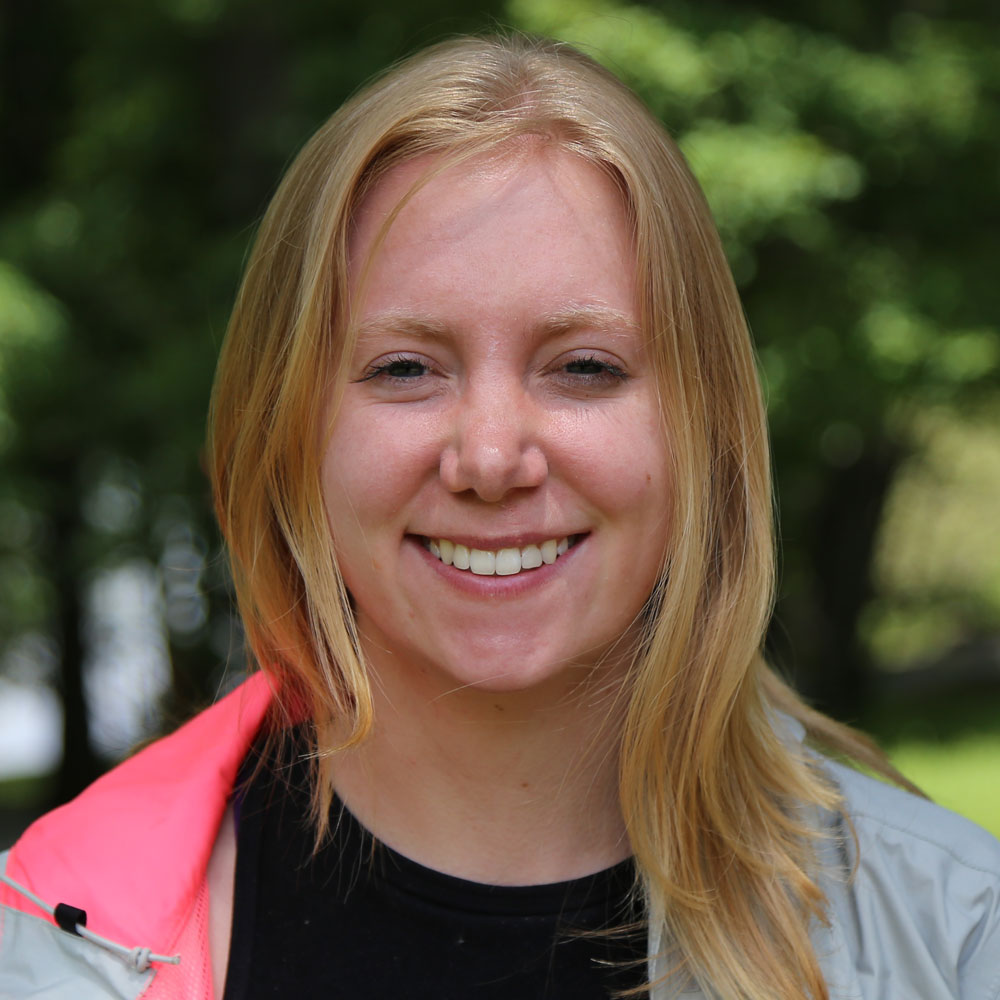 Mary Jo "MJ" Gordon
Tennis Instructor
Mary Jo will be returning to our camp staff this summer to help on our courts! With a vibrant personality and always-ready dance moves, Mary Jo is the perfect person to put a smile on any camper's face.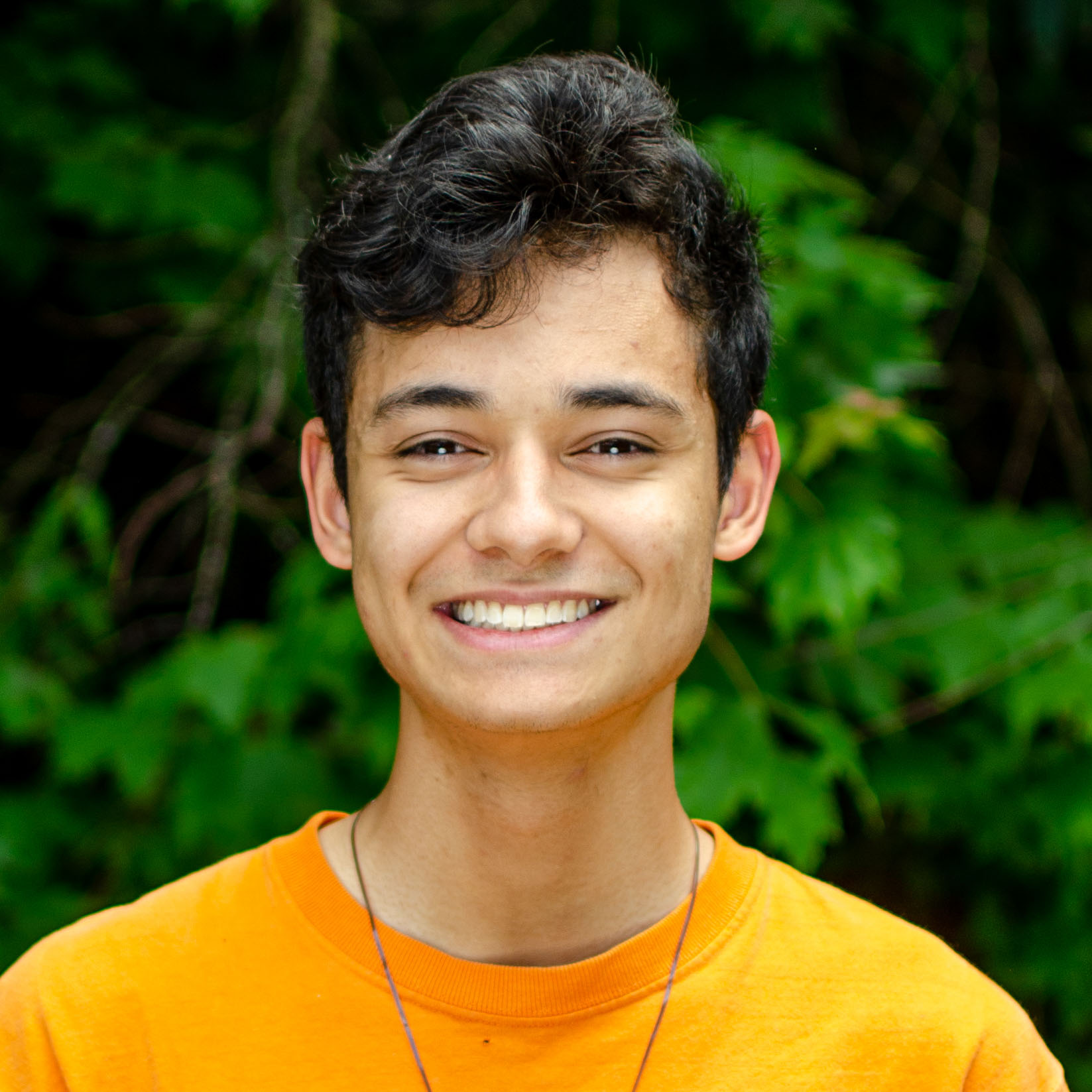 Nick Green
Videographer
Nick has worked at a youth running camp for two and a half years for third to eighth graders and as a lead videographer for Colliers International. This summer, Nick will be coming to High Rocks for the first time to combine his two passions for teaching youth and videography. We are looking forward to seeing all of the moments captured by this talented individual!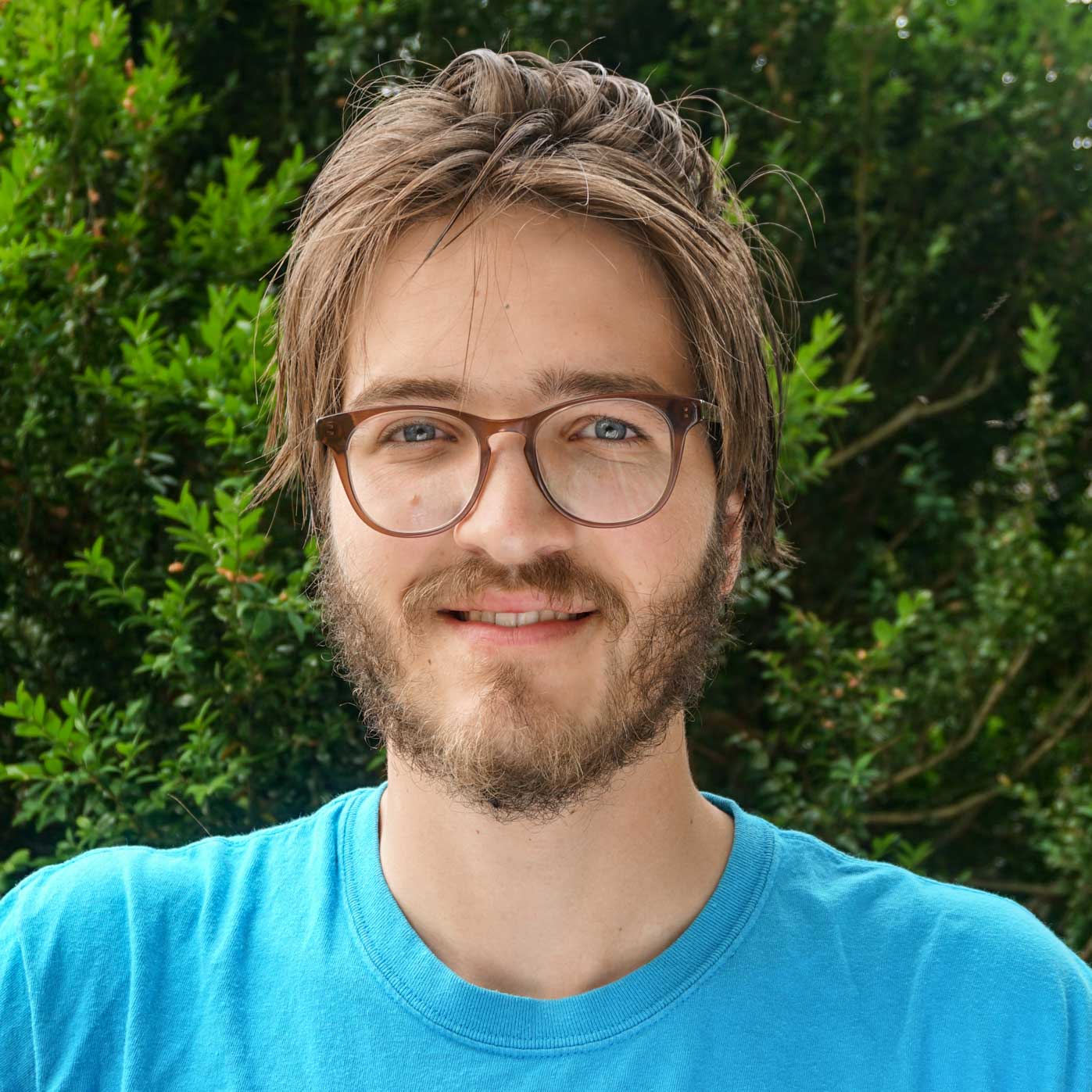 Alex Griffith
Head of Hiking
Alex is back on staff at camp with many new experiences under his belt. He has been working as a Field Instructor with a local non-profit, Muddy Sneakers. Muddy Sneakers is an education nonprofit dedicated to getting public school students outdoors. Before Muddy Sneakers, Alex worked on a small Island as an environmental education / field instructor. We are excited to have Alex bringing his new skills and vast experience to our Hiking program this summer!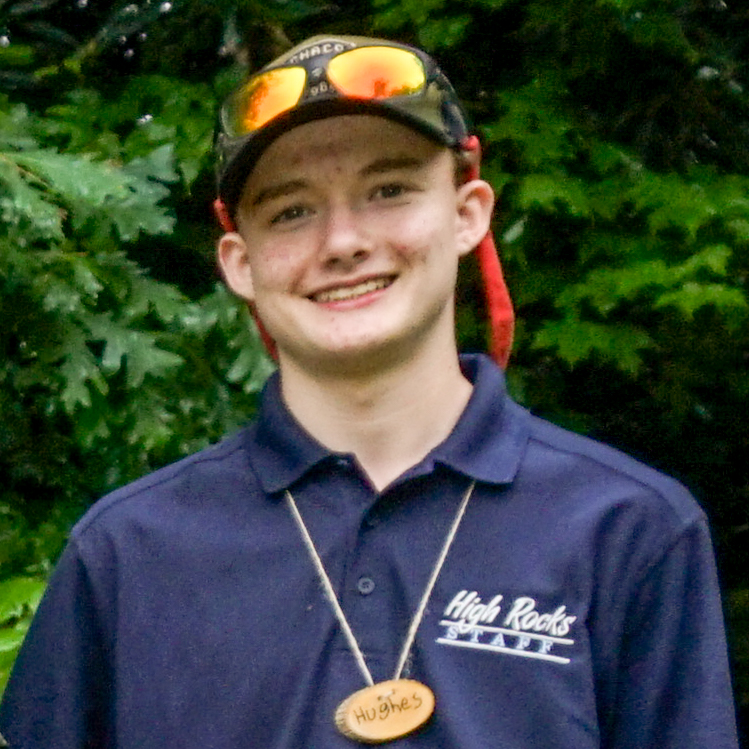 Hughes Hancock
Counselor in Training
Hughes is an avid outdoorsman, Eagle Scout, and manager for his school's basketball team in their third consecutive season as state champions. Contributing the beginning of his outdoor career to his first summer at High Rocks nine years ago, Hughes is joining our staff as someone fully invested in helping young campers encounter the experiences, friendships, and countless life lessons that he had here.
Gaines Hartley
Paddling Instructor
Gaines has been a long-standing instructor and camper in our paddling program here at High Rocks. As one of our most experienced paddlers and a frequent favorite among our campers for his easy-going personality and shape-shifting facial hair, the waterfront would be at a loss without him. Welcome back for another summer, Gaines!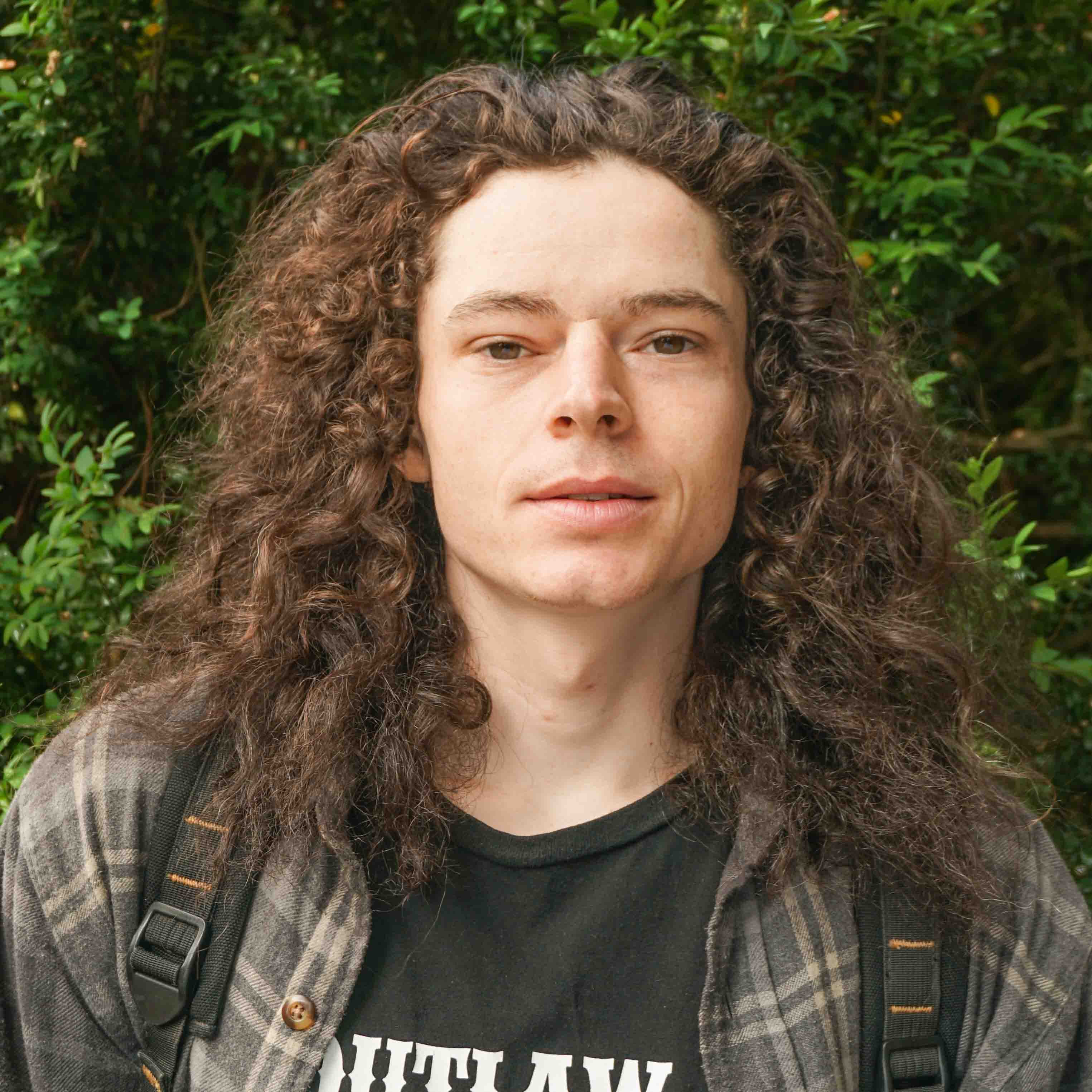 Killian Harvey
Cabin Counselor
We are excited to have first-time staff member, Killian, with us this summer. He is no stranger to summer camps as he attended a camp in Virginia for over six years! Killian is an avid outdoorsman with many skills and is excited for the opportunity to spend the summer in the Blue Ridge Mountains. Killian will be a huge helping hand in Climbing as well as in the cabin as a Cabin Counselor.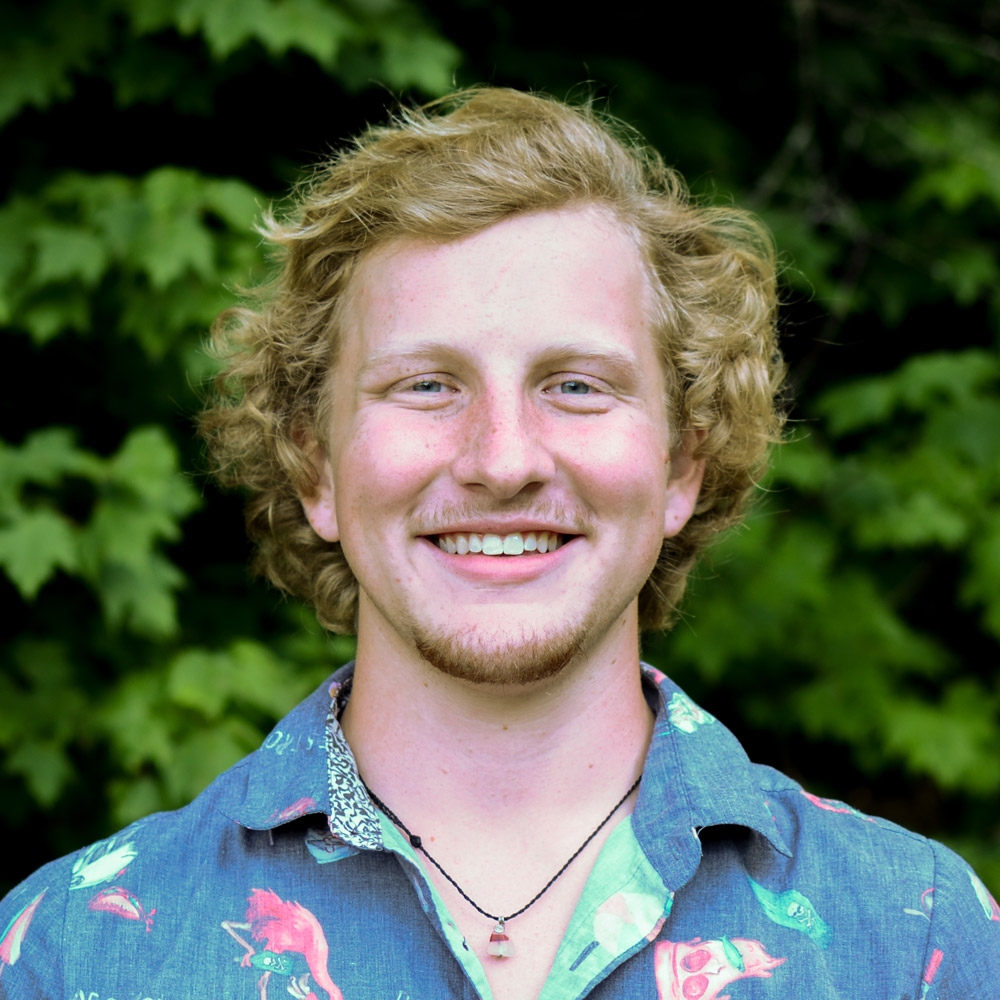 Ruffin Henry
Counselor in Training
A firm believer in the idea that it is more beneficial to commend a camper's efforts than it is to criticize their challenges, Ruffin is looking forward to combining his seven summers as a camper in our paddling program with his white water rescue certification and after-school caretaker experience to be a supportive and safety-focused eye on our waterfront this summer.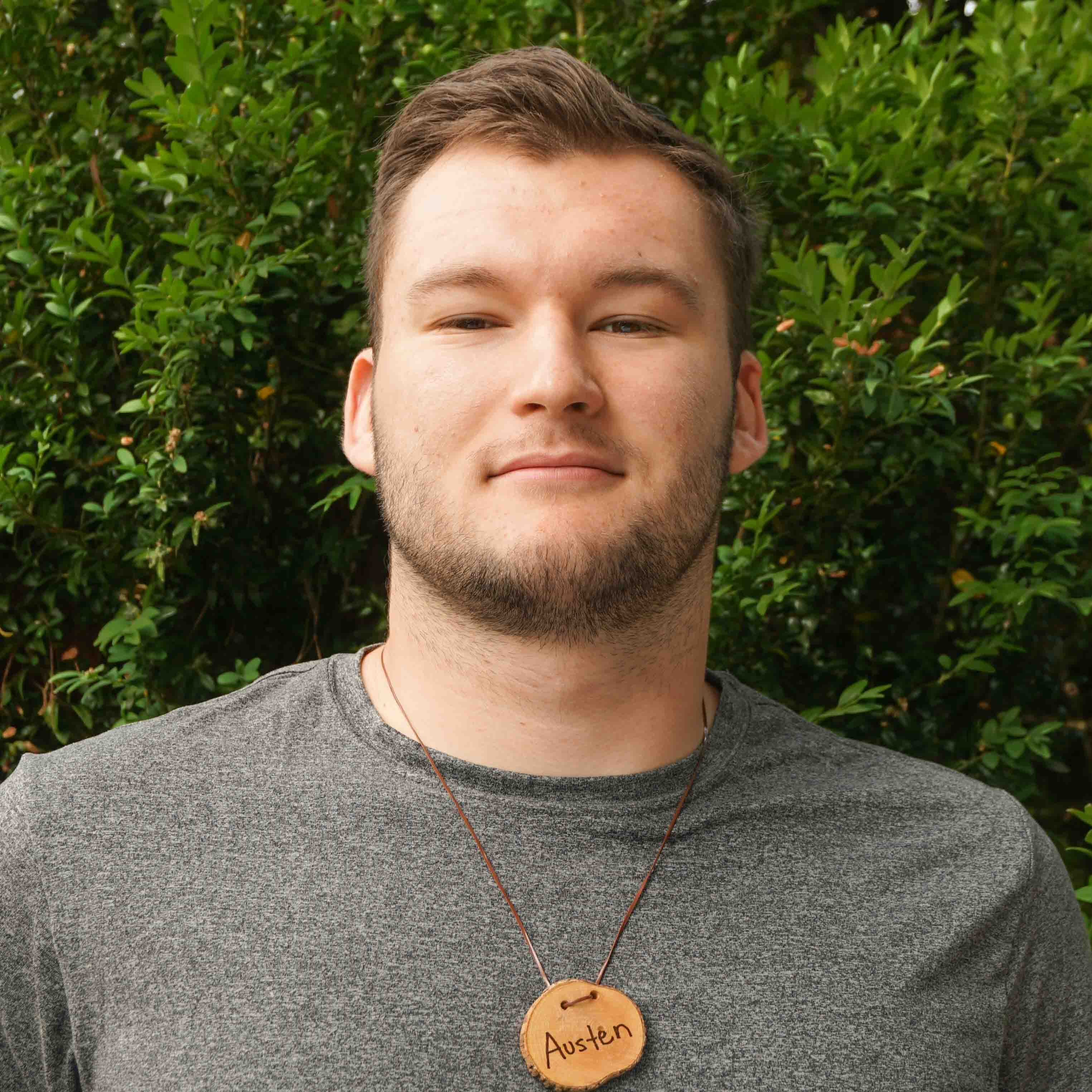 Austen Hetes
Cabin Counselor
Austen has been a camper for the past fifteen Summers; seven of which were spent in part at High Rocks. While at High Rocks, Austen apprenticed in our mountain biking program. With his experience here, and two additional years counseling in the camp industry, Austen returns to High Rocks as a welcome and experienced addition to our staff!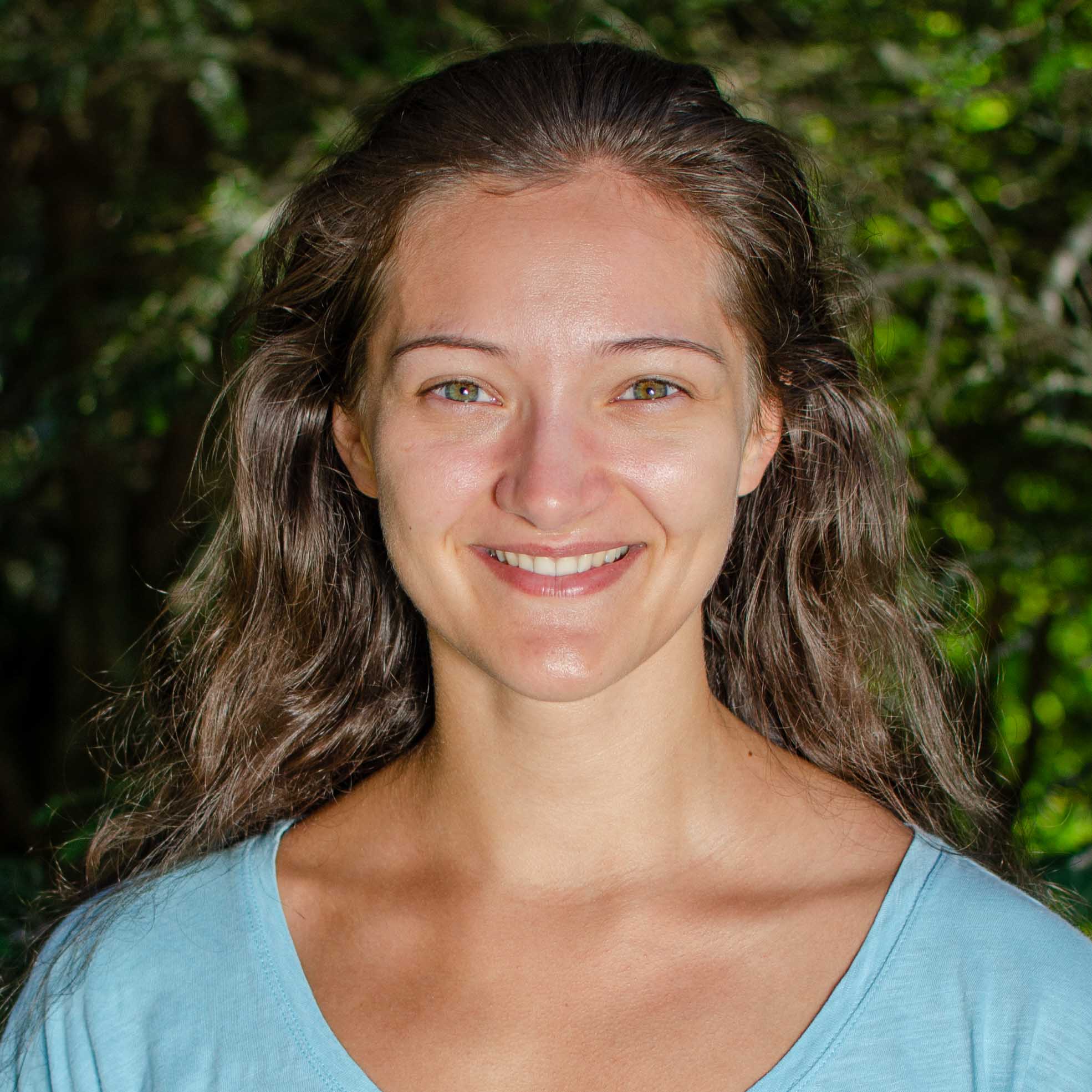 Hannah Hodkinson
Horseback Riding Instructor
Hannah starting riding at the early age of seven! She is an experienced rider and has competed in a few local competitions as well. She currently works with children as a volunteer Biology Teacher and a Mathematics tutor. As a young Cub Scout turned local Cub Scout leader, Hannah has experience working in camp settings, therefore, we know she is going to fit right in. We are thrilled to have Hannah over from the UK!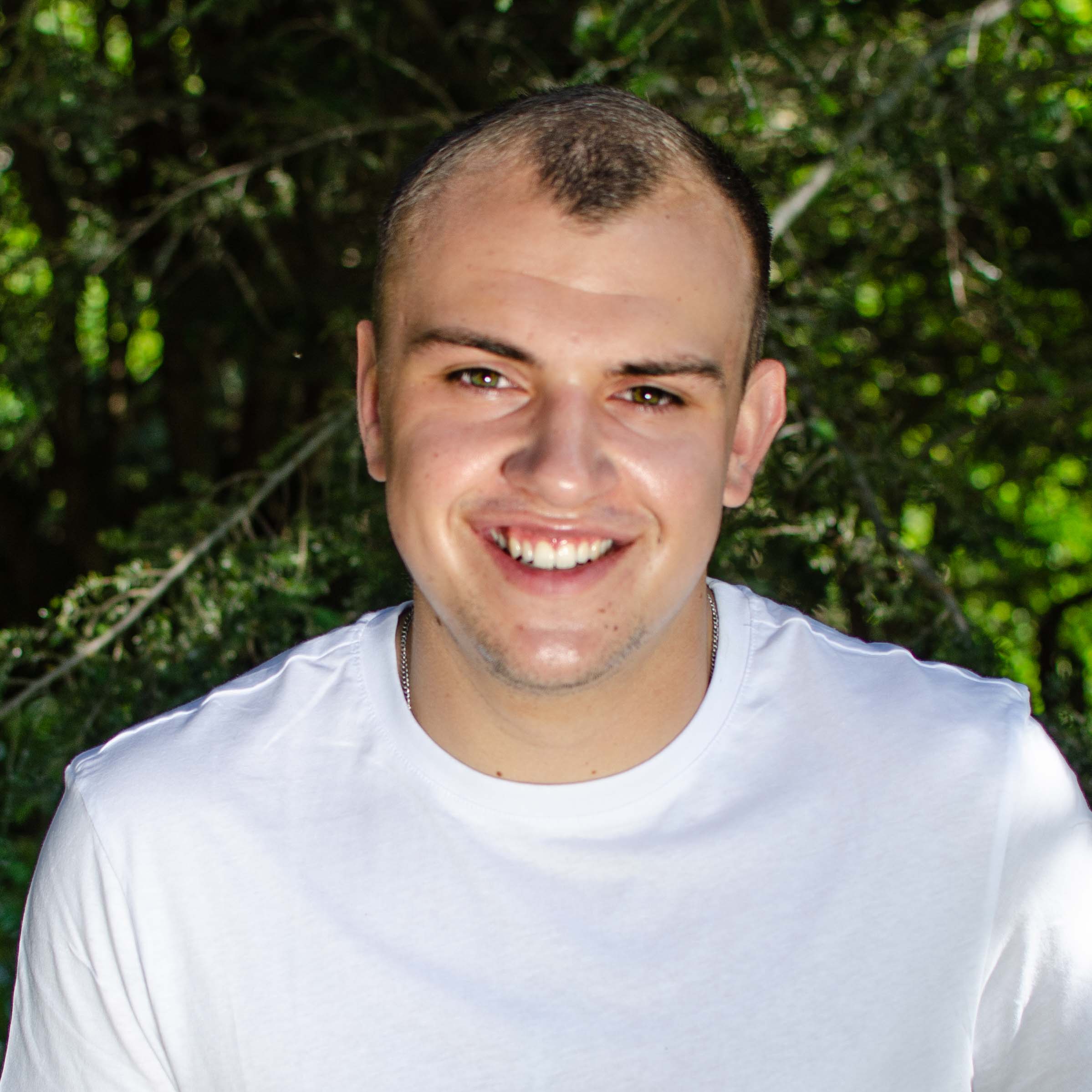 Edward Howlett
Cabin Counselor
Edward is joining us this summer from the UK! We are excited to have him as a Cabin Counselor this summer while teaching soccer and basketball. He currently coaches a few soccer teams and plays on seven versus seven teams during the year. We know he will bring his motivational skills to our sports programs and in the cabin. (Everyone needs a little cabin clean-up pep talk!) As Edward puts it, he has a "passion for football"! Welcome to the team!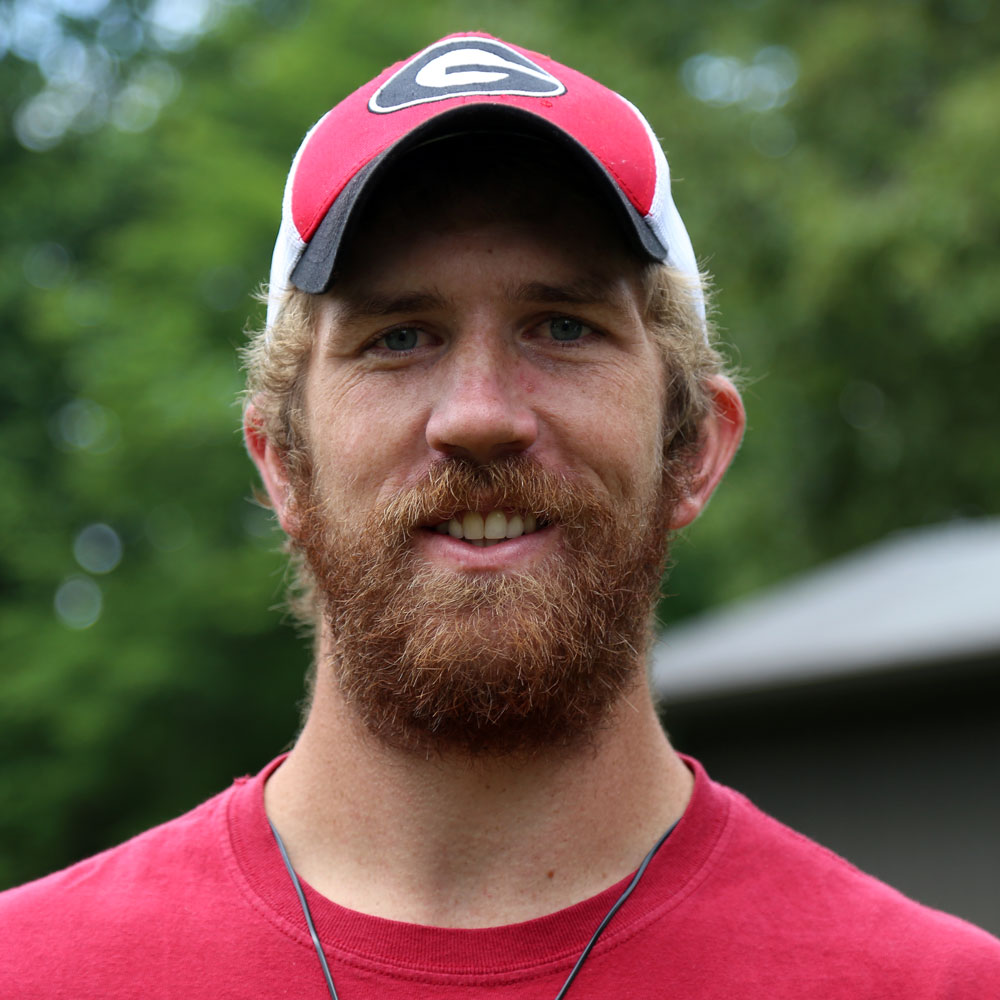 James "JJ" Jackson
Head Staff & Hiking Trip Leader
James, known as JJ around camp, has many experiences in the outdoors working with children. He has worked at youth risk programs, at golf and tennis programs for children, fighting fires in Alaska, and most recently in Nature's Classroom. He is an phenomenal guitar player, avid hiker, and enjoys playing rounds of disc golf!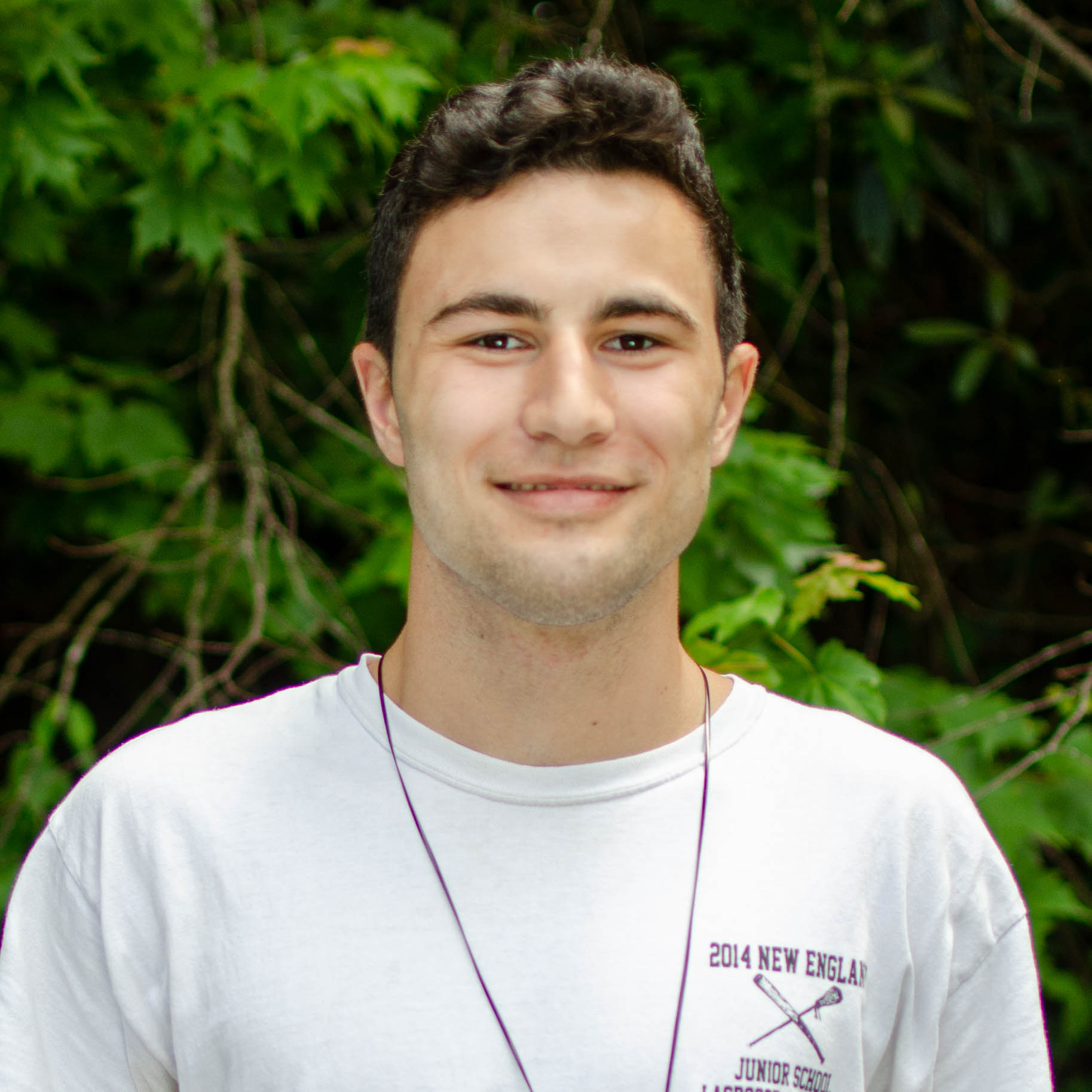 William Jarvis
Cabin Counselor
After spending his first summer at High Rocks and once again getting a taste of the camping world, Will is excited to return for a second year. With extensive skills in soccer and pottery, Will is a great addition to the High Rocks Crew who creates an atmosphere where boys can easily "laugh and learn".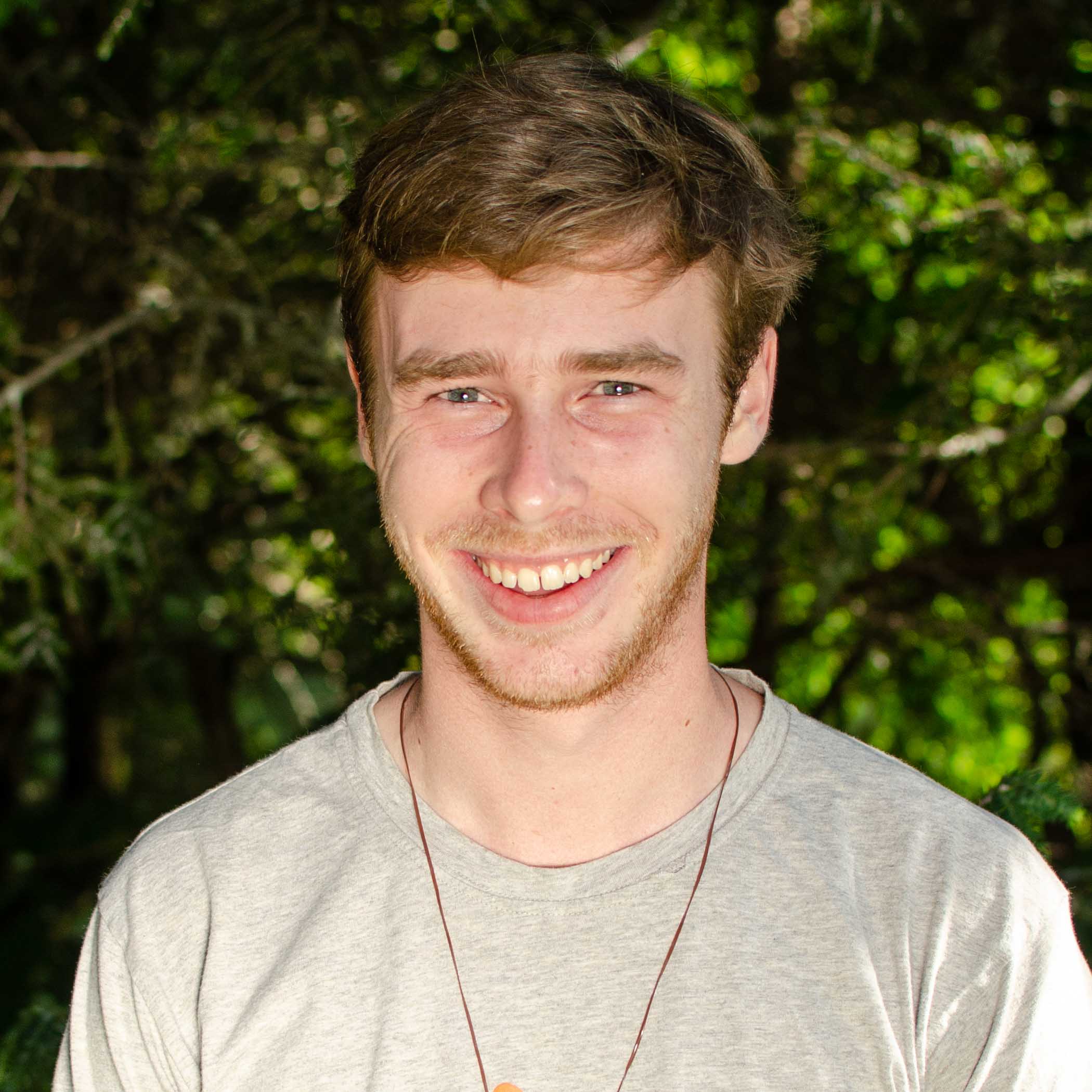 Thomas Joy
Cabin Counselor
With eight years spent attending High Rocks and three years saddling up campers at the barn, Thomas has an abundance of experiences that help to make him a respected role model for campers and all-around appreciated staff member here at High Rocks. Welcome back, Thomas!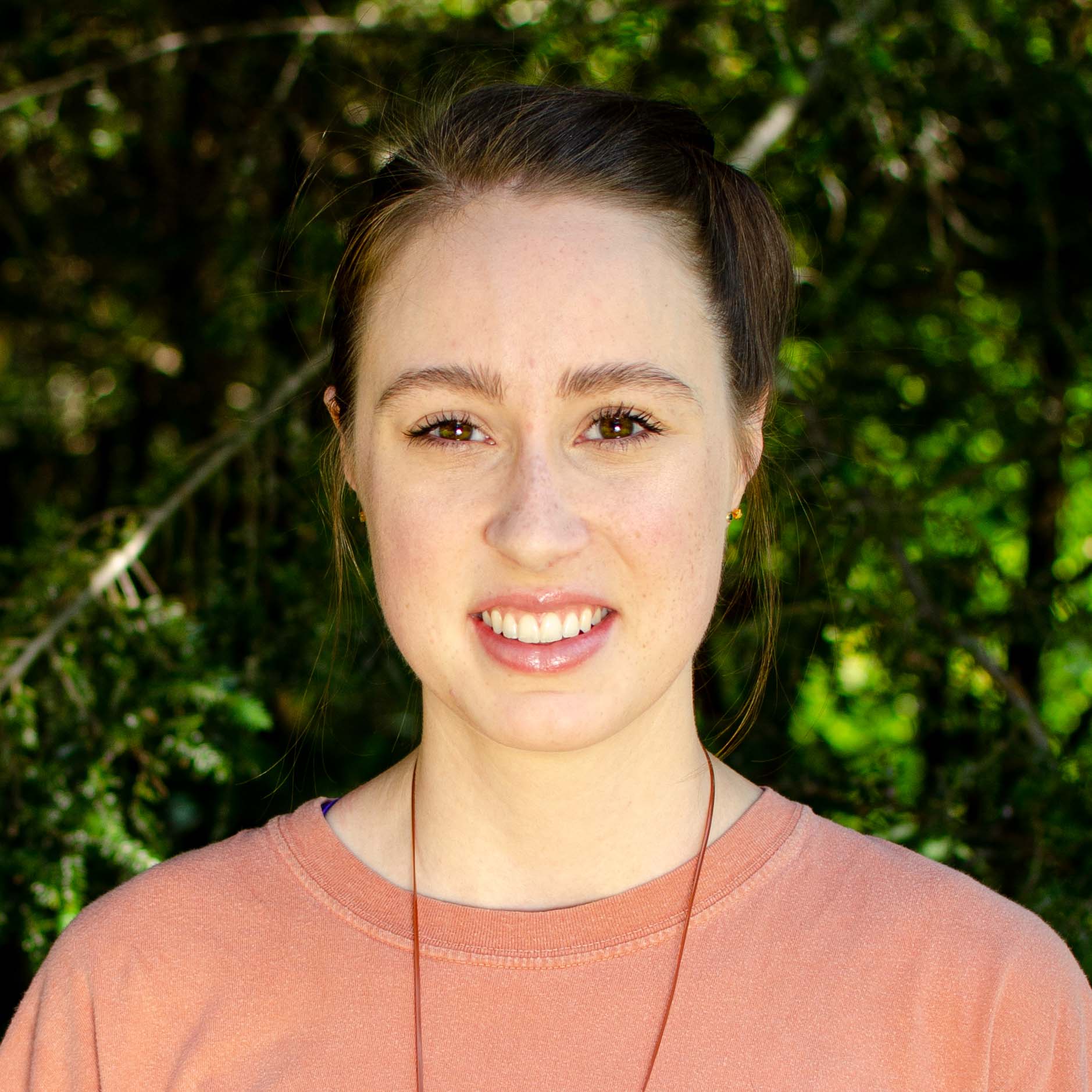 Anna Kaminski
Horseback Riding Instructor
A recent graduate from East Carolina University and life-long practitioner of horseback riding, Anna will be joining us at High Rocks for her first summer. Anna is excited to share her skills and experiences in our riding ring, and we are excited to welcome her to our team!
Jason Karol
Program Specialist
Growing up in New York, Jason graduated from Rochester Institute of Technology with a degree in Marketing. He moved down to South Carolina and has been enjoying the large amount of lakes to fish on in the area. With the technical know-how to instruct backpacking, fishing, and other activities around camp, Jason will be helping during the weekends to ensure all of camp runs smoothly.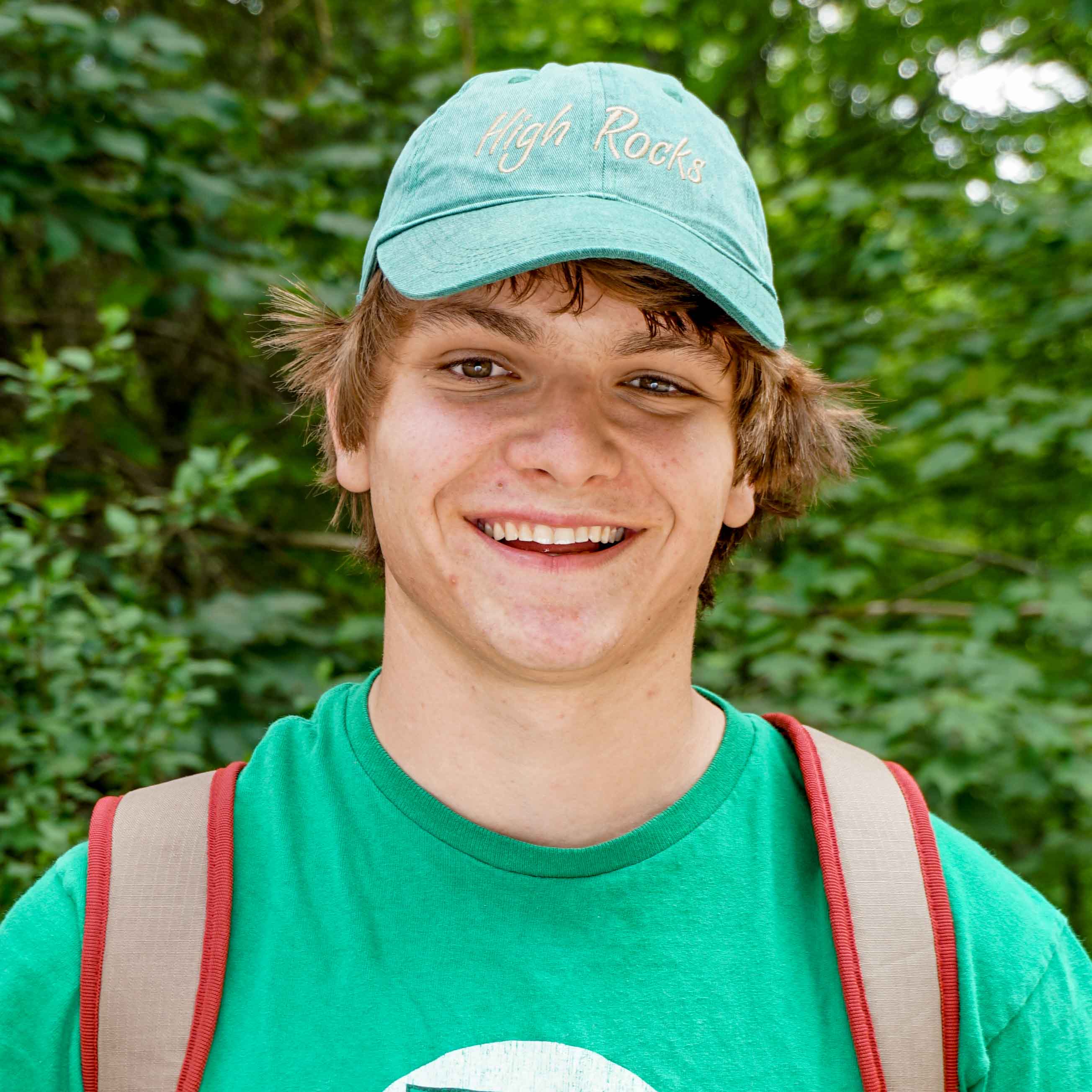 Ben Ketchum
Assistant Counselor
Ben has paddled and climbed for five years and practiced archery and pottery for six years at camp. In his own words, the friends made and challenges faced while at camp made an impact on him that will last the rest of his life. High Rocks provided a worry-free atmosphere where he could experience this, and he wants to pass that opportunity on to more campers.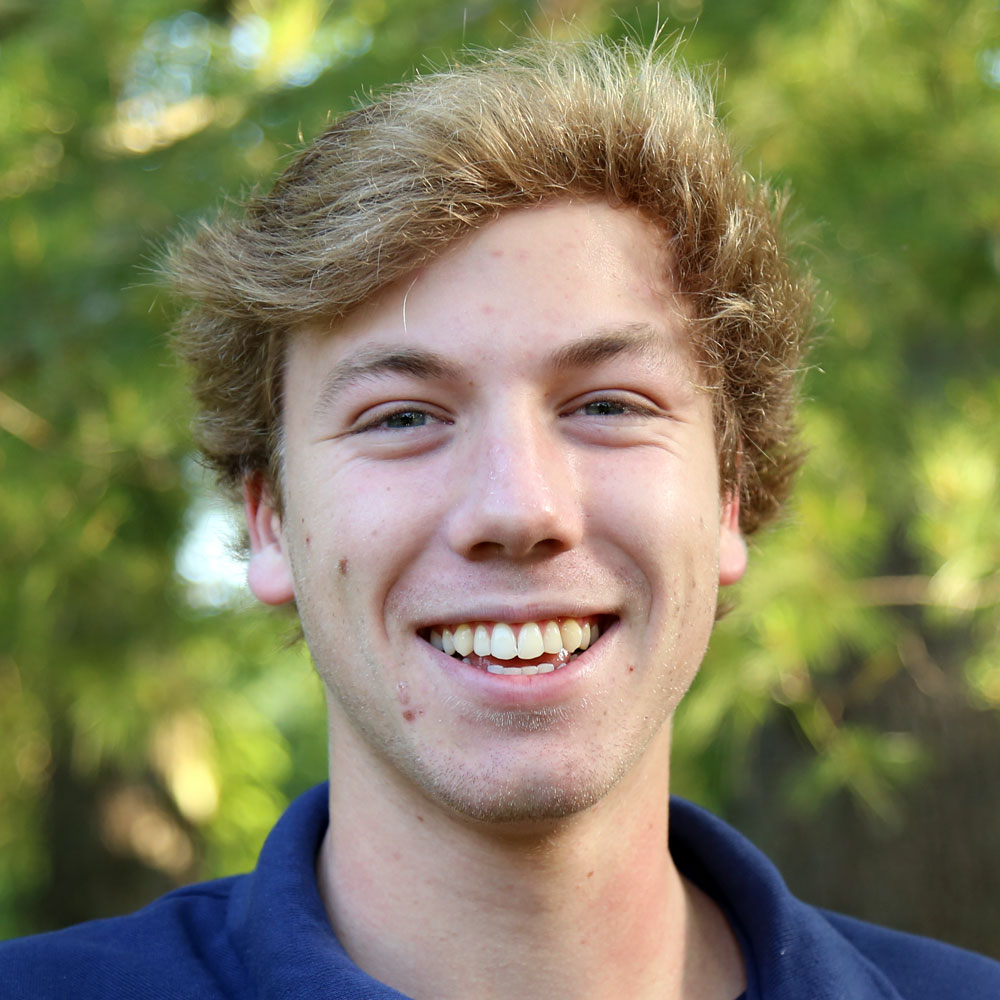 Hale Kilborn
Assistant Counselor
We are excited to have Hale join us for his second year on staff and tenth year at High Rocks. He is excited to continue working with our younger campers as he has a special knack at understanding their needs. Hale is well versed in many different areas of camp - from going on our 5-Day Hike to receiving the Golden Arrow in archery.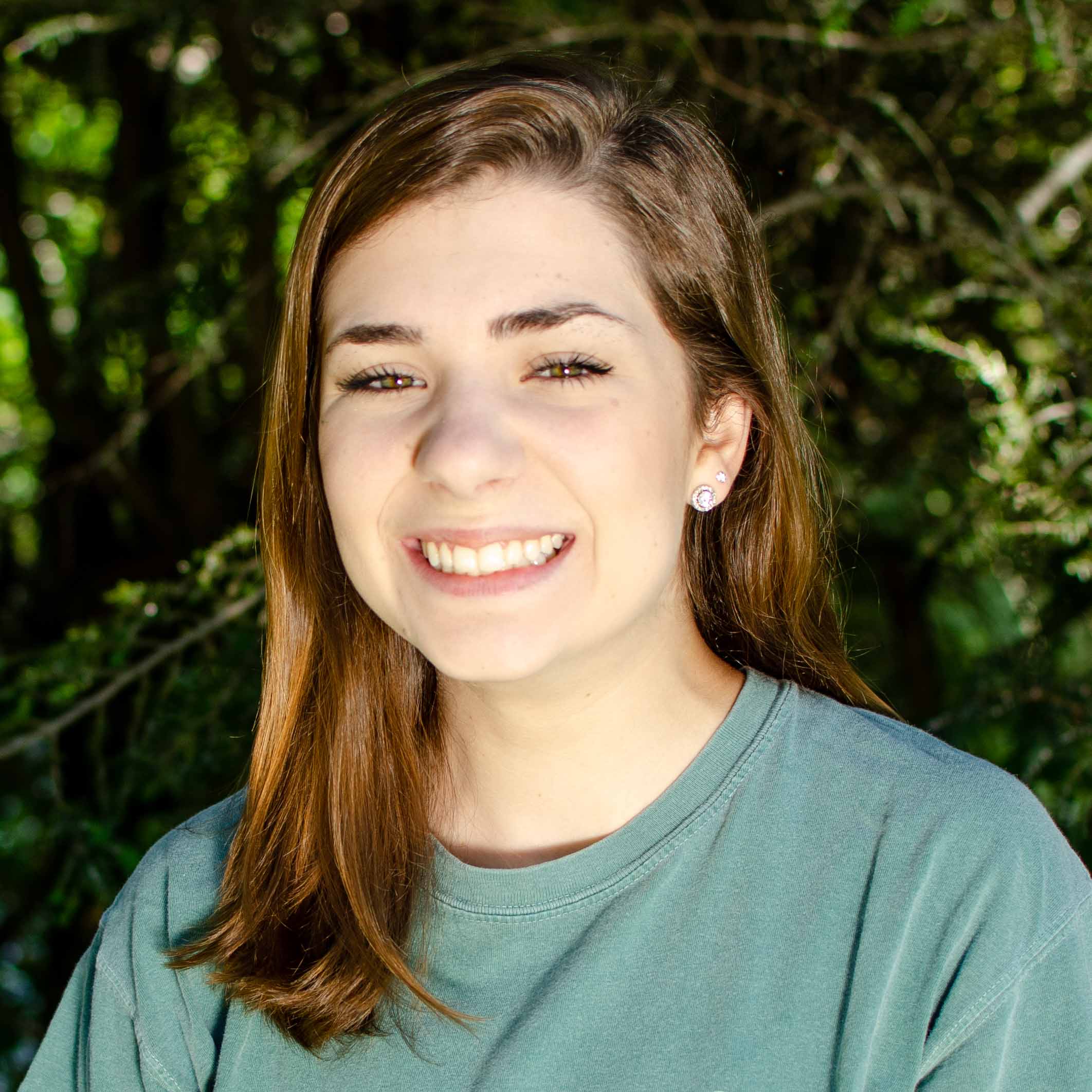 Lucy Kilgore
Crafts Instructor
Hailing from Kentucky and having a strong background in camp, including YMCA Camp High Harbour and Young Life Camp - Trail West, Lucy is a perfect match to the High Rocks community whom we are ecstatic to welcome back. Known by our campers for her positive and personable nature, Lucy will surely be a welcome sight for everyone!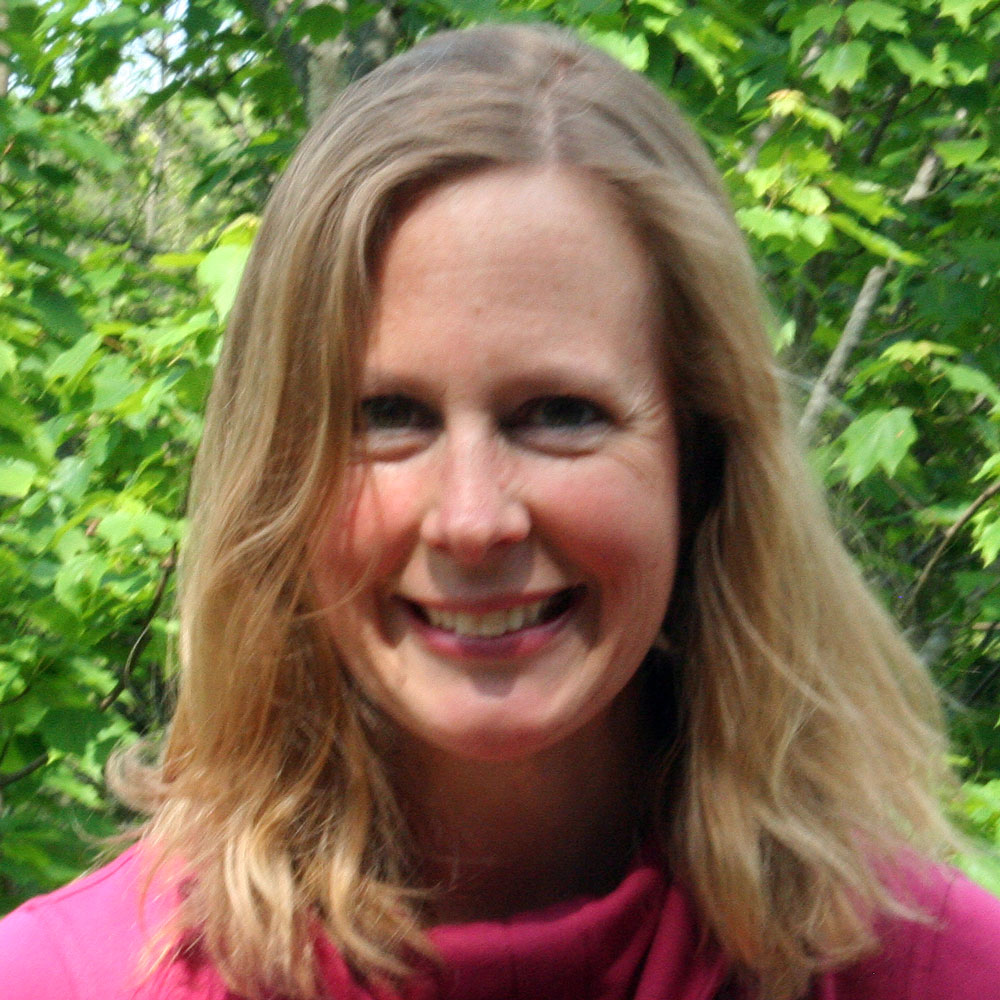 April Knight
Camp Nurse
April is back for a fourth Summer as a camp nurse! She will be one of our nurses throughout the summer. Her love for Camp High Rocks and our campers shows in the way she cares for them. We are lucky to have her back!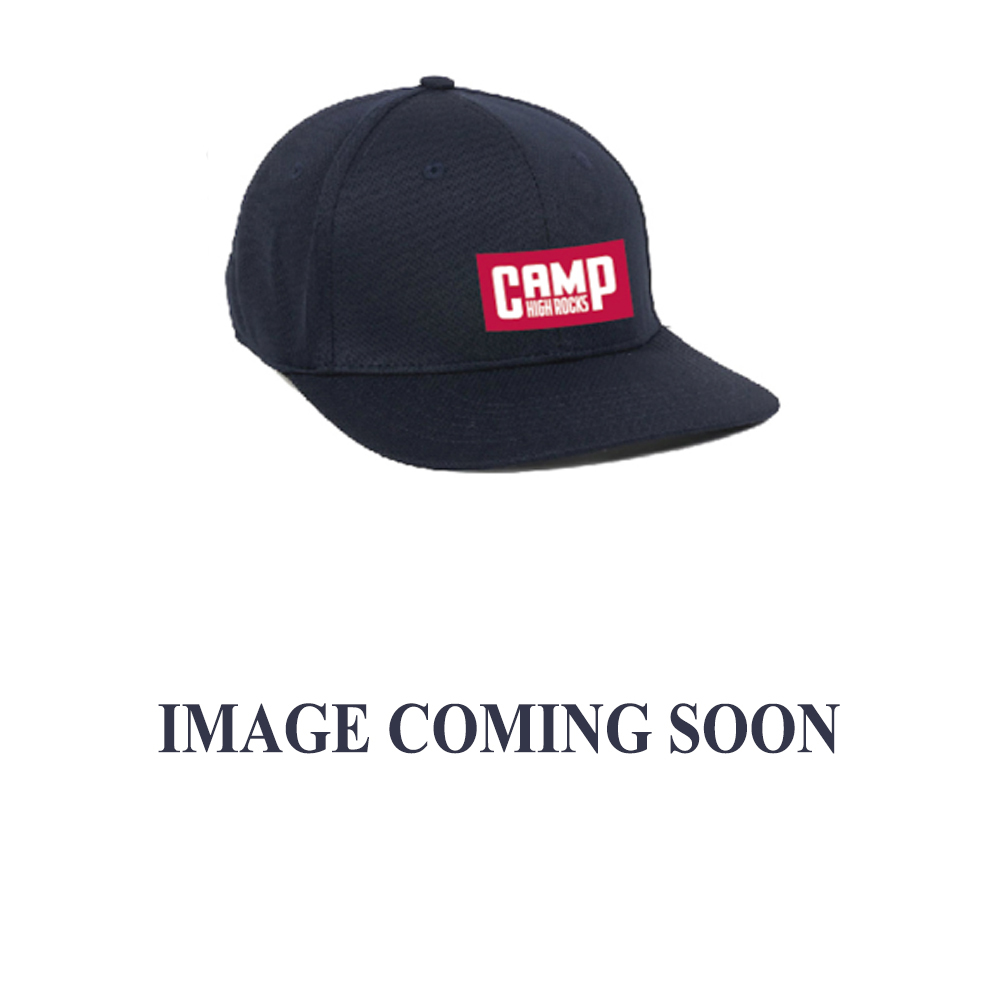 Sandy Landreth
Kitchen Staff
Sandy is returning for her sixteenth Summer as part of our kitchen staff! Sandy is well known for her delicious southern breakfast specialties. Her grits, granola, cream of wheat, and biscuits-n-gravy are to die for. With funny stories and a warm smile to boot, Sandy makes everyone's morning brighter.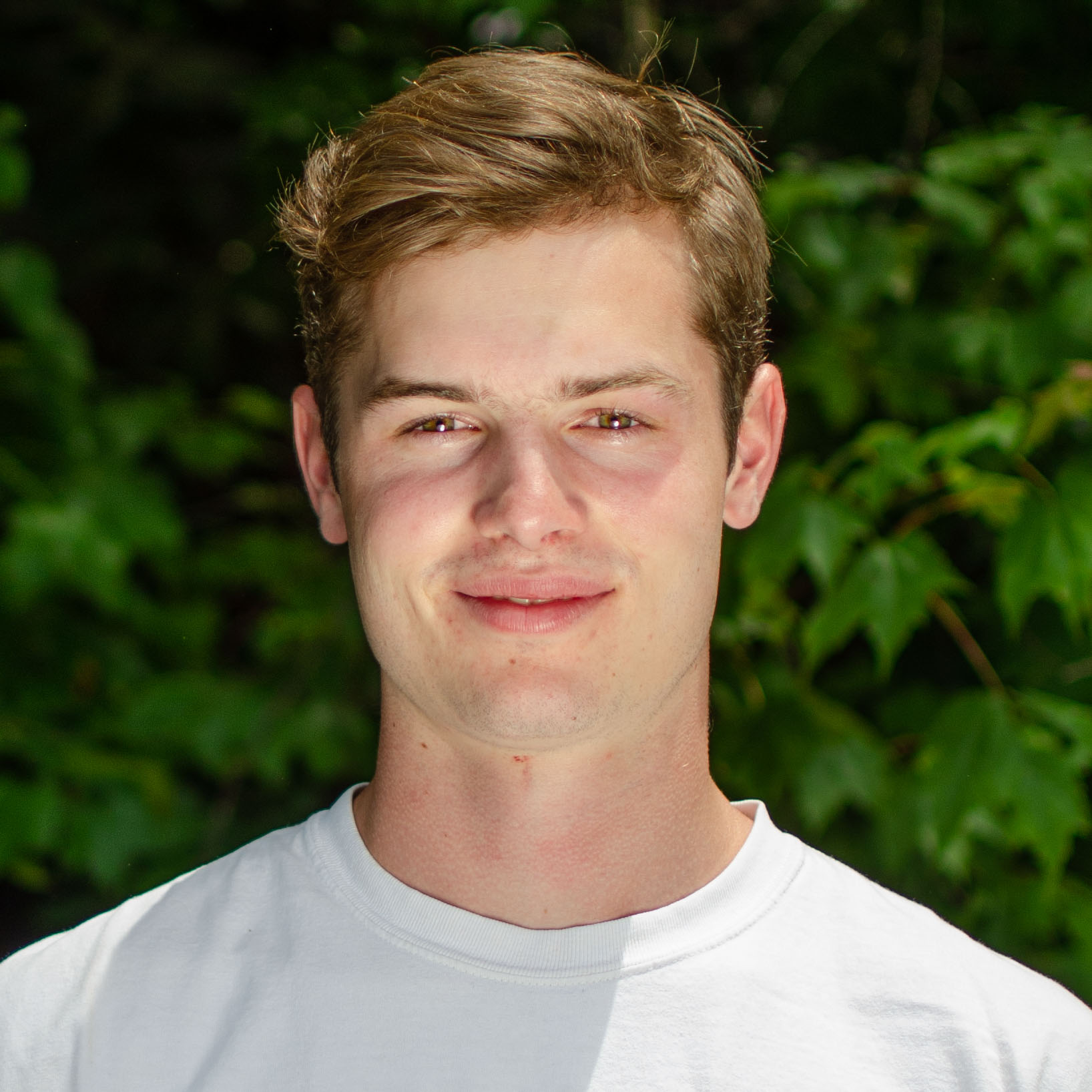 James Lasseter
Cabin Counselor
Once a camper at High Rocks, James is returning to us for his first year as a staff member! This summer, James will be teaching our campers how to cast their lines along our lake in the fishing program. We're all looking forward to welcoming James back and seeing how many campers he can get hooked on fishing.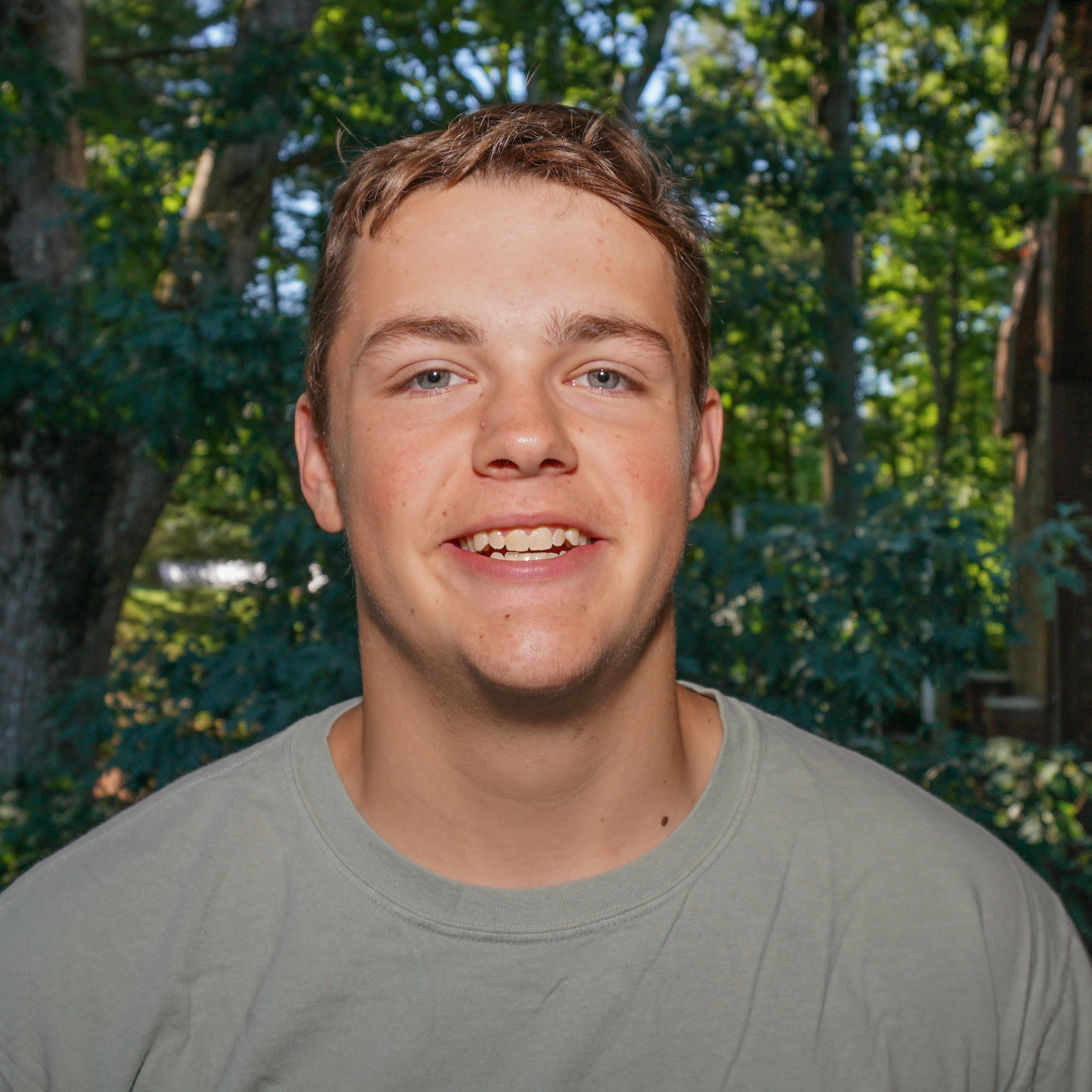 Sam Levin
Counselor in Training
Sam, though in his first year as a staff member here, will be bringing a deep understanding of our activities and philosophies that stem from a full decade of camper Summers at High Rocks. With the most recent three of those years spent apprenticing at archery and riflery, Sam is a welcome addition to our staff and we are excited to have him join us once more.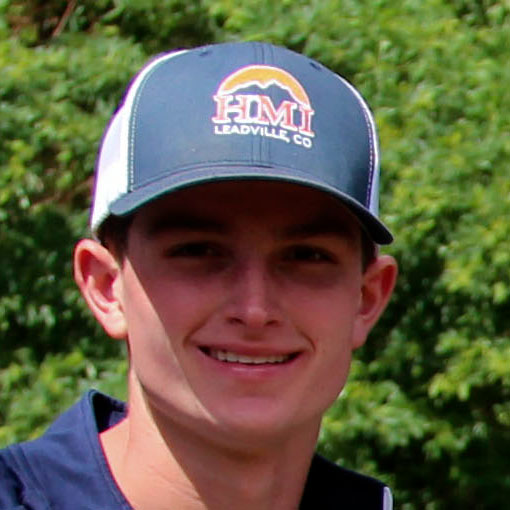 Bo Lovett
Cabin Counselor
Bo is back for another year! We are thrilled to have Bo on our 2019 staff as a Cabin Counselor, Paddling Staff member, and a great tennis player! He is currently attending Furman University just down the road from Camp High Rocks in Greenville, SC. As a former camper, Bo understands how influential camp can be in a camper's life and is excited to have the opportunity to impact campers in positive ways!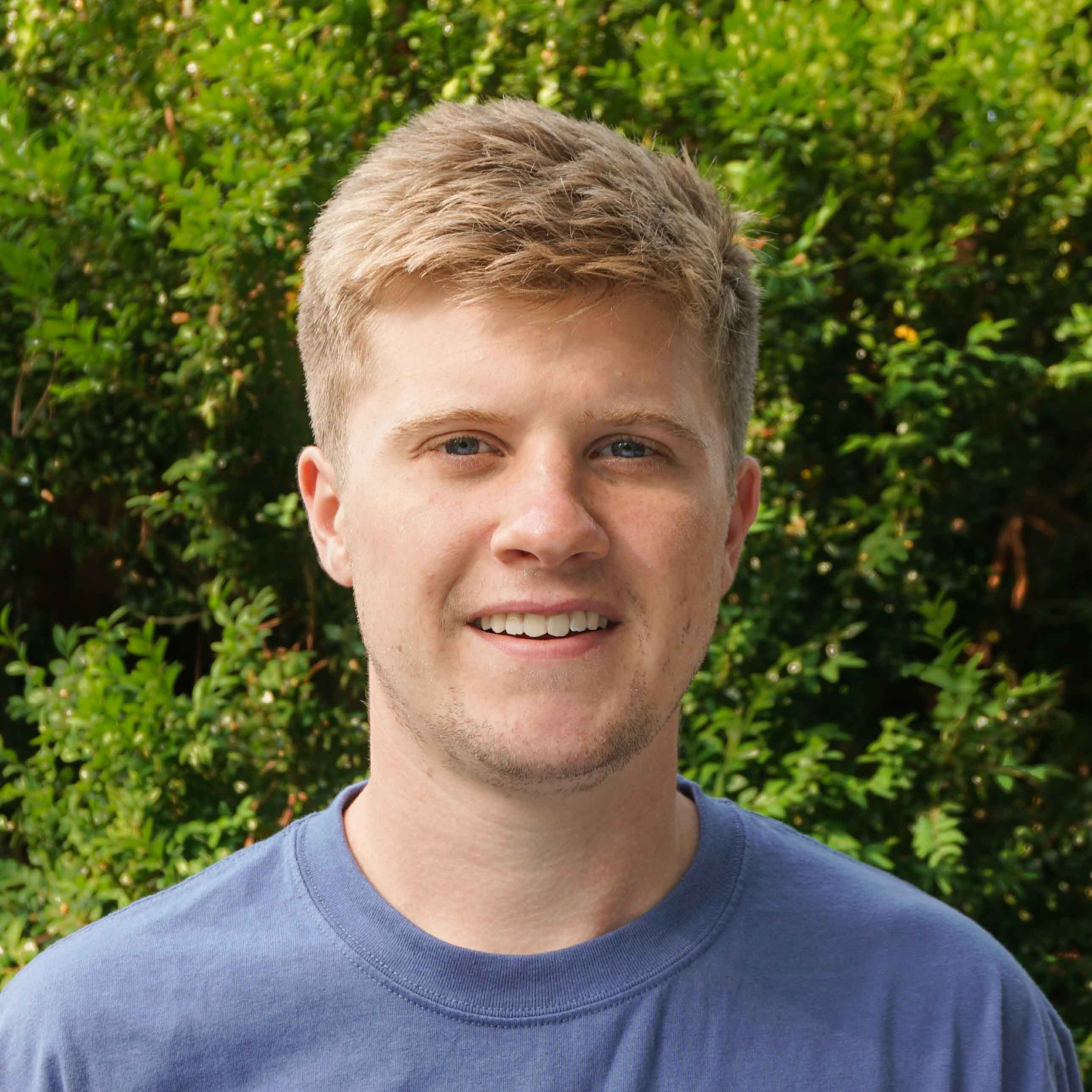 Tucker MacMillan
Cabin Counselor
Tucker is returning after being a Counselor in training two summers ago! As he puts it, "CT year was the time of my life. It was an amazing experience to be able to replicate the fun memories that I had when I was a camper for this new generation of children." Tucker will be a Cabin Counselor and Sailing Instructor this summer. We are excited to have Tucker back on staff!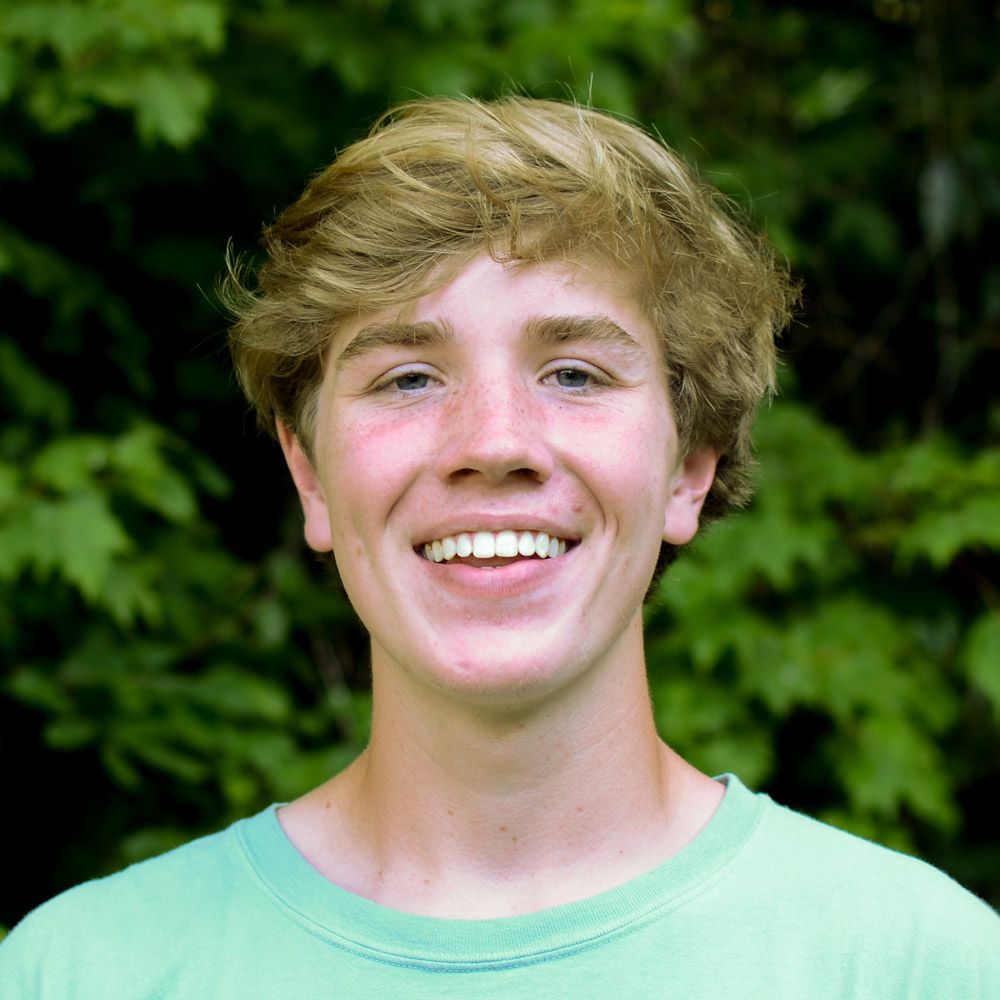 Ben Magevney
Counselor in Training
This Summer, Ben will be returning to High Rocks for his ninth season at camp and first year on staff. With a full stock of experiences to draw from - ranging from being one of three campers to ever complete our riflery progression, taking three years of ceramics lessons, and acting as a counselor for his school - Ben is on target to be another great addition to our staff.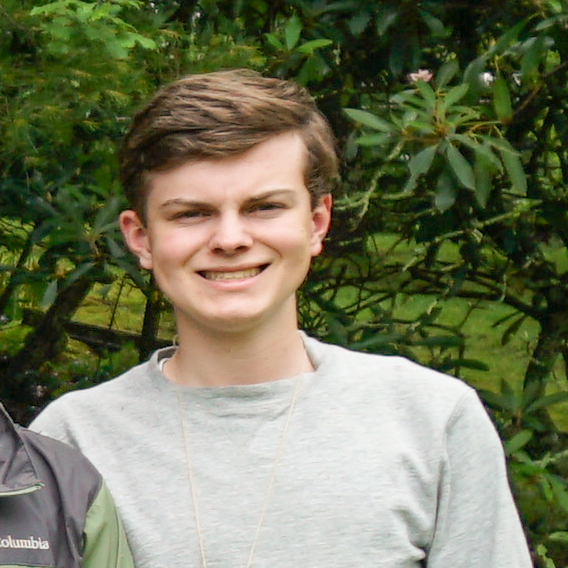 Charlie McDonald
Counselor in Training
Charlie has an outgoing personality and eight consecutive years of camper experiences at High Rocks that he hopes to combine in order to help campers learn about basic outdoor skills, independence, and personal responsibility. Passionate about teaching children how to sail, Charlie is looking forward to the opportunity of being a counselor.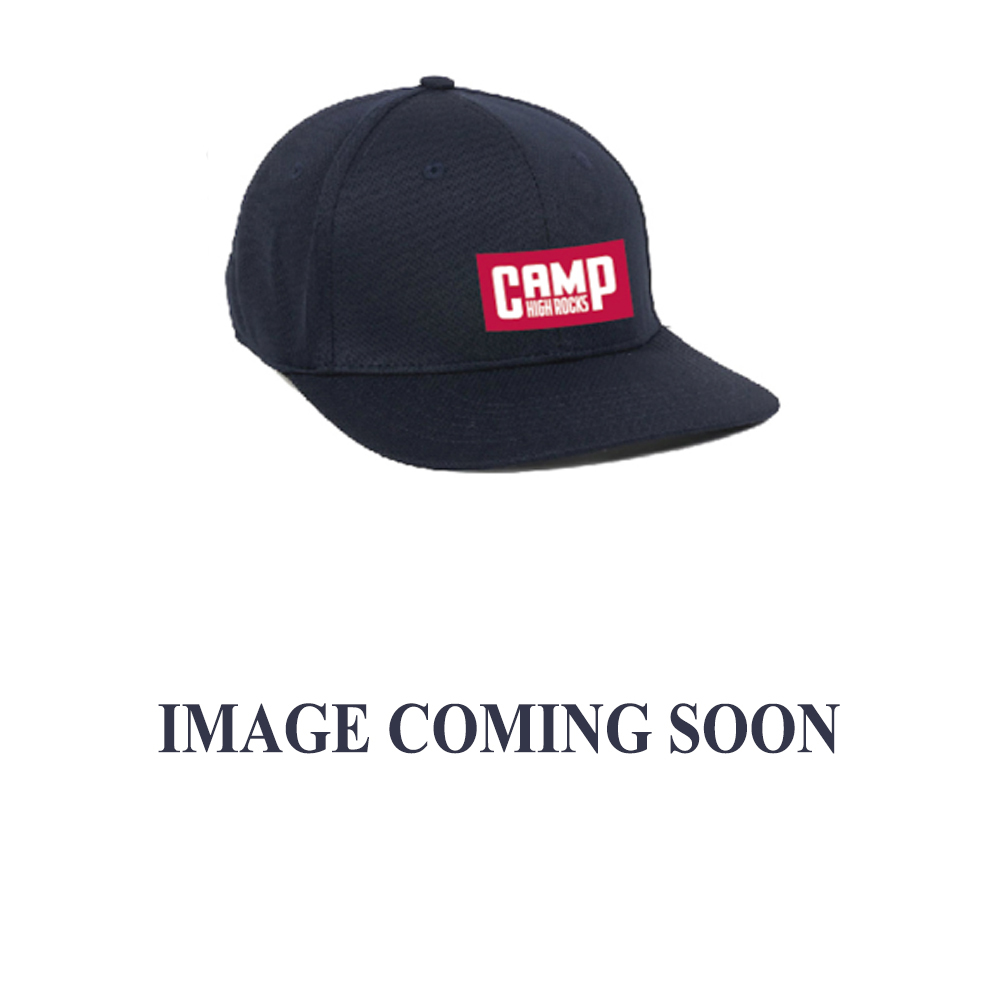 Patrick McMurray
Counselor in Training
Patrick will be joining our 2019 Staff Team for the two-week session as a Counselor in Training! He is excited to get back to camp after 7 years as a camper. With a mixture of skills and strengths, you will see him all over camp helping out. As a North Carolina native, being in the Blue Ridge Mountains will feel like home. Welcome back to camp!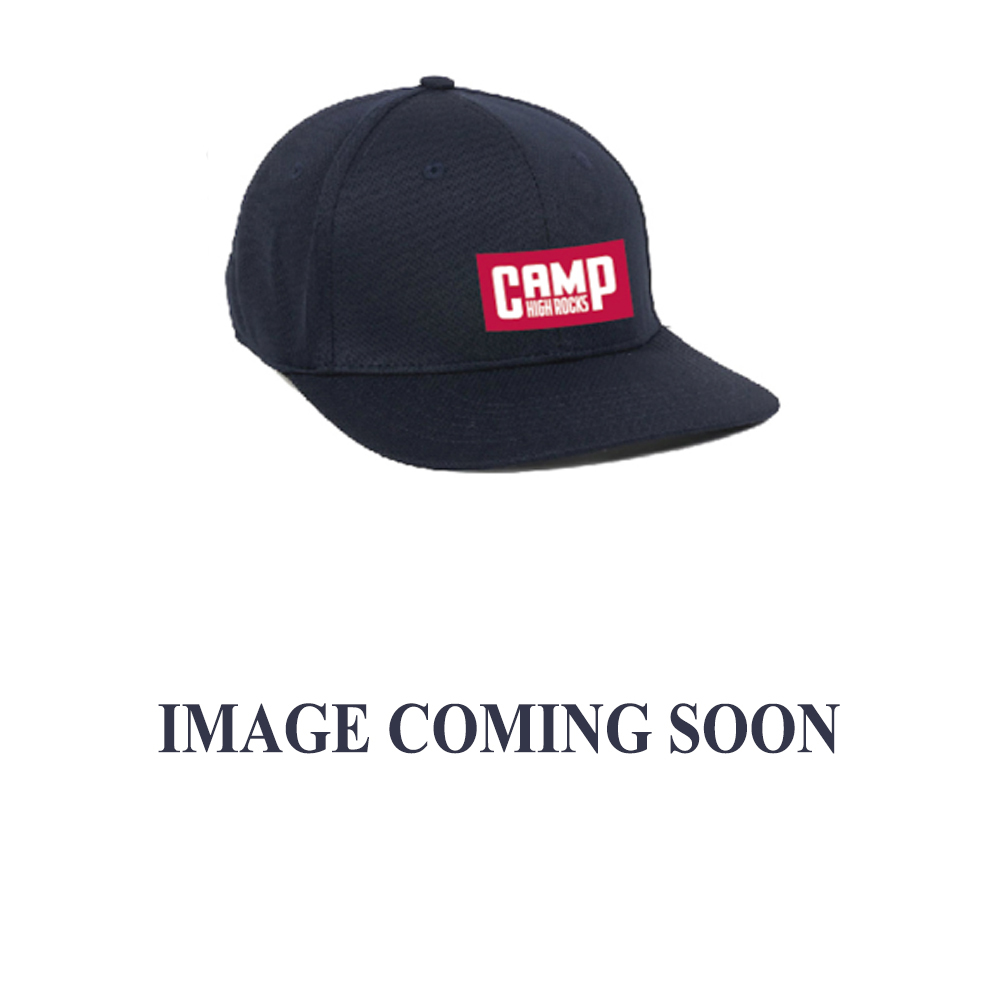 Lorraine McNamara
Camp Nurse
Lorraine is retiring from 37 years of nursing at UNC Hospitals. She is looking forward to spending time in the mountains with her grandchildren and spending time with us at camp! She will be joining us for our Mini II Session. We are thrilled to have her wisdom and energy back at camp.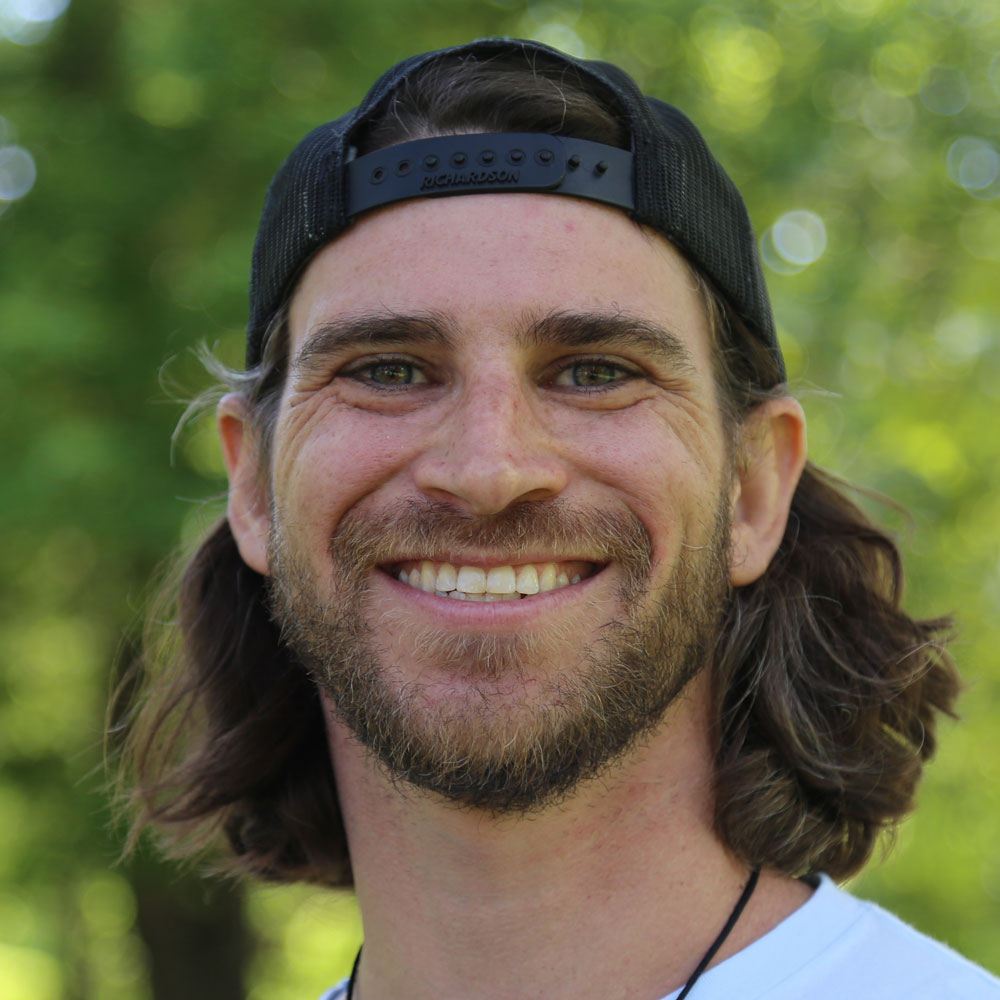 Doug Miller
Head of Mountain Biking
Doug rejoins our mountain biking staff for the summer! He lived in Wyoming for five years working at Central Wyoming College and for Tetons Parks and Recreation after graduating from Appalachian State with a degree in recreation management. Doug is now a full-time resident of Brevard with his wife and is working at Brevard College during the year. We're glad to have you back Doug!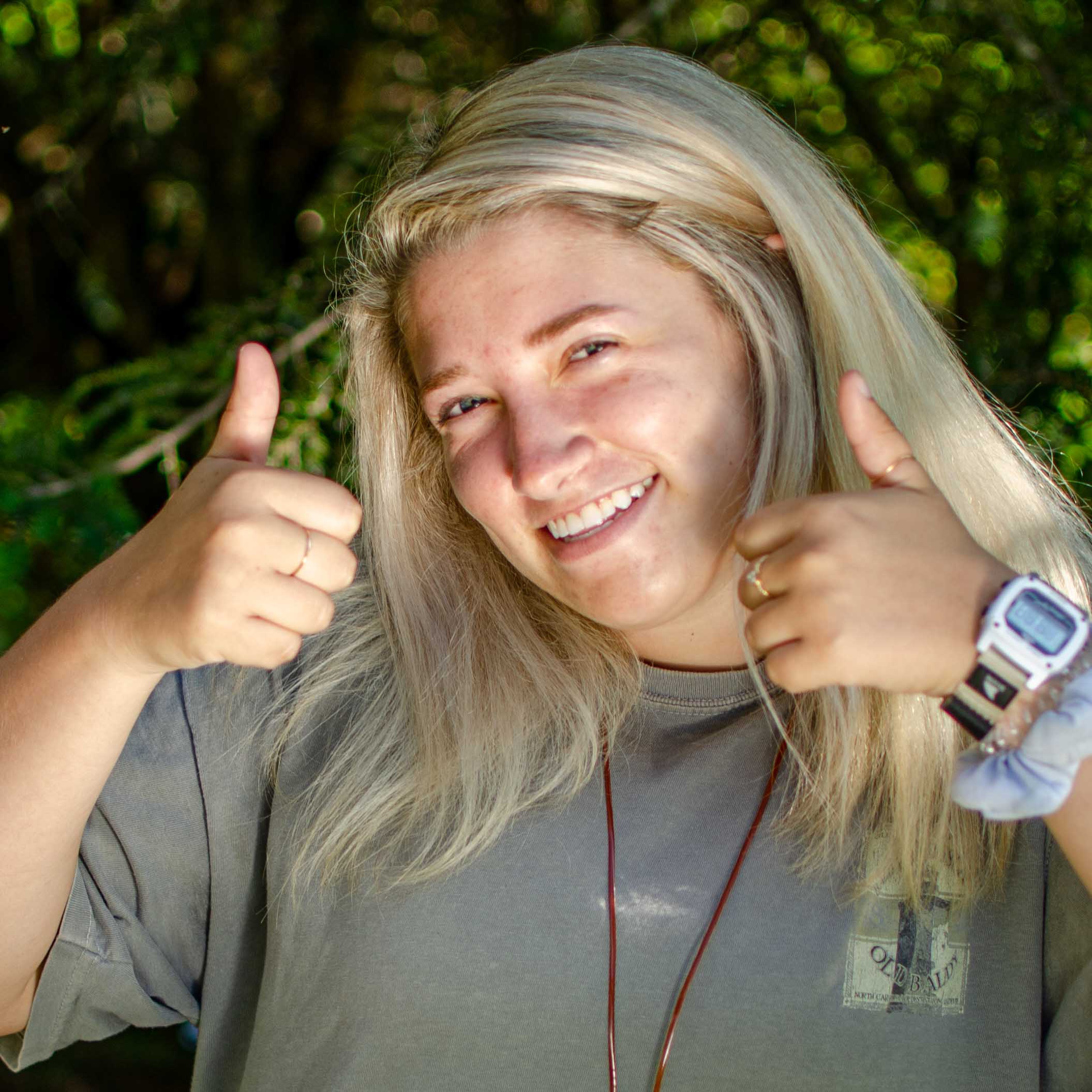 Max Miller
Horseback Riding Instructor
Trotting at the heels of her brother, Doug, Max will be joining us for her first summer at High Rocks! A junior at Appalachian State studying elementary education, Max will be taking a break from her studies to stir up some fun with our horseback riding staff.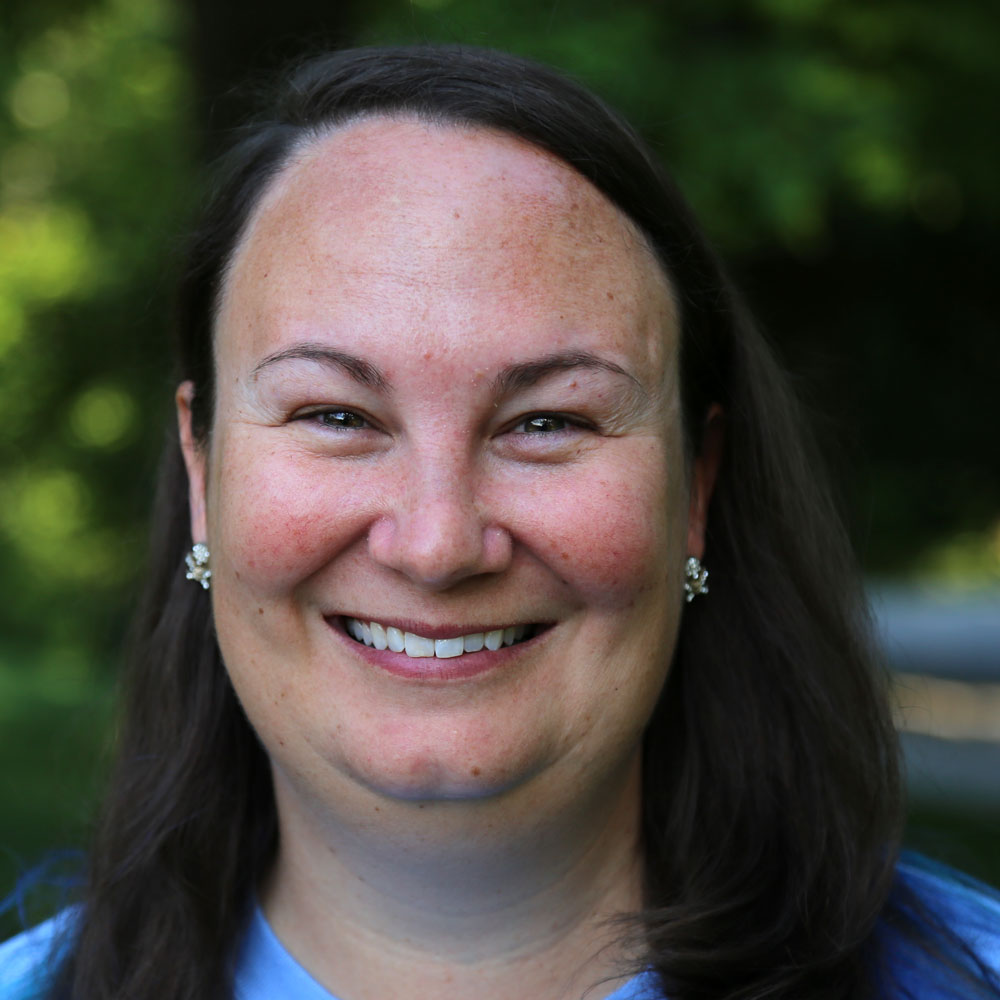 Blaire Nichols
Horseback Riding Extraordinaire
Blaire returns for her twelfth summer here at High Rocks! She currently lives in Greenville, NC with her husband and child. She has received a bachelors and masters degree in Art at Eastern Carolina University where she also rode for the equestrian team. She got into the camp world as a camper at Rockbrook just down the road from High Rocks. Blaire will be sharing her experience and leadership this summer to help our younger staff take up the reins of our riding program.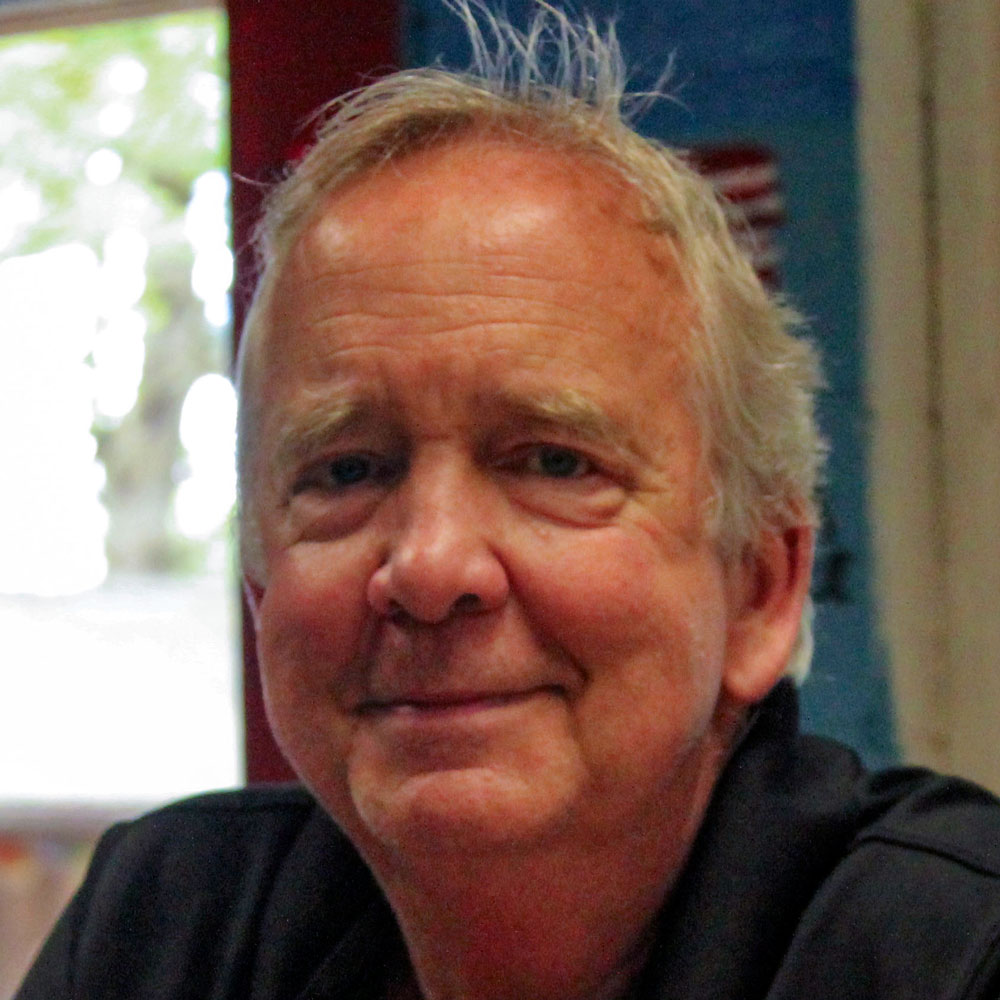 Dan Noland
Head Counselor & Storyteller Legend
A Ph.D. teaching English and Linguistics at UNC-Wilmington, Dan is spending his 46th summer at High Rocks. A brother-in-law to Townsend, Dan has been an integral part of shaping camp's philosophy and activities over the years. Campers and staff alike appreciate his warmth, humor, and wonderful campfire stories. He knows the woods around us, so campers and staff should get him to share his knowledge of the flora and fauna they encounter on hikes and walks around camp.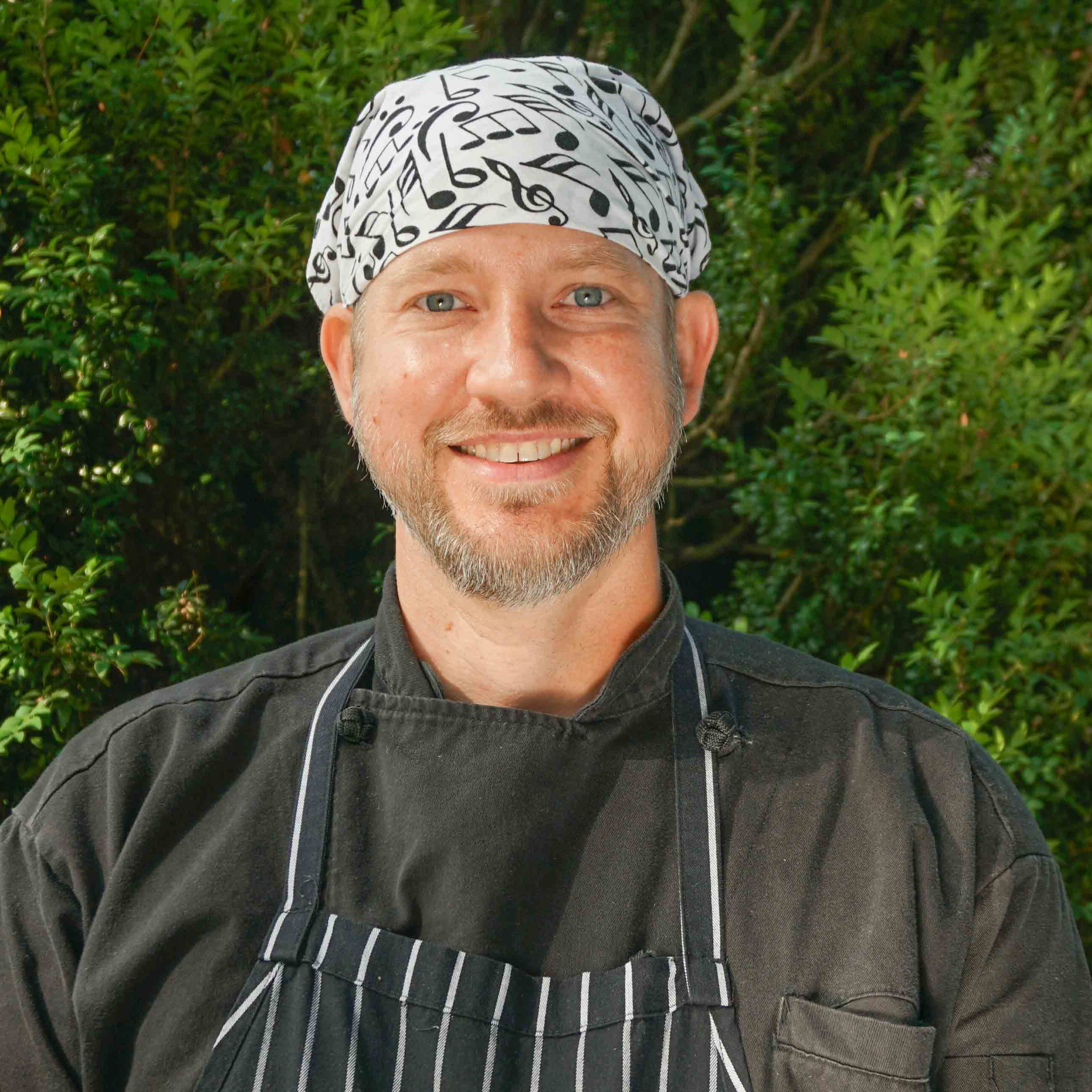 Nathan Noland
Head Chef
As Woody's brother, Dan's son, and Townsend's nephew, Nate is very familiar with High Rocks. Nate is a graduate of culinary school and enjoys answering the challenge of serving homemade, delicious fare to campers and staff alike. He will be our Head Chef for a third year and we are excited for his creative mind in the kitchen! His homemade biscuits and cinnamon rolls are some of the many highlights of the High Rocks dining experience.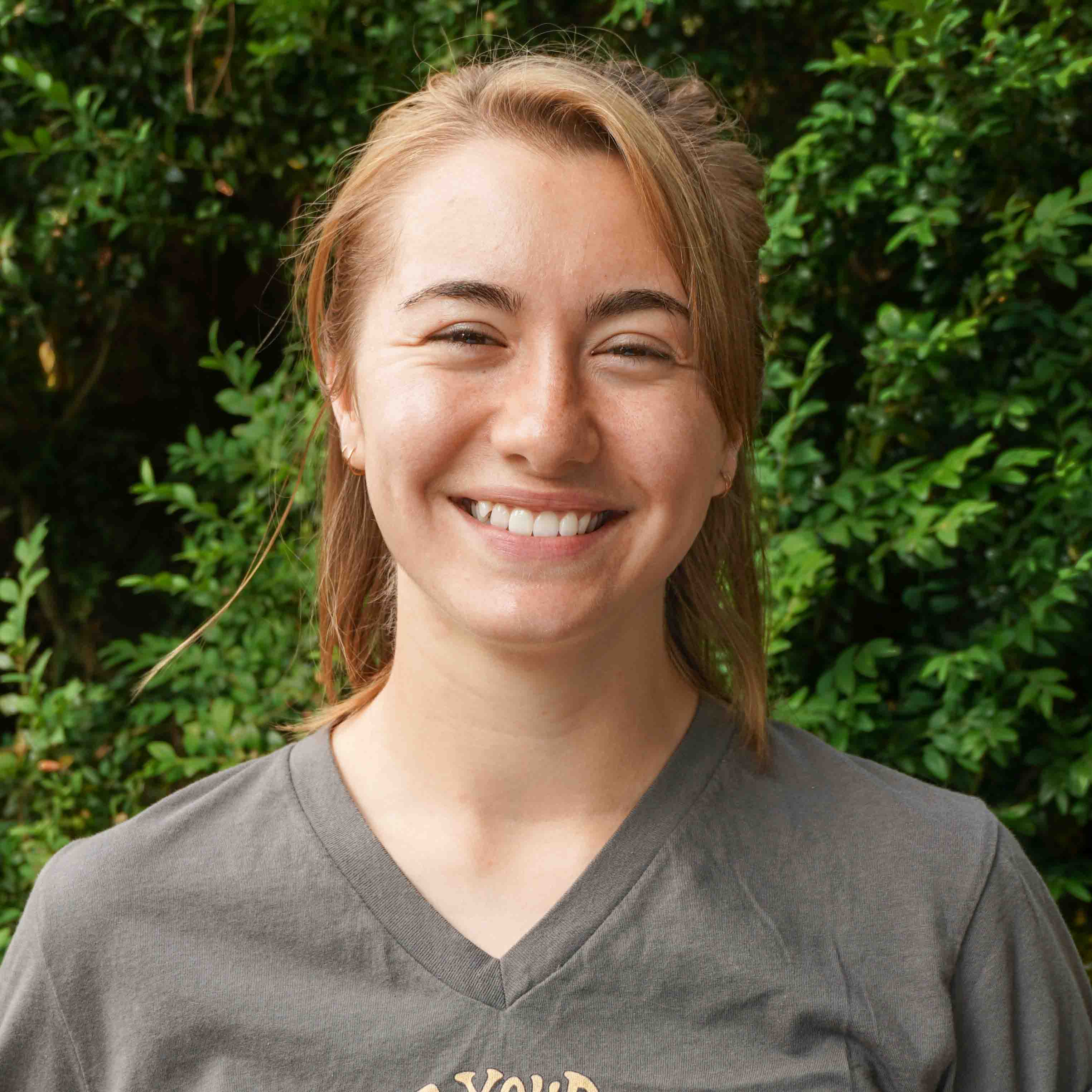 Hallie Odell
Videographer, Crafts Instructor, & Trip Packing
Already camp-family famous for her skills and contributions as our videographer, Hallie will be a flash of activity this Summer as she also helps our crafts instruction and trip packing. She has spent years working with youth in her hometown and is currently working towards gaining experience in digital media production. She is excited to mix her excitement for working with youth and being behind a video camera all summer long.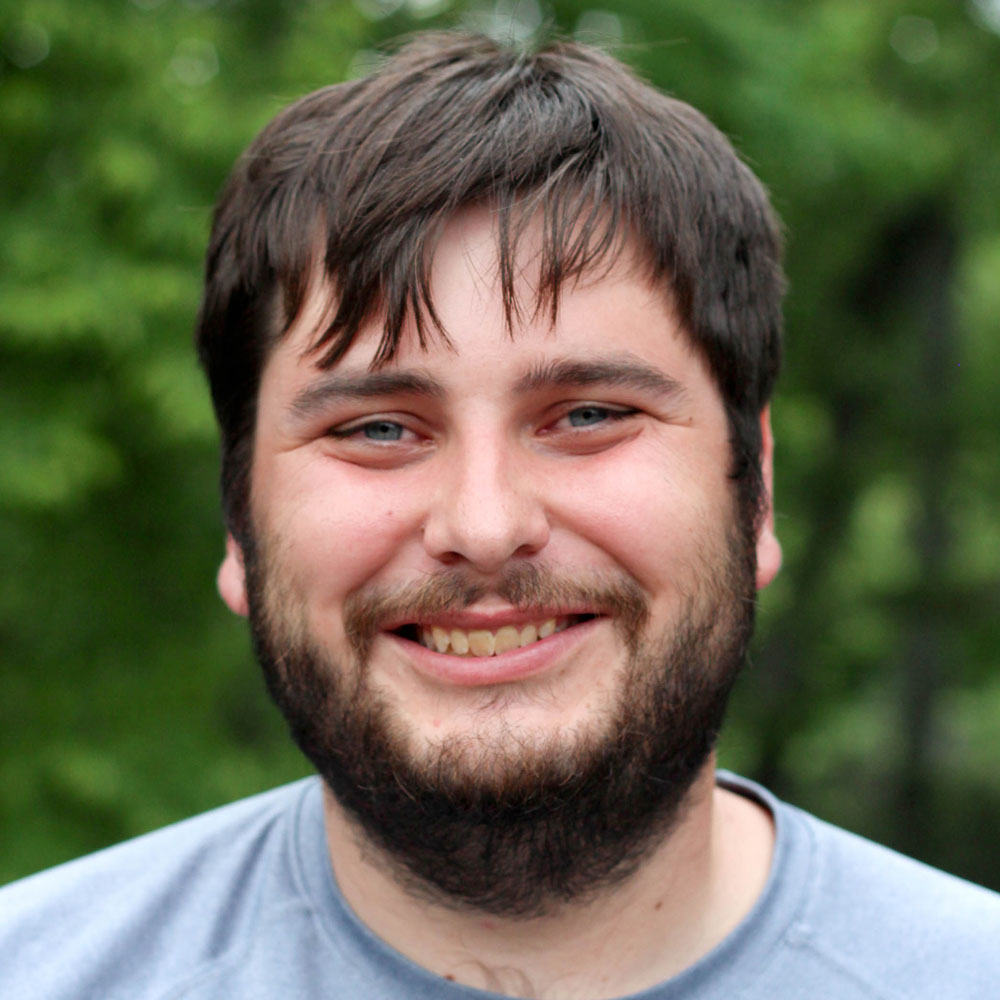 Elliot Opel
Head Staff, Basketball Instructor, & Kitchen Assistant
Elliot is returning for his ninth Summer on staff after six years as a camper. He has spent time working in a therapeutic education program with teen-aged students as well as a school-based program focused on middle school students. Prepped with a host of new skills and experiences, Elliot is looking forward to being back at camp before starting a Masters degree in social work. Elliot is a great addition to the staff as a head staff member with skills for every corner of camp.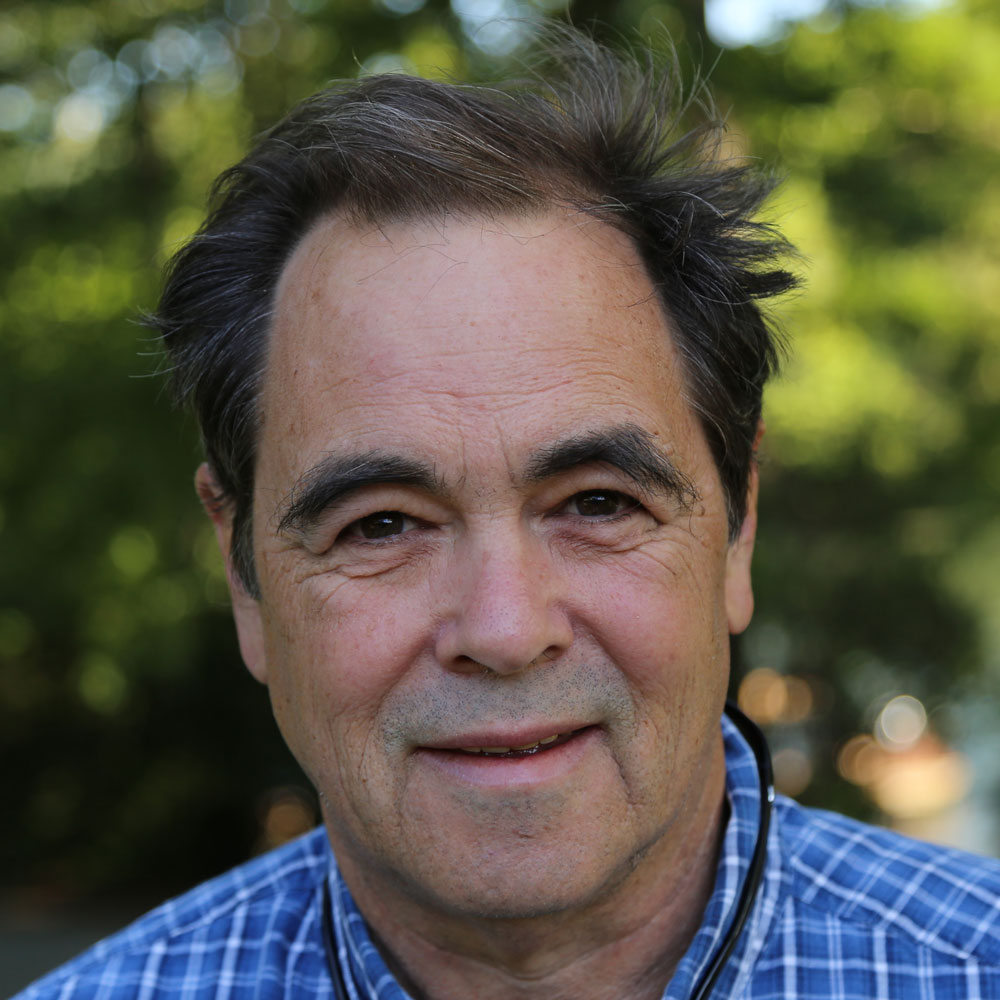 Fritz Orr
Paddling Program Director
Fritz comes to camp this Summer for his thirteenth year on staff at High Rocks, where he also spent three years as a camper. He is an American Canoeing Association L5 instructor / trainer and has helped design many of the popular boats in use today. He spends much of his free time creating custom wooden paddles. Fritz was also a member of the US paddling team from 1990-96.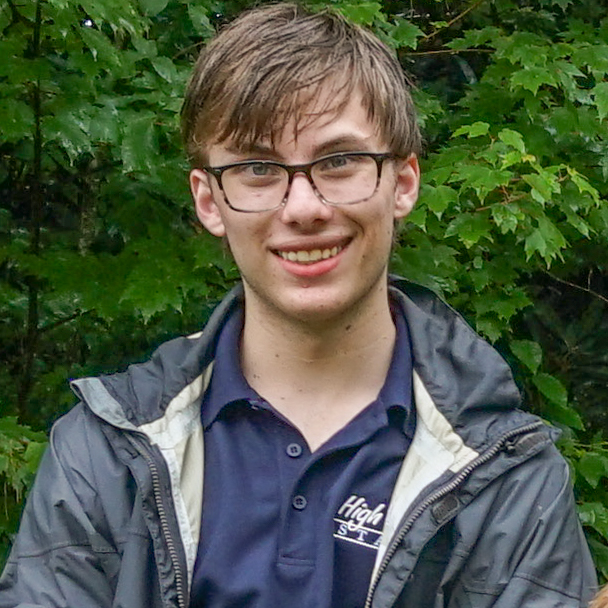 William Perdue
Counselor in Training
William is both an experienced camper and Eagle Scout: with nine Summers at High Rocks, two years serving as a scout troop guide, one year as a scout troop instructor, and over one hundred hours of community service last year alone. After seeing his fellow campers accomplish tasks that they once thought impossible, William is looking forward to sharing his skills and time to help others learn the same lessons of resilience and perseverance.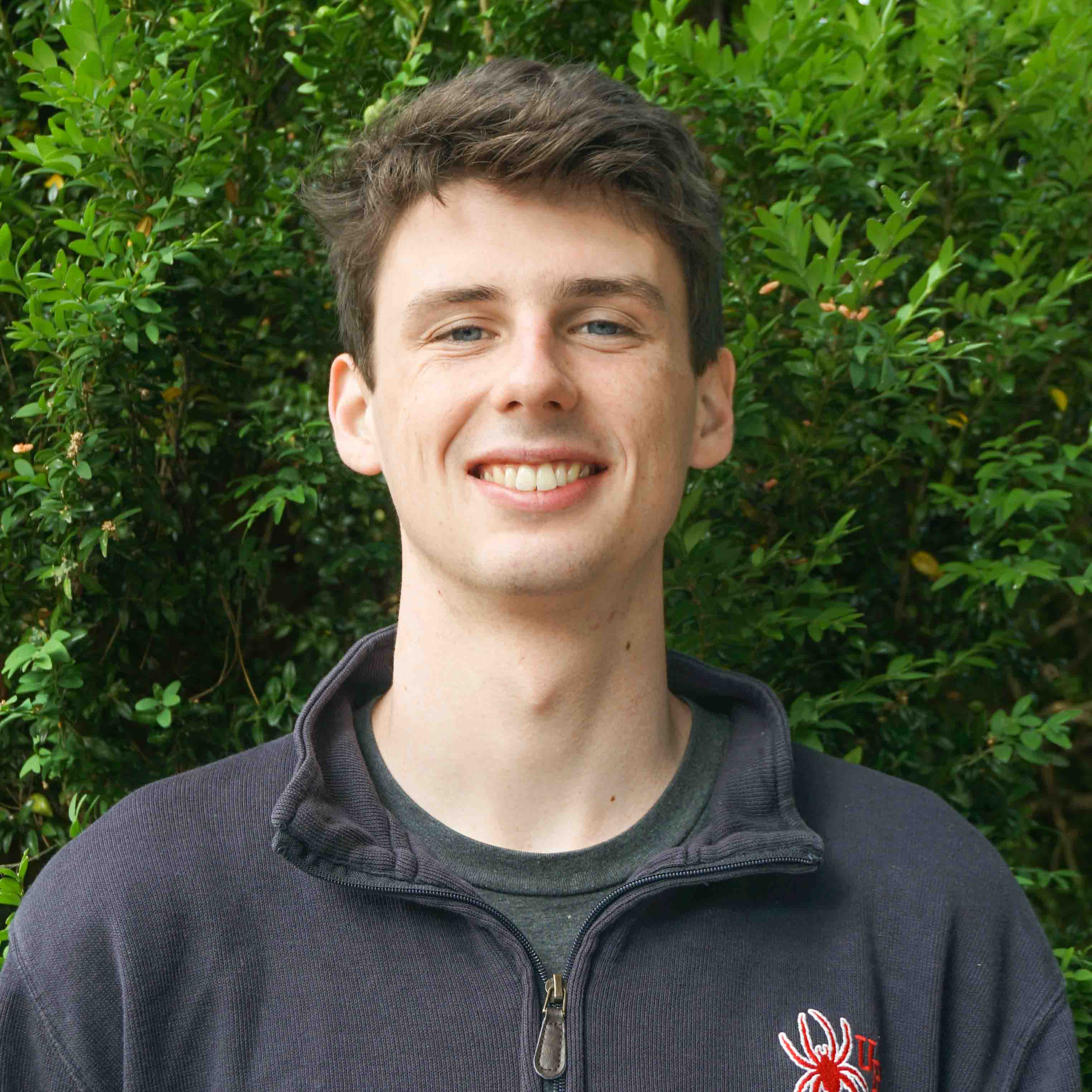 Jacob Pickett
Cabin Counselor
As a camper for six years with a year of cabin counseling under his belt, Jacob is looking forward to helping new campers learn about High Rocks. Jacob has had experience leading and helping teach middle-schoolers at his church. We are looking forward to having him back at camp to help aid our staff and guide our campers this summer.
Finn Pollock
Cabin Counselor
Welcome back Finn! Finn will be one of our Hiking Instructors and Cabin Counselors this Summer. He currently has his Wilderness First Responder Certification, therefore, you will likely see him on more than a few backpacking trips into our local forests! We believe his knowledge base and skills at instructing will be a huge benefit to our continually growing hiking activity.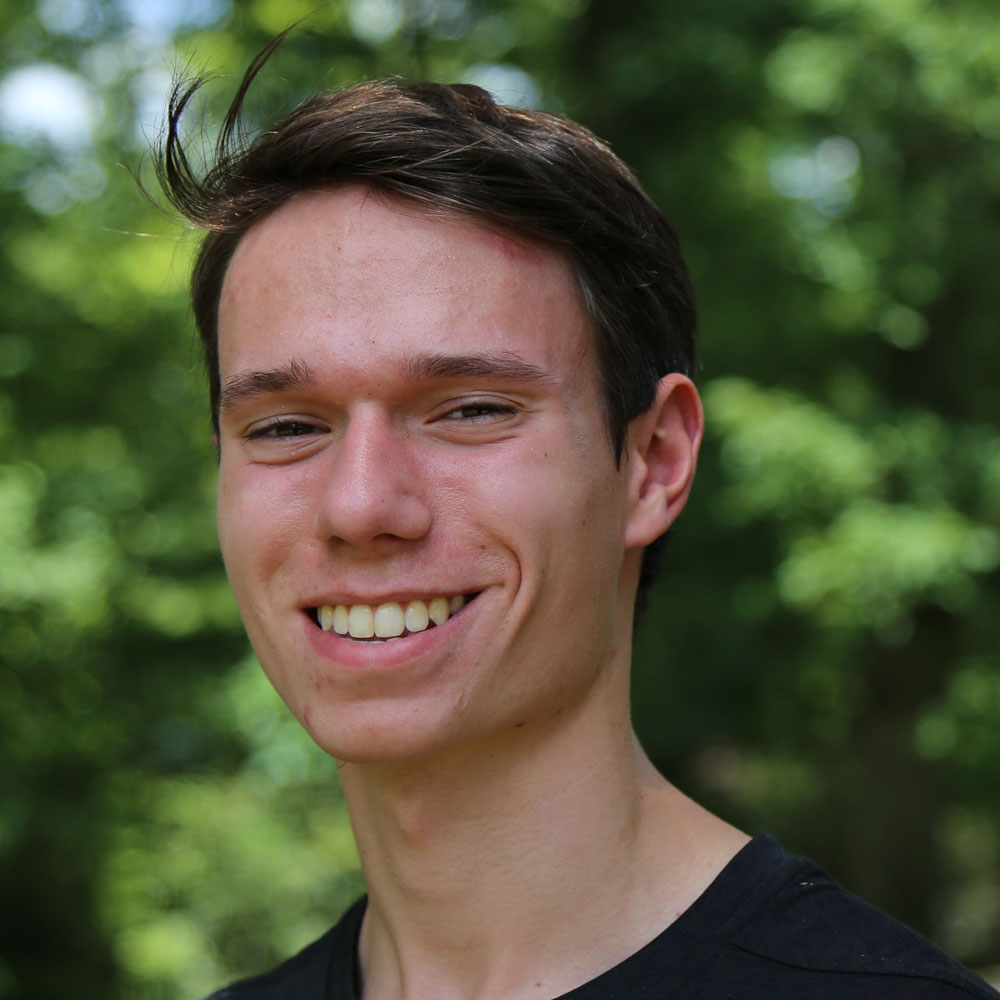 Rich Pope
Cabin Counselor
Rich is at High Rocks for his third year on staff after four years as a camper. Hailing from Charlotte, Rich is excited to be back on the mountain and teaching climbing and canoeing as a full counselor! Rich's previous summers spent learning the ropes as an assistant counselor have prepared him to be a rock-steady staff member who knows how everything flows.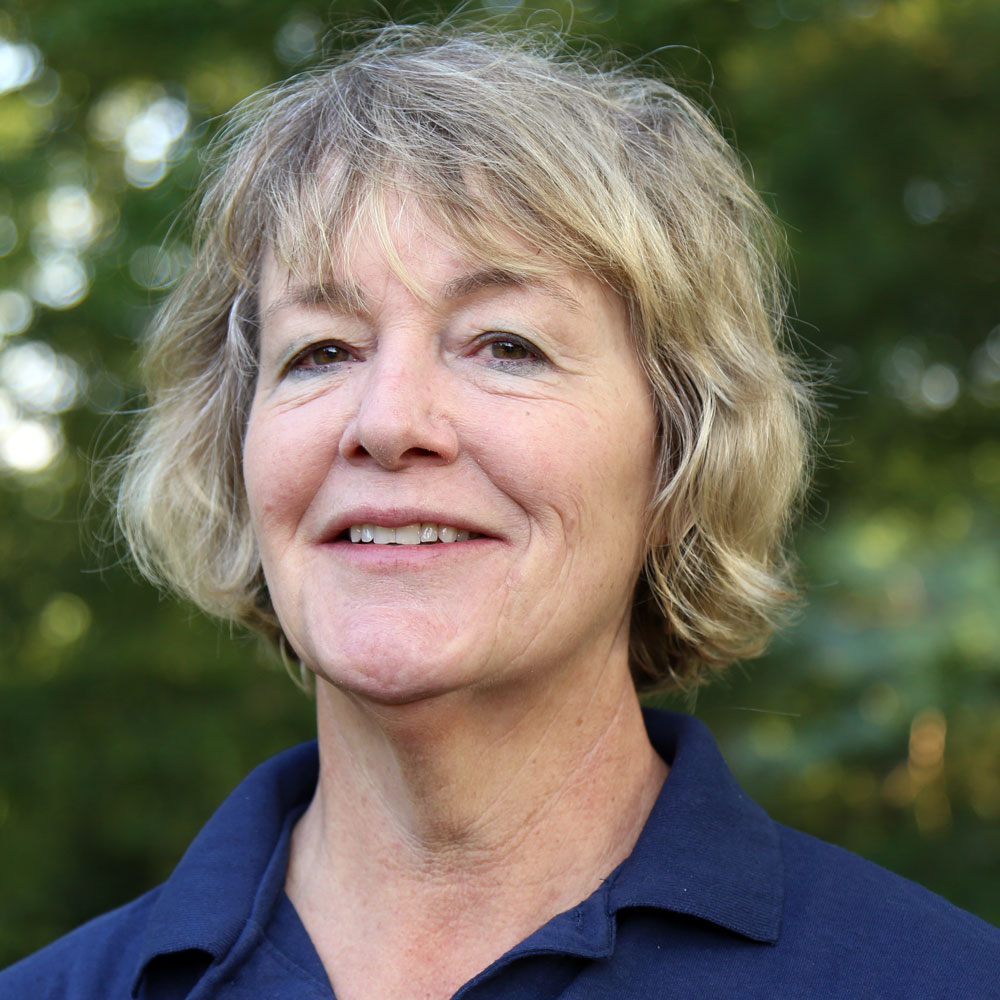 Jessica Porter
Camp Nurse
Back for a third year, Jessica is looking forward to being one of our Three-Week Camp Nurses. With many years of experience, she is always bringing new ideas to our health center. She helps us keep our health center up-to-date on the newest practices and tips to help our campers enjoy their time here.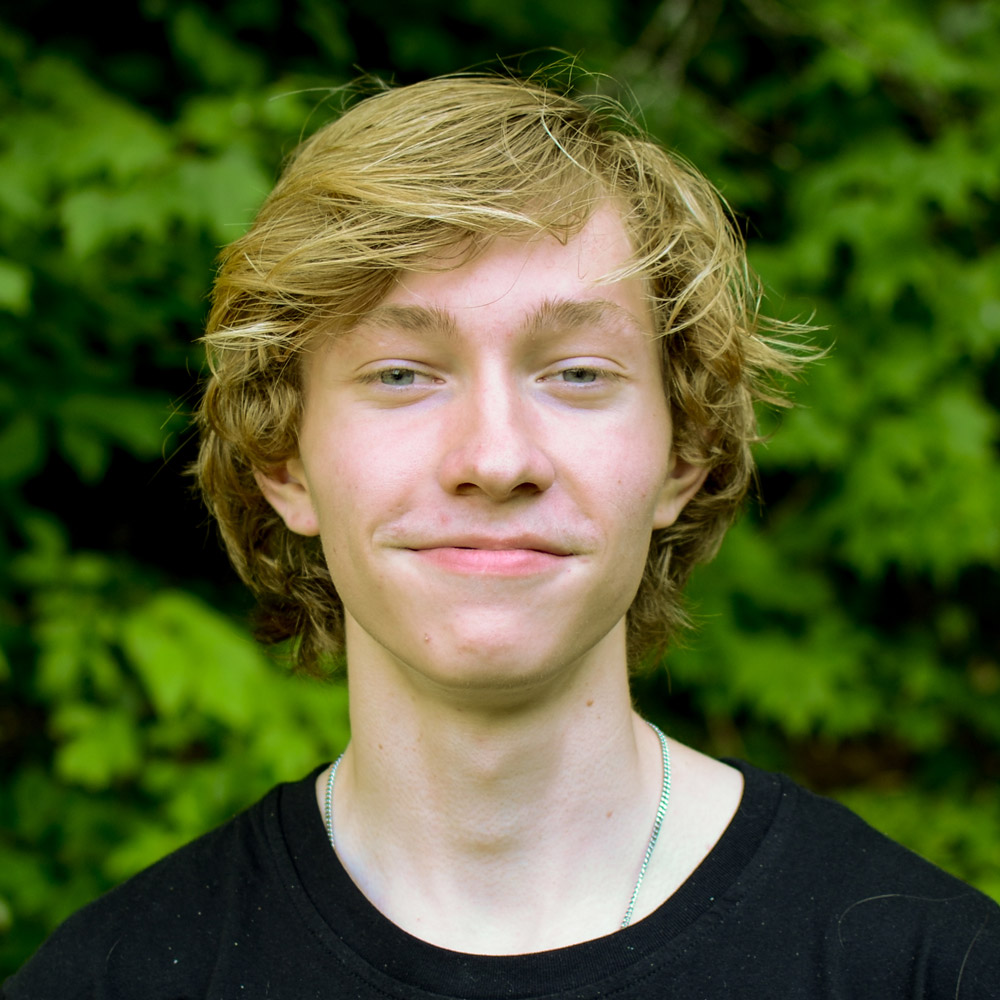 Tristan Pyle
Counselor in Training
Tristan is a light-hearted, fun addition to our first-year staff members with eight Summers of High Rocks under his belt and a passion for sports; specifically, tennis and soccer. Tristan hopes to bring two types of fun to our campers this year, the overwhelming fun of games and activities that are a joy to do, and the fun to be discovered through challenging yourself.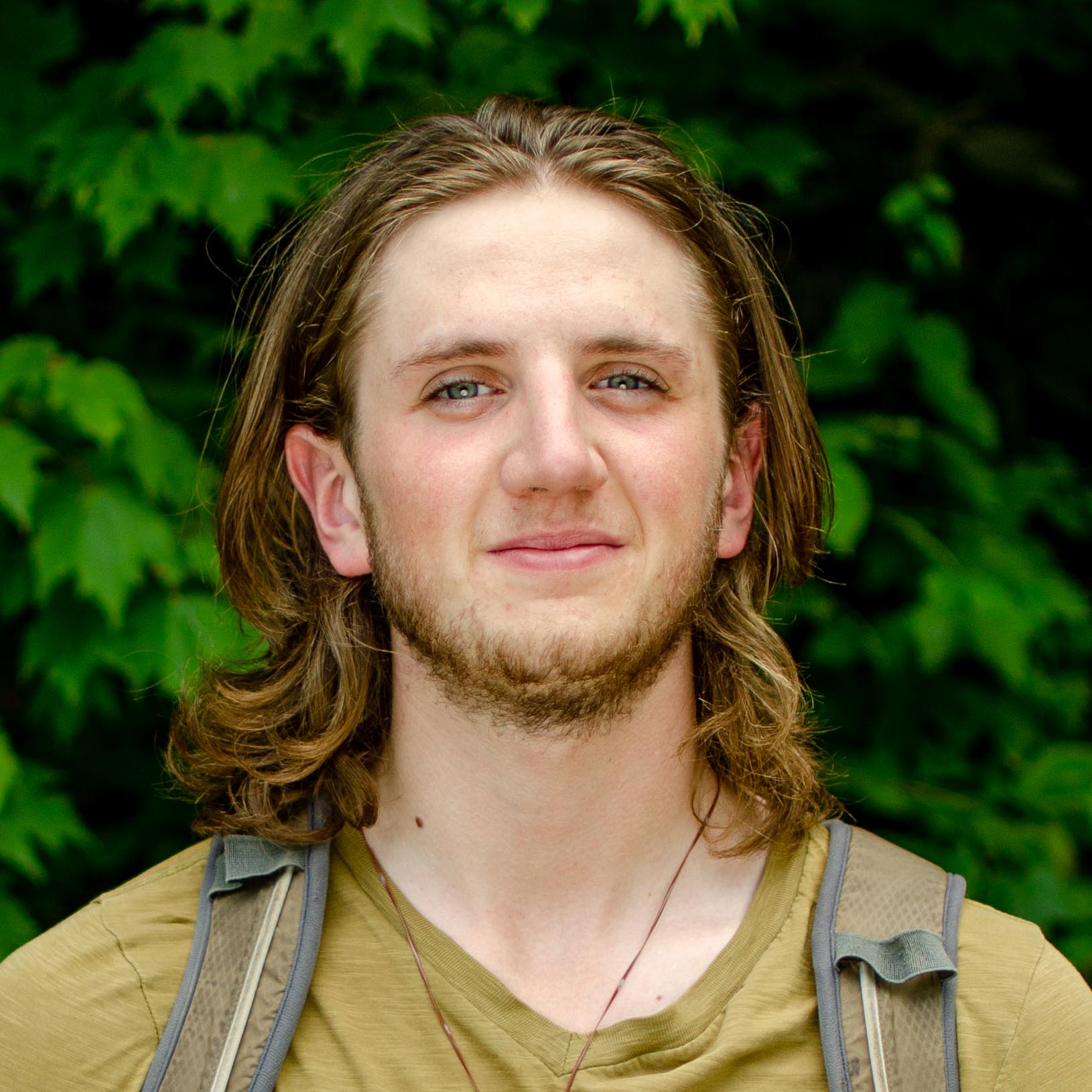 Ethan Raines
Climbing Trip Leader
Currently in his last semester of studying expeditionary studies at The State University of New York in the Adirondack Mountains, Ethan will be joining our climbing staff for his first year at High Rocks! It is Ethan's personal goal to open the world of climbing to as many people as possible while giving them the tools necessary for experiencing it safely; and we could not be more excited to see how he will positively impact our climbing program.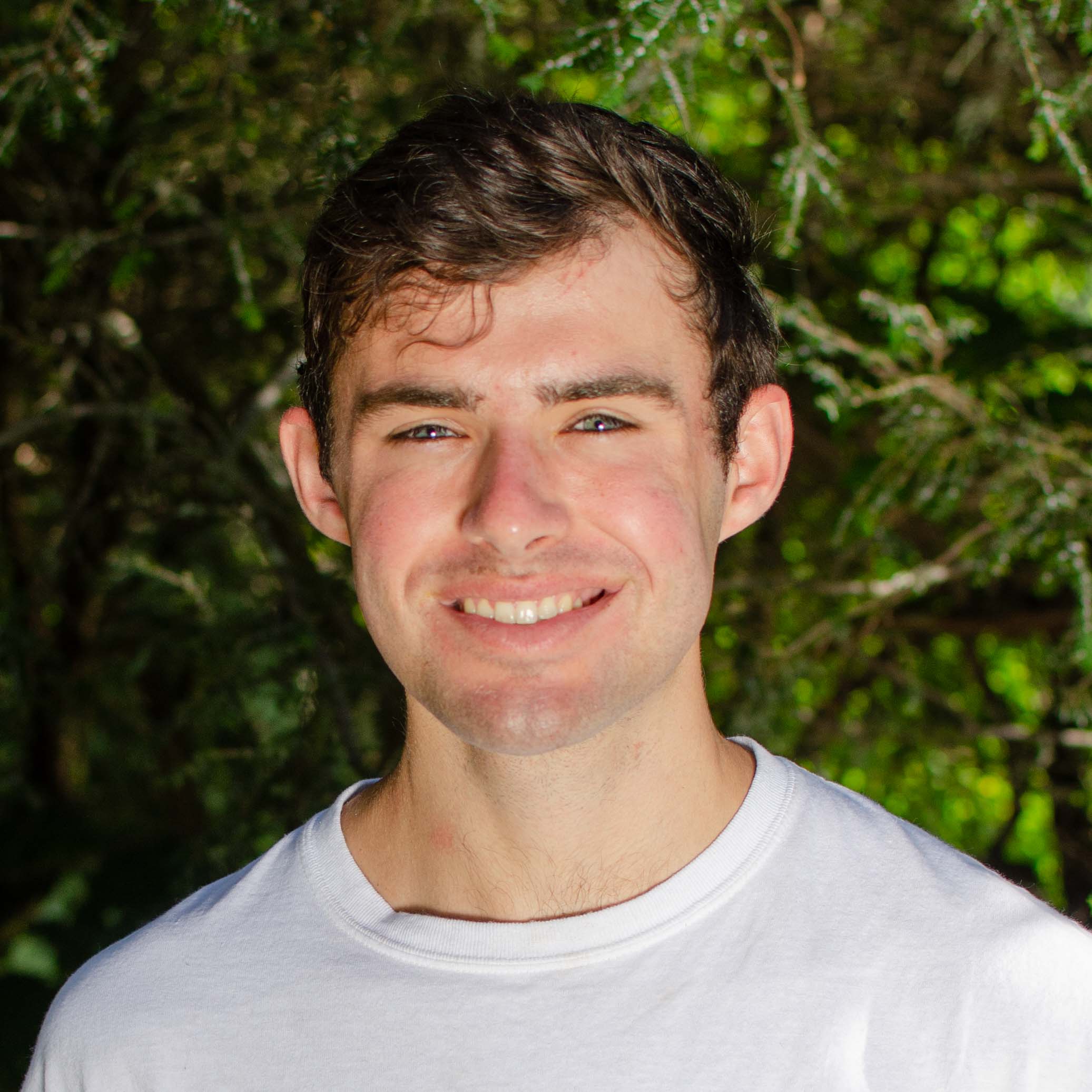 Patrick Ramey
Cabin Counselor
Patrick attended High Rocks many years ago as a camper, and cannot wait to return as a counselor and meet everyone. Currently finishing his first year at Wake Forest University, Patrick will soon be showing campers the ropes and bringing good jibes to our sailing program. Welcome back to High Rocks, Patrick!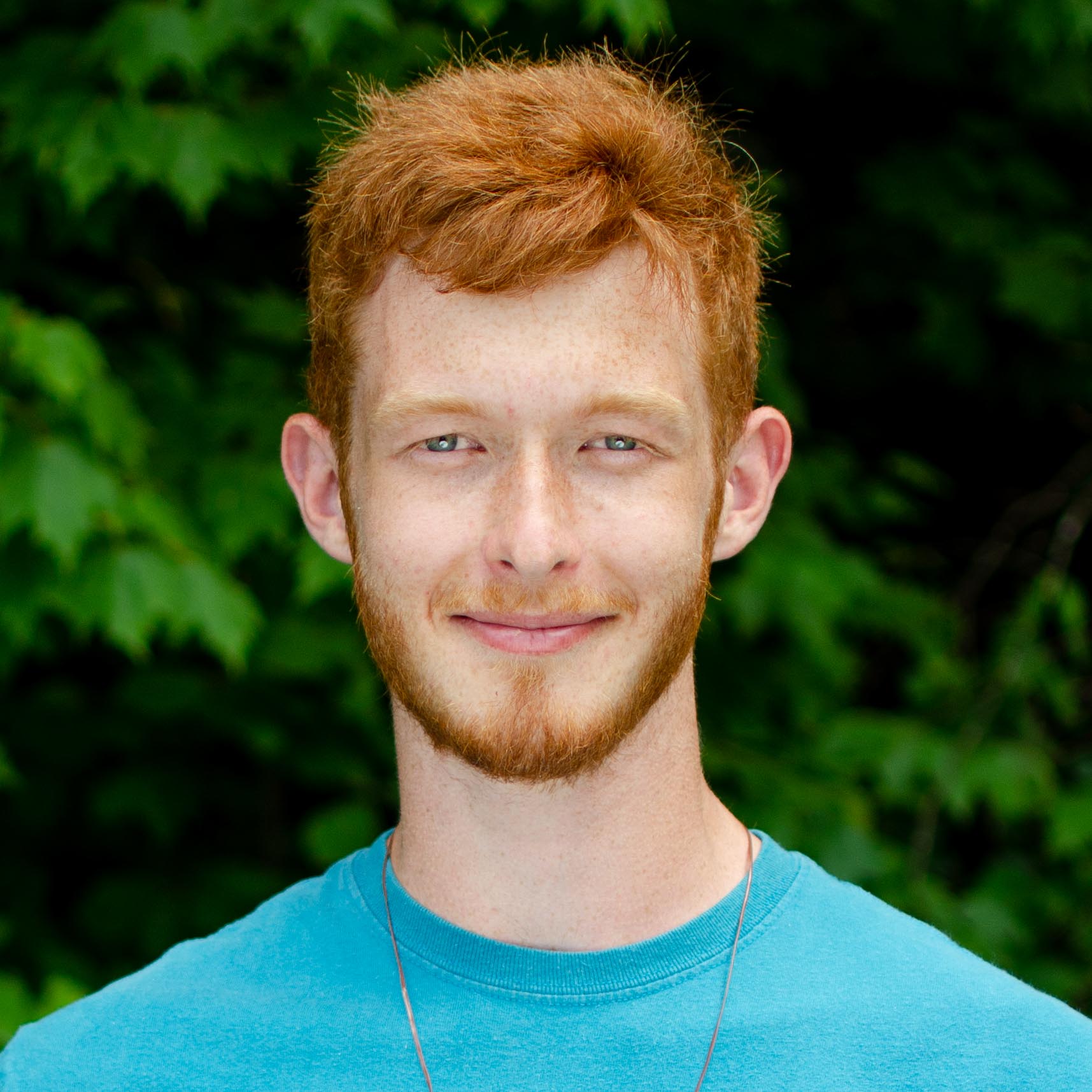 Etienne Richart
Assistant Counselor
Etienne grew up in Paris, France and has lived in a few other countries as well before moving to America. He has been a High Rocks camper for many years and is excited to make the transition to a Assistant Counselor role. He is will be a member of the Shooting Sports staff this year.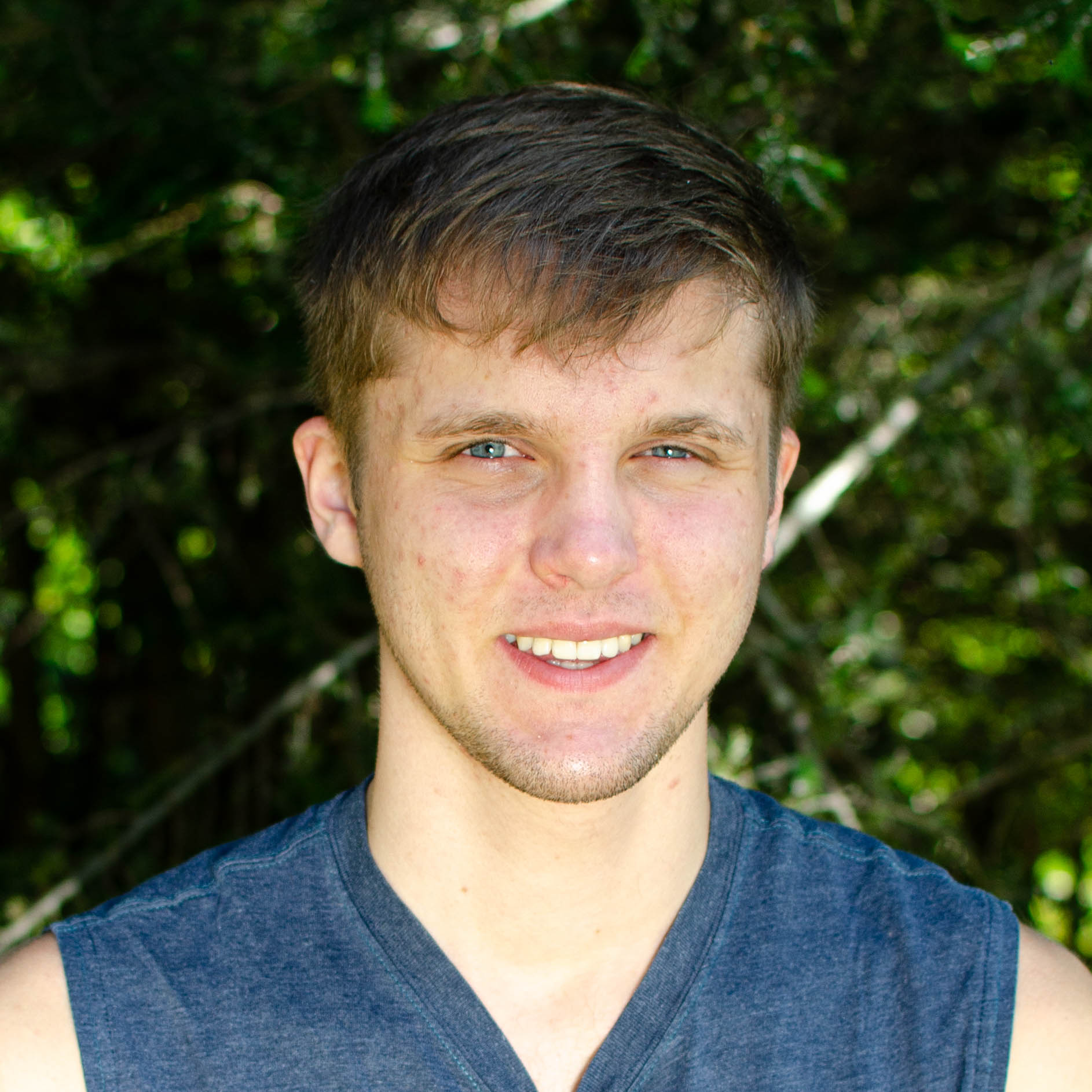 George Robinson
Cabin Counselor
We are excited to welcome George all the way from Buckinghamshire, England. George loves climbing and is looking forward to using his personal experience and instructor skills learnt working at a climbing center to show our campers a wonderful summer of surmounting boulders and sending routes.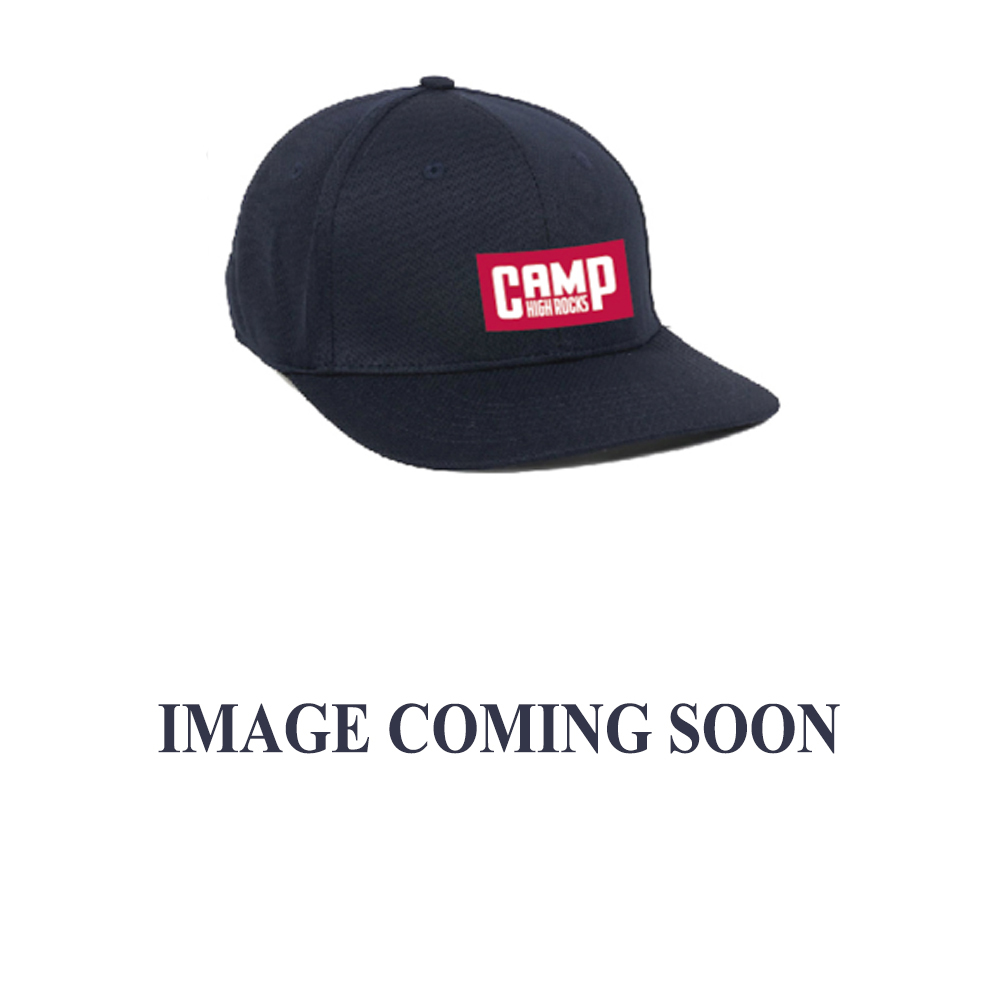 Pierce Rohlfing
Assistant Counselor
Pierce was a camper at High Rocks for eight years, but has taken a break for the past two years. During this time, he spent one summer teaching children in Ecuador and another summer teaching students in South Africa. An experienced educator and camper, Pierce is looking forward to returning to High Rocks to provide a safe and fun experience for campers. Welcome back, Pierce!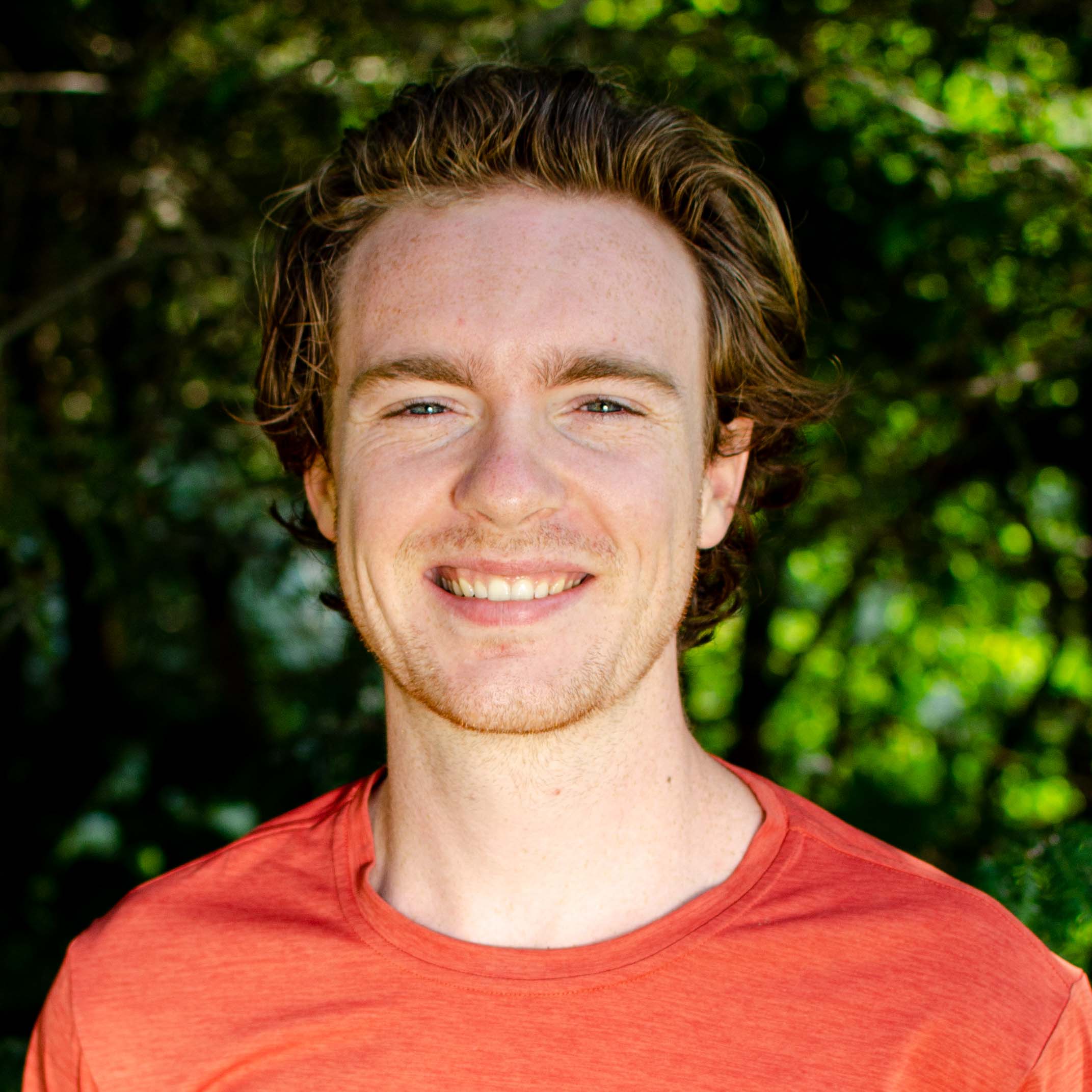 Max Royal
Climbing Trip Leader
Max is coming to High Rocks for his first season at camp, but doing so with a mountain of experience. Since finishing school last spring, Max has been traveling the Southeast in order to climb and work as a climbing guide. We are looking forward to welcoming Max this summer to our climbing program as a trip leader.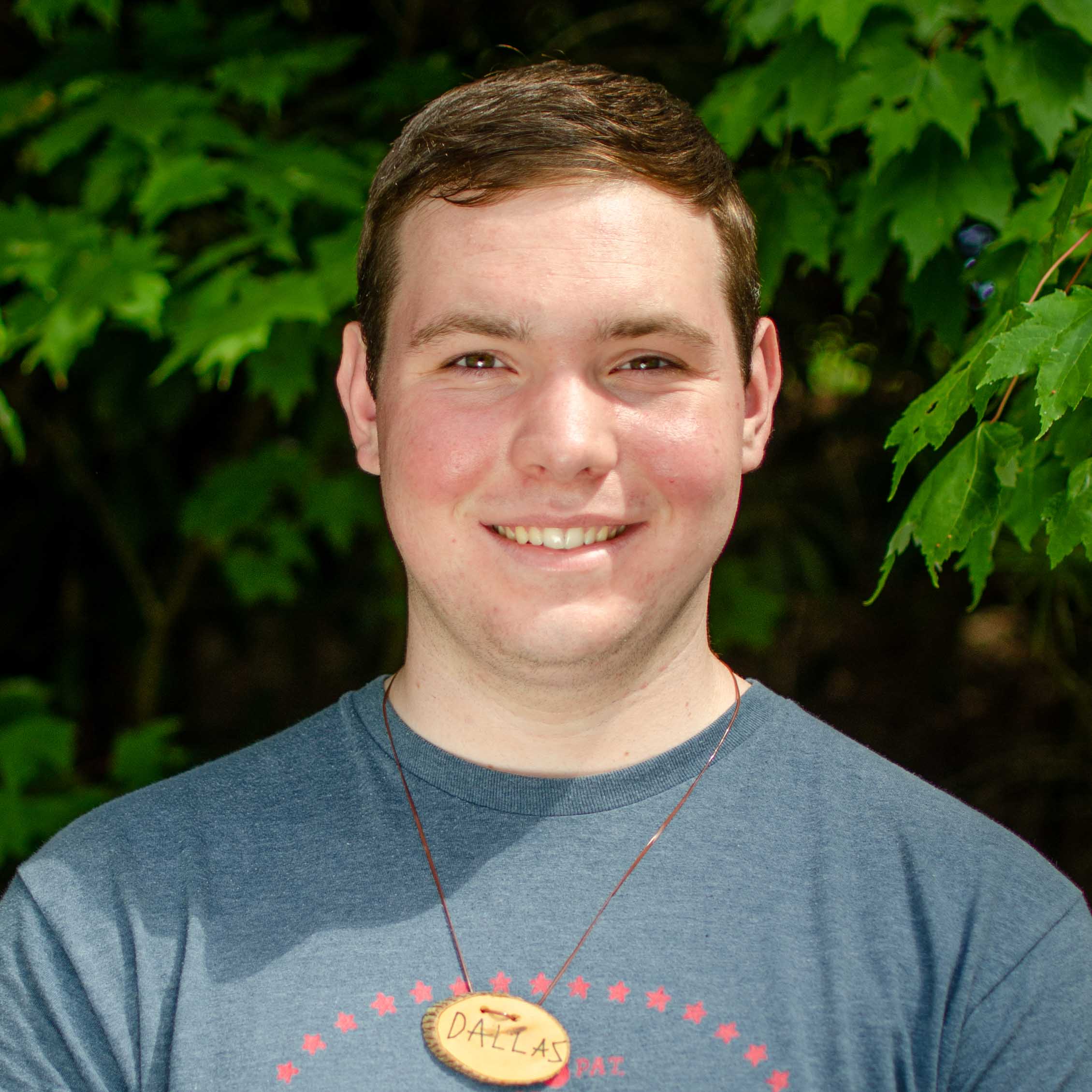 Dallas Scoggins
Cabin Counselor
Dallas learned about High Rocks this year during a pre-orientation wilderness program at Wake Forest University - and we are glad he did! Dallas volunteers at his local library to help run games and crafts for children, and we are looking forward to seeing the fun that he will bring to our campers.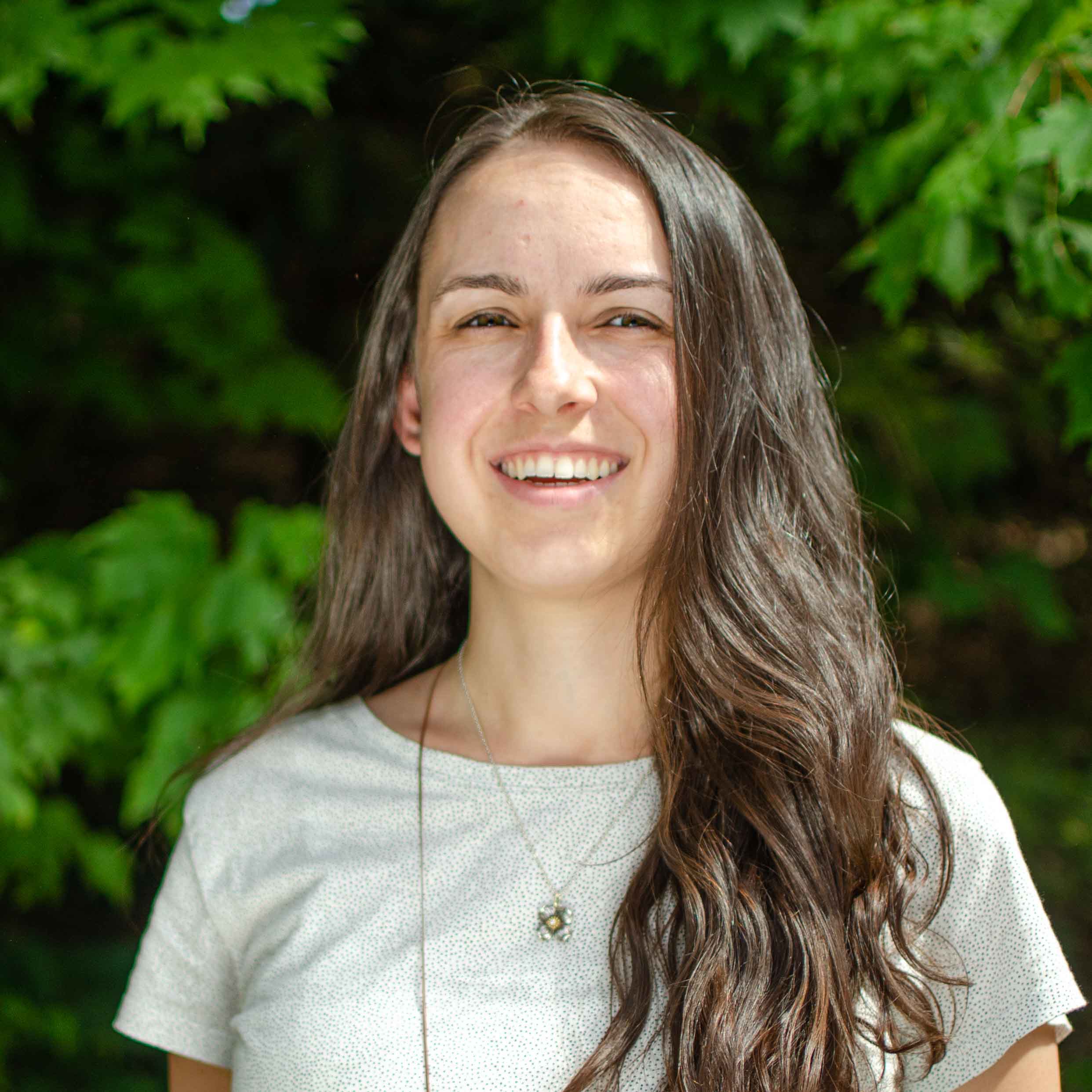 Samantha Sharkey
Head of Arts & Crafts
Sam is returning to our staff for her second summer! She has been helping out around camp for more than a few years, and with her love for children and creative mind, Sam is the perfect fit for our Arts & Crafts activity head! We are looking forward to her new ideas and creative thinking to help challenge the boys.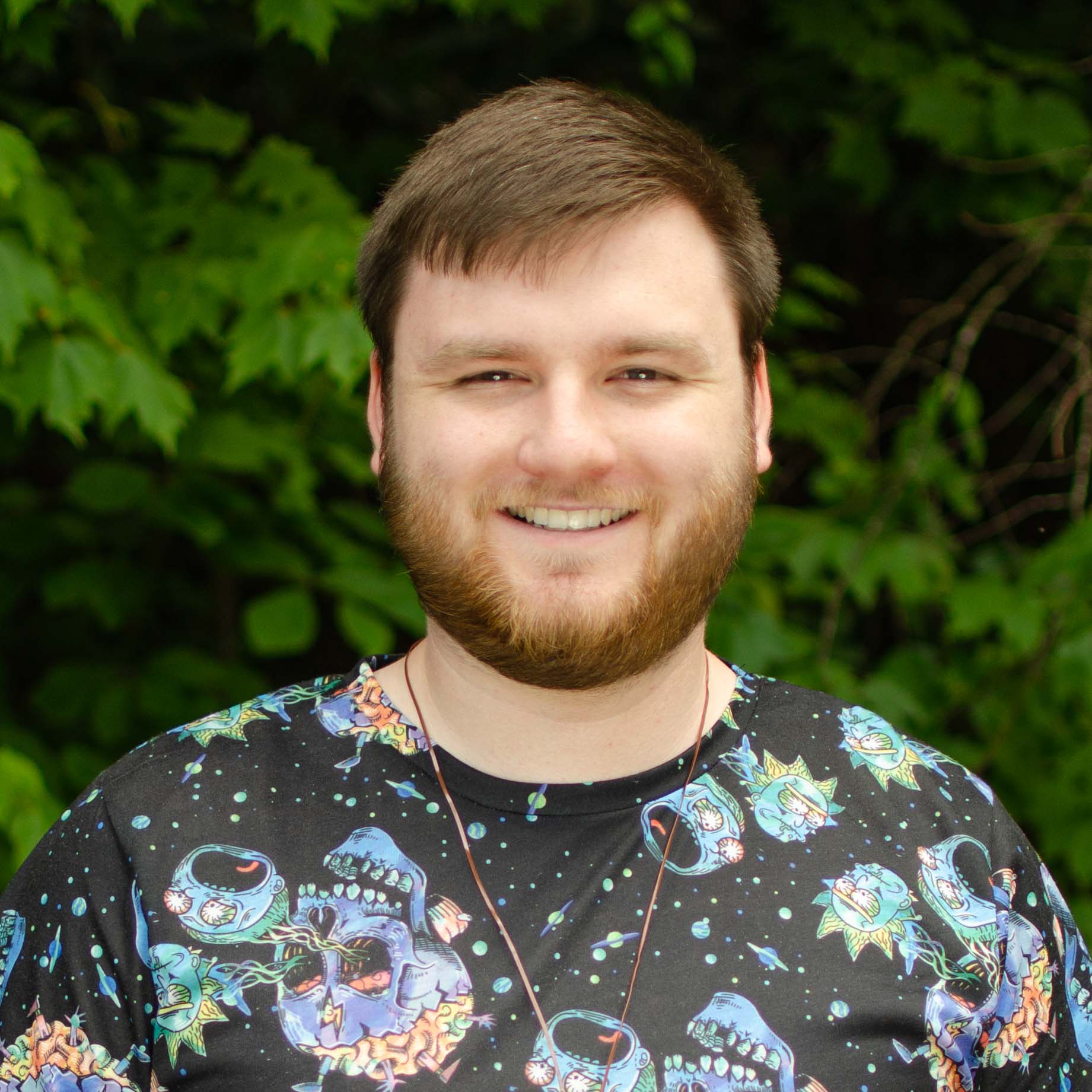 Jake Sheperdson
Cabin Counselor
Hailing from the UK, Jake is joining us for the summer! He has been kayaking for over ten years and has spent many years teaching children and adults from basic to advanced paddling skills. He is excited to have the opportunity to travel abroad and teach. Jake will be a cabin counselor and on our paddling staff this summer.
Boote Shivers
Cabin Counselor
Boote is joining us for his twelfth summer at Camp High Rocks and third on staff. In the fall, Boote began attending The Citadel. With a positive attitude and an overall excitement for camp, we are looking forward to having Boote in his first year as a full counselor. He will be helping out in paddling this summer along with his cabin duties.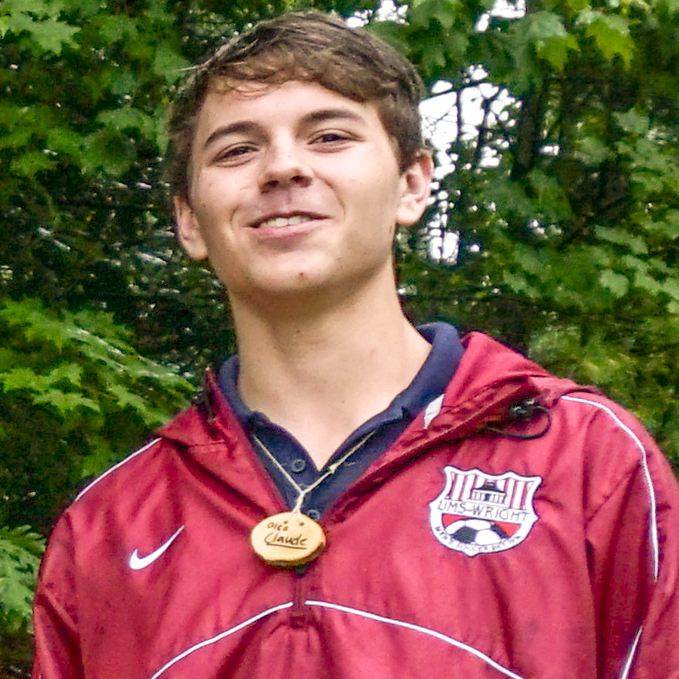 Claude Shivers
Counselor in Training
In his fourth year at High Rocks and first summer on our team of staff, Claude is looking forward to working in tandem with his brother in order to share his paddling skills with our campers. An outdoorsman who enjoys paddling and fishing in his free time, Claude is going to be a great addition to our waterfront crew.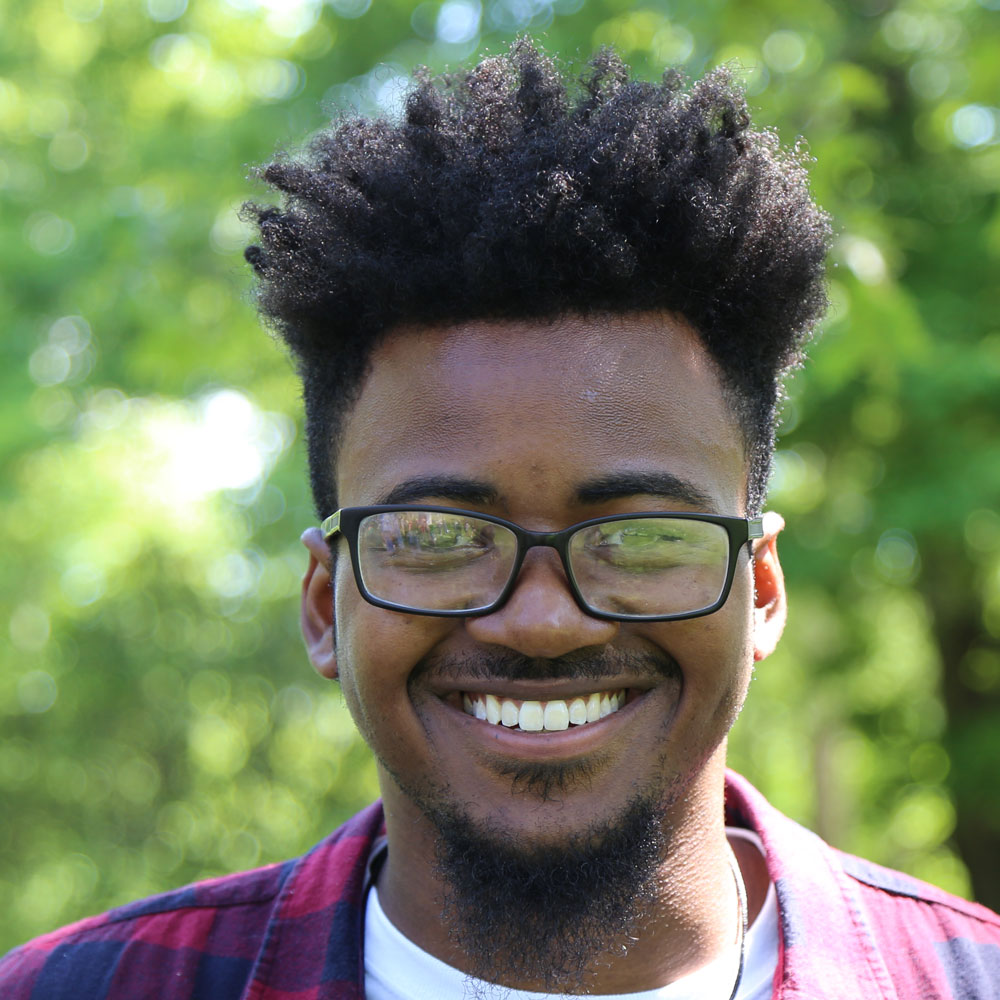 Brad Smith
Head of Shooting Sports
Brad first came to High Rocks as a 6th grader for one of our LEAP school groups and loved it so much he returned as a chaperone for his alma mater. After years of being a dependable cabin counselor and focused rifle instructor, Brad will be supporting campers and staff alike in his new role as head of Shooting Sports here at High Rocks.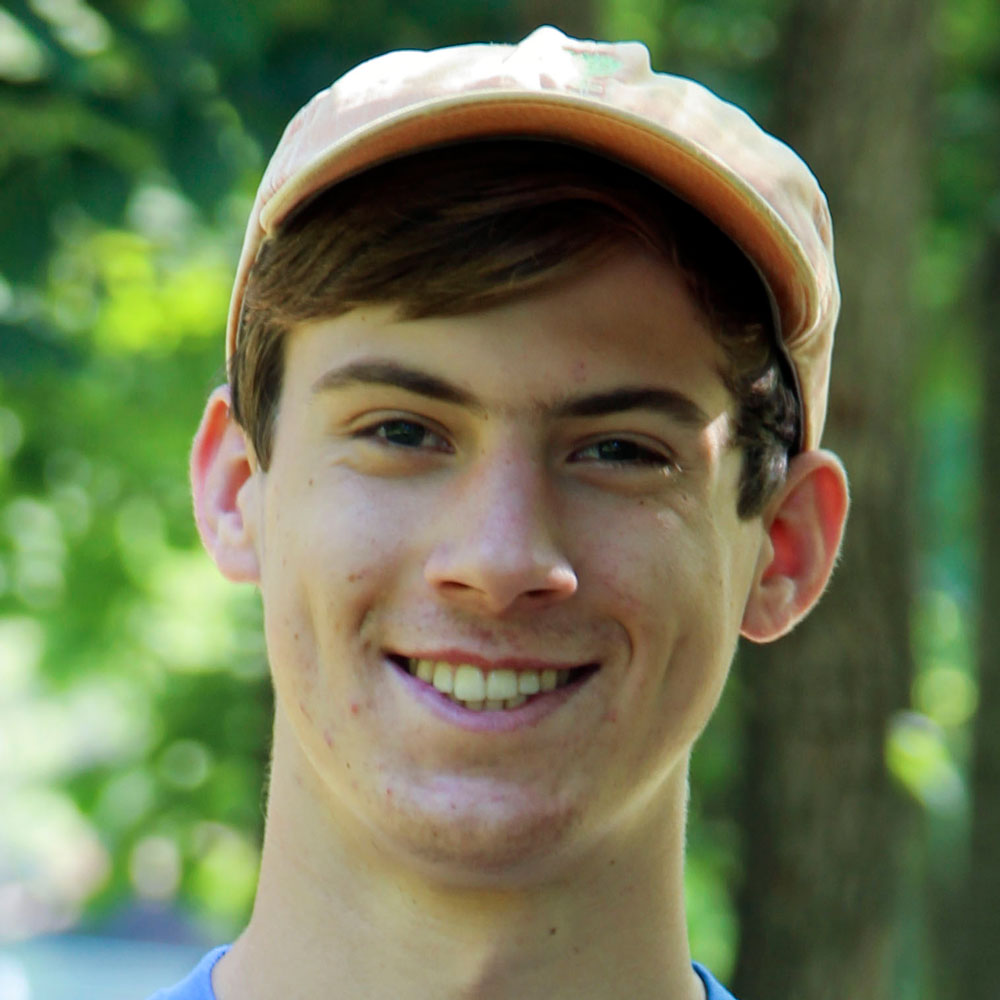 Henry Smith
Cabin Counselor
Henry hails from Greenville, South Carolina and has attended High Rocks as a camper for nine summers. After finishing two years as a counselor in training and assistant counselor, Henry showed himself to be a community-focused counselor driven to share his passion for High Rocks with our campers. This Summer, he will be assisting Brad in Shooting Sports as one of our most experienced archery instructors.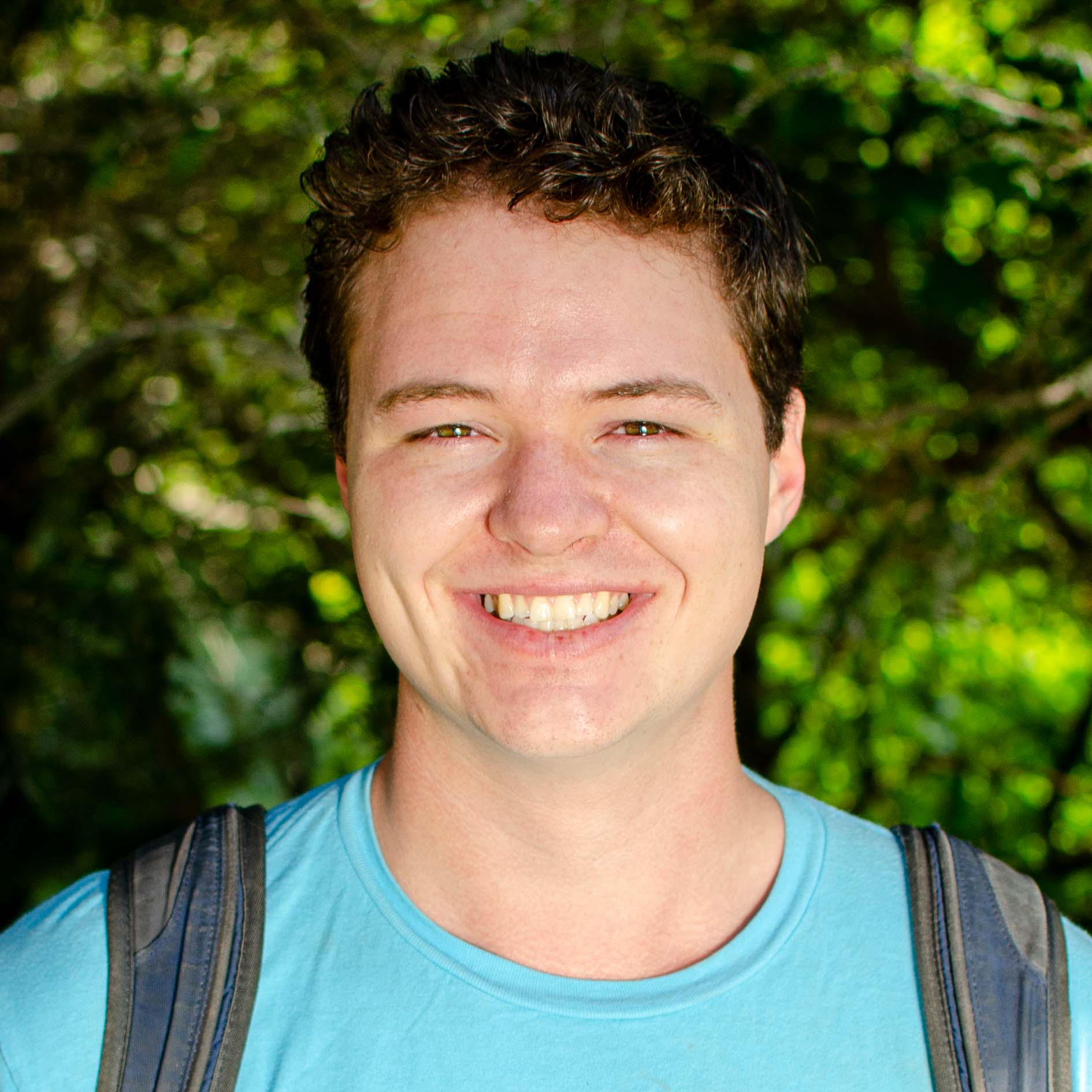 Wesley Smith
Head of Pottery
An avid potter, Wesley has worked in several pottery studios and continues to study independently while in college. He is majoring in Environment and Sustainability at the University of the South in Sewanee, TN. We are thrilled to have him as our Head of Pottery this summer. Welcome to camp, Wesley!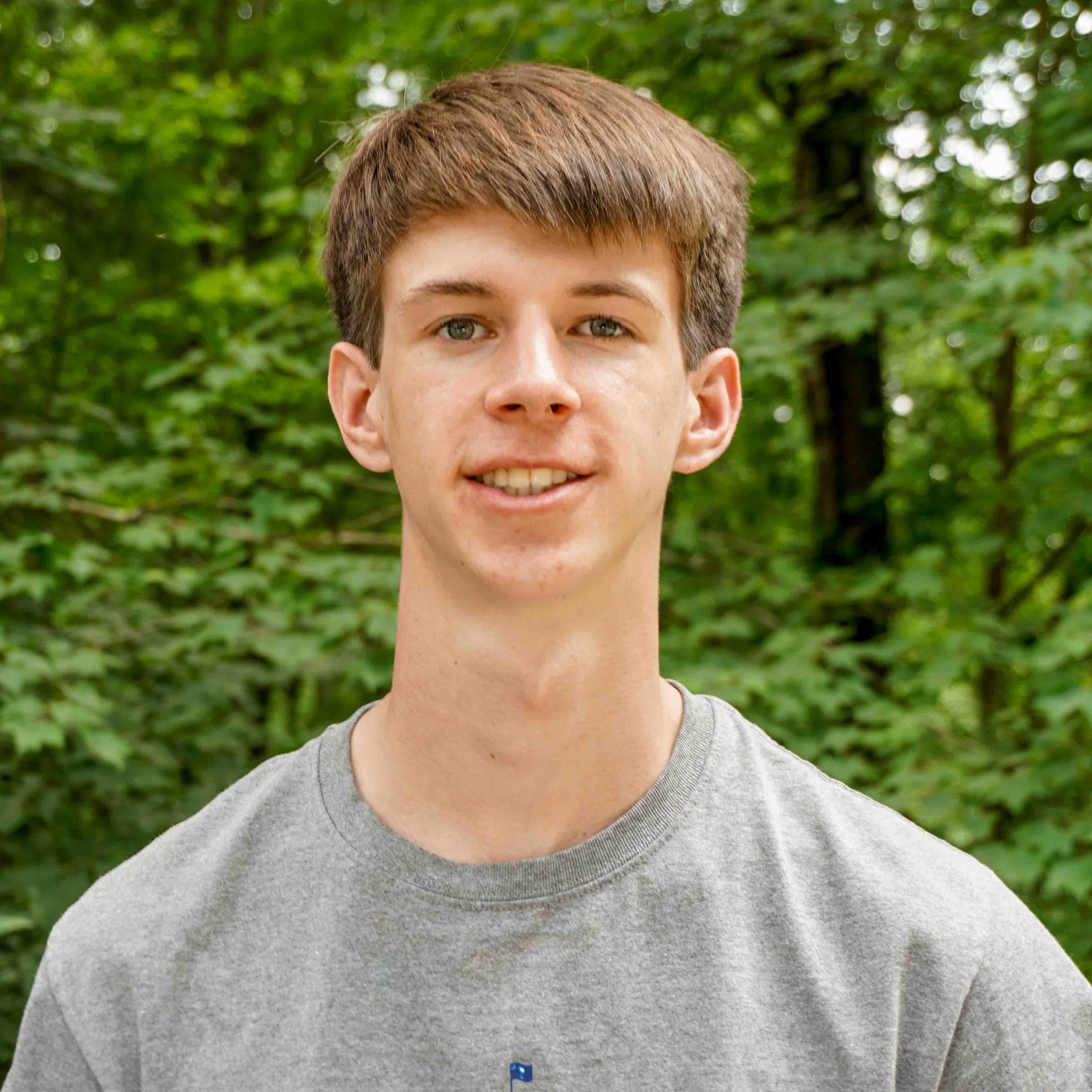 William Smith
Assistant Counselor
Will has been attending Camp High Rocks for seven years as a camper, was a counselor-in-training, and will be joining our assistant counselors this year for the full summer. Will is looking forward to welcoming and encouraging his campers. In the summer of 2016, Will hiked and climbed in the Canadian Rockies. With his camp experience and love of the outdoors, Will is an excellent addition to our staff and will be working down at Shooting Sports.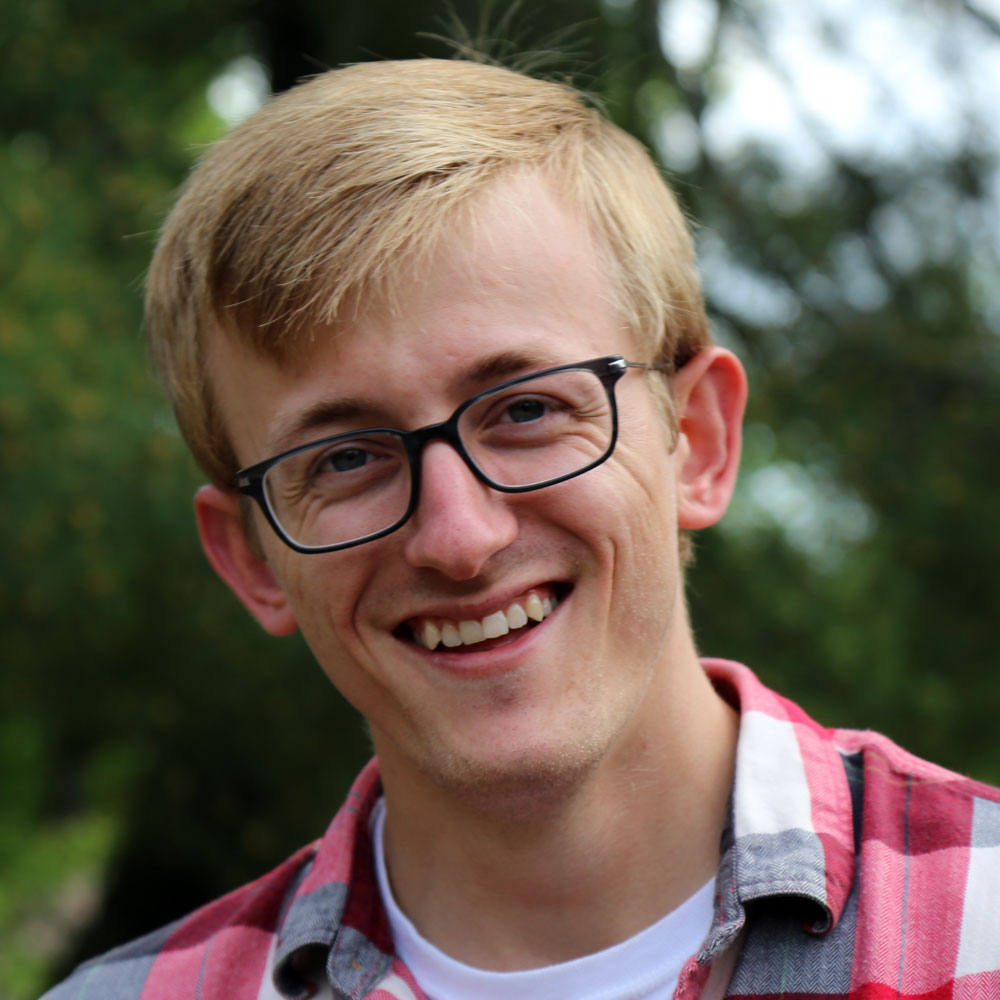 William Smoot
Head Counselor
Smoot was a former camper at High Rocks and is returning to camp for his eighth year on staff. After acting as our Head of Shooting Sports for five summers, Smoot is now shifting his focus to supporting our cabin counselors and counselors-in-training as one of our head counselors.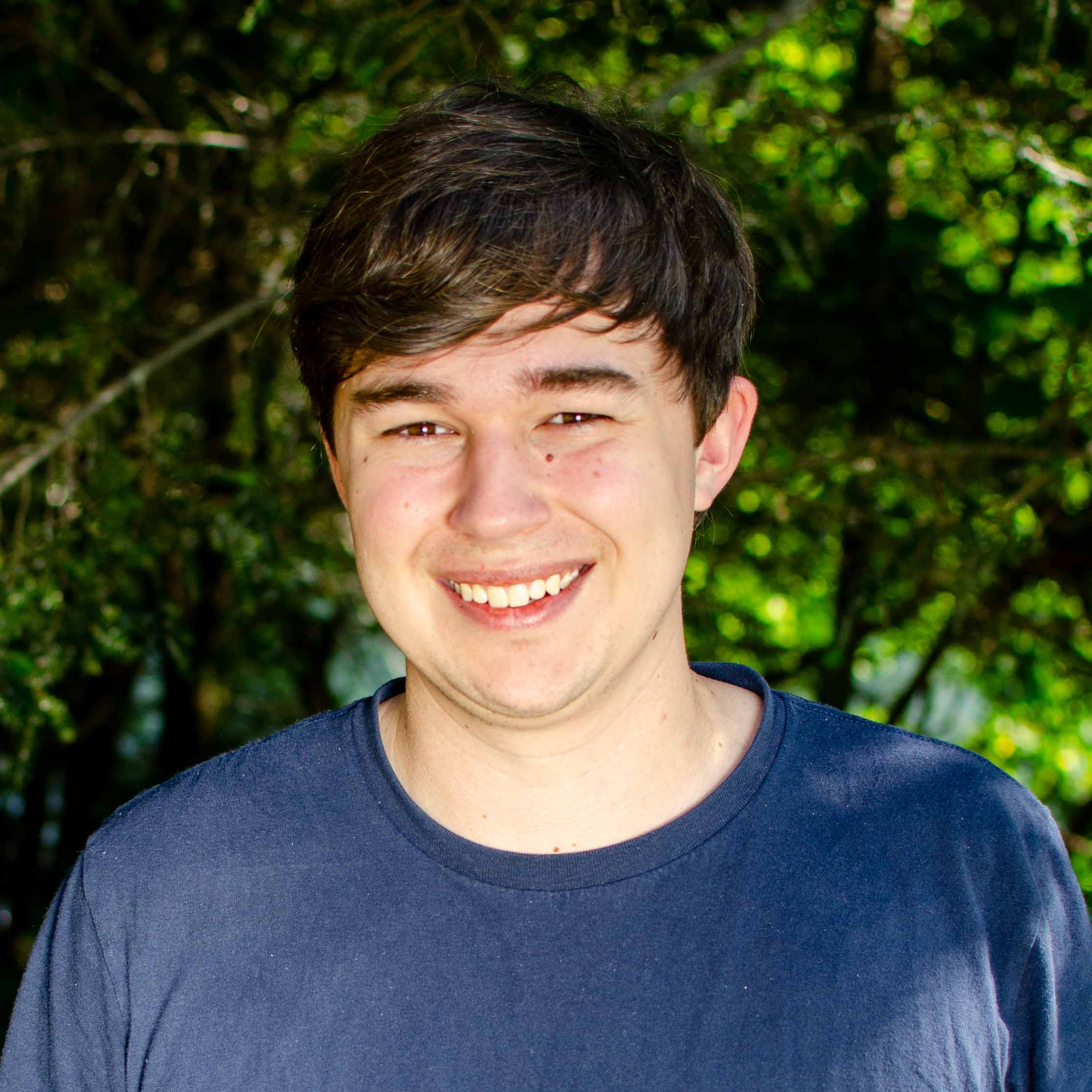 Matthew Stagg
Cabin Counselor
Matthew was a camper for seven years and worked as a counselor in training two years ago. For the previous three years, Matthew has worked both after school and during the summers as a rifle camp instructor for third to sixth graders. A Scouts senior patrol leader, high school rifle team captain, and first ever recipient of the High Rocks Golden Bullet, Matthew brings a heap of experience to our Shooting Sports program this summer.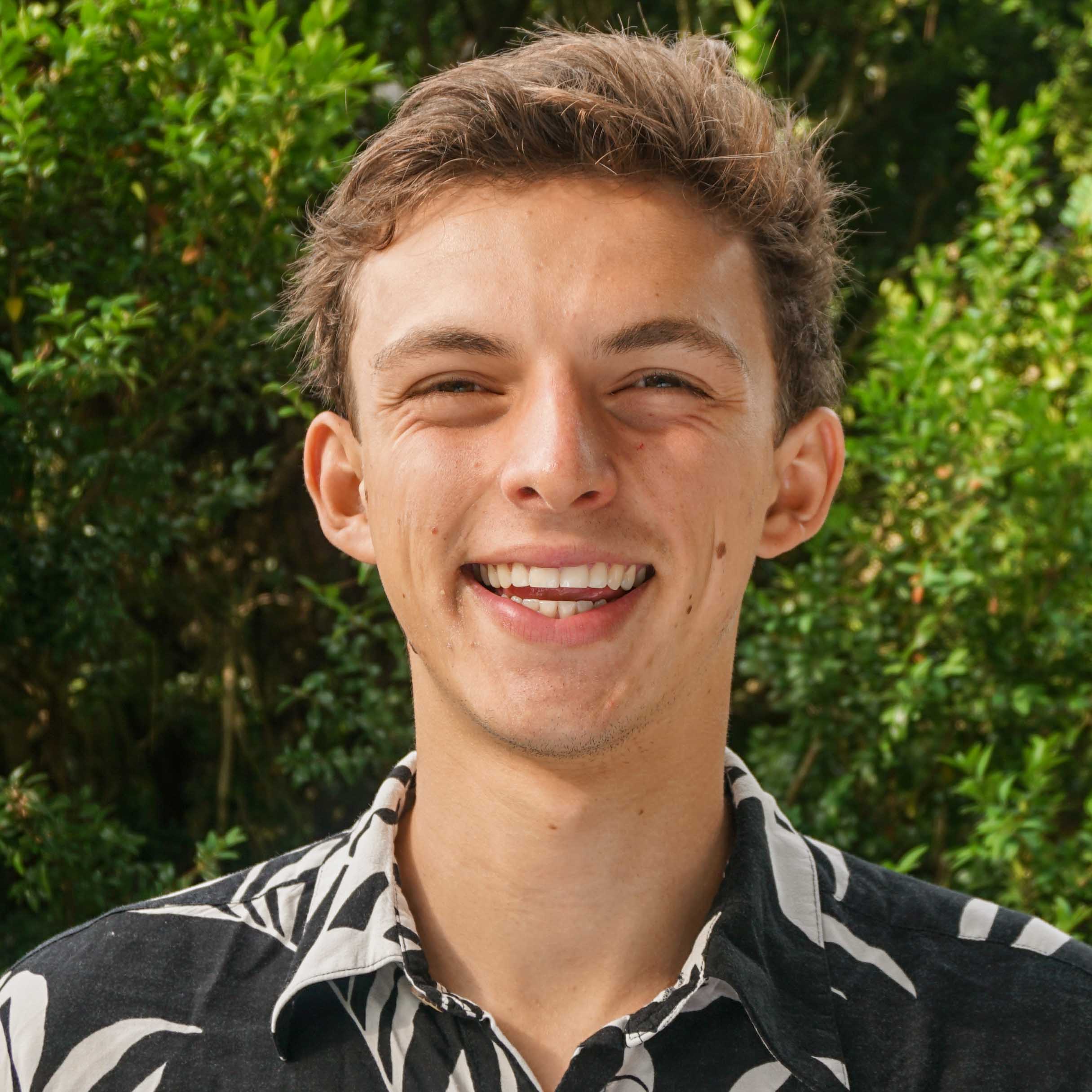 Logan Stouse
Cabin Counselor
Logan is back at High Rocks for his third summer on staff after an eight-year career as a camper here. In his time at camp, Logan enjoyed many different pursuits in our activity structure but consistently loved his time in canoeing and climbing. This summer, Logan can be found passing on his passion for paddling to campers all day long along our waterfront.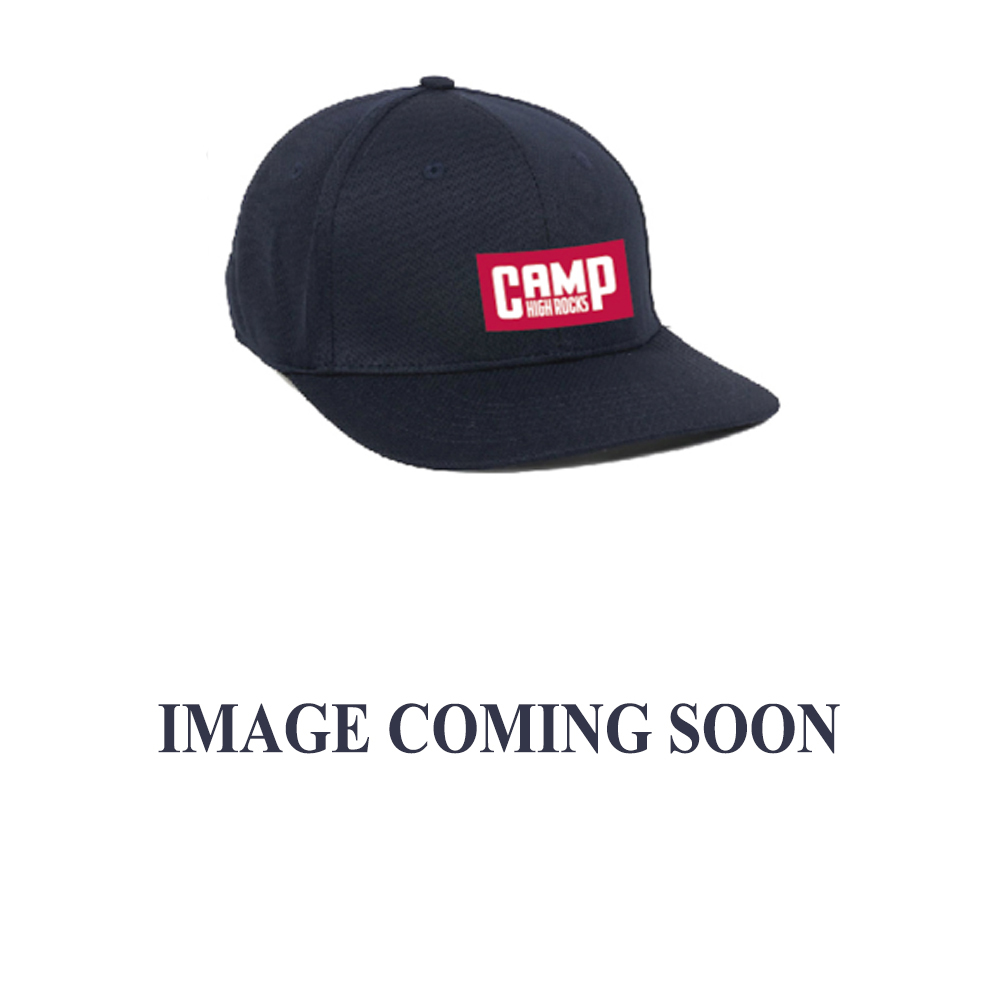 Hollis Thompson
Child Care
Please welcome Hollis to staff! Having grown up in Brevard, Hollis is good friends with the Gentle family. Hollis is studying at UNC-Charlotte where her goal is to be a nurse. She is a sweet and kind soul who takes care of our little ones.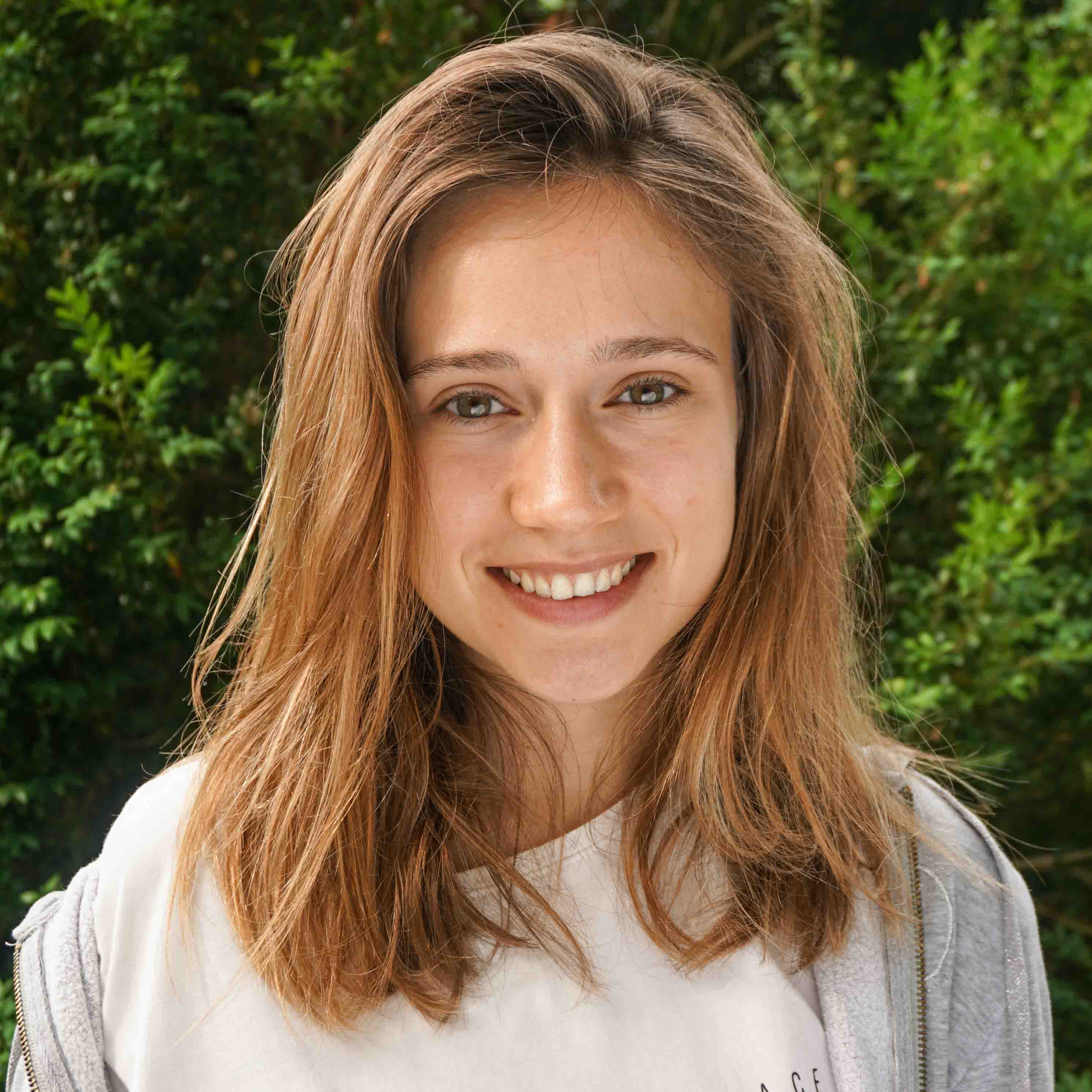 Maria Ubalde
Horseback Riding Instructor
For her first ever experience here in the United States, Maria will be joining our team of horseback riding instructors down at our barn. We are excited to welcome Maria to High Rocks, and are looking forward to her sharing a bit of her Spanish culture with our campers.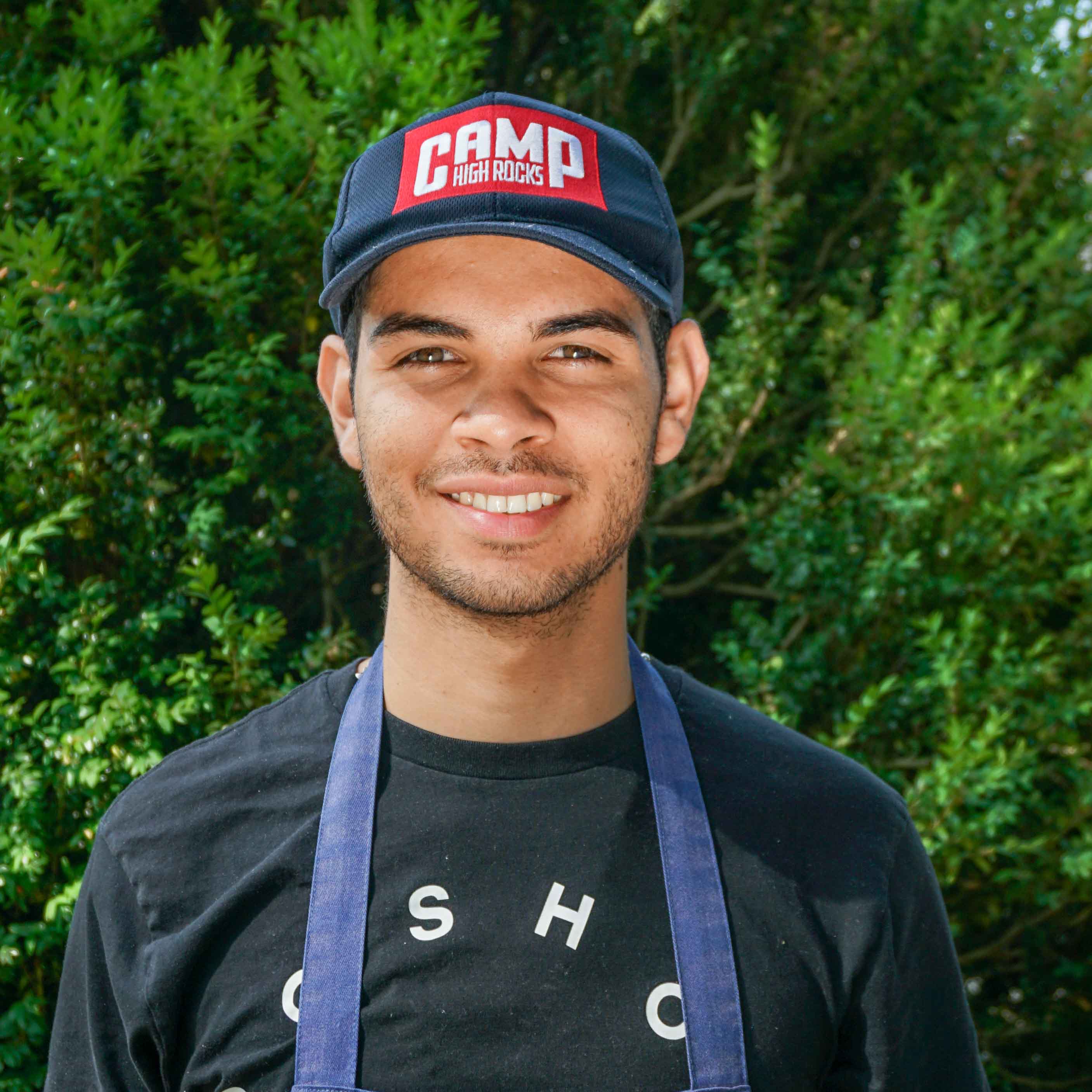 Nicolas Viveros
Kitchen Assistant
Nicolas is stepping into a Kitchen Assistant role at camp. He has a positive attitude and continued willingness to learn at all times! Hailing from Colombia, this is Nicolas first time in the country. From baking sweet treats to helping clean all of our dishes, we are thankful to have Nicolas in the kitchen working!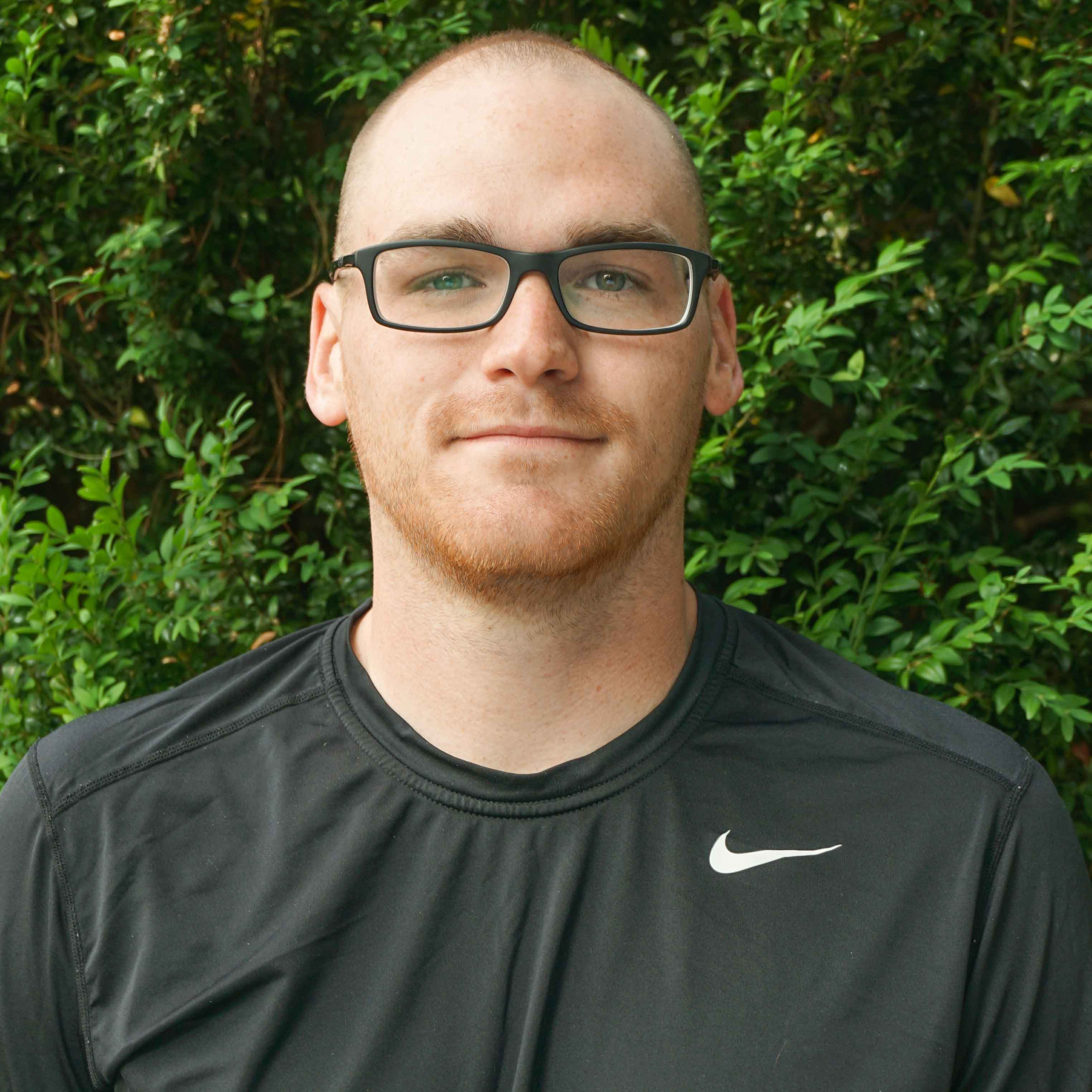 Mac Watson
Mountain Biking Instructor
Mac is a familiar face around High Rocks having spent the last three summers teaching our campers soccer, fishing, and sailing. This summer, Mac is bringing his calm personality - a favorite among our more introverted campers - and extensive camp experience to our mountain biking program! Mac spends his year working as a history teacher, but continues to make time in the summer to share his love of High Rocks with all of our campers and staff.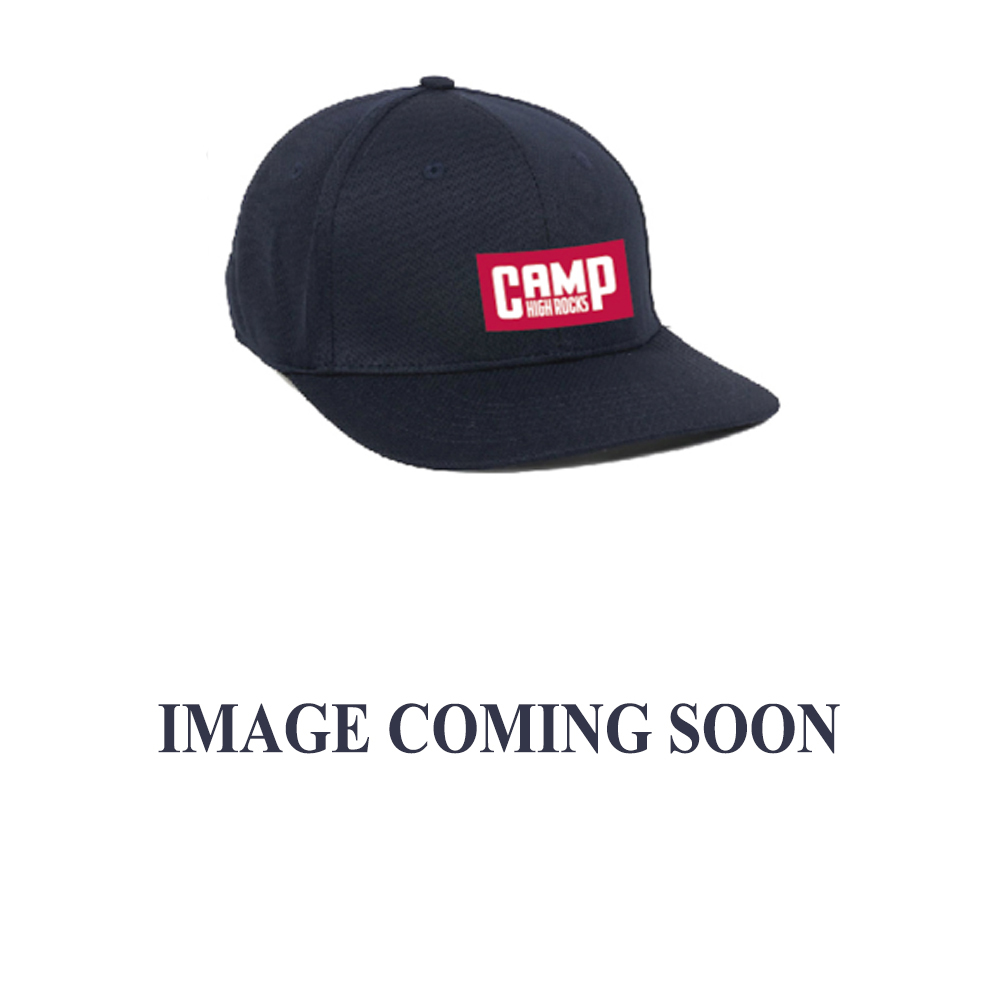 Rachel Watson
Crafts & Ropes Course Instructor
Rachel's first experience at High Rocks was last spring when she worked a few of our May programming. After seeing how the kids at camp were transformed by their surroundings and activities, she decided that she wanted to be a greater part of camp. Welcome back to High Rocks Rachel! We are ecstatic to have you!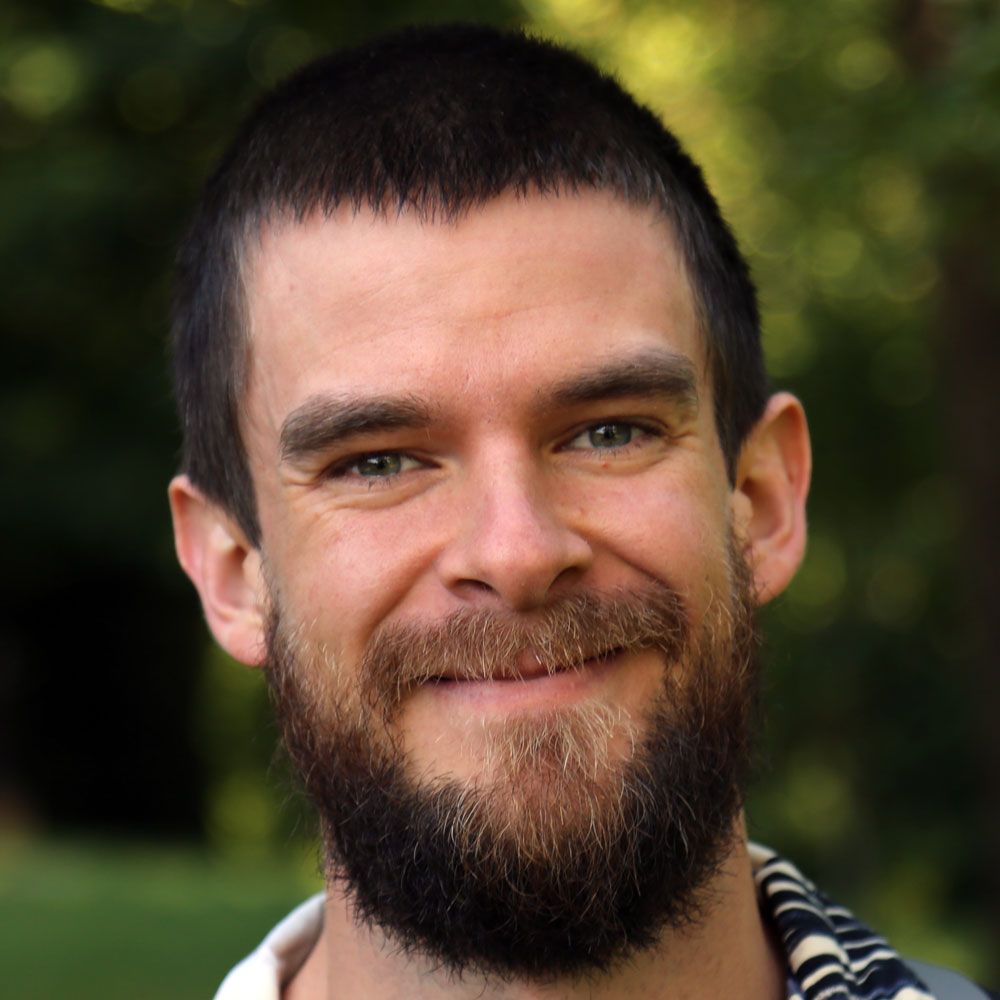 Sumner Williams
Head of Paddling
Sumner has spent many years at High Rocks, as he is the nephew of owner Townsend Birdsong. We are excited to have him back this summer! Sumner graduated in 2014 from the North Carolina School of the Arts and is currently continuing his study of music in Vienna, Austria. He is an experienced paddler who is helping continue the history of excellence as the head of our boating program.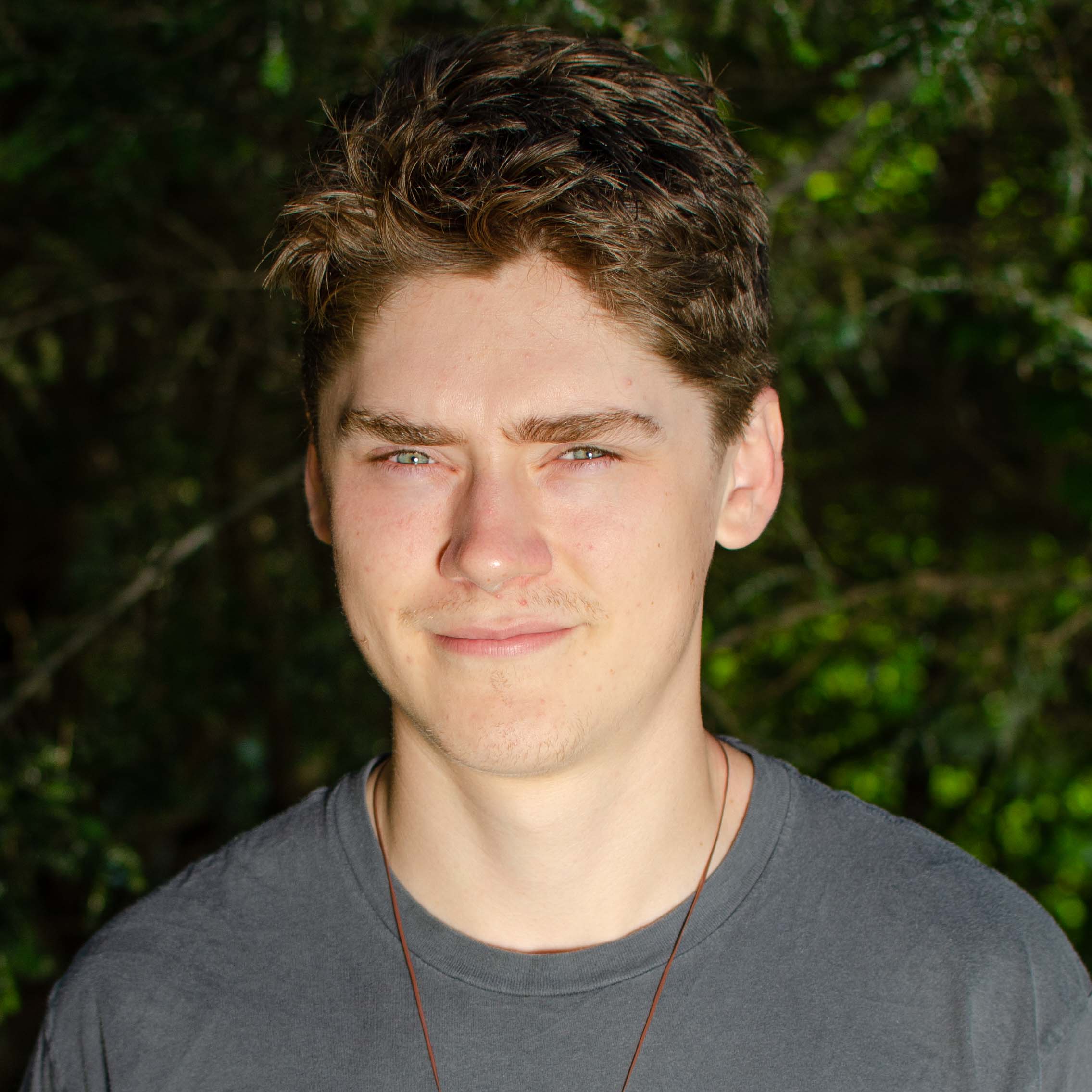 Evan Wunder
Cabin Counselor
Evan is a long-time resident of North Carolina who just finished up his first year at Appalachian State and will be coming to High Rocks for his first year at camp! Though new to High Rocks, Evan grew up in the mountains and will be showing our campers all of the best trails as a hiking instructor. Welcome to camp, Evan!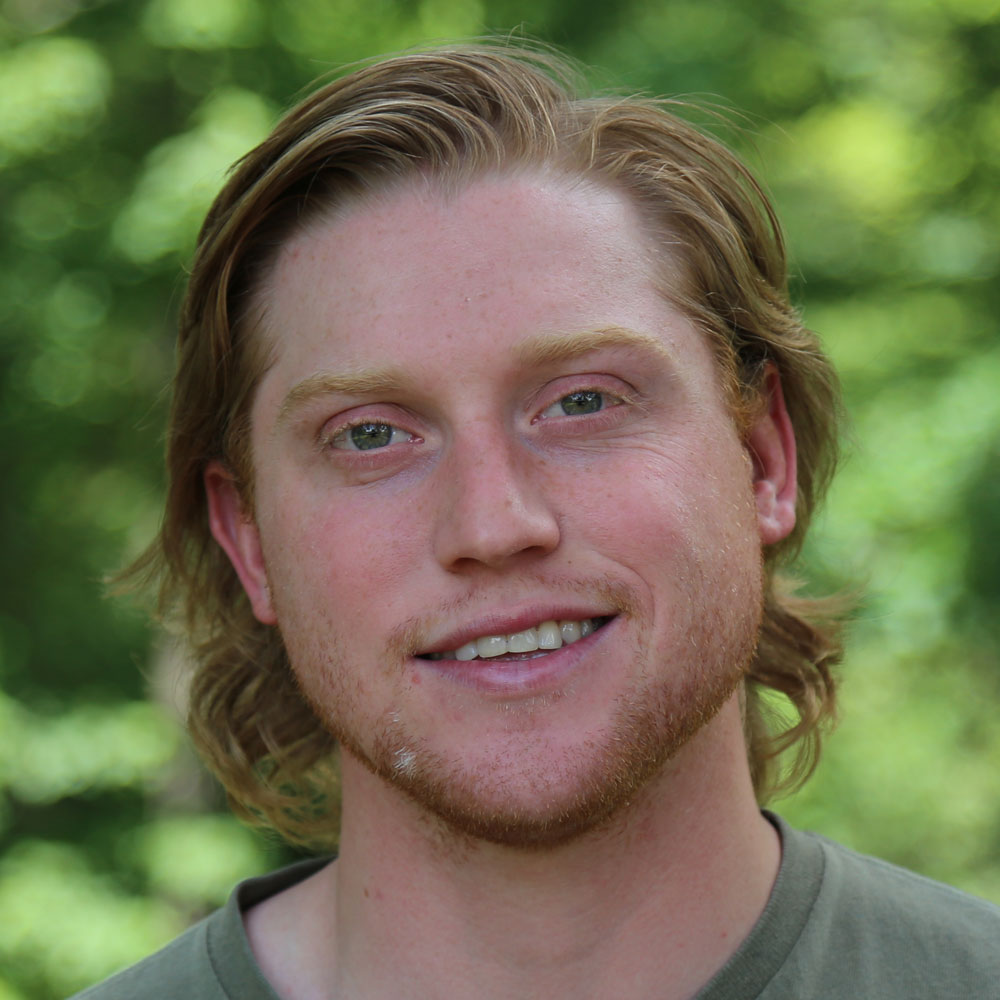 Chadwick Young
Mountain Biking Trip Leader
Chadwick is a graduate of Brevard College with a degree in their Wilderness Leadership Program. Just in this last semester, he has had classes in Sea and White Water Kayaking, Rock Climbing, and Mountain Biking. After his first successful Summer in our mountain biking program, Chadwick is returning to us as one of our mountain biking trip leaders.