Fall Open House
Our Fall Open house has ended. If you are interested in touring camp, we schedule tours year around and would love to have you! Book a tour here.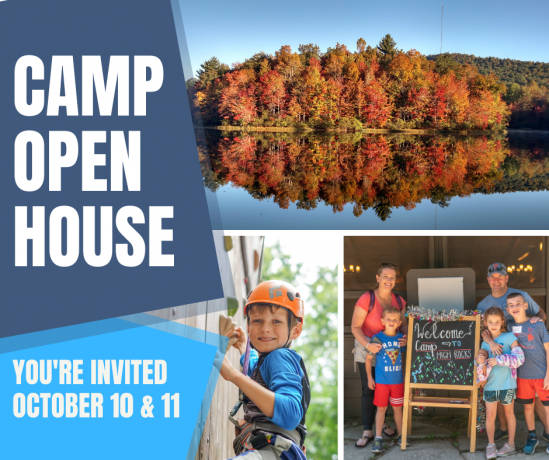 Visit Camp High Rocks and experience for yourself what it is like to be a part of our community – a community full of staff role models and adventures to be had. Our Open House is for both interested families and 1st-year camper families. RSVP Here.
Saturday, October 10 – 10:00 to 3:00pm
Sunday, October 11 – 12:00 to 3:00pm
A Handful of Highlights:
A director-led tour of our expansive camp property
Chat parent to parent with our Camp Directors
Tasty snacks, coffee, and s'mores to roast over the fire
Experiencing camp and Brevard in their fall splendor!
What To Expect:
October in the Blue Ridge Mountains is not to be missed! Experience the pops of color along the Mountain Ridges and around Camp High Rocks. Join us to learn more about camp, meet the directors, get your little one more comfortable with the idea of spending time away, and tour our camp facilities. Plan to spend roughly an hour at camp during the Open House. We will be walking around on gravel, dirt, and stone paths therefore we suggest comfortable shoes.

Make it a trip! There are two local girls camps in the area hosting Fall Open House events as well on the same weekend. You can find more information about Keystone Camp by emailing office@keystonecamp.com and Rockbrook Camp's website here.
Saftey & COVID-19
While you are at our Open House, we ask that you wear a mask. The state of North Carolina requires face masks to be worn when six feet of distancing between people is not possible. Please bring a mask with you! Our staff will be wearing masks as well. We will have hand sanitizer available around camp as well. If you or anyone in your group is experiencing COVID-19 related symptoms or you have been in contact with some who has tested positive for COVID-19 in the past 14 days, please do not attend our open house. We will have virtual information sessions this fall we would love for you to join instead.
Sign Up: October 10th or 11th
You're invited! To sign up and save your spot, fill out the form below. The Open House is by sign up only. There is no fee to attend. Our Open House is for both interested families and 1st-year camper families. If you are a currently registered family without a first-year camper or an alumni who would like to attend, please email darby@highrocks.com.