How We Ran in 2021
Our procedures and plans from 2021 are below. They have been left up to give you an overview of how we operated. We are currently working on our plans for 2022 and expect to have more information to our camp families in late April.
How We Ran in Summer 2021
Pre-Camp Preparation
A healthy camp begins at home! We are asking our camp families to be partners with us in helping start each session with a healthy group of campers. What you do before camp will contribute to our success this summer.
We ask you to

symptom monitor 10 days prior to camp through our "Health Monitoring Form".

We ask that campers engage only in

low risk behaviors

to limit their exposure 10 days prior to camp. Campers will need to limit exposure to others and avoid large gatherings where mask wearing and social distancing are not enforced (ie graduations and graduation parties, weddings, year-end parties, sleepovers, sports tournaments etc.)

Demonstrate a

negative COVID PCR test conducted 3 -5 days prior to arrival,

proof of COVID-19 diagnosis >13 days prior to camp or proof of vaccination. See our COVID Testing section for information.
Health Monitoring Form
10 Days before the start of your son's session, we ask that you fill out a Health Monitoring Form. On the form, you will record his temperature, monitor his daily symptoms, explain any exposure to COVID during that period, and answer a few follow-up health questions. This
MUST
be turned in on opening day. You can
download the form here.
Low Risk Behaviors
Please start the
using low risk behaviors 10 days prior to the start of your session
. Campers will need to limit exposure to others and avoid gatherings where mask wearing, and social distancing are not enforced. To protect your camper and help us start camp healthy, we are encouraging family members to avoid these settings and situations as well.
Please do not attend:
Graduations and graduation parties
Weddings
Year-end parties
Sleepovers or play dates with friends.
Sports tournaments
Large or Medium Gatherings
Gatherings with non-household members.
Please continue to follow masking and distancing guidance. We are relying on our camp families to join us in using low risk behaviors. Helping us start each session healthy is key to running camp this summer. Please take that in mind as you decide what activities to partake in prior to your son's arrival. Please consider
whether it would be worth it for your son to bring COVID to camp
and then have to go home. Your actions will affect your son, his cabin, and camp as a whole. If you have questions about a certain activity, please get in touch with us.
PCR Testing Prior To Arrival
Please see our COVID Testing section below for more information regarding.
Covid-19 Testing
Before arriving at Camp
Campers will be asked to provide a printed copy of negative COVID (molecular) PCR test conducted 1 -5 days prior to arrival. Testing 1-3 days prior to your son's session is preferred. Without proof of an negative molecular test, your camper will not be admitted into camp. The only exceptions are if your son has tested positive for COVID in the past 90 days or is fully vaccinated.
COVID-19 tests can be done in your hometown or you can choose a mail in option. Please choose a location that will get your results back in time for camp. We ask that you test as close as you can to your son's opening day. We have partnered with Vault Health to provide a testing option for our camp families. You may obtain a test from anyone you choose, the Vault Health option is purely for your convenience. Please follow this link to learn more: Summer Camp Testing Vault Health
If your son has already had COVID within 90 days of the start of your session, per CDC guidelines, they do not need to be tested before arriving to camp. You must bring a copy of their positive COVID test results with you on Opening Day. Without the positive test results, he will not be admitted into camp. Please let us know prior to camp if your son has tested positive in the past 90 days. Your son will still need to fill out the 10 day Health Monitoring Form. If the positive test result happens within 14 days of the start of their session, please contact us.
If your son is fully vaccinated, he does not need to be tested before arriving to camp. To be fully vaccinated, your son must have his second dose 14 days prior to arriving to camp. You must bring a copy of his vaccination card with you on Opening Day. Please let us know prior to camp if your son will be fully vaccinated. If your son becomes ill or starts showing symptoms, he will need to take a test. Your son will still need to fill out the 10 day Health Monitoring Form.
While at camp
Campers will receive another COVID-19 PCR test while at camp 4-5 days after their arrival. We will not be testing in our One Week, Junior Camp. Junior Camp families do not need to fill out this form. We are parenting with Keystone Labs for onsite administration of the PCR test. Parents will need to register each camper with Keystone Labs. Results will be available in 24-48 hours. The cost of the test will be covered by health insurance or the CARES Act. Campers that are fully vaccinated will still need to register with Keystone Labs and will only be tested if symptoms are present. Please REGISTER by clicking Keystone Labs Form.
If campers at anytime during the session have COVID-19 indicating symptoms they will be tested using a rapid test and/or a PCR test. Please see our "Response Management of a Case or Probable Case" FAQ for more information.
Opening Day
(Updated 5/12) While Opening Day will look a little different as we strive to maintain a safe in-camp community, it is always one of the best days of the year! To assist in preparing you and your camper, please watch our Opening Day Video to see our new check-in and drop-off process.
Key Components:
– Assigned arrival times that are staggered based on cabin assignments in 45 minute blocks. Brothers will be assigned the same arrival time. All campers will arrive before lunch. You will receive your arrival time a month in advance of your session. Times will be assigned 9:00am and 1:00pm. If you have questions about your check-in time, please let us know.
– Parents will be asked to remain in the car at all times. Each person in the car must wear a mask for the duration of drop off.
– Parents will drive through stations for all of the typical opening day to-do's including talking with camp nurses, meeting camp directors, meeting your child's counselor and dropping off luggage.
– Have your negative PCR test (or vaccination card or proof of positive COVID test 90 days out) and 10-Day Health Log printed and ready to hand in. High Rocks staff will also take your son's temperature. If your son has a fever or other COVID-19 related symptoms, we will have a place for you to pull over to talk to a High Rocks Staff member to make a plan.
– Our nurses will gather your medications and review your online Medical Form. Please have your daily medications blister packed and in an easy spot to grab. "As needed" medications make be in a Ziplock bag with your camper's name and instructions on it. Please review our guidelines for Medications at Camp here before arriving to camp.
– Please limit luggage to two large items. This could be 1 trunk and 1 large duffel or 2 duffels. Other activity equipment items like mountain bikes and fishing rods are allowed. Please label each item before arriving to camp with your son's name. High Rocks staff will deliver your camper's items to his cabin. When campers exit the car, they can carry a backpack and small second item like a pillow or stuffed animal. If you are shipping a trunk to camp, we will have it in the cabin on Opening Day.

– Your camper's cabin counselor will greet you and help your son out of the car. Our staff will take him to his cabin and start the settling in process including meeting his cabinmates and making his bed. Our staff are great at making campers feel welcome and are eagerly waiting to meet your son! Parents will then continue out of camp.

– Camp drop-off this summer is going to look more like a school drop-off. We recommend giving an extra big hug before you get to our upper parking lot. As you are preparing for camp, make sure you all have watched our Opening Day Video as a family. It will help your son know what to expect!
– Campers may still fly to camp. We will be picking up campers from Greenville-Spartanburg Airport and Asheville-Regional Airport. Please get in touch with us in advance of your session with your son's flight information. Read more about flying to camp here. Please follow mask and social distance protocols while traveling to camp, that includes while on the plane and in airports.
Opening Day Check-In and Drop-Off will be a quick process! If you have specific questions about your camper or cabin details, please get in touch with us in advance. As we have to move cars quickly through the check-in process, there will be very limited time to answer questions. In particular, if you have a medical question for our nurses, please get in touch in advance of your son's session.

COVID Waiver
Prior to your son's arrival to camp, we ask that you review our COVID Policies in this section of our website and sign our COVID Waiver. Click here to sign. We have spent a great deal of time developing our program for this summer in order to promote health, safety and lots of camp fun! Please let us know if you have any questions.
Using the Experts
In order to develop plans and protocols so that we can operate safely in-person this summer, we are working with our state and local health officials along with the CDC and American Camping Association. Here are some of the resources that we are using to create the safest camp experience possible: CDC, ACA and ACN. Our Summer Medical Team is meeting with our COVID-19 Task Force on a regular basis. As we move forward, we also continue to meet with camps that operated successfully this past summer.
As we layout our considerations and plans, we consider the following:
As an outdoor program, we are well-positioned to operate with appropriate COVID modifications and protocols.

Our natural advantage of 1000 acres to utilize for activities, adventure, and plenty of space!

Like previous summers, we will continue to have trained medical staff onsite at all times.

The previous year of mitigation practice that all campers and counselors will have experienced.

The continued positive news regarding vaccines.
Travel to Camp
It is preferred that campers will travel to camp by personal vehicle. If a camper is planning to fly to camp they must wear a face covering and maintain social distancing at all times during travel.
Who should not come to camp this summer?
We understand this might not be the right summer for your son to attend camp. If a camper or staff member is at higher risk for COVID-19 complications, we highly recommend they consult their medical provider to assess the risk of attending camp. Families who are unable to pick up their child quickly, preferably within 24 hours. For families coming from farther away, we understand 24 hours might not be enough time. We will work with you to arrange a suitable time for pickup in the event it is needed.. Families who are not comfortable with the increased risk of contracting Covid-19 should not attend camp this summer.
A Closed Community- The Imperfect Bubble
Our safety plans this summer rely on many NPIs (non-pharmaceutical interventions) such as
handwashing, social distancing, and importantly our camp "bubble". Each of these NPIs adds
another layer of protection. We also understand that none of these layers can be done perfectly,
which is why having multiple layers is important. A relatively closed community will be an
important layer. Visitors outside the camp community will be limited. We will continue to take
trips to forests and rivers where public interaction is minimal.
Vaccine
We are strongly encouraging our staff to become vaccinated before the summer. We are encouraged by the number of staff that have already been able to get their first dose. Given our primarily healthy and pediatric camper population we do not anticipate at this point that they will have broad access to a vaccine prior to the summer.
Closing Day
Closing day will be altered to mitigate COVID-19 and allow for safety to be at the forefront. Pick-up times will be assigned between 9 and 11:00 am on your camper's closing day. You will receive your assigned pick-up time after your camper's session has started. Parents will drive through camp and pick up their camper and belongings while remaining in the car. Campers will have a chance to say goodbye to their camp family prior to pickup. We will not be able to offer the closing day lunch and program we have in past summers.
Program
Community at camp will continue to be at the core of everything we do. For safety, group interactions among our camp community will look a little different. We are planning modified schedules that still allow for some choice but reduce cross household interactions.
• Households will consist of campers and staff from both sides of a cabin building (ex: Lakeside 1 and 2). When solely with their households (ex: in their cabin or in the gym), campers and staff do not need to wear face masks. Households will participate in activities together for the first week of camp.
• Neighborhoods will consist of two to three households. While in Neighborhood groups for things such as assembly, dining, or campfire, we will observe at least two of our guiding principles (see below). As of now, we are planning that neighborhoods will attend activities together after the first week. This is distinct from our regular activity schedule. Rather than each camper having a custom schedule, they will choose between several options available to their neighborhood each period. Over the course of a session, campers will have access to all of our activity offerings.
• Trips out of camp will be done within Neighborhoods. Masks will be worn while in vans.
Interactions between Households
Three Guiding Principles
At least two out of the three guiding principles must be observed when members of different households interact.

1) Outside or Open Air Setting (i.e. open air gym)
2) Wearing Face Coverings
3) Distancing Protocols: Six feet of separation minimum
Mealtimes
During meals we will be reducing the group size in the Dining Hall and utilizing outdoor dining spaces. Campers will eat more meals outside such as on our picnic tables, around the campfire, under a tent or under one of covered outdoor areas. We will still be using our inside dining but at a lower capacity.
Campers and Staff will be required to wash their hands upon entrance and exit from the dining hall. Hand sanitizer will also be stationed on each table.
At this time, we are working on restructuring our dining hall procedures and flow to maintain physical distancing among our campers and staff.
There will be no self-serve areas like salad bars or condiment stations.
Staff members will be serving all food.
Tables will only be shared among members of a household.
Face Coverings & Distancing Protocols
Distancing Protocols
Social distancing is an important layer of our NPIs. Maintaining distance is an important strategy
to slow the spread of COVID-19. We are creating markers, cones, and 6 feet signs to help our
community socially distance from one another.
Face Coverings
Campers and Staff will be required to have a face covering with them at all times.
• We will wear face coverings when indoors with and/or interacting within six feet of
anyone outside our household.
• Within a household, campers and counselors are not required to wear face coverings.
• Campers and counselors will wear face coverings while in the Health Center unless
instructed otherwise by the medical staff.
• Whenever singing or cheering.
• While walking into or out of group settings like the dining hall.
The CDC has recommended guidance on the best masking choices. Please follow the guide below when selecting masks to bring to camp. We will also have masks available at the camp store for pre-order. All masks must have TWO or more layers of fabric. We DO NOT RECOMMEND gaiters that have to be folded into two layers, please use gaiters with two layers built in.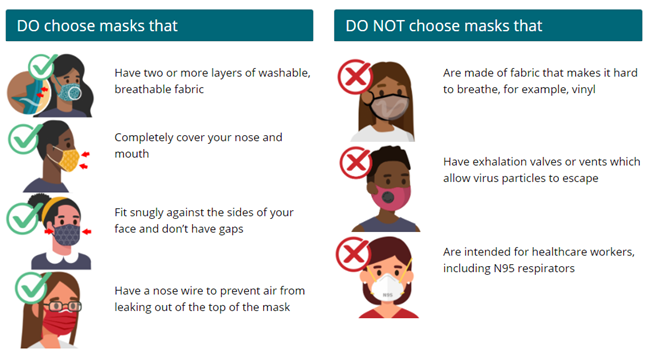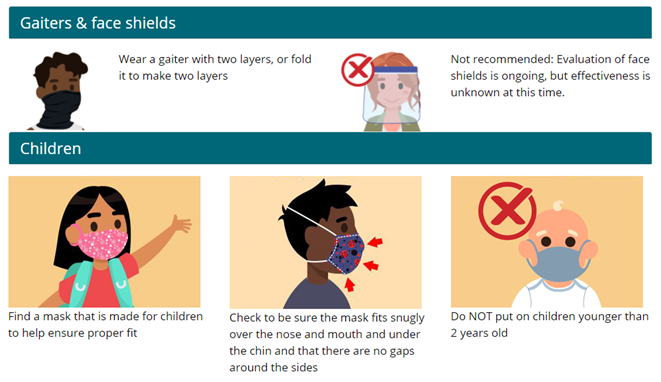 Daily Health Checks
We will conduct daily health screenings for both campers and staff. These will be similar to those you will conduct at home before campers arrive. This will include temperature checks and questions; any campers noting the following will be taken to the Health Center: cough, shortness of breath, chills, muscle pain, headache, sore throat, loss of taste or smell, diarrhea, feeling feverish or a measured temperature equal to or greater than 100.4 degrees Fahrenheit.
Cleaning and Disinfecting
We will have enhanced cleaning and sanitizing around the camp facility throughout the summer.
We are making significant updates and improvements to the sanitation and overall hygiene of
camp. All cleaning products are EPA / CDC approved to prevent the spread of COVID-19.
Enhanced bathroom cleaning measures will be in place.
High touch surfaces in activity areas will be disinfected between activity periods.
Common areas and high touch surfaces around camp will be disinfected at regular intervals.
Hand Washing and Sanitizing Stations
Campers and Staff will be instructed in proper hand washing techniques and will be required to wash their hands regularly throughout the day. Alcohol-based sanitizer will be used during times hand washing is not available or easily accessible. Hand washing/sanitizing will happen: before and after each activity, before and after eating, after sneezing, coughing, or nose blowing, after using the restroom and after using shared equipment.
Staff
As we are hiring for 2021, staff interviews will all have questions regarding COVID-19 to ensure we are hiring staff who are committed to keeping camp safe. Camp staff will be well-trained, and
your child's health and safety will be paramount.
Staff that are not fully vaccinated will have a Covid-19 PCR test prior to arrival and then another Covid- 19 PCR test 5-7 days after their arrival to camp.
New staff training sessions are being created focused on COVID-19 mitigation.
Staff will wear face masks in areas in which they are unable to remain socially distant from others outside of their households. See Face Covering and Distancing Protocols for more information about Camp's policies.
Response Management of a Case or Probable Case
In the event someone does fall ill at camp in 2021, we are working with our medical team to create a multi-staged quarantine and isolation procedure that will allow us the time to determine the best response, including whether or not the ill camper will be able to rejoin the camp population. If a camper tests positive or is suspected to have COVID-19, we will call their parents and ask that they be picked up within 24 hours. For families coming from farther away, we understand 24 hours might not be enough time. We will work with you to arrange a suitable time for pickup in the event it is needed.
Parent Communication
As always, Camp High Rocks strives to communicate with parents in a transparent, thoughtful, and thorough manner. Knowing the importance of communication this summer, we are committed to open dialogue and communication with families every step of the way.
Parents will be kept well informed throughout each session about COVID testing, isolation and quarantine measures if required, as well as the "normal stuff" too like photos and blogs.
If a camper or staff tests positive for COVID while in our care, we will notify all parents with campers on site via email and identify the specific measures we are taking to address the situation.
Work In Progress
All of these considerations are subject to change. This is a snapshot of our thinking if we were to open camp next month, based on what we know now from science and best practices today. Modifications will be based on current and relevant scientific research, CDC, state, and local guidelines. Our community's safety will be at the forefront of all decisions.
Additional Questions
If you have any questions about this summer, please reach out. We are here to talk through any questions or concerns you have. Give us a call at (828)885-2153 or email us at office@highrocks.com.