1966 - 1970
---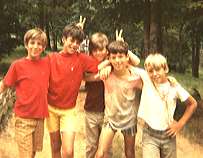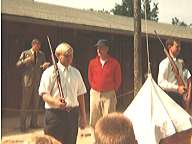 More pictures from '66-'70
---
1966
1966 - (boy's camp) John Gildersleeve and Tom Howell presented the Teeny Weeny Awards, for which the prize was a Teeny Weeny Sicle - the cooking juice of Vienna sausages frozen on a stick - though, funny thing, everyone threw their prize away.
---
1967
---
1968
Gilbert C. Daniels ( '67,'68,'69) remembers: I still have fond memories of summer camp. Bill Parsons and I were best friends from New Orleans that went to school together at Country Day and then attended High Rocks. We had characters like Sam Chappel and Hugh Thomas from Birmingham Alabama. I bunked with Chris Fabacher (from New Orleans) and David McCauley (from Chattanooga, Tenn.). I remember hiding cans of spam in the cinder block walls, and faking illness so that Betsy Williams would come visit. I think Bill had the bigger crush on her though. Most importantly, I remember the activities such as hiking through the Pisgah forest, canoeing down the Nantahala, Chatooga, and Green rivers. I can't recall if it was Sam Chappel or Hugh Thomas (or both) that almost went over the Nantahala falls. Campfire hill and overnight stays at Fowlers cabin, Pisgah slides, Horse Pasture slides, and the water hikes. We built the bridge across the lake down by Campfire hill. I wonder if it's still there. We were introduced to scuba diving and rock climbing by our cabin counselor who happened to be a member of a Kentucky search and rescue team. I chuckle when I think about the fun and unusual things that happened... All great fun and wonderful memories that hopefully my son, who is eight years old, and his five year old twin sisters will be able to enjoy some day.
---
1969
1969 boy's camp- We took a hike to Cantrell Creek Lodge (now preserved in the Cradle of Forestry exhibit in Pisgah Forest) during a rain storm and had to ford the river to get to the lodge - and the water rose 6 inches in the half hour it took to get everyone across. Since we couldn't get out that way, we had to hike the long way out, but Sumner figured out where we had to be and met us with the truck, saving us some walking (back when common sense substituted for cellular phones).
---
1970
---
Contributors to this page include: Martin Schmidt, Gilbert C. Daniels