65th Reunion Weekend
Spending a weekend at High Rocks is always a treat. When you do it with amazing weather and in the company of High Rockers of all generations, it is something to remember!
Our 65th Reunion Weekend took place September 16-18 and was all the fun, the family, and the food one would expect from time at camp. Many thanks to those alumni who made it a point to be a part of the celebration of sixty-five years with us.
The sublime fall-like weather allowed everyone to enjoy camp to the fullest, and at their own pace. For some, that meant circling up with friends not seen in years to catch up and recount tales of past camp moments. For others, the day was packed full with hikes, climbing, boating, tennis, fishing, shooting, rope swing/water sliding, and more. Camp was run by some truly wonderful staff members, present and recently former, who enjoyed being a part of the festivities. Seeing a counselor of 2016 connect over breakfast with a counselor of 1963 is a special moment. For the current staff members, hearing the stories of how camp was decades ago, how trips ran, and the adventures encountered adds a depth to their own experience that is hard to get any other way. Many stories of "Honor Hikes" were told throughout the weekend. For alumni spending time with our staff, hearing the continuity of the program and the mission was affirming, and maybe just a touch enviable!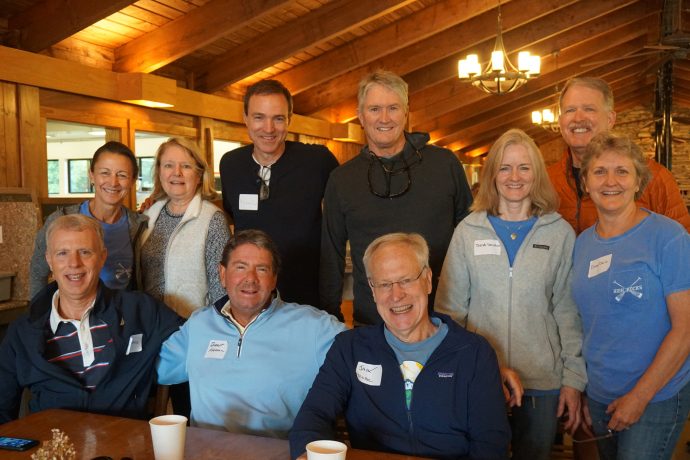 Saturday evening held a Silent Auction to benefit the Camp High Rocks Campership Fund which helps children come to camp who might not otherwise be able to enjoy an experience at High Rocks. We had a wonderful collection of items for auction donated by Josh Baggett, Hank and Townsend Birdsong, Alicia Daily, Nathan Noland, Fritz Orr, Stephanie Vlasis, and Helen Warren. The auction went hand-in-hand with a cocktail hour and tasty appetizers to fuel the bidding, which got pretty fierce as the time expired! A large thank you to all who donated. If you would like to make a donation, click here to learn how.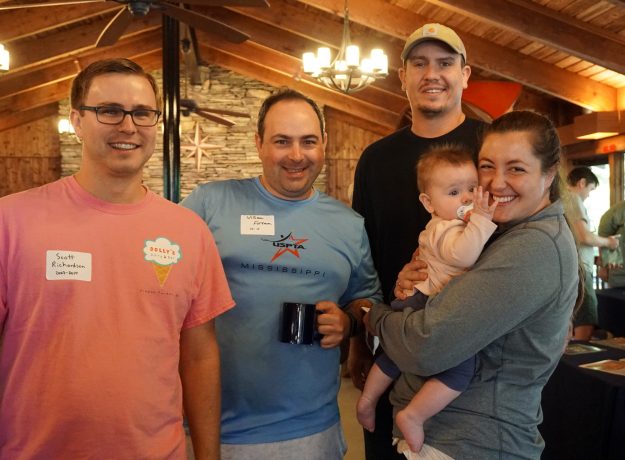 That evening after dinner, everyone gathered around the fireplace for a celebration and reminiscing of Townsend and Hank Birdsong's directorship of camp. With Townsend so recently retired from owning/directing camp (though still present and employed!!), the crowd managed to pull off a stunner of a surprise for the Birdsongs. All sorts of different stories and experiences were shared by those alumni present. We even had alumni who couldn't make it physically but submitted video thoughts that were shared for all. It was an emotional, hilarious, and touching acknowledgement of the very successful and impactful leadership the Birdsongs offered in their thirty-five years. For those of us who were there, thank you again for creating such a moment. For those of us who couldn't be there, know you too were a part of the event and may have even been talked about in your absence!
Events like this always seem to go by in a flash and already we are planning to host another, the 70th, in five years. We are excited to see all of our people back on the mountain top then. In the meantime, if you are in the area and find the opportunity to swing by for a visit, we welcome the chance to see you, catch up, and have you take a spin about camp. Call or email us with the good news you are coming!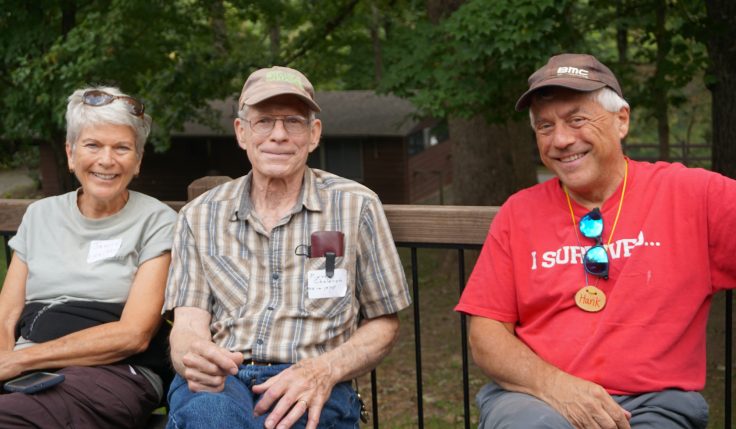 If you wanted to stay up to date make sure to check out our camp blog or update your alumni contact information!