Family Camp
One of our most frequent questions from parents is "when do we get to go to summer camp?" Camp High Rocks finally has the answer you have been waiting for after all this time. We are opening our first ever Family Camp at High Rocks!!!
August 30th – September 2nd, 2019
Labor Day Weekend
Friday – Monday
All families will get the VIP treatment with a weekend full of amazing outdoor activities, experiences, food, drinks, and fun. Family Camp includes everything you will need to have an amazing, worry-free experience:
All meals: Friday dinner- Monday lunch
Accommodations in a private camp cabin with private bath for three nights
Guided activities and field sessions
Expert instruction and all required gear
Nightly beer and wine reception
Live music
Locally roasted coffee and a variety of snacks throughout the day
Customizable schedule for every member of the family
Evening Campfires
"a camp adventure the whole family will enjoy"
Email darby@highrocks.com to Apply
Registration is open! Family Camp is limited to 28 families and we anticipate it will fill quickly.
Early Bird Rates:
Base Price is $950 for two individuals. Includes private cabin per family with your own bathroom.
All-Inclusive. Including meals, snack, drinks, fun, and activities…
$375 for each additional person in your family.
Under 4 years of age is free with base price fee.
For example, a family of four would cost $950 + $375 + $375 = $1700.
Activities will include Canoeing, Rock Climbing, Daily Crafts, Rope Swing, Water Slide, Archery, Riflery, Tennis, Swimming, Fishing, Nature Hikes, Sailing, Ropes Course, Disc Golf, Yoga, Paddleboarding, Dodge Ball, Lawn Games, Adult Events, Kids Events, and Family Events.
"time for your kids, time for yourself"
Directions
Driving Directions are available on our Location Page
There are two airports close to High Rocks: Asheville Regional Airport (

AVL

), which is about a 40-minute drive; and Greenville-Spartanburg (

GSP

), which is about a 1 hour and 20-minute drive. Both have rental car providers.
Other Information
Accommodations for the weekend are the same cabins we use during our summer sessions. You may request to be in a cabin with another family that you know. Please plan on bringing your own linens including pillow, sheets or sleeping bag, and towels. We cannot accommodate any pets.
Click Here for a Weekend Packing List
Home cooked meals are served 'buffet style' in our dining hall along with snacks available throughout the day and evening.
Plan to arrive on Friday afternoon and stay until lunch on Monday for an exciting weekend here at Camp High Rocks
Payments are fully refundable until August 1st, less a $100 administrative fee.
If you have questions about Family Camp please contact us at office@highrocks.com or 828-885-2153. We will have more details in the coming weeks.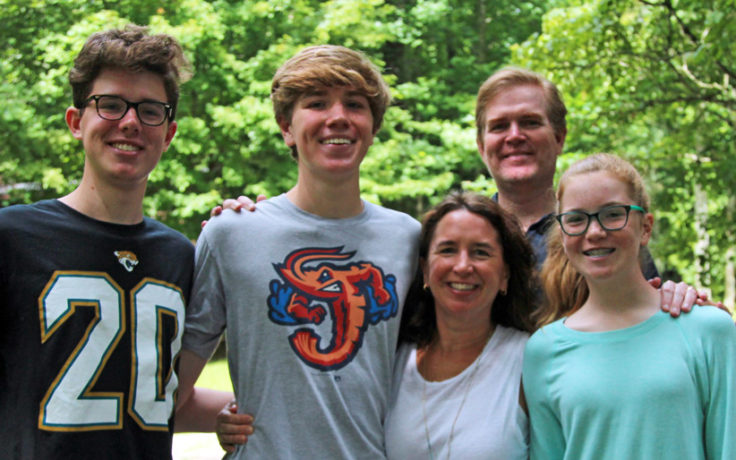 Weekend Schedule
Friday: Arrive as Early as 3 pm
Saturday and Sunday: Fun all day and night.
Monday: Regular morning, wrap up after lunch for those staying.
Daily Schedule
7:45 am: Rolling Breakfast Begins. Breakfast will be available from 7:45 to about 9 am or until activities begin.
9:00 am: Morning Activity Time: Children will meet their counselors and divide into groups based on age and embark on their morning adventures. Adults can choose from a selection of specially designed activities or unwind at their own pace.
12:00: Children's activities wrap up. Family activities continue until lunch.
1:00 pm: Lunch
2:00 pm: Afternoon Activities. Activities designed for the whole family to enjoy.
5:00 pm: Beer, Wine, and Snacks on the veranda. Special games and activities led by counselors for kids.
6:00 pm: Dinner
7:00 pm: Evening Program. Different themes each night including Camp Olympics, Carnival, and more! A special campfire to wrap-up Sunday night
8:45 pm: Evening Snack
10 pm: Quiet Time
FAMILY CAMP OFFERS COUNTLESS
OPPORTUNITIES TO CREATE A ONCE-IN-A-LIFETIME EXPERIENCE.