Health Information
It is our goal to provide the safest and healthiest camp experience we can for your son. In order to do this, we need your help by providing the following information to our medical staff at High Rocks. Our Camp Nurse will contact you anytime your son stays overnight in the health center or is seen by a physician. Please feel free to call our Camp Nurse at any time to ask questions or share any information that would be helpful in caring for your son. Call our main number (828)885-2153 to be in touch with a nurse.
Medications & Blister Packing
Anything taken to treat or manage a condition or symptoms is considered medication. All medications must be kept in the Infirmary. With the exception of second inhalers for asthma and prescription dermatological creams, campers are not allowed to keep medication in their cabin, including pain relievers, vitamins, and other over-the-counter medications. The nurses regularly dispense medications four times a day: breakfast, lunch, dinner, and prior to bedtime.
Our camp infirmary will be stocked with common over-the-counter medication and standing orders from our camp physician will dictate their use. Common medications include but are not limited to pain relievers, antihistamines, eardrops, wound ointments and creams, AND antacids.
Camp High Rocks has changed the guidelines on medications at camp to improve efficiency and accuracy of administration of medicine while your son is at camp. To fully comply with state regulations and best practices concerning medication distribution at camp, our nurses cannot administer any daily medication that has not been prescribed by a medical professional and filled by a pharmacy. We require all of your camper's prescriptions(s) and over-the-counter medication to be packaged in blister pack containers. This means all tablet and capsule medications, including vitamins or any over-the-counter medications, may need a doctor's prescription. This includes OTC meds such as Zyrtec, vitamins, and supplements. If these are necessary for your camper to take regularly while he is at camp, they must be blister packed by a pharmacy.
Medications that Do NOT need to be Blister Packed Include:
Any medications taken on an occasional "as needed" basis like Claritin do not need to be blister packed. If your son takes allergy medication every day, that does not count as an "as-needed basis", they will need to be blister packed. You may simply bring the Claritin to camp in a Ziplock bag with your camper's name one it. Any "as needed" medications must be in original packaging with label. Please include an instruction sheet on the "as needed medication". Please include these on your camper's "Medical Form" online.  Liquid, refrigerated, or cream medications, EpiPens, and inhalers do not need to blister packed, please bring in a labeled Ziplock bag with administration instructions. They must be in original packaging with label.
Blister Pack Instructions:
In order for opening day to run smoothly, we ask that you have medications blister packed before your camper's Opening Day. We require all prescribed medications, daily OTC medications, and all vitamins/supplements be blister packaged and dispensed according to our guidelines.
It has been our experience that large chains such as CVS or Walgreens do not offer this service, so please plan accordingly. Below are two flexible options to help you meet our camp's medication guidelines.
Option 1: Camp High Rocks Local Pharmacy: Gordon Family Pharmacy – To go through Gordon Pharmacy, please fill out the form linked below with your camper's information and email, fax, or mail to Gordon Pharmacy. For multiple campers, please fill out a form for each. This needs to be done no later than four weeks before your session. Through Gordon Pharmacy there is a $7.00 fee per blister pack. Gordon's will deliver your medication to us or camp will pick it up – you do not need to plan to pick this up. Gordon's late fee of $20.00 will apply if forms are later than one month prior to session starting.
2023 Gordon Pharmacy Camp Form – Parents send to Gordon

Gordon Pharmacy: 515 S. Broad Street, Brevard NC 28712
Email: Lauren at gordonfamilypharmacy@gmail.com
Fax: (828)877-6487
Phone: (828) 877-6111
Option 2: Your Local Pharmacy – Ask your local pharmacist to package a supply of any prescription and over-the-counter tablet and capsule medications taken on a daily basis, in unit-dose (blister pack) containers. If your pharmacist does not have unit-dose packaging available, please refer to Option 1. Please research Option 2 early in case your local pharmacy doesn't offer single dose blister packaging. Please fill a 30 day prescription, we will return medication that is not used back to you on closing day.
Vacation Overrides for Medications
You may need to fill a prescription for camp before your son's next refill is available insurance wise. Your pharmacy may have to do a "vacation override" to satisfy the insurance company. Gordon Family Pharmacy can work with your insurance company regarding vacation overrides, too.
How to Package
We use 30-day unit-dose packaging at camp. A separate unit-dose package (blister pack) is used for each time of day that medication is dispensed. Please do not have multiple administration times packaged in the same blister pack. For example, if medication A is taken daily at breakfast, we need (1) 30-day blister-pack for medication A. If medication A is taken at breakfast and dinner, we need 2 blister packs for medication A. If 2 medications are taken at the same time of day, they may be packaged together or in separate blister packs. Here is an example of what unit-dose blister packs look like. This example shows 30-day unit-dose blister pack. It can be helpful to take this photo into your pharmacy as an example.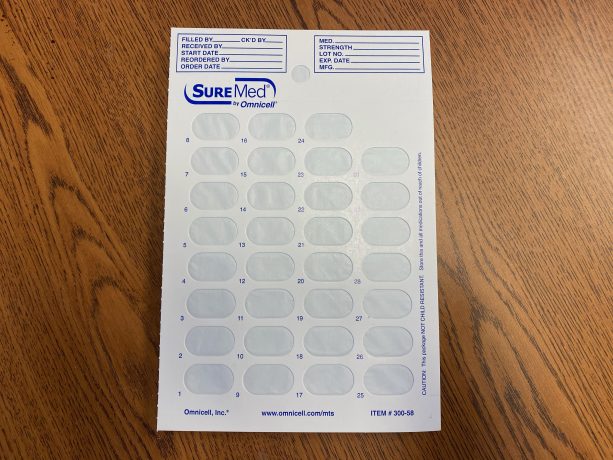 Should I pause my son's medication for the summer?
Please consult with your doctor before starting or stopping medications before camp. We do not recommend pausing ADHD/ADD medication while at camp. ADHD medications can have the same benefits for your son in the camp community as it does in school. Helping him focus in activities or diminish impulsive behavior in social situations could give the same advantage to succeed at camp.
Allergies & Special Dietary Concerns:
While we can accommodate many dietary concerns and allergies, it is important to contact our office to discuss these matters ahead of time to be sure we can work it out. We may ask for a physician's nutritional plan if there are allergies and concerns.
We are conscious of the ingredients that are contained in our meals in regards to allergens. Dining Hall meals typically have common allergens noted. Campers and staff should be aware of the risk of cross-contamination that can occur in and around camp meals in the dining hall and out of camp trips.
Please visit our Parent Section online to see our latest menus.
Medical Forms
There are two forms regarding Camper's Health, the Physical Exam Form and the Camper Medical Form. It is important that the physical exam form be carefully completed, signed by parent and doctor, and returned to camp, along with all other form. Click for the Physical Form.
The Camper Medical Form is available online through the our forms dashboard, My.HighRocks.com. Our camp R.N. must have the medical information prior to opening day in order to prepare health center records and to alert the staff to special situations.