Fall Happenings Around Camp
December 1, 2021 by Darby Dame
The High Rocks office can't believe fall is almost over! The leaves around camp are almost all down. Much to Danny and Nate's delight, most of the trees dropped their leaves over the last week making this a big leaf clean up week. Since the fall started, our team has been busy working on next summer and finding time to be together!

In early October, Chad, Woody and Nate were treated to a delicious lunch from Don. During a trip the week prior, the Gentles picked up a load of fresh oysters. Lucky for our crew, they were headed back out of town and needed someone to help finish them off! We pulled out the grill and grilled oysters for lunch. It might have been the fanciest lunch camp has ever seen. What a treat for a Thursday lunch break!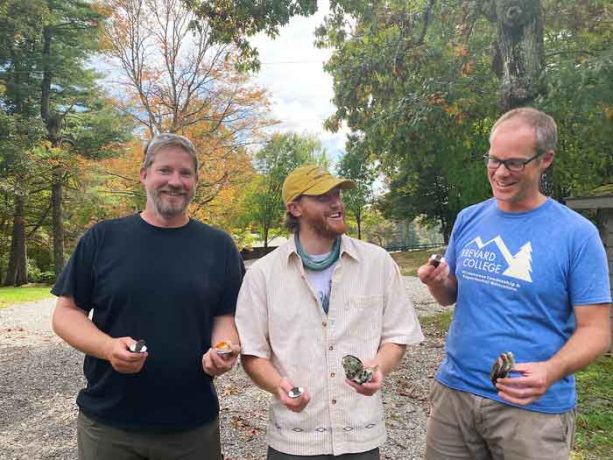 The next time you walk by the Dinning Hall you might notice something a little different. Right before Halloween, Townsend had to make the tough call to take down our large oak tree that provided shade on Mystic Hill. Unfortunately, it was starting to die and in a very high traffic area. While we are sad to see it go, keeping our grounds healthy and safe is an important part of being stewards of this land. We have thoughts about what Mystic Hill could look like one day. But for now we will just day dream of shade structures and covered hangout areas.
In early November, Don was able to snag a new mountain bike! If you have been in the market for any outdoor gear lately, you know getting anything is a feat! Of course that meant, Don, Chad, and I(Darby) hit the trails soon afterwards. Chad was our former summer Assistant Head of Mountain Biking, now full-time Program Director. His skills are top of the line! I picked up Mountain Biking during the pandemic along with by husband, Jason Karol, and have been hooked ever since. Don was an avid road-cycler pre-pandemic and has mountain biked in the past. Knowing we wanted Don's first foray back to be pure fun, we rode a classic loop from Lake Imaging Parking Lot in Dupont State Forest. Many of our campers have ridden the same loop and will recognize many of the trail's names including, Jim Branch, Locust, Isaac Heath, Hilltop, and Ridgeline(of course.) You can see our route here on Trail Forks. With almost zero falls and no injuries, we called it a successful trip!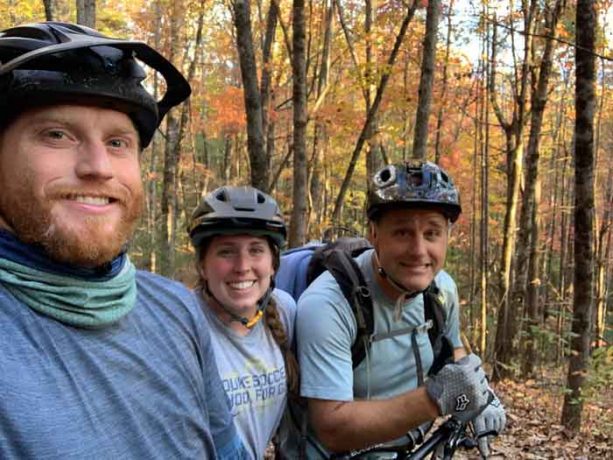 Chad went to his first Career Fair at Montreat College in Black Mountain. He enjoyed talking with interested students and meeting other camp professionals. During the off-season, a lot of our time is focused on hiring summer staff. Woody, Zoob, and Chad are always on the hunt to find the best applicants for our summer team. If you are interested or know of someone who might be, get in touch! (woody@highrocks.com)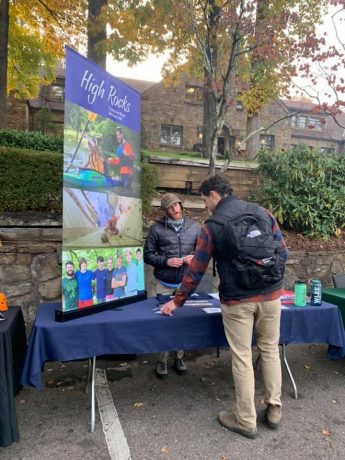 In Mid November, Woody and Zoob met with our new Camp America representative, Kylie Baker Collins. Camp America is an international hiring agency. Kylie worked at a local summer camp for over 10 years and recently made the jump over to Camp America. Getting to show her around camp and talk in depth about what we look for in our staff was a treat. With vaccinations becoming more available world wide and many travel bans lifted, we are very hopeful to bring back international staff next summer!
The office has been enjoying a slower pace while planning for next year, recruiting staff, and spending time together. We are looking forward the colder days of building fires, hot chocolate drinks, and maybe even snow! Stay tuned for more updates and news from Camp High Rocks.

P.S. Our Holiday Camp Store is open! Check out the new longsleeve and trucker hat just in time for winter.