Autumn at Camp: Preparing for the Next Summer's Adventure
October 16, 2023 by Darby Dame
Hello, camp family! As the summer days gradually give way to the cozy embrace of autumn, we find ourselves immersed in the off-season. While the campfire may be temporarily extinguished, our spirits remain high as we engage in a range of tasks that set the stage for another fantastic summer ahead. In this blog, we'll take you through what we are up to this off-season!
Slower Pace: The Off-Season
The first noticeable change during the off-season is the slower pace. With the departure of our campers and staff, camp becomes quieter, the lake has less ripples, and the shorter days start to settle in. We appreciate the chance to recharge, reflect, and savor the past summer. You can find our staff packing up a little early to get on their mountain bikes, hangout with friends and family, or head into the woods to campout.
Fall Leaves: Autumn at Camp
The autumn foliage is a highlight of our off-season! The vibrant green leaves transform into a spectacular symphony of red, orange, and yellow hues. Camp's leaves are just starting to turn. The far-side of the lake tends to turn first and the rest of camp follows soon after. Be sure to visit our Instagram's stories later this week for a tour of autumn at camp by Darby! Interested in seeing when the leaves change in your area? Check this out! Give us a call if you are in Brevard – we would love to show you around camp.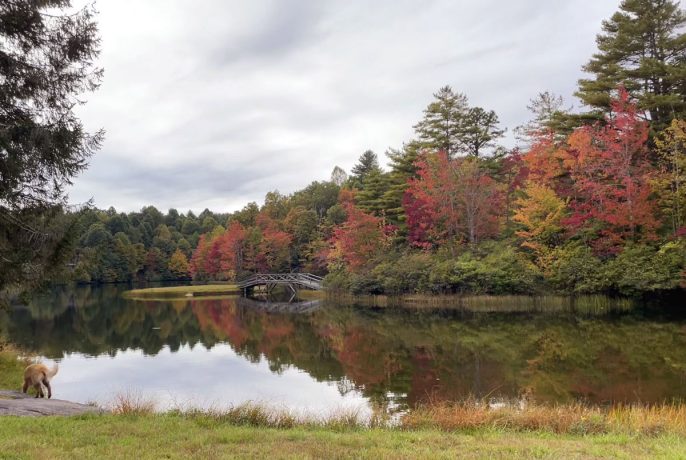 Hiring Staff: Building the Dream Team
Behind every great summer at camp is a team of dedicated and passionate staff. The off-season is when we assemble this dream team. We are currently hiring returning staff back and starting to interview new camp staff as well. Zoob and Woody are excited to kick off the hiring season with a crew of wonderful returning staff signing back on – this year's team is already looking strong. Zoob and Woody take pride in crafting a team of smart, passionate staff who are excited to work with children. Interested in joining us for 2024 or know someone who should apply? Our application is open or email staffinfo@highrocks.com for more information.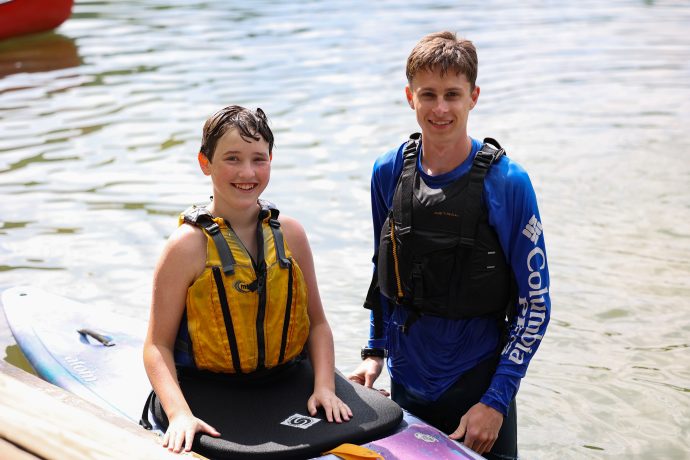 Camper Road Shows: Spreading the Camp Spirit
While we're busy preparing for the next summer, starting next week, Woody and Don will also be out and about hosting camp road shows. These events allow us to connect with potential campers and their families, sharing the magic and benefits of the camp experience. We also have the pleasure of seeing our returning families and catching up! We will be going to over 10 cities and will host a few virtual events as well. Our calendar will be released soon along with invites. Be on the lookout for more information here or via email. Want to get notified? Send Darby an email at office@highrocks.com
Planning for Next Summer: Listening to Our Campers and Families
In our off-season, we're not just looking back but also looking forward. Autumn at camp means we pour over family and camper surveys, which provide invaluable insights into what worked well and where we can make improvements. By listening to the voices of those who matter most, we're able to fine-tune our program, activities, and facilities to ensure that each new summer is even more extraordinary than the last.
As we embrace the off-season, our love for camp continues to burn bright. The slower pace, the beautiful fall leaves, the meticulous staff hiring, the camper road shows, and the thoughtful planning for the next summer all contribute to the creation of the best summer yet! We can't wait to welcome our campers and staff back for another season filled with laughter, friendship, and lifelong memories. Stay tuned for more updates on road shows and staff hiring as we continue our journey to the next unforgettable summer at camp!